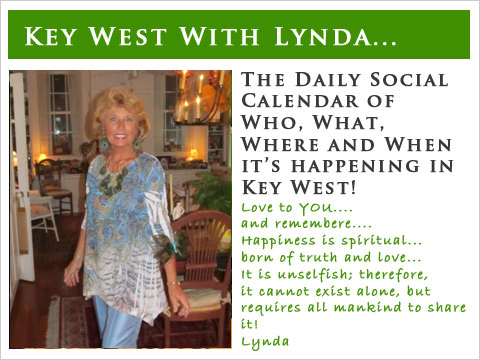 MAY…THE MONTH OF SUNSHINE, BLOOMING FLOWERS, AND ENDLESS POSSIBILITIES!
MAY 30 THRU JUNE 27 2023…IN KEY WEST WITH LYNDA

DEAR READERS…. It is that time of year….time to close down our wonderful Townhouse and get ready to head for Ohio. Happily, we have adjusted really well to our new life at 47 Seaside South Ct. in KW, and it is feeling more and more like home. (Actually… we love it!!! So great to see the Ocean every day!!!!) We will be back in Ohio soon to witness the completion of the historic home we bought in Chippewa Lake, O and are totally restoring and remodeling. We are thankful that dear Rose Cottage awaits and we can stay there until all is done at #5 Bungalow Bay Blvd…. just around the corner from Rose Cottage (62 Bungalow Bay Blvd.). It has been a bit frustrating, trying to settle in here while making multiple decisions on the Chateau #5 from afar … but it is what it is… and our great contractors have been in close contact through all these months. So wish us well as we journey north where we may be staying as long as early November this year….we shall see. PLEASE NOTE: Because we will be traveling and will need time to settle in our place there, I will be on a bit of an hiatus from KEY WEST WITH LYNDA until next month. Thanks for understanding. Direct all mail to us at 62 Bungalow Bay Blvd., Chippewa Lake, Ohio 44215. Lynda

MONDAYS IN MAY/JUNE
HAPPY MAY 29 BIRTHDAY TO….KAY BEHMKE… ANNE O'SHEA QUATTRINI … FRED COVAN …. DICK NORFORD…. SUSAN DIMBATH …BILL BAHLKE … NICKI SHAW …. (Please remember Nancy Holtkamp, and Hans & Joni Dollhausen.)

PLEASE SEND ME AN EMAIL TO REQUEST THE REMAINDER OF THE MONTH OF JUNE BIRTHDAY AND ANNIVERSARY LISTS FROM JUNE 6-JUNE 30 AND I WILL GLADLY SEND IT TO YOU. SEND REQUEST TO… kwlynda@bellsouth.net.

CHICKEN WALK RESTAURANT AT THE MARRIOTT…MAY 29… Rob DiStasi performs from 5 to 8 pm.

KARI WOLF ON MAY 29…. Kari will be at Halo from 7 to 10 pm… at The Saint Hotel upstairs on the Porch.

CONCH REPUBLIC INDEPENDENCE CELEBRATION ON MAY 31….There will be a volunteer appreciation party from 6-8 pm on the USCCC Ingham at Truman Waterfront. The public is invited to attend.

THE GARDENS HOTEL EVERY MONDAY. MAY 29, JUNE 6, 13, 20, 27….from 5 to 7 pm it's Mary Spear entertaining ….526 Angela St.

AT VIVA SALOON ON MONDAYS…..Entertainment every day… 6 to 9 pm….Have you seen the wonderful Tiki Covered Bar at Viva? Fantastic!

SCHOONER WHARF….MAY 29….Raven Cooper 12- 5 pm…Joe the Show, 7-11 pm.

BRIA ANSARA PERFORMS ON MONDAYS, TUES. & WED. AT BOURBON ST. PUB from 8:30- 10:30 PM.

JILLIAN TODD ON MAY 29…..She performs at The Pier House Beach Bar from noon to 3 pm.

FOLLOW THE RABBIT BAR OPENS….. Aqua Idol Finalist, Jordan Upchurch is a big part of Key West's newest Speakeasy Bar, Follow the Rabbit working on PR. It is a burlesque experience focusing on high end craft cocktails and a unique audience experience… Terrific performers but lots is 'hush hush', which adds to the mystique and allure…… makes for an intriguing evening for sure…Get tix in advance at www.followtherabbitbar.com. The secret venue is hidden in Old Town. You get the password and address 24 hours prior to your visit. All sounds rather exciting!

***LATEDA.. …. Performing in the Crystal Room at Lateda at 9 pm are … Christopher Peterson's EYECONS show and Randy Roberts LIVE! ….1125 Duval St. To check on the schedule go to the Lateda website. Downstairs in the Lounge is the superb 3 SUM who perform on Thursday thru Monday at 8:30 pm. And the Fabulous Spectrelles are on Tues. and Wed. at 8:30 pm.

NEED A GOOD DENTIST?… I am here to give my dentist, DR. CARTER WEBER, a plug. His offices on Flagler Ave. were some of the ones that burnt down in that awful fire awhile back. Literally, he and his Dentist Office, SOUTHERNMOST SMILES, have risen from the ashes. He has a brand spanking new state-of-the-art office that has recently opened at 1710 N. Roosevelt Blvd.. Phone is 305-294-9999. Excellent (and handsome too!) Dentist…. top notch equipment …and a wonderful and welcoming staff ….Roni Hall and Kaitlyn Weber…. And the Dental Hygienist, Shelly Szurek is outstanding. Open Tuesday thru Friday from 7:30 AM to 3 PM…. Website is www.southernmostsmiles.com.

PLEASE NOTE… THE PRAYER CHAIN HAS BEEN RELOCATED TO THE ADDENDUM BELOW. PLEASE REMEMBER ALL THOSE WHO NEED OUR PRAYERS MOST. THANK YOU… SCROLL DOWN PLEASE.

AQUA NIGHTCLUB….. Congratulations to the new owner of Aqua Nightclub, John and Michael Barrett. Michael Ingram will be missed but he assures me that the new owners have only a desire to make things even better at this Key West Institution.

MY BLOG ALSO AT CONCHTV…. You can also go to https://www.conchtv.com/author/lynda and get my blog anytime…. also the current birthday and anniversary lists…. and my picture too!!!
ALSO….To contact me, direct all messages to kwlynda@bellsouth.net, I am interested in all you may have to say. Also, if you have any information that I could use in this blog, please send it to me and I will try to include it next time.

CHARITY BINGO AT GREEN PARROT…Monday at 7 pm… to benefit A WORTHY CAUSE…each and every week.

LAURIE THIBAUD… Aqua Idol emcee recently just had a very serious scooter accident. She incurred multiple contusions and broken bones on both ankles. Surgery is imminent. Prayer are requested. Please send Laurie good vibes and if you can send her a text at 305-600-6537. For now….You can send her cards of support to: Laurie Thibaud…2832 Staples Ave., Key West, FL 33040. Also, I hear there is a Gofundme Page for Laurie that you can help to contribute to. Hearing from friends is very healing.

VOICE COACH, JESS WACHS OFFERS SCHOLARHIPS IN VOCAL LAB… Must claim your scholarship by May 31…… The Rumble Artistry Program is awarding 50% off vocal lab scholarships to working artists and singers. Limited number…. For information on this contact Jess at 505-999-9230 or email her at rumbleabq@gmail.com. Jess is also seeking investors in her Scholarship Program and if you contact her she will be happy to send info and explain all her fabulous plans developed by her to enrich our music community in Key West.

CONGRATS TO…New Community Foundation Board Members…. KEN SILVERMAN and BOBBY HIGHSMITH.
AND ALSO TO KEN SILVERMAN…. who has worked wonders to transform the Winn Dixie Shopping Center into something quite marvelous… and it will only get better under his domain. Thanks Ken… and now everyone out there…let's make sure we take good care of and appreciate all the wonderful new landscaping and thought and effort that went into the planning of this massive project.

***A SPECIAL GIG TO SPREAD JOY AT POINCIANA GARDENS… I am reaching out to singers, musicians and entertainers out there who may want to help in spreading cheer and joy to the residents of the Poinciana Gardens Assisted Care Housing at 1664 Dunlop in Key West. On the Third floor of the Gardens, are Residents who are not very mobile. (Some are Anne McKee, Joanie Sullivan, and Joan Lord Papy!) If you are interested in performing for approximately 45 minute to an hour during the 4 to 6 pm time slot, please contact Sandy Higgs at 305-797-6992 and please leave a message if she does not answer with your contact info. Her email is higgswest@aol.com. You can also contact Ed Swift's office at 305-294-4142 and leave a message with Hope, Ed's assistant. This is a paying job…. please let them know how much you charge per hour. They are hoping for some kind of entertainment in the Recreation center every day if possible. Maybe you can help out once a week…maybe once per month….they are flexible… Let them know and also if you need access to a piano or not… or if you bring your own instrument, etc. I have already sent this out personally to some I thought might want to do this and have had a positive response. It doesn't surprise me as Key Westers have the biggest hearts anywhere! If you are interested or you know some persons who may be…. please let Sandy and or Ed know. Thanks and God Bless!

A PUN or LEXOPHILE FOR YOU….I got a job at a bakery because I kneaded dough!
______________________________________________________________________________
TUESDAY. MAY 30…2023
HAPPY MAY 30 BIRTHDAY TO….JENNIFER MCCOMB… RENNAY REGARDIE… DAVID PERLMAN … JEFF KUCIN … SHANNON LYNCH … KATHLEEN MOODY… (Please remember Scott Barnes….and Mary Keller.) HAPPY ANNIVERSARY TO …. JOHN & JOANNE GAVIN SMYTH…
______________________________________________________________________________
CHICKEN WALK AT THE MARRIOTT.. ….MAY 30, JUNE 6, 13, 20, 27…. Carmen Rodriguez and James King 5-8pm.

LITTLE ROOM JAZZ CLUB…MAY 30 entertainment from 5:30-7:30 it is Paul Warthen ..and at 8 pm….Blues Day Tuesday with Larry Baeder…821 Duval St.

VIRGILIOS AT 9PM….TUESDAY, MAY 23….Skipper, with Richard Hurt and mark Rose entertain the Miss Island Queen Drag After party ..

AT SCHOONER WHARF…..MAY 30…..Gary Hempsey, Noon to 5 pm!!! 7-11 Jess Wagner……

COMEDY KEY WEST.. 218 Whitehead St…..Go to www.comedykeywest.com to get tix and see the monthly lineup…. Or call 305-985-7370.

THE GARDENS HOTEL TUESDAY..MAY 30…. Kenneth Albert Duo….entertaining from 5 to 7 pm in the Atrium. 526 Angela St.

JILLIAN TODD ON MAY 30…. Performs at Two Friends Patio from 1-4 pm.

REAL MEN DO DRAG… JUNE 6…. At Aqua Nightclub, 711 Duval St… 6-8 pm… Host is the fabulous "FAITH MICHAELS"….. For info go to www.bit.ly/realmendodrag2023. Presented by Key West Riding Team….Smart Ride…You will have LOTS of Plus Sized Laughter . Buy tix now though there will be SRO at the door for $20. Contestants are Tommy Ryan, Sammy Stills, Tony Yaniz, Scott Barron, Juan Benitez, Mike Kunkel, Philip Lavoie and Stephen Aube and Bryan Rowland. Judges are Queens Fran Decker & Martha Robinson… Michael Robinson and Roy Bishop! For additional info go to www.THESMARTRIDE.org. Also check out Facebook!

KARI & JACK WOLF LOVE DUO, MAY 30……Mangoes from 8 – 11 pm.

MAGGIE MCCOLLESTER…..Maggie recently graced the Waterfront stage with a "MAG-nificent" performance in THREE TALL WOMEN. She is back in LA and recently sent me a video she made of a short horror-sci-fi film that is excellent. It is only 15 minutes, and I am sure you will find it as compelling as I did. You can view it by going to https://www.youtube.com/watch?v=UWVHuOqOnuE….. The title of the film is KILLING TIME. So go to YouTube and check it out.
______________________________________________________________________________
WEDNESDAY, MAY 31, 2023

HAPPY MAY 31 BIRTHDAY TO ….ANN HAMPTON CALLAWAY …. QUEEN KELLY SUMMERS … GEORGE COOPER…. STAN MORRIS…. JODY ATWOOD … DREW FORESTALL … NANCY STEVENS II…. (Please remember…Caroline Cash…. Erin English Beitko.)…. HAPPY ANNIVERSARY TO…..JUDY & BOB RAFANELLI. (Please remember Kayla & Bob Tollen)

LITTLE ROOM JAZZ CLUB….WEDNESDAYS…. AT 5:30-7:30… Paul Warthen at the Piano … . AT 8 PM ON JUNE 7, 14 & 21.. Carmen Rodriguez performs with Skipper Kripitz and Larry Smith!!!!

SCHOONER WHARF….MAY 31…. Tony Baltimore from noon to 5 pm…Raven Cooper from 7 to 11 pm.

JESS WACHS SINGS AT HALO ON MAY 31…. 7 – 10 PM….Halo is at The Saint Hotel… upstairs facing Duval….

JILLIAN TODD ON MAY 31…. At the Beach Bar at the Pier House from noon to 3 pm!!!

CHICKEN WALK AT THE MARRIOTT ….WED.MAY 31……5 to 8 PM…. it's Mike Emerson….

BRIA ANSARA IS AT THE TIPSY ROOSTER ON WEDNESDAYS FROM 1-4 PM!

CONGRATULATIONS TO THE WATERFRONT PLAYHOUSE ON PRESENTING ANOTHER FABULOUS THEATER SEASON! WE INVITE YOU TO BECOME A MEMBER OF OUR THEATER IN 2023/24 SO WE CAN CONTINUE TO PRESENT THE HIGH QUALITY OF SHOWS THAT YOU ARE ACCUSTOMED TO IN KEY WEST! PLEASE CONTACT www.waterfrontplayhouse.org or call 305-294-5015. Thank YOU!

****DAVE BOOTLE AT MANGOES….WEDNESDAY THRU SATURDAY EVERY SINGLE WEEK…… Enjoy this marvelous entertainer… one of Key West's true GEMS….. and dance the night away… You are SURE to have the best time ever! 9 pm…till Midnight. ….DON'T MISS!!!!!!…..Always a party with Dave!!!!!

***CELEBRATE 25 YEARS OF SUSHI AT THE KW CUSTOM HOUSE MUSEUM, MAY 31 …The Key West Art & Historical Society opens its latest exhibit, 'SUSHI IN THE SHOE: CELEBRATING 25 YEARS OF NEW YEAR'S EVE DROPS',. that will showcase the fabulous gowns designed and created by Sushi…aka Gary Marion… along with jewelry, wigs, shoes, etc. The Opening Reception is from 5 to 8 pm at 281 Front St. This exhibit will run through July 2, 2023 in the Bryan Gallery. ALL invited to the opening and what a great way to being Pride Fest in Key West!

BAND FUNDRAISER, JUNE 7….AT The Tropic Cinema, 416 Eaton St…..will host screening of 'School of Rock' at 7 pm….This fundraiser will help raise money for the High School Marching Band to be in the New Year's Day Parade in England. go to www.tropiccinema.com.

SUGARLOAF FARMERS MARKET, EVERY WEDNESDAY….at Sugarloaf Lodge 17001 Overseas Hwy…. 10 am to 2 pm. Features vendors, also BBQ, food and produce.

THE KEY WEST LIBRARY….EVERY WEDNESDAY… Hosts a free movie each Wed. at 3 pm. 700 Fleming St.

AT KW LIBRARY…EVERY WEDNESDAY….Crafting for Adults 10 am to noon…. Materials are supplied. 700 Fleming St.

AT THE GARDENS HOTEL.. WEDNESDAYS…….Belle Jampol entertains from 5 to 7 pm at The Gardens…

****HEDWIG & THE ANGRY INCH ….OPENS AT WATERFRONT PLAYHOUSE, JUNE 7 until JUNE 10 …Limited Run…. go to www.waterfrontplayhouse.org or call 305-294-5015 for tix. Stars Phillip Cole White and Heather May Sloan!!!! Don't Miss!!!! The perfect Pride Fest Show!!!!!

FANTASY FEST KING & QUEEN INFORMATION MTG., JUNE 28….The FKSPCA is accepting applications for the Royal Campaign of Fantasy Fest to benefit The FKSPCA at 5771 College Rd. If interested mail Tiffany@fkspca.org. The Information Mtgs will be on Wed.,June 28 and Wed., July 26.
______________________________________________________________________________
THURSDAY, JUNE 1, 2023

HAPPY JUNE 1 BIRTHDAY TO…WISH WASHBURN …. BOB CONTI …. DENNIS HOPPS ….ALAN ROBBINS ….CHAD SCHMOCK ….LORA WANDRAS….. (Please remember Irene Warner….and …Bob Brown.)…. HAPPY ANNIVERSARY TO…. EDIE HAMBRIGHT & JULIA DAVIS …. JUNE HUDSON & FRED GREENBERG.
______________________________________________________________________________
FARMER'S MARKET… THURSDAYS……2 to 7 pm every Thursday….. … Produce, beverages, music, seafood, apparel, cheeses, gifts, art, books, etc…. fun….AT Truman Waterfront Park.

VOCAL LAB SINGER'S SHOWDOWN SHOWCASE, JUNE 1…..Jess Wachs presents her wonderful new singers…They are Jordan Sommer, Carly Lefelar, Brad Wiess, Andie Rose Roberts, Curtiss Grass, Rick Boettger, Jaime Everett, Ginny Hale, and Marlee Zawadzki. Doors open at 5 pm… Show begins at 5:30 pm. Donation suggested is $25 pp and goes toward Vocal Lab Student Scholarships. This is a most interesting and delightful evening and a chance to see and hear Key West Up-and-Comer Vocalists!!!!

MANGO MADNESS AT THE STUDIOS…JUNE 1…. 6-8 pm at 533 Eaton St…All members of The Studios were invited to submit an entry to be on exhibit…over 115 works will be displayed ….serving fresh mango margaritas…music by Bahama Village Music Program students…Monster Raffle…. Enjoy!

LITTLE ROOM JAZZ CLUB……..THURSDAY … Entertainment at 8 pm with Skipper Kripitz and CO..!!!! Music at its best. 821 Duval St.

MARJORY LEE PERFORMS…JUNE 1,8,15, 22,29….At Sunset Pier from 1-4 pm.

AT THE GARDENS HOTEL EVERY THURSDAY….From 5 to 7 pm,…Sean Griffin entertains.

CHICKEN WALK AT THE MARRIOTT JUNE 1, 8, 15, 22, 29….. Carmen Rodriguez performs with James King from 5-8 PM.

AL ROMANO PERFORMS EVERY THURSDAY….AT The Celtic Conch Public House, 528 Front St…. formerly The Rum Barrell….. Al packs 'em in and sings his heart out….He truly is our Key West Frank Sinatra!!!!! 5 to 8 pm….New spot…. good food….Happy Hour from 5-7 pm.

FRINGE PRESENTS "THE GULF"… 5:30 PM At The Armory, 600 White St…. JUNE 1-3 and JUNE 7 & 8. Google FRINGE Theater for more info and details. Stars Jillian Todd and Sarah Goodwin…. both wonderful! No doubt it will be a riveting presentation.

BE A FOSTER PARENT…. CLASSES BEGIN JUNE 15… Sponsored by Wesley House…held at Key Largo office at 99451 Overseas Hwy. St. 200… an eight-week course from 6 to 9 pm. Registration is required. Contact Megan Burgess at 305-809-5020. Families are needed for children and teens who are in the foster care system.

HELENE GREENBERG PASSES AWAY…… Please note that the lovely Helene Greenberg passed away on Monday, May 15. Our hearts ache for her devoted husband, Marty Greenberg and her family. Helene and Marty have been so active in all the arts and events happening in Key West. You can send messages of sympathy to Marty at: 1503 Johnson St., Key West, FL 33040. You can email him at drmartyg@aol.com. Thank you for your prayerful support.

BEREAVEMENT MEETINGS EVERY THURS…….If you are working through the grief process of losing someone dear, there is help for you. Join this caring Support Group at 7:15 pm at the Klaus-Murphy Center at the Basilica of St. Mary Star of the Sea. You are not alone…. God bless Velma Christian for her special ministry,_**

***WATERFRONT PLAYHOUSE 2023 SEASON SHINES!!! ….. During Pride Week, on June 7-10, will be HEDWIG & THE ANGRY INCH, starring the talented, PHILLIP COLE WHITE…. AND HEATHER MAY SLOAN….Call 305-294-5015 for tickets or go to www.waterfrontplayhouse.org. WATERFRONT PLAYHOUSE NEXT SEASON HAS BEEN ANNOUNCED AND IT IS ANOTHER STELLAR SEASON!!!! PLEASE BECOME A MEMBER OF THE WATERFRONT PLAYHOUSE FAMILY!!!!! GREAT PERKS AT ALL MEMBER LEVELS!

WELCOME TO NEW WATERFRONT BOARD MEMBERS….. JOE TRIPPI…AND … PAULA TISHOK!
FAREWELL & THANK YOU TO WONDERFUL DEPARTING BOARD MEMBERS…. AMY BONDURANT…. WAYNE LARUE SMITH…. MARIA RENNA SHARPE…. AND HELEN WALKER.

MANGO FEST IN KEY WEST… JUNE 22-25…. Mango takes center stage as a series of fun-filled events are presented for your enjoyment. For complete event schedule and information go to www.mangofestkeywest.com.

MICHAEL PHILIP PRESENTS A WORKSHOP… Subject is 'Aging Smart Awareness' which address living at your full potential, maintaining your quality of life as you age, regardless of your physical condition. It is science based, interactive and educational. If interested to hear more about this contact Michael Philip at 305-296-7977 or go to the website, www.https://agingsmartawareness.com. I have heard great feedback on this workshop.

THANKFUL ON THURSDAY….I am grateful for many things and mostly for so many people who have touched my life in unique and special ways of late…. Thanks to….. Sally Stevens and Rob Zadkovich…. George Cooper….Richard Hatch…. Donna Barnett & Terri White…Dominic Paollilo & Ethan….Stephanie Wise… Carmen Rodriguez… Suzanne Washburn….Debbie Josiah …. Kathy & Steve Russ…. Rosi Ware…. Andy Kellar…. Dave Bootle …. Bria Ansara …Mary Lynne Price…. Robert Spottswood ….Jen Lefelar…Traci Reynolds …. the Choir at St. Mary Star of the Sea…. Judi Stevens ….. Donna & Kevin Gallagher….Patty Altobello… Mark Buczak … Noreen Collins…. Justin Ahearn … …. Patrick Hayes ….Michael McCabe…Bobby Nesbitt ….Jim Hall……Jack Agnew ….Kate Regan & Ken Silverman …..Paul & Pam Vereb ….Jimmy Olson … Melissa Lang….Ed Stevens Sr…Destiny Montgomery ….All those praying for those in need …..Kate Miano …Gayla Morgan ….Jessica Miano-Kruel ……dear Rose Cottage….. Louise Ganley ……ever true blue Bru (Moore) …….Kristin LoGerfo and Peter Glicklich …. Maggie McCollester …..Sharon Santry…..Greg Collins…..Joanie Sullivan …Sandy Higgs & Ed Swift. …..Dee & Tom Rybicki….Teri Johnston … Claire Melter….Jerry Galeana … …Fran & Ron Chmura ….JT Thompson …..Amy Stevens ….Penny Leto …Pat Creed Smith …… Fred Greenberg & June Hudson …. Johnny & Maribell Maschal ….Chris Elwell…..Fr. John Baker …Marilyn & John Rintamaki …. Anne Stevens ……Jim Salem …. Mike Benner …… Jeffrey Ware……Nand Pandey …… Tom Thayer ……Michael Boyer …..the cast of Arsenic & Old Lace …. Marita Zito Kaufman….Chris & Sharon Santry …. Carol Orzech…. Gary & Tom Groetz …and MOST of all my dearest husband BOB!!!!
______________________________________________________________________________
FRIDAY, JUNE 2, 2023…..

HAPPY JUNE 2 BIRTHDAY TO….BABS WADE…. LENA PERKINS …. DAVID CASE … LEE ANNE HOLLAND…. CASSIDY TIMMS…. CAROLYN SCOTT … LYNNE HIGGINS …. SEAN YODER …. WAYNE BRADY….TOVA CORMAN…..LYNNE SMITH …. HAPPY ANNIVERSARY TO…. MELISSA & KIMBALL INGRAM ….(Please remember Wink & Fred Gasser… and Steve Attis.)
______________________________________________________________________________
THE GARDENS HOTEL EVERY FRIDAY….Gregory James entertains .In the Atrium…. From 5 to 7 pm, … 526 Angela St. (could change weekly)

BOOK SIGNING ON JUNE 2,,,,JD Adler will be signing his book "The Diasappeared" at KW Island bookstore at 315 Fleming St. at 5 pm. He is a poet, journalist, and novelist. For info email him at contact@jdadler.com.

***TERRI WHITE PERFORMS ON FRIDAY AT PAPA PILAR'S RUM DISTILLERY… 3 to 6 pm. FRI.. Located at the corner of Greene and Simonton Sts. AT 201 Simonton St. Call 305-414-8754 to make sure Terri is there that night.

CHICKEN WALK RESTAURANT AT THE MARRIOTT …FRIDAY ! JUNE 2… Mike Emerson entertains from 5-8 pm.

JILLIAN TODD ON JUNE 2….Jillian performs from 1-4 pm at Salty Frog's and ..

MARJORY LEE PERFORMS JUNE 2, 9,16….at Tipsy Rooster at 1325 Simonton St.

LITTLE ROOM JAZZ CLUB…..FRIDAY…… LITTLE ROOM, MAY 12….8 PM….with Skipper and Friends! 8 TO 11 PM…. 821 Duval St. At 5:30-7:30, Mike Dennis at the piano. ……

*VIVA SALOON.. FRIDAYS… SKIPPO and CO.!!!! 7 PM.. 903 Duval St….

STEPHEN ISEMAN HONORED… Reader, Stephen Iseman has been presented with an honorary doctorate from OHIO NORTHERN UNIVERSITY ….Isemen is a giant in the PR Field and a professor emeritus at the University, who built the PR program there from the ground up. This is just one of MANY awards Steve has received through the years. We congratulate Steve… no one is more deserving. To read more, please go to… https://www.onu.edu/news/ohio-northern-university-2023-commencement-speakers-honorary-doctoral-degree-recipients. A quote from Steve, when he received the award was "Wow, I'm honored to be alive and get this award… usually you get it after you're dead!" Steve has a great sense of humor!
______________________________________________________________________________
SATURDAY, JUNE 3, 2023

HAPPY JUNE 3 BIRTHDAY TO…MARIBELL MASCHAL….QUEEN DIANE MAY…. BRADY STEVENS …. JOHN JURKOWSKI …. ROBERT 'HELLINBED' MOCCIA ….AMANDA SIGLIN …. NANCY MCCANN ….KRISTINA BRADLEY…..AARON DUCLOS…. (Please remember Basel Markow….Lee Applebaum.)
_____________________________________________________________________________
LITTLE ROOM ON SATURDAYS….. 5:30-7:30 pm..Pianist, Malathi featuring the great Denis Hyland….8 PM Great Jazz with Seth Kessel and Friends, 821 Duval St.

VIVA SALOON….. JUNE 3…. 8 -11 pm….Skipper Kripitz and Friends….

CHICKEN WALK AT THE MARRIOTT…SAT, JUNE 3, 10, 17, 24…. Larry Smith entertains from 5-8 pm.

GUY HARVEY APPEARANCE ON JUNE 3….He will be at Papa's Rum Distillery 201 Simonton St….will launch his new book, 2 to 5 pm.. A lecture and libations brunch will be held from 10 am to noon…. For additional information and tickets, go to https://tinyurl.com/4kevzaha.

JESS WACHS NEXT VOCAL LAB RUNS JUNE 24 TO AUGUST 5TH!!!! Jess will do everything in her power to enhance your voice and singing persona. Join or find out more info at 505-999-9230.

EPIPHANY SINGS LIVE AT AQUAPLEX….4 TO 6 PM….504 Angela St.

THE GARDENS HOTEL…EVERY SATURDAY and SUNDAY…….From 5 to 7 pm, Bobby Green entertains in the Atrium at The Gardens. Always FREE to attend.

DROP OFF HAZARDOUS WASTE ON JUNE 3….Free drop off… 8 am to noon…. For details call 305-809-3776.

PRIDE FEST STREET FAIR, JUNE 10…. 10 to 5 pm….. on Duval St.
PRIDE FEST DISCO STREET PARTY…JUNE 10 following the Fair…. 5 to 8 pm… 700 block of Duval St. (Check the Pride Fest website to find complete June schedule.)
______________________________________________________________________________
SUNDAY, JUNE 4, 2023

HAPPY JUNE 4 BIRTHDAY TO…BELLE JAMPOL … ED GUTFREUND …. PETER HART… LAUREN DOMSKI…. DENICE CARTWRIGHT …. SAUL ZABAR…. (Please remember Rich Simone.) HAPPY ANNIVERSARY TO… GENEVIEVE & JOHN ISAKSEN.
______________________________________________________________________________
BRIA ANSARA ENTERTAINS EVERY SUNDAY AT FOUR MARLINS AT THE REACH …. FROM 10 AM TO 2 PM!!!!

MARJORY LEE AT RAM'S HEAD, JUNE 4, 11, 18…. 11 am to 2 pm…

VIVA SALOON ON SUNDAYS..JUNE 4, 11, 18, 25……It's Marjorie Lee .. 8 TO 11 PM…. AT 903 Duval St.

JAZZ AT THE GARDENS ON VACAY TILL NEXT FALL….Thanks to Queen Kate Miano for providing this wonderful venue where Locals and Tourists come together at the Gardens …to enjoy the beautiful ambience and the great Music from our many varied and ultra talented musicians and vocalists.

AT THE GARDENS EVERY SUN. UNTI JAZZ BEGINS ANEW IN SEPT….. 5-7… Bobby Green entertains in the Atrium!

LITTLE ROOM JAZZ CLUB….. EVERY SUNDAY…….5:30-7:30 PM, It is Paul Warthen at the piano… ……..8 pm……Larry Smith and a Company of fab musicians and singers Jam for your great pleasure!!!!! 821 Duval St…..Great way to begin or to cap off an evening. WE LOVE THE LITTLE ROOM!!!!!

CHICKEN WALK RESTAURANT AT THE MARRIOTT .. June 4, 11, 18, 25….It's Rob DiStasi in, from 5 to 8 pm…..

ARTISAN MARKET…..JUNE 11, 25, JULY 9, 23…AUGUST 6 & 20….Mini Market at VFW on Roosevelt Blvd. Brunch, Bar, Lunch, Produce, Shopping, Local Art. ETC… Bring your own bags!

MANGOES DRUNKEN DRAG BRUNCH….SUNDAYS…. Jimmy Harcup is the super duper HOST!!!! Go to Mangoes Facebook Page or google to find out details, like dates, ticket cost, and times. Sounds like a fun way to spend a Sunday afternoon in Key West!!! (This is not every week, so call Mangoes or go online to find out when, etc.)

JANE DAWKINS LIVES ON… The wonderful and fabulous Jane Dawkins, whom we lost this past season, has reached out to me very specially as I am reading the book that she wrote, "If You're Ever in Key West".. a romance for grownups! I am so enjoying this love story to Key West and the life she truly LIVED to the fullest here. I can almost hear her voice reading it to me. Thank you, Jane. You are deeply missed and remembered most fondly! What a stunning Force you were!!!

KEY WEST PRIDE PARADE ON JUNE 11…. Flag Ceremony….

CONGRATS TO THE HIGH SCHOOL DRAMA CLUB…. Who just presented a marvelous musical in the auditorium…. MEAN GIRLS…. wonderful cast of Ruby Stover Sickman, Maddox Lowe, Jackson Moore, Iaian Wilcox, Riley Canalejo, Mia Cawvey and more…..LOTS OF AMAZING TALENT THERE…FUTURE STARS IN THE MAKING!!!!…(A standout in the Ensemble was Carly Lefelar!) I congratulate dedicated Producer, Emily Young… director Jeremy Zoma and choreographer, Lauren Thompson, and all the supportive parents and the student actors, those on the production team and the stage crew…. ALL were really quite wonderful!!!! And thanks to Maria Renna Sharp AND Williams Hall for becoming the home base for the Drama Club! Glad that The Arts are alive at Key West High School.

CHECK OUT THE WEBSITES OF THE VARIOUS CLUBS IN TOWN TO FIND OUT THEIR MUSIC SCHEDULES….. JUST GOOGLE OR CHECK OUT THE SCHEDULES PROVIDED BY THE KEY WEST CITIZEN AND OTHER PUBLICATIONS.

PLEASE SEND ME ANYTHING YOU NEED TO BE PROMOTED….. AND … I will do my best to include in future blogs!
______________________________________________________________________________
LOVE TO YOU…. AND REMEMBER…….You don't always need a plan. Sometimes you just need to breathe, trust, let go, and see what happens!
Lynda

PS I recommend double checking some of the venues to make sure the person you want to see is actually there the night you intend to go. Schedules often are subject to change.
______________________________________________________________________________
THE ADDENDUM!!!!
…..AND HERE'S MORE INFORMATION:

MY NEPHEW & GODSON FRED STEVENS…. Thank you to all who have been reaching out to our Fred. Your prayerful support, your cards, texts, emails and prayers are truly helping as he slowly improves a bit every single day. Suffering from a rare and complicated illness, Guillain Barre Syndrome, Fred is upbeat and positive and your encouragement has been so helpful. If you can, reach out to him (whether or not you know him) and let him know you are keeping him in your thoughts and prayers at this time. His text numbers are 216-848-2762 or 440-527-1234. His email is fstevens68@aol.com. For those who choose to send a card of support, his address is 2752 Horseshoe Blvd., Westlake, OH 44145. Thanks to all who have already reached out. Fred's wife Judi said that the messages of support have been overwhelming and have had a healing effect. Keep those prayers coming.

KEITH STRICKLAND & MARK HAYDA LEAVE KEY WEST…. This dynamic and wonderful duo recently moved from Key West to the Hudson, NY area. They will be greatly missed. But Keith assures me that he and Mark will be escaping the cold weather in their new environment for sunny Key West whenever possible! They will always be welcomed back!

AQUA IDOL CONTESTANTS UPDATE…. For eight weeks we packed Aqua Nightclub with wonderful shows.. starting with 17 Contestants on Feb. 20 until April 10 when at the Finale 6 Remained. In case you are wondering what our contestants are up to…. I thought I might fill you in. Dominic Paollilo has been cast in two shows at The Waterfront Playhouse next season. Mariah Woessner and Aqua Idol, Jessica Miano Kruel (right now Jessica is touring Europe) have also been cast. Mariah is also doing the music and sound tech weekly at Bobby's Monkey Bar. Iain Wilcox has been on the Red Barn Stage and has just finished starring in Mean Girls at the High School. Jessica Wachs has had a number of terrific gigs around town and you can read about some of them in this blog….she is also off to Scotland for what sounds like a grand time…. She also still conducts her Vocal Coaching classes and is helping good singers sound better! Puddin' Taine is still performing nightly at The 801 Club!
Kelsey Elliott has opted to remain in Key West indefinitely and she is hoping to be cast in shows around Key West… and there is no doubt she will. Ray West just finished a run Arsenic & Old Lace and writes his weekly column for Key West Weekly publication. He is cast in many shows next season! Tennessee Richard Carraway is a member of the Island Boys and they will be performing at many venues all around town next season. Samuel Costilow is an integral member of the group 3 SUM at Lateda…. you can see him there from 8 to 11+ Thursday thru Monday each week. What a wonderful and multi-talented group of singers they all are!!!

***VOTE BY MAIL IMPORTANT INFORMATION…..Many voters vote by mail….You may think that you have a request in for the 2024 election cycle but YOU DO NOT! You MUST request for 2024 and please do it now. You can do it online by going to www.keyselections.org/Voters/Vote-by-Mail-Request. OR you can do as I did… Call the Supervisor of Elections Office at 305-292-3416 and give them your information as to what addresses you want your ballots sent to. In 2024 there are several Voting Dates…. PLEASE make sure you update this as your vote is important! One request is deemed sufficient to receive a vote-by-mail ballot for all elections thru the end of the calendar year of the next regularly scheduled general election.

BIRTHDAY/ANNIVERSARY LISTS….If you would like to be included in the Birthday and Anniversary Lists that I send out every month, please let me know your month and day by sending that info to me at kwlynda@bellsouth.net. There are special perks to being on the lists!!!! One of the perks is having your name in KONK Life on the day of your Birthday!!!

MORE NEWS ABOUT TAVERN N' TOWN…. Tavern N' Town is closed down as the Kitchen is going through a complete renovation. The musical entertainment continues at the OUTDOOR restaurant, THE CHICKEN WALK across the way from T n T, by the pool (GREAT VIEWS!!!) Performing time will be from 5 to 8:00 pm nightly instead of 5-9. The T N T Indoor menu is offered from 5 to 8…. the outdoor menu with more casual fare is NOT offered…. use of that menu ends at 4:00. The delish 7, $7 Tapas are not included…. The two for one drinks is on for locals from 4 to 6 only. A 15% locals discount is given. Please let the management know your thoughts or suggestions.

PRAYER CHAIN……… Please include prayers for…..Laurie Thibaud……Fred and Judi Stevens ……the Diane Hohman Family on the loss of her son Nathan …..Joe Harlow…..for Marty Greenberg on the loss of his beloved wife, Helene…… Julie Hanson ….Rosi Ware… Noreen Collins ….Lonnie Hensley …. Margot Gordon ….Belisa Lea….Willa Jencel…….Donna Gallagher …..Dick Moody…. Tanya Leto …… Molly Blue ….Ann Whipple …..Julia Davis…. Johnny and Audrey Pollizi …..Bob Gries ….. Pony Charvat …..Louise Weithas…… Glenda Rowley…Tim Dunn….Bill Schmock … Michael Benner (thanksgiving) ……Carey Moore ….Jo Gerenger …. Genevieve Isaksen … Laura Hettinger ….David Buffam….Maryann Barth …Bella Rettenwander …. Dawn de Boer … Cheryl Walchli … Bert Peranteau …..Terri White …John Padget ….Pat Waller….Todd Reifschneider …Marta White …. Anne McKee …Dee Dee Duecker …..Mikey C…..Jennifer O'Lear…. Lorann Wood (Thanksgiving) ….. Paul Politte….Pat West ….The People of the Ukraine …… Chuck Selph…..Anne Marie Adreani ….Joanie Sullivan …..Wally, Len & Helen Stevens ……All those dealing with Illness, loss, and despair… Remember, there are many reasons that we pray…not just because people are ill…. I do believe that when we all send prayers and good vibes to those in need, those prayers mystically meet and surround those being prayed for. Sometimes we pray for miracles and the impossible….sometimes we pray to just cope with the results of what happens to those we are praying for. Sometimes we pray for strength to go on and to accept…sometimes we pray for thanksgiving. We are in this thing called 'Life' together ….and we all have power within us to help our fellow man. Bless you for remembering our loved ones….Prayer changes things! Let me know of anyone who should be added to this list.

VOLUNTEERS FOR KW SEA TURTLE CLUB…. Needed for upcoming nesting season which began on April 15-Oct. 31. For info call Denise at 305-928-0606.

SAD NEWS…… Terry Carper, husband of Queen Jane (Rohrshneider), and nephew of Jean Carper…. recently lost his beloved son Daniel Carper. Please reach out to him with messages of sympathy at: Terry & Jane Carper, 1306 Angela St., Key West, FL 33040. A way to honor Daniel Carper's memory would be to contribute to the local high school band a Daniel was a very active musician. You can direct your donation in his honor to: Buckeye Valley Music Boosters, 679 Coover Rd., Delaware, Ohio 43015. Write in memory of Daniel Carper on Memo line on checks.

EMPOURIUM….NEW LOCALS PLACE OPENS…. The old Cowboy Bill's is under the new ownership of Bruce Boros and Scott Taylor. They are working hard to make 618 Duval St. a Home for Locals! The new name is called "The EM-POUR-IUM." It Food, Drinks and Fun are on tap for all in town, and Locals, especially, will be welcomed with open arms! There is music and Karaoke…. and did I mention FUN! For more info call 305-395-0213.

DID YOU KNOW…. that Advanced Urgent Care will be the First Urgent Care to offer MRI in the Marathon 13365 location…charge is $575 without contrast and $675 with contrast…no additional Radiology fees….(compare to $3,000 charge at Monroe County hospitals. They are the only MRI site doing Breast MRI's in Monroe County. You must have an order from a Healthcare provider who MUST get the preauthorization. For more info go to www.urgentcarefloridakeys.com or call 305-294-0011.

*****WATERFRONT PLAYHOUSE ANNOUNCES NEW 2023-24 SEASON….. The 85th Anniversary Season will be another great one! You will definitely want to become a Member….Shows will be… ROCKY HORROR SHOW Oct. 18 , ten shows…. LITTLE SHOP OF HORRORS from Nov. 29 for 3 weeks…. JOE POSA AS JOAN RIVERS, Jan. 4,5,6…. SINGIN' IN THE RAIN THE MUSICAL… Jan. 24…..MURDER ON THE ORIENT EXPRESS, March 13-April 6…. TEN BLOCKS ON THE CAMINO REAL, March 17…. TRUNK MATERIAL on March 31….LOST IN YONKERS….. Great actors have already been cast!!! Exciting stuff!!!!

TENNESSEE WILLIAMS ANNOUNCES 2023-24 SEASON…. On April 19, Executive Managing Artistic Director, Matthew Rawls, presented the exciting new Season at the Theatre….The Encore shows are 'The Book of Mormon'…The Motown Men…..'Little Women' (Musical)…. Neil Berg's 50 Years of Rock n Roll part 4…and Les Ballets Trockadero de Monte Carlo. In addition, other announced shows are Stars of the NY City Ballet… Gladys Knight… Illusionist, Mike Super… Puppy Pals LIVE!…Drum Tao, One Night of Queen….Bobby in the Lobby…Paradise Big Band, The South FLA Symphony and More to Come. If you are interested in becoming part of the Producer's Circle please contact Matt at the theatre.

BIRTHDAY/LISTS….If you would like to be included in the Birthday and Anniversary Lists that I out every month, please let me know your month and day by sending that info to me at kwlynda@bellsouth.net. There are special perks to being on the lists!!!! One of the perks is having your name in KONK Life on the day of your Birthday!!!

MAJ JOHNSON TEACHES WATERCOLOR CLASSES…. once monthly at The Old Stone Church Coffeehouse. She charges $20. per class and the profits go to charity. For more info call or text her at 305-587-8455 or email her at maryanne.johnson@westcare.com. Next class is April 28 I hear…call now.

LONNIE HENSLEY STILL NEEDS YOUR PRAYERS AND SUPPORT…. Lonnie, who is very well known in town….operates thee great Classic Car Automotive Shop on Stock Island….. suffered a severely fractured skull and multiple contusions on Feb. 12… injuries so severe he was airlifted to Jackson Memorial where he had a section of his skull removed and has been in a coma and a dreamlike state since then. He is in a financial crisis and needs your help and support. Google Lonnie Hensley gofundme to help. Or if you would like to help directly, you can make checks payable to LAST KEY REALTY Att: Sharon Santry and mail or drop off at 825 Duval St. Key West, FL 33040. Let us all rally around Lonnie….. He is now residing at Harbor Beach Nursing and Rehabilitation Center at 1615 Miami Rd., Ft. Lauderdale, FL 33316. You cansend cards and messages to him there or at his Shop at 5324 3rd Ave. Stock Island, FL 33040 and his staff will see that he gets your mail… or to the Santry's address above. (The phone at the Rehab Center is 954-523-5673. Lonnie has no motor function at this point.. cannot hold a phone, spoon, nor can he walk…very compromised physically…communicates with yes or no answers.) Many continued Prayers are requested… and please do count your blessings.

SUPPORT SOS………Many Monroe County residents are living below the poverty line. SOS (Star of the Sea) Kitchens have long been providing food for those in need. Go to website at www.stmarykeywest.com or call 305-294-2772.

THE IMPROMPTU CONCERTS…For more info go to www.keywestimpromptu.org.

FRIENDS OF THE KW LIBRARY…Go to www.friendsofthekeywestlibrary.org. Join or Renew for the Season. If you act now your membership will extend to Jan. 1, 2023. (Thanks to Roberta, Nancy, Megan and all those who are so dedicated to this wonderful institution!)

THE BIRTHDAY AND ANNIVERSARY LISTS…….. Please let me know if you would like me to forward you these lists….. Simply send me a request at kwlynda@bellsouth.net and I will send you this month's complete Personality Description plus all those I know who are celebrating birthdays and anniversaries during this special time of year!!! Also, let me know if you want to be added to it .. You can also see it by going to https://www.conchtv.com/author/lynda… and then scroll down.

VOLUNTEERS NEEDED FOR COMMUNITY FOUNDATION OF THE FLORIDA KEYS…. Contact Kel Bedard at 305-809-4994 (office) or his cell at 985-791-4447…or email him at kel@cffk.org or the website at www.VolunteerKeys.com. The FLA Keys Volunteer Center is at 300 Southard St., Suite 201, KW.

THE STUDIOS GATHERINGS AT HUGH'S VIEW….The Studios is sponsoring these GLOW eves. Cash bar available. For more info go to www.tskw.org. The GLOW Hours are 6-8 pm. FREE with advance registration. 533 Eaton St.

THE TROPIC CINEMA AT 416 EATON ST…. For info on movie schedules go to http://www.tropiccinema.com. Phone is 305-434-0974. Go online to reserve your times.
TROPIC CINEMA SEEKS VOLUNTEERS….. www.tropiccinema.com. Training is provided. 'Payment' is free movie passes and popcorn for each shift worked.

STRING MUSICIANS SOUGHT…. The KW Community String Orchestra is seeking those who play violin, cello, viola, etc. at all levels of experience. For info contact Lynn-Marie at lynnmariekw@gmail.com.

VOLUNTEERS NEEDED FOR REEF RELIEF….For info call 305-294-3100.

STAR OF THE SEA OUTREACH MISSION NEEDS VOLUNTEERS….To help with the food pantry on Stock Island….This mission serves hundreds of the community's needy operating Mon-Fri. Call Donna at 305-407-5967 for info.

BOB FRECHETTE=FABULOUS REALTOR IN TOWN!!!!…..Contact Bob at 305-304-2584! Email him at rfrechette@bellsouth.net. Honest, Loyal, Fair, and Adorable too!!! He will have only have YOUR best interests at heart.

SHAL SEEKS VOLUNTEERS…Southernmost Homeless Assistance League has begun serving an evening meal each day at the homeless shelter with food from the Soup Kitchen….Volunteers are needed to help. For info call John Miller at 502-876-5092.

TENNESSEE WILLIAMS EXHIBIT:…. .513 Truman Ave. This wonderful Museum is under the auspices of the Key West Art & Historical Society with founder, Dennis Beaver as its curator….Visitors and Locals are invited to tour this preserved and showcased collection of historic, archival objects that promote the importance of Williams's legacy and offers the largest collection of his memorabilia and artifacts available to the public. Open daily from 9:30 am to 4:30 pm…. Admission: Adults $7. … Children under 6 Free…. KWAHS Members: Free… For more info call 305-204-4527. Big Thanks to Dennis Beaver and Bert Whitt for their great efforts to make this Museum world class!

AQUANETTES PERFORM …SHOWS EVERY SINGLE NIGHT. Aqua Nightclub at 711 Duval St. is the place to see the most fabulous Drag Queens….including FAITH…INGA …. ELLE … JESSICA… BEATRIX…… MAYA…and EPIPHANY!!! Shows are Monday and Tuesday at 9 pm….and from Wednesday thru Sunday, there are two shows…at 7 pm and 9 pm. ..Reserve at www.aquakeywest.com. Aqua is open from noon to 2 am nightly…. drink specials… full menu… lunch specials…… call 305-294-0555… Also at Aqua…. there is the Back Bar, the Side Bar , the Outdoor Poke Bar and Grill, and each has its own personality!!!!!
KW TROPICAL FOREST & BOTANIC GARDEN, NEEDS VOLUNTEERS….To volunteer please call 305-296-1504.

HELP BELLA BEAT CANCER…. Bella is the beloved 'stepdaughter' of Skipper Kripitz. He is reminding all generous people out there that thoughts, prayers, meditation and Funds are needed at this time. If you want to contribute to Bella, there is a Go Fund Me page at https://gofund.me/6b02cbac. Donations of any amount will help. (Bella is the daughter of Kimb Rettenwander.) Skipper thanks you profusely for your kindness and generosity.

801 CLUB…….Famous Drag Shows are at 801 Duval St… every night at 9 or 11 pm. Book Online….. www.801.bar or call 305-923-9296. The amazing and internationally known Sushi runs the show with amazing Drag Queens with names like Puddin', Deja, Mulysa, Marilyn, Racquel, Kylie, Ma Evans, etc.

NEW ADDRESS FOR LA RUBIA KEY WEST….…OPEN…..Stephanie Hellstrom (THE Blonde!) is the owner of this delightful shop…NOW AT 1121 DUVAL ST., right near LATEDA. You can purchase hand woven Panama hats, handcrafted wearable accessories, and organic chocolates from Ecuador…. along with handbags, scarves, bamboo wraps, jewelry and more.

TAKE STOCK IN CHILDREN ORG. SEEKS VOLUNTEERS…..This marvelous, award winning scholarship program mentoring group is looking for giving souls to help mentor 50 some qualified students from lower income families ….They cannot be admitted unless a volunteer steps forward. It takes less than an hour each week. Call Chuck Licis, program coordinator at 305-394-7974 or e-mail him at chuck.licis@keysschools.com. Kudo to John Padget for his years of dedication to this worthy cause. He is an inspiration!

THE WILLIAM WELCH LEGACY….Though Bill is no longer with us, his beloved sister, Sherrey Welch, is determined to keep Bill's art and legacy alive through the new website, at www.williamwelchcollection.com. Please forward this info to anyone who may be interested in Bill's Artwork retrieved from Nantucket, Key West and France.

CUSTOM HOUSE & LIGHTHOUSE MUSEUMS ARE SEEKING VOLUNTEERS…If you have a few hours to offer as a docent, archives asst., exhibit builder, or event volunteer, please offer your services!
*** THE GEMINI PERSONALITY….MAY 22 THROUGH JUNE 21 ***
This is one of the liveliest, most vibrant signs of the zodiac. Geminis are mercurial, bright and terrific company. Better yet…they never seem to age. When they are older than dirt, they still look years younger than they really are. They also have a very youthful attitude….love keeping up with the latest trends and their insatiable curiosity keeps them interesting at all times! Geminis love the whole tech revolution as it opened up a whole new area of communicating. They are in heaven with all the new do dads on the net, cell phone apps, etc. Geminis love to keep in touch with people….e-mail and facebook had the Gemini in mind when they were invented. Geminis love to chat…whether online or just to a neighbor….or someone standing in the checkout line at the market…the Geminis is always ready to talk! They love a bit of gossip….and adore being 'first with the latest news'. Geminis are very eloquent…born communicators….and they find it easy to express ideas. They do have a low boredom threshold and find it hard to concentrate on one thing for a long time unless they are completely enraptured by it.
Versatility is a Gemini's middle name….as they can easily tackle most things. The Gemini's emotions can dip up and down dramatically and there are days when he may not want to talk to a soul…..but mostly there are the other days when they have to be physically yanked off the phone.
Geminis have a tendency to change their opinions often. Their ideas fluctuate according to the circumstances and the time of day. It is what makes a Gemini such an interesting person to have around. In love, Geminis are happiest dealing with ideas and not emotions, as they find it hard to express their feelings. They feel swamped by a partner who is very emotional….it embarrasses them, and this usually great communicator, can become tongue-tied. They can describe their emotions in an intelligent way, but it is another story when it comes to experiencing and living their feelings. Those who wear their hearts on their sleeves make a Gemini wince. There are big problems if a Gemini is in a relationship with a clinging vine….they are apt to do a disappearing act. A Gemini's popularity is so high that people adore their sunny nature, their ready laugh and their fascinating conversation. A typical Gemini knows a little about an awful lot. They look for partners who are on the same intellectual level as they are…they are drawn to those who make them think. No matter how attractive someone might be physically, a Gemini won't stay with them for long if they are boring, not bright, or do not have a sense of humor. The best signs for a Gemini are Libra, Leo, Aries and Gemini!!!
Geminis are ideal for any job in the media, communications industry, advertising and sales. They need to be in a job that keeps them busy with many variations…and if travel is involved, all the better. Self-employment is also attractive to them. As far as money is concerned, with a Gemini, it's 'now you see it…now you don't.' Geminis love to wheel and deal….they have such a great sales pitch, they could probably sell fish to penguins. They are excellent negotiators. They love impulse shopping and that can often get them in trouble! We love our Gemini Friends and Family Members!!!
HAPPY GEMINI BIRTHDAY TO….
5/22…..Dena Badgerow….George Gugleotti….Richard Carraway……Joanie Sullivan….Terry Luzius…Luke Wallace……Rick Mack …Everett Hudson Smith …. Jim Szemplak….(Please remember Carol Burns.)
5/23…..Bucky Montgomery…Christine Bassett….John Andola…Joyce Burd.. Donna Shields…..Fred Lewis …. Chester Sparks ….. (Please remember Emily Selph….)
5/24…Calen David 'Epiphany' Tomaszewski….Richard Jay-Alexander…..Frances Chmura….Teresa Sorensen…Stephen Byler….. Dominiquia Dominga
5/25…..Heather Carruthers…Amy Rohrbaugh …Steve Andrews….Tony Laglia…Pamela Williams…(Please remember Ron Maranian … and Sylvia Rogalski.)
5/26…Vince Taporowski…..Ralph Nackino…..Robby LeBlanc…..Diane Colvard…..Despina Protopsaltis…. Alan Horning …. Bernard Mraz ….
5/27….Bob Houlihan……..Elaine C. Spencer……Cole A. Stevens… Sally Wernicoff…
5/28…..Bonnie Piceu….…..Pat Kennedy…..…Tom Keller… …(Please remember…Jane Dawkins… and …Ron Klug.)
5/29…..Kay Behmke…Queen Anne O'Shea Quattrini….…Fred Covan….Susan Dimbath …..Bill Bahlke….Nicki Shaw…..Dick Norford… (Please remember Nancy Holtkamp!)
5/30…..Kathleen Moody…Renay Regardie…David Perlman …Jeff Kucin …Shannon Lynch…Jennifer McComb …..(Please remember Scott Barnes… and …. Mary Keller.)
5/31….George Cooper…..Ann Hampton-Callaway….Drew Forestall……Jody Alwood…..Stan Morris…Queen Kelly Summers…..Nancy Stevens II ….…. (Please remember Caroline Cash and Erin English Beitko.)
6/1…..Bob Conti……Lora Wandras….Wish Washburn…Dennis Hopps…..Alan Robbins….Chad Schmock ….(.Please remember Irene Warner.)
6/2…..David Case…Lee Anne Holland…Babs Wade…Cassidy Timms….Lena Perkins…..Carolyn Scott…Lynne Higgins… Lynne Smith …..Tova Corman …Sean Yoder…Wayne Brady …..
6/3….Maribell Maschal….Queen Diane Hilton May…Aaron 'Duke' Duclos….Amanda Siglin…..John Jurkowski…Robert "Hellin Bed" Moccia .. …Brady Stevens…Nancy McCann…..Kristina Bradley… (Please remember Basil Markow.)
6/4…Belle Jampol…..Pete Hart…Lauren Domski…Ed Gutfreund….….Denice Cartwright…. (Please remember Richard 'Rick' Simone,,, and Saul Zabar.)
6/5….Carl Winston aka Trey Forsyth….Nancy 3 Hoffman……Rick Harty…Beryn Harty… Maxine Wheelan…..Teddy Philput…….Tony Santora….…(Please remember Jean Olson and Mike Stallard.)…
6/6…..Jean Thornton….John Stashenko…Annette 'Cheffy' Foley …..David Scott Meier….Alan Solomon …..Bill Heller…..Melissa McElvaney…Marilyn Gallagher …..(Please remember Norbert Leszcz.)
6/7…..Debra Dean…Jim Ryan…..Scott Kirby …..Margaret Domanski…..Bobbie Pavlic….Doris Addenbrook…Cynthia Rhyner Wood….
6/8…..Betty Lightcap……Suzanne Washburn…Gilda Niles…..Irene Eyer…John Zadkovich….Jody Helman….. Georgine Stadnik … Heidi Khalil ….. August 'Gus' Armbruster …..(Please remember Linda Greenberg.)
6/9…..Steve Panariello… Ervin Tumm…..…Saian Dashanimaer…..Mike Boykin …..Jennie Wolf…Wendy Van Der Wehen ….Kevin Kemner.…(Please remember Barbara Gilliam Jurecki, Sue Segersten, Gary Helman Sr….and Alan Zambie.)
6/10….. Joe Trippi…..Bob Miano …..Jiayin 'Jia-Jia'Shen …Becca Morse Whitten ….Ann Guth….…..Alex Zeto…..Tammie K. Sheaffer …Frank Sodetz ….. Jill Cassell ……Gary Novak …Marcia Domagalski…Don Michaud… John Alberty ….(Please remember Ron Johns and….Frances Szyczypinski.)
6/11….Michael Lansdell…..Matt McGrath…..Katy Werner….Paul Berres…Jeanne Rogalski… (Please remember Bob Dixon!)
6/12….Shane Hall…..Sue Capanjola……Deborah Gray…..Kellie Niles…..Greg Beaver…Jeanette Rhyner…(Please remember Eric Weinberger ….. Angela Presti…..and Gail Leadbeter.)
6/13…..Bria Ansara….Darrell 'DD Sharp' Goddard…..Justin Camaddo……Mary Kay Lee Cottrill…Frank Wood…David J. Beam …..Lenny Rosignalli… Bret Pipa….. James Dalakas….
6/14….Tom Cawley…..Malathi Chanrugar…Jeff Overby….Ingrid Sledz … John Perdion ….
6/15…..David Black……Wayne Larue Smith … Beth Oropeza….Sue Clay Maloney….Sharman Wilson…Ross Claiborne….. Sally Gries …..Frank Nimesheim… Sandra Groudle…..(Please remember Marilyn Larkin….and ….Andy Hibinger.)
6/16…..Danielle Martin…….Kevin McChesney …..Judy Bramson….Stephen Kramer…Doug Maleno …..Louise Hemel Ganley…Tina Sydenstricker
6/17…..Lori Reid…..Ryan Acker ….Amy Ray…Melissa Petruszka…Beth Rooney…Norm Maltby…Bob Boff…..(Please remember Dennis Charles Cooper.)
6/18…Tom Kirdahy….…..Terry Howery…..Rita Berkin ….Joy Brenner Davis…..Kelly Stallard…..Judy Helm… Phil Khalil …… (Please remember Michael Domski Sr….)
6/19…..Keith Dempster….Richard Quint…..Anne Shaver…Meryl Berman…..Lorie Kjos….Aubree Smith …..Jamison Gilliland ….. Maryann Reifschneider ……Carolyn Johnston
6/20…Marilyn Van derVeen….Jane Gardner… Carl Gilley …..Brian Furlong …..Justin Frechette…. Renee Mack ….
6/21……Caroline Stover-Sickman…..Craig Hollenback…Jeff Bern …. 'Charlie' Mulligan…Peter Diamond Ilaqua…..Steve Iseman… …..Bob Williams…
HAPPY GEMINI ANNIVERSARY TO….
5/22….Dena & Bob Badgerow….Rusty Hodgdon & Joyce Chilton… Laurie & Kevin McChesney!!!
5/23….Ellen & Bernie Peter
5/24…..Gail & Craig Hollenback….Susan Powell & Richard White
5/25…..Hy Conrad & Jeff Johnson…..Sara & Wally Clark…Mary Kay & Bob O'Meara…
5/26…..Sarah Dorrance & Charlie Paul …..Ruth Reiter & Dan Metzler…Barbara & Greg McShea…..Kathy & Tony Laglia…. Nancy Stillwagon & Jon Stein…
5/27……..Kim & James Fisher
5/29….Nicki and Joe Shaw…..(Please remember Hans & Joani Dollhausen.)
5/30…John Smyth & Joanne Gavin
5/31…..Judy & Bob Rafanelli….…(Please remember Kayla & Rob Tollen.)
6/1…..Edie Hambright & Julia Davis…
6/2…..Kimball & Melissa Ingram…..(Please remember Wink & Fred Gasser.)
6/4…..Genevieve & John Isaksen
6/6…Mary Jane & Louis Syroney
6/7…(Please remember Nancy & Jim Nolan.)
6/8…..MaryCarlin & Bill Porter
6/9…..Shirley & Frank Piku……Clare & Bert Angermann
6/10….Christy & Byron Barlow…..Bobby Nesbitt & Mike Mulligan
6/11…..Theresa & Scott Hoover…..Sue Forti & Bob Houlihan…. Brenda & Rick Bodner…. Erin & Caroline Stover-Sickman….
6/13…..Paul & Pam Vereb…..Nancy & Ed Swift
6/14….Larry & Sharon Rohrbaugh…..(Please remember Bob & Gladys Rybicki….)
6/15…..Mimi & Gary McDonald….…Sally & Bob Gries…..Pam & Bob Williams….
6/16…..Kathleen & Dick Moody….…Arlene & Ken Machor…
6/17…..Mary Lou Hoover & Charlie Waite
6/18…..Virginia & Donald Robbins…….Doug & Carrie Helliesen
6/19…..Bounce & Karen 'Oo-LaLa" Grant Margil…..Len & Helen Stevens….Mary Kay Lee & Bill Cottrill
6/20…..Allesandra & Franco Piacibello….Denise & Tom Rybicki…
6/21…..Rita Linder & Perry Arnold……Connie & Jeff Hurst….
If you are one of those special Geminis, let me know if any of the above description applies to you in any way. If you receive this and find you are not on the list, and would like to be, please send me your birth month & day to kwlynda@bellsouth.net and I will include you….also your anniversary info if applies! If you are reading this, I urge you to reach out to those you know and remember them on their special days. It is a simple way to stay in touch with those in our community in a caring way. Happy Birthday and Happy Anniversary to All!!!
Much Love, Lynda