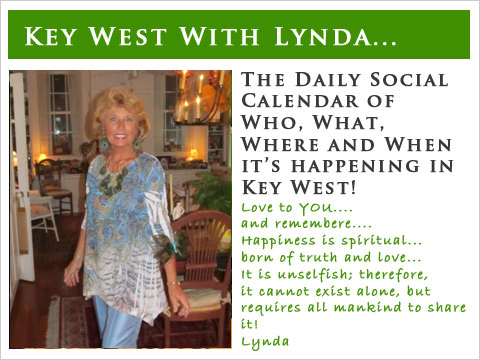 SUMMERTIME…AND THE LIVIN' IS EASY!
JULY 19 thru AUGUST 9, 2021… IN KEY WEST WITH LYNDA….

DEAR READERS…We have been here at dear Rose Cottage since just prior to Memorial Day and, for the most part, we have been enjoying every single day at this idyllic and nostalgic place. Thrilled that our Cottage Garden has never looked prettier….and this past winter was very good to our roses! Hope you, too, have been having a great Summer, wherever you may be! Please note… if you want to mail us anything here, our address is: 62 Bungalow Bay Blvd., Chippewa Lake, Ohio 44215. We plan to be here until mid October!!!!

WHAT ABOUT BOB???… All well with Bob after his 'ordeal' of a nasty infection after his May hernia surgery. Thanks to all who kept him close in your thoughts and prayers!
______________________________________________________________________________
MONDAY…..
HAPPY JULY 19 BIRTHDAY TO…..JOHN VAGNONI… SIMON BUTTERS…PAMELA SAFFLE … NORA REVELIN … GUILLERMO OROZCO…. KATHY FOGG …CHARLIE RAMER …. BAMBI BESHIRE …. DANIEL WIGGINS … JACKIE McDONNEL ….JAN OOSTDJIK ….DENISE HARDING…. (Please remember Crystal Cates … Isobel Sabo …. Walter Lepperd… Vivian Baxter.)…. HAPPY ANNIVERSARY TO…. NANCY AND ROBERT NEAD.

HAPPY JULY 26 BIRTHDAY TO…..ROB MCKEAGE….EVIE EVERS KLING … AL MCCONAGHA …. MICK JAGGER …. (Please remember Earl Duncan.)

HAPPY AUGUST 2 BIRTHDAY TO…DONNA GALLAGHER…. JIM MORRIS…. DAR CASTILLO … LOGAN MCDONALD GOOD… MEGAN BURGESS…BILL FITZGERALD…. (Please remember…. Robert Gordon …. Sr. Mary Pat Leopold….Jim Soule.)….. HAPPY ANNIVERSARY TO…. ELENA AND ROBERT SPOTTSWOOD….LOUISE & BERNARD SLEDZ ….
______________________________________________________________________________

THE AMAZING BOBBY NESBITT…..AN END OF AN ERA…. Our very close and beloved friend, the suave, classy, debonair and hugely talented, BOBBY NESBITT… has ended his long time career of performing weekly gigs around Key West. BOBBY has brought so many people together in friendship through the years, entertaining at every top club and cabaret room in town. His last spot was at Tavern N Town, and his finale there was on June 12. Thankfully Bobby will continue to do special performances at Theaters in town…. like Bobby in the Lobby at Tennessee Williams and the Truman White House…. He is one of a kind… a beautiful person inside and out……. No one sings songs from the Great American Songbook better than Bobby! He has filled our lives with great joy for many years and he will be deeply missed!!!! And Bobby… just know, the piano in our Living Room, is always waiting for you to tickle those ivories!

THE WATERFRONT PLAYHOUSE ANNOUNCES STELLAR SEASON FOR 2021 AND 2022….. Mark Your Calendars…..Shows are: THE ROCKY HORROR SHOW (Oct. 14,15,16,20,21,22,23,26,27,28,29) …. SHOUT THE MUSICAL!!!!(Nov. 17,18,19,20)…..EVERY BRILLIANT THING…. (Nov. 21,22,28, 29) ….. ALL IS CALM….. (Dec. 8,9,10,11,15,16,17,18,22,23,24,25)….MATILDA the Musical… (Jan. 12,13,14,15,19,20,21,22,26,27,28,29)….. CLUE (comedy…. Feb. 12,17,18,19,23,24,25,26, March 2, 3,4,5)… SOMETHING ROTTEN (Musical…. March 22,23,24,25,26,29,30,31, April 1, 2, 5, 8, 9, 12, 13,14,15,16.) …A LIFE IN THE THEATRE… (May 4, 5, 6,,7,11,12,13,14, 18,19,20,21).
PLEASE NOTE THAT MEMBERSHIPS ARE NOW AVAILABLE BY GOING to….. www.waterfrontplayhouse.org. Get the seats you want on the day you want… before everyone else!!

UPDATE ON DANNY WEATHERS…. Former Waterfront Playhouse Artistic Director, and dear, dear friend, Danny Weathers, has been fighting a series of health issues, and I KNOW he would love to hear from you. He spent many months in the hospital but is thankfully, back in his home being administered to by his husband Alan Melnick. He is still not out of the dark, but getting better. I am requesting that you take some time to send Danny a card or/and a message of support. Send these cards to him at his home address at: 2114 S. via Mazatlan, Palm Springs, CA 92264. You can email him at AccessDanny@gmail.com or text him if you have his number. Healing prayers are needed. We ALL love Danny…. and wish him well! Let us get behind Danny during this tough time. Big thanks!!!!

FABULOUS FLORAL SHOP IN TOWN!!!!! ……CONGRATS TO DAN WARD & JIM ARGOUDELIS!!!! …These two wonderful friends recently opened a divine new Floral Shop, called DAN'S FLORAL & GIFT BASKETS……It is located at 605 Simonton St. It is open from 9 am to 5 pm…. Dan's work is unique and fabulous…. like Dan!!!! The website is www.dansfloralkeywest.com. We wish them a blooming success!!!!!! They deserve nothing less!!!! Shop will be open 9 to 5 pm, Monday thru Friday…. 9 am to 2 pm on Saturday…. Closed Sunday. Phone: 305-396-7007. …..

THE MIRACLE OF THE VACCINE…For we vaccinated folks, Life, keeps getting better and better. Thank goodness we no longer have to live in fear that we will get the virus…. and if there is a slight chance that we do, it will not kill us! Also, we cannot pass it on to anyone else. If you have been on the fence about getting the vax, this is just another great reason to get vaccinated! Also… I just heard that the Delta Variant is in the Keys, and that it hits the unvaccinated in a bad way….So…. I continue to urge all who have not gotten vaxxed to please DO! The sooner everyone gets vaccinated the sooner we can ALL meet without masks and lead a life of relative normalcy. By our getting vaccinated I am helping you and you are helping me! By getting vaccinated I cannot get the virus and cannot give other people the virus. That is a feeling of MONUMENTAL RELIEF!!!!! (And it is FREE!)

UPDATE ON CRUISE SHIPS…..FOR ALL THOSE INTERESTED…..
PLEASE DON'T GIVE UP THE SHIP!!!!! Along with getting Vaccinated, I am also passionate about Cleaner, Safer, Smaller Ships!!!!! There was an important Commission meeting…well-attended by our residents and many, like me, got it online! I was so proud of our people who went to the mic and spoke with passion and eloquence. The bottom line is…. The Voters of Key West have spoken. In a free society, THAT SHOULD COUNT. And yet…there are those who have their own agenda and it does not concern the voters…locals… the people who have made their wants known with a legitimate vote. The few people that spoke for the Cruise Ships said that their 'business has gotten worse since the cruise ships stopped coming." saying it like it is WE who stopped the ships from coming. HELLO!!!!???? COVID, the Pandemic… stopped Cruise Ships from sailing anywhere since March of 2019. I think these naysayers are set up by certain folks in town to spread fear amongst everyone…..But we can see right through all of this 'baloney.' DEAR COMMISSIONERS…. PLEASE SUPPORT THE COMMUNITY WHO VOTED FOR YOU AND PLEASE SUPPORT THE WANTS AND WILL OF THE PEOPLE!!! BIG THANKS!!!!
ALSO…. in the Thankful on Sunday Section below…. please see those whom I am very thankful for after that meeting!!!!!

SO NOW WHAT HAPPENS? I believe another meeting will take place and work will be done, during the next couple of months….hopefully, on the Town's behalf… I implore our City Attorney, Sean Smith, to side with the people and not work on behalf of the ones working against us.

BE A RADIO STAR…AT THE WATERFRONT PLAYHOUSE!!!……The Radio shows that have been presented by the Playhouse cost about $2,000 each to produce…. this pays the actors, and crew. Can you consider being a Radio Star… by making a contribution to the Radio Shows? For $500 or more your name will be added to their roster of Radio Stars. Please help the Waterfront by going to www.waterfrontplayhouse.org or call 305-294-5015. You can send checks to Waterfront Playhouse at Box 724, Key West, FL 33041. Thank YOU! Depending on funding the Waterfront is hoping to present one radio show a month.

PAINT & CHUG AT COMEDY KEY WEST ON ….JULY19,26..AUG.2,9,16,23,30. ..This is a popular event…. 7 pm at 218 Whitehead St….Call 305-985-7370….Go to website at www.comedykeywest.com.

AQUANETTES PERFORM …SHOWS EVERY SINGLE NIGHT. Aqua Nightclub at 711 Duval St. is the place to see the most fabulous Drag Queens….including FAITH…INGA ….ELLE…JESSICA… BEATRIX…… MAYA…and NEW AQUANETTE, EPIPHANY (aka Calen Tomaszewski)!!! All are sublime! Shows are at 7 and 9 pm on Thursday thru Saturday….Reserve at www.aquakeywest.com. Aqua open from noon to 2 am nightly…. drink specials… full menu… lunch specials…. Protocols enforced!!! On Monday, Tuesday, Wednesday and Sunday, there is only one show at 8 PM. I recommend reserving a table…. call 305-294-0555. or go online to www.aquakeywest.com. Also at Aqua…. there is the Back Bar, the Side Bar , the outdoor bar, and each has its own personality!!!!!

THE STUDIOS INFORMAL GATHERINGS AT HUGH'S VIEW…. We enjoyed a few wonderful eves atop Hugh's View at The Studios. If you have an opportunity to reserve, The Studios is sponsoring these GLOW eves. Cash bar available. Limited guests. Hugh Ware, the View's namesake, was one of the dearest most adorable persons we ever knew. Finally being able to experience Hugh's View was an emotional experience for us! For more info go to www.tskw.org. The GLOW…. 6:30-8 pm. FREE with advance registration. Call the Studios to find out the dates available. 533 Eaton St.

TAVERN N TOWN….JULY 19.. Rob DiStasi entertains from 5-9 pm. Mike Emerson entertains on July 26.

GARDEN CLUB PLANT SALE EVERY MONDAY, JULY 19, 26, AUG. 2,9,16,23,30.. From 9:30 am to 11:30 am at 1100 Atlantic Blvd….West Martello…home of the KW Garden Club!!!!

GINGERBREAD GALLERY…….This esteemed Gallery presents outstanding artists always… 1207 Duval St… open 10:30 am to 7 pm.

SCHOONER WHARF, JULY 19,26….. Raven Cooper from, noon to 5 pm… 6:30 – 11 pm, it's Farewell to Cowboys….

MARYLIN'S KARAOKE, JULY 19,26,AUG.2,9,16,23,30….Karaoke on Mondays with Laurie Thibaud….. 8 pm….320 Grinnell St.

SMOKIN TUNA SALOON….. JULY 19 …..Farewell to Cowboys at 2 pm….Emma Zink AT 5 PM…. Caffeine Carl & The Buzz at 9 pm…Miles Mancuso at 9 pm……. 4 Charles St.
JULY 26…. Farewell to Cowboys at 2 pm…….Joal Rush at 5 pm…. Miles Mancuso at 9 pm…….
AUG. 2….Entertainment at 2, 5 and 9 pm!!!!

THE GREEN PARROT……JULY 19, 26,AUG. 2, 9,16,23,30, etc…. Hosts Charity Bingo every Monday from 7 to 9

801 CLUB…….Famous Drag Shows are at 801 Duval St… every night at 9 or 11 pm. Book Online….. www.801.bar or call 305-923-9296. The amazing and internationally known Sushi runs the show with amazing Drag Queens with names like Deja, Mulysa, Marilyn Racquel Kylie .

THE TROPIC CINEMA AT 416 EATON ST…. IS NOW OPEN FOR MEMBERS AND FANS. For info on movie schedules and house rules go to http://www.tropiccinema.com or call 305-396-4944. Go online to reserve your times.

THE BIRTHDAY AND ANNIVERSARY LISTS…….. Please let me know if you would like me to forward you these lists….. Simply send me a request and I will send you this month's complete Personality Description plus all those I know who are celebrating birthdays and anniversaries during this special time of year!!! Also, let me know if you want to be added to it .. You can also see it by going to https://www.conchtv.com/author/lynda… and then scroll down.

MAJOR ANNOUNCEMENT ON AQUA IDOL…PLEASE MARK YOUR CALENDARS! WE WILL RESUME THE LAST TWO AQUA IDOLS FOR THE WATERFRONT PLAYHOUSE ON NOVEMBER 8 AND 15….. The new day is Monday, and the time will be 6 pm to 8 pm! On Nov., 8 the Final 7 will each sing two songs… The Final Magnificent 7 are….. STEPHANIE WISE…. BOB WOOD…. BRIA ANSARA….JON HERNANDEZ… SARAH DORRANCE….. CARL TREY FORSYTH….AND …. CHARLII CLARK… all stars…. and fabulous enough to win the coveted Aqua Idol Waterfront Playhouse Title! It promises to be a superb NIGHT!!!!!! (Note: Unfortunately for us, one of our great finalists, GAYLA MORGAN, has moved out of town…she will be missed.)

******AQUA IDOL 2022 THEN BEGINS ANEW ON JANUARY 10th 2022! Yes…. I have agreed to present this wonderful Fundraising Event for the Waterfront Playhouse once again! I will be searching for more fabulous vocalists to WOW you when we begin again. If you are interested in singing or know someone outstanding whom you can recommend, please let me know by emailing me the contact information. We feel optimistic and confident that by this time most people will be vaccinated and we will be able to meet and enjoy time together once again! Note that I have a commitment from the new manager at Aqua, Shawn Clark, that WE WILL ENFORCE NO SMOKING during our shows…. and our vocalists will each have their own Mic Covers….So….Great things are right around the corner.

SUPPORT SOS………Many Monroe County residents are living below the poverty line. SOS (Star of the Sea) Kitchens have long been providing food for those in need. PLEASE Support SOS and other orgs such as Sister Season Fund with donations if you can. Go to…. https://cffk.org/non-profits/sister-season-fund-inc/

SUBSCRIBE TO KONK LIFE ELECTRONIC PUBLICATION…… Guy de Boer, publisher of this great Publication is offering you a chance to continue to receive KONK Life on a Daily basis. It is chock full of great up-to-date information. Times are tough, and until things ease up he is requesting a subscription fee, which I feel is well worth it. For more information go to ….. https://konklife.com/?p=47710. If you prefer, you can email Guy at guydeboer@gmail.com and he will advise you on how to subscribe. You can also text him at 305-766-5832.

AWESOME FOUNDATION KEY WEST!!! .. The mission of the group is to bring more awesomeness to our town, and spreading it by awarding $1,000 grants with no strings attached to the most awesome idea, project, proposal, or plan that is presented to the Group of Trustees, who each plop down from their own pockets the money to fund the Grant. Sounds totally AWESOME to me!!! Check it out online at www.awesomefoundationkeywest.org. These awards have been given since Oct. Michael Shields is the coordinator of this group. READ ON….

PAT MOORE PASSES AWAY……Our dear friend, Bruce Moore, lost his beloved mother, Patricia on May 23. She was 90 years old. We attended the lovely Memorial Service for her on May 29. We knew Pat and the entire Moore Family very well. Pat was one of those rare, wonderful individuals who was loved by all, and never uttered an unkind word in her life. She was a beautiful, kind and wonderful person… a cherished mother, wife, grandmother, friend and aunt. For those who would like to remember her, you can make a donation in her honor to her Church, by going to this link: https://gofund.me/4d6a0abf. Or you can send a check directly to: Unitarian Universalists Church, 136 Stratton St., Gettysburg, PA 17325. I know the family would really appreciate your kindness. You can send cards and messages of sympathy to Bruce Moore at 35 W. Broadway, Gettysburg, PA 17325…(note that Bruce's father, Carey also lives at that address.)

BIRTHDAY/ANNIVERSARY LISTS….If you would like to be included in the Birthday and Anniversary Lists that I send out every month, please let me know your month and day by sending that info to me at kwlynda@bellsouth.net. There are special perks to being on the lists!!!! One of the perks is having your name in KONK Life on the day of your Birth.

PRAYER CHAIN…..Please continue to remember the following in your thoughts and prayers….. Prayers for all … please guide all our people to be vaccinated……Please pray for….Danny Weathers ……. Lee Garrison and Shaw Garrison…..Genevieve Isaksen …..the Saffle and Duecker Families…. …..Laura Hettinger……Bill Blue…..Andy Kellar … Dorothy Revollini …Louis Petrone…..the family and friends of Patricia Moore…. .Jim Pignatori……..David Buffam ..Lorann Wood. ….. Paul Politte…..Those who want to overturn the Vote of the people in regard to Cleaner, Safer, Smaller Ships, so that they SEE THE LIGHT!!!!……..my nephew Fred Stevens and his wife Judi……….Javier Lopez … …. .Michael Amin …. ….our wait staff, shop workers, entertainers, check out clerks, doctors, nurses, etc……Bucky Montgomery ……Pat West …. Michael Thomas ……..Kim Bryant …..Our Nation …. Barbara Brant….. Jim Hall ……..Sissy McDonald…..Jackie McDonnell … Chuck Selph…. Larry Selph …Ann Marie Adreani. …….Sandy Abookire .. ..S. O'Brien……. Donna Barnett….…Wally Stevens…. ….Sharron Mondo… Maggie Domski ….Len Stevens ……..Joe Biden.. …..Joe McMurray …George Kling …..Mary Larkin …. …Robin Deck.. …Christy Nelson……Fred Lima …Maryann Barth… ….Kathy Stevens ….Ed Stevens Jr.. ….Dena Badgerow…..…Bella Rettenwander ……Diane Covan ….Paul C…..Dawn de Boer … Jan Cernan ….Donna Stanton … Lou Ann Cymont … Cheryl Walchli … Terri White …John Padget …..Eric Nelson …..Gary Rivenson ….. Donna Stabile ….Todd Reifschneider …Carlos Warner ……Pat Waller … …Frank Gren …Marta White ….… Peter Deksmith …Bill Lodermeir …Betty & Jack Darst……Richard and Betty Carraway …. Anne McKee …..Teresa Lawson … Carey Moore….. Pamella C. Bocdow. …Dee Dee Duecker … Karla Muir … Vincent Gregory …Tony Freese… Jennifer O'Lear …….Margaret Taylor ……Patrick Richards. Remember, there are many reasons that we pray…not just because people are ill…. I do believe that when we all send prayers and good vibes to those in need, those prayers mystically meet and surround those being prayed for. Sometimes we pray for miracles and the impossible….sometimes we pray to just cope with the results of what happens to those we are praying for. Sometimes we pray for strength to go on and to accept…sometimes we pray for thanksgiving. We are in this thing called 'Life' together….and we all have power within us to help our fellow man. Bless you for remembering our loved ones….Prayer changes things! Let me know if you know of anyone who should be added to this list.

A GREAT TRAGEDY AT CHIPPEWA LAKE….Even though Chippewa Lake, where we reside for four months every year, is a charming, peaceful place….we have recently experienced a great sadness here this summer. Our family has been coming to Chippewa Lake, Ohio for years…my parents, before we were born, and then we vacationed here all through our childhood. We have gotten to know everyone in the Village and it is a close-knit group of people….(in many ways, Key West is the same) We love and care for one another. We have watched our friends who have homes and cottages here, raise their families and our children, now all adults, grew up playing here together. It is a very special place. Just recently, a wonderful young man, Tyler Saffle, a part of the beloved Duecker Family at the Lake, was in a tragic accident. We have known Tyler since he was five. Anyway… Tyler was in his boat, with three others… his hat flew off into the water, and without hesitation, he jumped in the water to retrieve it. At age 28, he was in amazing shape, an athlete, a swimmer and a great water-skier. He surfaced once and those on the boat said his face was purple… and then he went under again and did not surface. A search for his body went on from 9 pm until 7:30 pm the next day, when he was finally found. Our whole village has been in mourning. I request that that you keep Tyler and his entire Family in your thoughts and prayers. And please, please be very careful. Life is so very very fragile.

BOB FRECHETTE=FABULOUS REALTOR IN TOWN!!!!…..Need a realtor in town? My husband BOB FRECHETTE IS YOUR MAN!!!! He has been with the marvelous Compass Realty ( NOW Keller-Williams Compass) for 20+ years …Give him a call at 305-304-2584! Email him at rfrechette@bellsouth.net. He is the BEST! I promise!!!! Honest, Loyal, Fair, and Adorable too!!! He will have only have YOUR best interests at heart.

A PUN or LEXOPHILE FOR YOU….In a Democracy, it's your vote that counts; in Feudalism…it's your Count that votes!
______________________________________________________________________________
TUESDAY…..
HAPPY JULY 20 BIRTHDAY TO…ME…LYNDA FRECHETTE (39 AGAIN!!)…. PATTI ALTOBELLO …. BRIANNA LARSON… GORDY MICHAEL …. ANNA BARFIELD…. MARY ANN DAVIS … ERICSON HOLT … VASH BODIE … MERRY JO CORTADA…. TIFFANY CONAWAY HELMAN …. DEAN DI BRITO …. BILL STEPHENS ….JEANNE FALCONE….. (Please remember Al Uridel and Joe Luczak Jr.)

HAPPY JULY 27 BIRTHDAY TO…..SAM BROWN …. JULIE JEFFERS… LUKE FOX…. BRAD MOSS … EDDIE GOLDSTEIN … KAT KLINGERMAN… STEVE BLACK … SHELLY WOESSNER…KAREN LYNCH… HAPPY ANNIVERSARY TO…. SANDY & DAN SUJAK.

HAPPY AUGUST 3 BIRTHDAY TO….MARYCARLIN PORTER …. LISA ROESNER …. KYM FULTON…. PAULINE McCLOSKEY ….HAPPY ANNIVERSARY TO…. JANIE & ALAN TEITELBAUM,,,, AND …. SHELLY & STEVE LECHNER.

__________________________________________________________________________________________________________________
MY BIRTHDAY ON JULY 20….After living through a Pandemic…. I must admit that it is really wonderful to be able to be alive and enjoy a birthday celebration. These moments are more meaningful to me than ever before. So getting 'older' certainly beats the alternative I would say…. and each day that I arise and my name is not in the obits is a good day for sure! Thanks to all who are so kind to remember me on my day. I look forward to the gathering Bob is planning for me… I am excited that Bruce Moore is coming from Gettysburg to celebrate with us, along with other close friends and relatives.

HEMINGWAY DAYS ARE BACK…JULY 20-25….On July 21st, it would have been Hemingway's 121st birthday…..Ernest H fans can enjoy daily fun-filled activities all week…The hub of Hemingway Days is Sloppy Joe's… There is an annual Look Alike Contest…that culminates at the close of the week with the Winner Named! People from all over the world view to win this contest….. eliminations every night. Free to attend…. a fee to enter. You will find hundreds of Hemingway Look-Alikes all over town…wearing cable knit sweaters and other outfits that Ernest sported through the years. To get the complete schedule please…Go to https://fla-keys.com/hemingway-days/.

U.S. COASTGUARD CUTTER INGHAM OPEN FOR TOURS TUESDAY, THRU SATURDAY…..From 10 am to 4 pm…. At Waterfront Park at Truman Waterfront…..Happy Hour held…. Call Mike at 305-292-5072 for more info and details.

COMEDY KEY WEST…. THE MAD HOUSE…JULY 20 AND 27…AUG. 3,10,17,24….8 pm get tix a www.comedy keywest.com.

TAVERN N TOWN..JULY 20, 27 AUG.3,10,17,24,31.wit… It's Carmen Rodriguez along with James King, 5 to 9 pm….

VIRGILIO'S… JULY 20….8:30 pm… Adrienne Z and Skipper entertain with Michelle Dravis.

LOUIS PETRONE PODCAST EVERY TUESDAY….. JULY 20,27, AUG. 3,10,17,24,31 ETC……Resident sage bon vivant, and raconteur, Louis Petrone, who knows a LOT about EVERYTHING…. will rant and rave, and expound on all the goings on in the world, under the sun!!!!!…and then some!!!! Always interesting…never dull! Go to: www.blogtalkradio.com/key-west-lou. Catch Lou's podcast every Tuesday!

LATEDA, JULY 20….. Fab Spectrelles at 8:30 pm….Randy Roberts!….AT 9 pm in the Crystal Room. JULY 27…….. Fab Spectrelles at 8:30 pm..

CHRISTOPHER PETERSON FANS…. Note that Christopher will be spending the summer entertaining at one of his old stomping grounds, in Rehoboth Beach, Delaware! Randy Roberts will be entertaining at Lateda …. and Chris will be returning just in time to star as Frank-n-Furter in the Waterfront Playhouse ROCKY HORROR SHOW!!!!!! Yay!!!!!

SMOKIN TUNA SALOON, .JULY 20….Caffeine Carl & Zack Seemiller at 2 pm…Emma Zink at 5 pm…. Nick Brownell at 9 pm….. JULY 27…Caffeine Carl & Zack Seemiller at 2 pm…..Joal Rush at 5pm … Nick Brownell at 9 pm….

SCHOONER WHARF ….JULY 20, 27,AUG. 3,10…..Noon to 5 pm, Gary Hempsey….6:30-11:00, Tom Taylor….

AUTHOR TALK ON JULY 27….700 Fleming St…. presents author Richard Horan at 10 am discussing his non-fiction work 'HARVEST: An Adventure into the Heart of America's Family Farms'….Free and open to all…. For info call 305-292-3595.

THE KEY WEST PARROT HEAD CLUB….This fun loving, and philanthropic group who love Jimmy Buffet, partying with a purpose and supporting our community, is seeking new members. Single membership is $20… and you receive a KW Parrot Head license plate frame and other special privileges. To join call 262-705-8204 or go to http://keywestparrotheadclub.wildapricot.org.

THE KEY WEST GARDEN CLUB AT HIGGS BEACH OPEN…. FREE…. 9:30-5 pm on Sat…..daily. Free admission….1100 Atlantic Blvd. Masks and distancing required.

STRING MUSICIANS SOUGHT…. The KW Community String Orchestra is seeking those who play violin, cello, viola, etc. at all levels of experience. For info contact Lynn-Marie at lynnmariekw@gmail.com.

KEVIN GALLAGHER'S TALK ON MARS PERSEVERANCE…. This talk was sponsored by the KW Library. If you missed it, you can go online to the following link: https://www.youtube.com/watch?v=RiTCdNwML0l&t=1642s. If this doesn't work contact me and I will try to help further.

THE STUDIOS IS OFFERING….The Studios offers an open air happy hour experience in the newly opened Hugh's View….Reservations are a must for this sunset event, which will offer a cash bar. For info go to https://www.tskw.org and click on the Glow Hours Link.

BRUCE MOORE STARS IN …"SOMETHING ROTTEN"….. MUSICAL AT WATERFRONT PLAYHOUSE …..MARCH 22-APRIL 16, 2022…. This has been lauded as 'the funniest musical comedy in at least 400 years'!!! (And it happens to be one our fave all-time musicals!) Excited to find out that good friend, former long-time KW resident and Broadway Performer, BRUCE MOORE is cast as Shakespeare, The Bard, in this musical…Others starring are…. JEFFREY HARWELL, ARTHUR CROCKER, ALEXANDRA ZETO, KARL STAHL, STEPHANIE SANDER, XAVIER McKNIGHT, ERVIN TUMM, CHRIS HOMBERG, MATHIAS MALOFF, TIM DAHMS, DOMINIC PAOLILLO, DANIEL BOCHLAS, ROSS PIPKIN, JOHN McDONALD, JILLIAN TODD, KELSEY LAKEMAN, AND LAUREN THOMPSON!!!
__________________________________________________________________________________________________________________
WEDNESDAY
HAPPY JULY 21 BIRTHDAY TO….DAVID DUNN… DOUG MAYBERRY… MONICA HASKELL …ANNE MARIE SPARRACO…. JOAN DODARO …. ANNA MARIA MANCIOLA ….. JERRY THOMPSON….CATHERINE AWAD ….PETER VISHTON…. BOB SLEDZ…. JOE LASINIS … (please remember…Polly Porter…. Lee Dodez…. Jane Whitmyer.)… HAPPY ANNIVERSARY TO ….. ELAINE & JIM SZEMPLAK.

HAPPY JULY 28 BIRTHDAY TO …..GARY 'SUSHI' MARION ….RUTH REITER…. DIANE COVAN…. ROLLAND MONTIFALCON…. BERNARD PETER ….DAVE BRANGACCIO ….CURT LEMON ….CHRISTOPHER RIEDEL ….JIM STELLA…..

HAPPY AUGUST 4 BIRTHDAY TO…..AARON WECHTER…. MEREDITH BOLLONG…. SHELLY SZUREK …. VELMA CHRISTIAN …. PHILLIP TABB….DEREK KARAVICIUS…. TOM EDGINGTON ….ELAINE BABUREK …..(Please remember…. Connie Gilbert… Ken Zychowski.)… HAPPY ANNIVERSARY TO….. DINA & JOE STEVENS…. MARTI & BILL ROBERTS… CAROL & DAVE MOORE….. CLARE & TOM KELLER.
________________________________________________________
***TERRI WHITE & LARRY BAEDER PERFORM ON ….JULY 21,28 AND EVERY WEDNESDAY!!!! This fabulous duo will perform at the new Marylinn's at 320 Grinnell St. (formerly Finigan's Wake)…..5 to 8:00 PM…. Give yourself a treat and hear a bona fide Broadway Star entertain you! Terri is the best…. has starred in Folllies, Finnegan's Rainbow, Barnum, Ain't Misbehavin, and many more show on the Great White Way!!!! And Larry has played with all the great musicians ever! A double whammy! And good food too!

LORIAN HEMINGWAY SHORT STORY COMPETITION WINNER ANNOUNCEMENT JULY 21…..The winning entry in the renowned Lorian Hemingway Short Story Competition is scheduled for 6:30 pm at the Key West Library, 700 Fleming St.

SCHOONER WHARF…JULY 21, 27,AUG.4,11,18,15…Tony Baltimore…… Noon to 5 pm….Raven Cooper….6:30-11 pm.

PLOGGERS ON JULY 21…. Walkers & Joggers meet weekly to get exercise and clean up the Keys. Meet from 4:30-5:30 pm at Mellow Ventures at 1605 N. Roosevelt Blvd. Volunteers get a free 24 hour bus pass. For info call305-809-3776 or email DeeDee Green at dgreen@cityofkeywest-fl.gov.

COMEDY CLUB OFFERS LOCAL DISCOUNT….The Comedy Club Owners are offering Locals 20% off your tickets…ONLY to Locals. When you get your tix at checkout online enter your code LOCAL at www.comedykeywest.com to get your 20% off. Big thanks to Joe Madaus and Nathan Knight and all those running the fabulous Comedy Club in Key West!!!!!

DAVE BOOTLE AT MANGOES….WEDNESDAY THRU SATURDAY EVERY SINGLE WEEK…. Enjoy this marvelous entertainer and dance the night away… You are SURE to have the best time ever! 9 pm…till Midnight….DON'T MISS!!!!!!

THANKFUL ON WEDNESDAY…..I am so grateful for so many things and mostly to so many people who have touched our lives in special ways of late…. Thanks to…Sally Stevens & Robert Zadkovich….. .Jennifer Stevens… Michael Lansdell and Toby Botha…..my brother Ed Stevens and wife Amy….. Joe Stevens…. Paul & Pam Vereb……..Melissa Frechette Lang …..Noreen Collins……Mary Borrell & Gene Knudson ……….Diane Strong …..Bobby Nesbitt.. .. ….George Chase ……The Waterfront Playhouse……….. JT Thompson. ……Bob Sledz…….Carl McMackin …..Fran Chmura…. Anne Stevens …. Barb & Greg McShea ….Nancy Stillwagon & Jon Stein…… .Arlo & Evan Haskell …….Keith Dempster … Linda & Jack Hulligan …. Brenda McDonald… Rosi & Jeff Ware…Maria & Si Kaufman ….Fred Greenberg & June Hudson …. Marilyn & John Rintamaki … Robbie Riedel …Bert Whitt & Dennis Beaver … Bobby Duecker …. Ruth Reiter & Dan Metzler…..Roberta Markow …. George Fernandez … All those who are working so hard for the Ship Referenda ……..ESPECIALLY Arlo & Evan Haskel, the Benson Bros. and those who spoke at the Commission meeting, including Edie Hambright…Janet Hartwell…Leo Waters… Rita Troxel …Jaimie Mattingly… Jack Anderson… Ross in Marathon….Mayor Teri Johnston …. Jimmy Weekley….. and many others. ……and MOST OF ALL…. THANKS FOR MY VERY DEAR HUSBAND BOB…. ALWAYS BOB…. !!!! He has been through the mill but remains optimistic and upbeat as ever!!!

TAVERN N TOWN…..JULY 21.. Mike Emerson performs from 5 TO 9 PM. IN THE LOUNGE!…JULY 28…..Rob DiStasi performs from 5 to 9 …

SMOKIN TUNA SALOON ….JULY 21 Clint Bullard at 2 pm…….Trenton Chandler at 5 pm…. Caffeine Carl & Friends at 9 pm…..JULY 28…..Clint Bullard at 2 pm…. Joal Rush at 5 pm…. Caffeine Carl at 9 pm…

LATEDA… JULY 21, 28…The Fab Spectrelles perform at 8:30 pm in the Lounge for your dining pleasure. .. Note that Head Spectrelle, Allison Mayer, also known as Baby T, now has Carl Trey Forsyth and Sarah Dorrance sharing that Spectrelle Stage with her!! They are truly FABULOUS!!!!!!

KEY WEST THEATER…. JULY 28…. The Raw Dawggs perform at 8 pm. 512 Eaton St.

'SHOUT' AT THE WATERFRONT PLAYHOUSE, NOV. 17-NOV. 20….This irresistible musical will take the audience back to the songs of the 60's… The great cast will sings such faves as To Sir With Love, Downtown, Son of a Preacher Man, and Goldfinger…The Cast consists of Belle Jampol, Kelsey Lakeman, Stephanie Sander, Jessica Miano Kruel, and Jillian Todd. BUY TIX NOW!!!

"ALL IS CALM" AT THE WATERFRONT PLAYHOUSE…. DEC. 8 DEC. 25….This moving play takes place on the Western Front on Christmas 1914… when out of the silence and extraordinary night of camaraderie, music and peace takes place…. A remarkable True Story, told in the words and songs of the men who lived it. The Cast…. Clayton Sallee, Joshua Lawson, JT Thompson, Andrew Theede, Daniel Bochlas, Tim Dahms, Domini Paolillo, Matthias Maloff, Chris Homberg, and Jim Speake.

"MATILDA…THE MUSICAL"…..OPENS AT THE WATERFRONT PLAYHOUSE JAN. 12-JAN. 29 …. Starring DAVID BLACK….JESSICA MIANO KRUEL,….CAROLYN COOPER…. DONOVAN PAVLICEK…. BARBARA MUNDY… EVIN TUMM..ARTHUR CROCKER… JAMES HARCUP….JILLIAN TODD… HEATHER MAE SLOAN… AND some of Key West's ultra talented child actors!!!!

"CLUE" …(LIVE ON STAGE)….AT THE WATERFRONT PLAYHOUSE,.. FEB. 16-MARCH 5 ….Based on the iconic 1985 movie and based on the Game of Clue…. this is a hilarious farce-meets-murder mystery…Everyone is a suspect when the host turns up dead! Cast is Michael Aaglan, Jillian Todd, Susannah Wells, Barbara Mundy, Erin McKenna, Ross Pipkin, John McDonald, Mathias Maloff, Carolyn Cooper and Zachary Franchini!
______________________________________________________________________________
THURSDAY….
HAPPY JULY 22 BIRTHDAY TO …..DAN REYNEN….. TIM GROSSCUP ….. SHERYL NACKINO…. (Please remember Alex Trebek. Can he ever be replaced on Jeopardy?)

HAPPY JULY 29 BIRTHDAY TO ….PAUL VEREB ….KING PAUL MURPHY….ALLAN LEDER…. EM LAZOTT….LESLIE BURNS …. DIXIE SPEHAR McCARTY ….. (Please remember…. John Renzi…. John Long ….Ed McBride….) HAPPY ANNIVERSARY TO….. COLEEN FITZSIMMONS & HEATHER CARRUTHERS…. MICHELLE ROYER & PHILIP MERCIO. (Please remember my parents, ADELE & ED STEVENS, on what would have been their 82nd Anniversary!)

HAPPY AUGUST 5 BIRTHDAY TO….LIZ COBLEY … MELISSA HUDAK…. MAYA MONTANA….MIKE SEILER ….(Please remember…. Georgio Aversa.)
_________________________________________________________

TRUMAN WATERFRONT FARMER'S MARKET… EVERY THURSDAY….JULY 22,29…AUG. 5.12.17,24,31….3 TO 8 PM….. at the end of Southard St…. Produce, beverages, music, seafood, apparel, cheeses, gifts, art, books, etc…. fun….

TAVERN N TOWN ……JULY 22 AND JULY 29.Carmen Rodriguez performs with John King from 5 to 9 pm….ALSO…AUGUST 5, 12, 19,26….

SMOKIN TUNA SALOON, JULY 22…Justin Angelo at 2 pm……….Emma Zink at 5 pm….. Caffeine Carl & Friends at 9 pm…… JULY 29….Justin Angelo at 2 pm…. Joal Rush at 5 pm…. Caffeine Carl at 9 pm….

LATEDA, …..JULY 22 AND 29…AND …AUG. 5,12,19,26…3 SUM performs at 8 pm. Randy Roberts performs in the Crystal Room at 9 pm….

GREEN PARROT, JULY 22…….Turner Harrison & Hiram Garzaro at 5:30 & 9 pm…. JULY 29….The Larry Baeder Trio…at 5:30 and 9 pm….

SCHOONER WHARF… JULY 22 AND 29… ..Noon to 5 pm, Michael McCloud…. 6:30-11 pm, AJ Stampler & Dockside Darren….

COMEDY KEY WEST… JULY 22,23,24…….Headliner is Sean Finnerty…. 8 pm……… go to www.comedykeywest.com. Or call 305-985-7370.////JULY 29,30,31… It's Mia Jackson…….at 8 pm….

SARABETH'S RESTAURANT ON SIMONTON ST……. offers Free dinner on your Birthday… half price on all bottles of wine always, etc.

BEREAVEMENT MEETINGS EVERY THURS. JULY 22,29,AUG .5,12,19,26…If you are working through the grief process of losing someone dear, there is help for you. Join this caring Support Group at 7:15 pm at the Klaus-Murphy Center at the Basilica of St. Mary Star of the Sea. You are not alone…. God bless Velma Christian for her special ministry.

TENNESSEE WILLIAMS MUSEUM RE OPENS ….This fab Museum will be open from Thursday thru Sundays from 10 am to 4 pm. Private tours are available. Mon-Wed by appointment only.

**VIVA'S SALOON.. GREAT SPACE FOR OUTDOOR DINING….. LARGE PROPERTY & VERY SAFE FOR SOCIAL DISTANCING…..OPEN FOR TAKE OUT TOO!!!!…..DELISH FOOD…… OWNER ALFREDO GIMENEZ IS A GEM!!!!! 903 Duval St… Entertainment on weekends….. tables spread out in this large garden area. Leave it to Alfredo and Gaston, the owners, to do everything right and take care of their clientele.

THE ROCKY HORROR SHOW…At the Waterfront Playhouse OCT 14 OCT. 29….. Tix being sold now! The all star cast includes, Christopher Peterson….Joshua Lawson….Arthur Crocker…. Belle Jampol …. Carolyn Cooper… Donovan Pavlicek … Kelsey Lakeman.,.. Ross Pipkin ….Tony Konrath and John McDonald! TIX ARE FLYING OUT OF THE BOX OFFICE!!!!
______________________________________________________________________________
FRIDAY
HAPPY JULY 23 BIRTHDAY TO….BILL BLUE …. JOHNNY MASCHAL …. EDIE HAMBRIGHT …. CHRISTOPHER ROUNDS ….. MICHEL ZAJICEK …..CATHY ZAVORSKAS…NANCY ROUSE…. HILDA WATSON….ANN HANNIGAN …. ROBBIE RIEDEL….. ELAINE SZEMPLAK …. (Please remember…. Audrey Schiff….Robert Chaplin Jr.) …. HAPPY ANNIVERSARY TO ….. TIM MALONEY & ROBERT MAYKUT.

HAPPY JULY 30 BIRTHDAY TO…..BERT BENDER….BOBBY CIULLA …. BELVA 'SISSY' McDONALD … MAYLEE ALBRIGHT…. ERIC JOHNSTON….. NICK NORMAN ….JEANNE MORI ….KATE PEACHEY…..CINDY CAMINITI…. BILL DAVIS ….(Please remember Alberta Mulligan…. Virginia Molzan.)

HAPPY AUGUST 6 BIRTHDAY TO……GEORGE CHASE…. RENA CARUSO …. CAROL SONSTEIN …. SUE PADEN ….. LARRY BLACKBURN …..RANDY DETRICK …. JIM HARROLD….RICHARD PERRY ….FAITH PRINCE….NEIL McMICHAEL ….MEGAN MASCHAL…..(Please remember Dorothy Gasior and Christine Warner.)
_________________________________________________________
TAVERN N TOWN, … .It's Mike Emerson entertaining from…..5 to 9 pm in the lounge…..

LATEDA, ….JULY 23, 30…3 Sum performs AT 8:30 PM…. Randy Roberts AT 9 PM IN THE CRYSTAL ROOM…

THE GREEN PARROT, JULY 23, 24….Legendary J.C.'s, at 5:30 and 9 pm and 11 pm…..JULY 30 & 31, AUG. 1… …..Trae Pierce & the T Stone Band, 5:30, 9 and 11 pm….

SMOKIN TUNA SALOON…JULY 23 & 30…Farewell to Cowboys at 2 pm….Nick Brownell at 5 pm… Caffeine Carl at 9 pm…..

COCONUT VICTROLA AT CASA MARINA, JULY 23,30…AND EVERY FRIDAY…. Each Friday from 7 to 10 pm, this dynamic and exciting new group entertains on the Sun Sun Concert Pier….. headed by the splendid BELLE JAMPOL, lead singer….BRAVO!!!!!!

KEY WEST THEATER…. JULY 23….NICK NORMAN performs at 8 pm…. Eaton St.

THE GARDENS HOTEL ON JULY 23,30,AUG. 6,13,20,27…. In the Atrium…. From 5 to 7 pm, it's Matteo and his Classical Guitar Music…..Outside seating. 526 Angela St.

SCHOONER WHARF …JULY 23 and 24…..noon to 5, Michael McCloud… 6:30 to 11 pm, Man Grooves Band. …..JULY 30 & 31 Michael McCloud from noon to 5 pm…. Gary Hempsey & Jesse Wagner, 6:30-11:30 pm…..

VIVA SALOON…FRIDAY AND SATURDAY,… JULY 23 AND 24 Key West's FAVE Drummer Boy, SKIPPER KRIPTIZ will be entertaining with his weekend Jazz Music every weekend. 903 Duval St…. JULY 23 with RB Tolar and BeBob Grabowski. On JULY 24, It's Skipper with Mike Emerson and Mark Rose. Wonderful food, super jazz, great area and setting !!!!

TASTE OF KEY WEST DINING CARDS BEING SOLD….. In lieu of the actual 'in person' Taste of Key West, pocket sized dining cards, priced at $100 each plus tax. are being sold, and are good for April 19, 2021 to April 18, @022. Go to www.tinyurl.com/ToKW2021 to purchase. Or visit the office located at 922 Caroline St. or call 305-295-9112. This benefits HIV/AIDS A.H.of Monroe County, INC. 32 restaurants represented. A variety of options available at each restaurant.

THE WILLIAM WELCH LEGACY….This wonderful man and amazing artist is no longer with us, and he is missed more than words can say. However, his beloved sister, Sherrey Welch , and Bill's partner Dave, are determined to keep Bill's art and legacy alive through the new website, at www.williamwelchcollection.com. Please forward this info to anyone who may be interested in Bill's work retrieved from Nantucket, Key West and France. Bill Welch was a true gentleman…. kind, caring and deeply talented….
______________________________________________________________________________
SATURDAY
HAPPY JULY 24 BIRTHDAY TO …DESTINY MONTGOMERY ….LEO WATERS….KATHY RUSS …. JOHN "MA' EVANS …. SUSAN GUADAGNO ….ELLEN PETER …ALISON WEIMER …. RITA EATON…. NORMAN WELLS….ART POWELL …. DICK BEAVER ….CHRISTINE WASHBURN….(Please remember Jean Claude Gosselin.)

HAPPY JULY 31 BIRTHDAY TO….CHERYL WACHLI….STEVE COTTRELL…. BARBARA HAWS …. ELLEN SANFORD….. DAVID KOONTZ ….. RICK CARTWRIGHT ….. (Please remember…. Loretta Morabito…. Christine Wierczorek …. Elena Miliagro Hoya….) HAPPY ANNIVERSARY TO ….. SALLY STEVENS & ROBERT ZADKOVICH …. KIM GORDON & STEVE MIZNER….ANNE SHAVER & SUSANNE WOODS.

HAPPY AUGUST 7 BIRTHDAY TO…..ROBERT ZADKOVICH…. AL SACHS…. DAWN RIEDEL…. BRUCE MITCHELL …. DONNA BROSKI….DR. JERRY JACKSON …. (Please remember DAVID DEAL…. CHRIS WARNER… and CAROLINE & JERRY CASH.)
_________________________________________________________
WATERFRONT PLAYHOUSE ON THE AIR…JULY 24…. Go to US 1 Radio, 104.1FM…Presents THE NEXT STRIP….A Damon Runyon Classic….features a legendary Burlesque Queen who falls for an Ivy League Guy….8 pm….For past broadcasts visit US1Radio.com/Old-fashioned-Radio-Drama.

TAVERN N TOWN…JULY 24…….ROB DI STASI entertaining FROM 5 TO 9 PM…in the Lounge. …JULY 31….It's Larry Smith entertaining from 5 to 9 pm in the Lounge.

HEMINGWAY DAYS STREET FAIR ON JULY 24…..Artisans, food trucks, vendors, etc. are selling their wares… 10 am to 10 pm….A portion of Duval St. will be closed for shoppers. Proceeds go to Literacy Volunteers

RUNNING OF THE BULLS ON JULY 24….This event consists of Hemingway Look-Alikes in a zany rendition of The Running of the Bulls, something Ernest wrote about and participated in years ago in Pamplona, Spain. Starts at noon…runs on Greene St. Bring cameras…this is a hoot!

SMOKIN TUNA SALOON, JULY 24 AND 31….Farewell to Cowboy at 2 pm….. Nick Brownell at 5 pm…. Caffeine Carl and the Buzz at 9 pm…..

THE GREEN PARROT…. JULY 24….Legendary JC's at 5:30 and 9 pm and 11 pm…….. ON MAY 29…. Damon Fowler at 5:30 and 9 pm….JULY 31…. Trae Pierce at 5:30. 9 and 11 pm.

LATEDA…….JULY 24 & 31…..3 SUM AT 8:30PM….. in the Lounge!!!! Randy Roberts at 9 pm in the Crystal Room. ….

THE GARDENS HOTEL…EVERY STAURDAY..JULY 24, 31, AND IN AUG. TOO!!! From 5 to 7 pm, Bobby Green entertains in the Sun Room at The Gardens.
______________________________________________________________________________
SUNDAY…
HAPPY JULY 25 BIRTHDAY TO …JOYCE CHILTON…. DR. SHARON WARD…. REV. STEVE BRADDOCK …. MICHAEL CHAPMAN … DAVID MITCHELL…(Please remember Donald Otto.) HAPPY ANNIVERSARY TO MARY & RICHARD GRUSIN….. JULIE & TERRY JEFFERS… AND MARCIA & JIM DOMAGALSKI.

HAPPY AUGUST 1 BIRTHDAY TO … GEORGE KORN…. BARRY COOK … CHARLIE WAITE …. JOSEPH LUCZAK, SR. …. RICHARD SOMERS….. JANEEN GRACER …. ROBERT ALBURY…PATRICIA BROWNELL….. (Please remember Tyler Saffle and Franklin Marshall.) HAPPY ANNIVERSARY TO… ROSIE & JEFF WARE!!!

HAPPY AUGUST 8 BIRTHDAY TO….SCOTT BURAU……KAREN TAPOROWSKI … GAIL HOLLENBACK …. LAURIE THIBAUD …. MARGARET ADORJAN …. SHO LICHTENSTEIN ….LINDA BORCHIK …..(Please remember Jon McIntosh….Donald Gates… Donald Lowe.) HAPPY ANNIVERSARY TO….PAUL & CAROLINE FORD COTTON…..
_________________________________________________________
LITERARY WALKING TOURS….. JULY 25 AND EVERY SUNDAY…..10 am….. Tour explores info on famous KW authors and writers and their homes….. Only 6 per group….. Go online to find out more info.

OLD STONE CHURCH EVERY SUNDAY…. JULY 25…. Mateo will be performing for your Sunday Morning pleasure at 9:15 am to 11 am…. Share music, conversation thoughts and serenity! Every Sunday is a different and marvelous entertainer.

TAVERN N TOWN, JULY 25, AUGUST 1…. It's Rob DiStasi in the Lounge ,FROM 5 TO 9 PM.

LATEDA TEA DANCE ….. JULY 25, AUG. 1,8,15,22,29….AT 4:00 PM!!!! ….3SUM performs AT 8 PM

SCHOONER WHARF, JULY 25.. noon to 5 pm, Michael McCloud… 6:30-11 pm, Joe the Show….

SPECIAL DINING FOR LOCALS AT HYATT CENTRIC AT THE SHOR….. Monday thru Friday… ALL EVENING $20. entrees and half price on bottles of wine….. 601 Front St.

CHURCHILLISMS…. My good friend, the late Richard Stephens loved Winston Chuchill. To honor Richard's memory I quote Chruchill with …..'DIPLOMACY IS THE ART OF TELLING PEOPLE TO GO TO HELL IN SUCH A WAY THAT THEY ASK FOR DIRECTIONS!'

GREEN PARROT, JULY 25…..1 AND 3 PM…. Cayman Martin Smith, Kenny Fradley, Henry Lysy…. The Legendary JC's on Sunday at 5:30 pm…..AUGUST 1…..Live Jazz with Mike Emerson, 1-4:30 pm. … 5:30 pm… True Pierce and the T Stone Band.

THE COCONUT VICTROLLA …. EVERY SUNDAY…..This dynamite and exciting group of musicians perform in the Gazebo at Higg's Beach at 6 pm on Sundays. Bring a lawn chair or blanket, make your self comfortable and enjoy some fabulous entertainment on the Beach!!!! Belle Jampol is the lead singer and she is superb!!!!!!! (and the talented daughter of Penny Leto and Matteo Jampol!!!)

THE KEY WEST THEATER….Please go to the Website to find out about all the shows being scheduled in the months ahead. Go to www.thekeywesttheater.com. Located at 512 Eaton St. and operated by Ram's Head. And thanks to Kelly Norman for all her hard work!!!!

*TICKETS ON SALE….. Fantasy Fest 2021 will be Happening this year in October. (AND, it WILL be "A HAPPENING"….) Tickets are NOW being sold for many of the great events during this magical week. (like The Headdress Ball on Oct. 28, etc.) Go to www.keystix.com and go from there! Happy Days are Coming Again…. more reasons to be vaxxed!!!!!

PLEASE SEND ME ANYTHING YOU NEED TO BE PROMOTED….. AND … I will do my best to include in future blogs!
_________________________________________________________

LOVE TO YOU, AND REMEMBER….WE ALL TAKE DIFFERENT PATHS IN LIFE…. BUT NO MATTER WHERE WE GO…WE TAKE A LITTLE OF EACH OTHER EVERYWHERE!
Lynda
______________________________________________________________________________

PS…..AND HERE'S MORE INFORMATION: SOME INFO WILL OR WILL NOT BE RELEVANT!

THE IMPROMPTU CONCERTS… For more info go to www.keywestimpromptu.org.

ONE MANATEE….This is a non-profit started by Quincy Perkins to help the Library find, restore, and digitize old 16 mm and 8 mm films from the FLA Keys. He is trying to raise needed $$$ to keep this work going. If you are interested in this project or in donating to help the archival, restoration of these historic KW films go to PayPal at onemanatee@gmail.com. Or to find out more, contact Quincy at 305-896-1129.

FOSTER HOMES WANTED….Wesley House Family Services is seeking families in the community interested in providing a home to children in the foster care system. Classes begin Wed., June 12 at 99451 Overseas Hwy. in Key Largo.

WOMAN'S CLUB RESTAURANT & THEATER TOUR CARD BEING SOLD….$100…. and effective till Sept. 30…. Call Susan Mitchell at 740-274-9091 or go to the Woman's Club Facebook page.

TROPIC CINEMA SEEKS VOLUNTEERS…..For info call John at 305-295-9493 or go to www.tropiccinema.com. Training is provided. 'Payment' is free movie passes and popcorn for each shift worked. NOTE …. CLOSED INDEFINITELY…..

KEY WEST TROPICAL FOREST & BOTANIC GARDEN SEEKS BOARD MEMBERS… This non profit is looking for interested Board Members….particularly that of Treasurer … term is two years…..If interested send a letter to Key West Botanical Garden 5210 College Rd., Key West, FL 33040. Or email audrinnakkw@gmail.com.

VOLUNTEERS NEEDED FOR REEF RELIEF….For info call 305-294-3100.

STAR OF THE SEA OUTREACH MISSION NEEDS VOLUNTEERS….To help with the food pantry on Stock Island….This mission serves hundreds of the community's needy operating Mon-Fri. Call Donna at 305-407-5967 for info.

SHAL SEEKS VOLUNTEERS…Southernmost Homeless Assistance League has begun serving an evening meal each day at the homeless shelter with food from the Soup Kitchen….Volunteers are needed to help. For info call John Miller at 502-876-5092.

TENNESSEE WILLIAMS EXHIBIT:…. .513 Truman Ave…Open by Appointment Only…. at this time!!! This wonderful Museum is under the auspices of the Key West Art & Historical Society with founder, Dennis Beaver as its curator. The Museum will be opening SOON!!!!! …..Visitors and Locals are invited to tour this preserved and showcased collection of historic, archival objects that promote the importance of Williams's legacy and offers the largest collection of his memorabilia and artifacts available to the public. Will be Open daily from 9:30 am to 4:30 pm…. Admission: Adults $7. … Children under 6 Free…. KWAHS Members: Free… For more info call 305-204-4527. Big Thanks to Dennis Beaver and Bert Whitt for their great efforts to make this Museum world class!

KW TROPICAL FOREST & BOTANIC GARDEN, NEEDS VOLUNTEERS….To volunteer please call 305-296-1504.

LA RUBIA KEY WEST….…OPEN…..Stephanie Hellstrom (THE Blonde!) is the owner of this delightful shop at 510 Fleming St….next to Assortment….You can purchase hand woven Panama hats, handcrafted wearable accessories, and organic chocolates from Ecuador…. along with handbags, scarves, bamboo wraps, jewelry and more. What a pleasure it is to have some unique and interesting new shops in Key West!!! Congrats to Stephanie. Call 296-6059 for more details!!!

AND WHILE YOU ARE THERE… MAKE SURE YOU STOP IN TO SEE THE GREAT MEN'S WEAR AT THE ASSORTMENT!!! Claude and Joe are nothing but Class!!!!

TAKE STOCK IN CHILDREN ORG. SEEKS VOLUNTEERS…..This marvelous, award winning scholarship program mentoring group is looking for giving souls to help mentor 50 some qualified students from lower income families ….They cannot be admitted unless a volunteer steps forward. It takes less than an hour each week. Call Chuck Licis, program coordinator at 305-394-7974 or e-mail him at chuck.licis@keysschools.com.

CUSTOM HOUSE & LIGHTHOUSE MUSEUMS ARE SEEKING VOLUNTEERS…If you have a few hours to offer as a docent, archives asst., exhibit builder, or event volunteer, please offer your services!
___________________________________________________________________________
*** THE LEO PERSONALITY…..JULY 24 THROUGH AUGUST 23 ***
Leo is the most regal sign of the Zodiac. Leos have an air of dignity and they behave accordingly. They know they are different from everyone else and do not want anyone to forget it. Just like the Sun which rules Leo, we would die without the Sun, and, on some level, Leos know that everyone else would wither up without them. Leos are definitely life enhancing!
You can usually spot a Leo by their hair. Most have luxuriant thick manes….and, they take a lot of care with their tresses…spending a lot of dollars on all the best treatments and products. They are most exuberant and enthusiastic….as well as very warm and affectionate. Everyone needs at least one Leo in their lives, simply for the ego boosts they will receive from their Leo friend. Most Leos are quietly confident and don't feel the need to prove how great they are. It's very important for a Leo to feel they've made an impression on people…but this happens quite naturally. A Leo doesn't have to put on airs and graces to do it.
Leos excel at organization…they are brilliant at making things happen. They have a natural air of authority that makes everyone else sit up and take notice.
Family matters are very dear to every Leo's heart. They place a lot of importance on keeping in touch with scattered members of the clan. They love gathering their relatives around them. They have a big interest in their children and will teach them to stand on their own two feet.
Leo is the sign of creativity….they are filled with many talents, and need to find ways to express themselves creatively, lest they become frustrated and irritable. They love to dance, act and paint….and also enjoy other people's artistic abilities, especially in the cinema and theater. Leo is the sign of Drama!!!!!
Love & Leo go together…they find it easy to show affection to those in their lives. The typical Leo has a huge heart and boundless supplies of love for everyone they care about. Once someone has caught a Leo's affections they'll always retain a place in the Leo's heart…unless they hurt them so deeply that they can never forgive them. Loyalty is high on a Leo's list of priorities….they are most faithful and expect their loved ones to behave in the same way. They show their affection outwardly. Their friends can look forward to being cherished by the Leo.
There is one snag in relationships, and that is the Leo's tendency to boss others around. It's not that they mean to do it…more that they just can't seem to help themselves! Their confidence in themselves makes them feel they can always call the shots. The best signs for a Leo are Gemini, Cancer, Libra….also Scorpio and Aries.
Leos have tremendous potential and can turn their hand to do virtually anything. They are continuously discovering fresh talents and skills. They are blessed with plenty of creative and artistic skills. Leos don't expect constant praise but they like to know they are appreciated. If a Leo can't make things happen, no one can. Leos need to take center stage ….it is the rare Leo who is content to sit on the sidelines. That is why so many Leos work in the entertainment industry, excelling at acting, dancing, singing. Writing, and designing. They are also drawn to painting, fashion, sports, and cooking.
Leos need money because they have very high standards….only the very best is good enough for them, because they feel they deserve it. They are drawn to the best that money can buy….Quality not quantity is their motto. Leos adore lavishing presents on loved ones…just to let them know they care. They love to spoil their favorite people no matter the cost.

WE LOVE OUR VERY TALENTED, CARING, LEO FRIENDS & FAMILY MEMBERS!!!
HAPPY LEO BIRTHDAY TO….
7/24…Kathy Russ …..Susan Guadagno…Queen Destiny Montgomery …John 'Ma' Evans …. Christine Washburn ….. Art Powell…… Norman Wells ……Leo Waters….Ellen Peter …. Rita Eaton……Dick Beaver …. Alison Weimer…..(We remember Jean Claude Gosselin!)
7/25…Joyce Chilton…Sharon Ward…Michael Chapman…Steve Braddock…Dave Mitchell ….. (Please remember Donald Otto.)
7/26…Rob McKeage…Al McConagha…Evie Evers Kling…Mick Jagger ….(Please remember Earl Duncan.)
7/27…Sam Brown…..Luke Fox…Shelly Woessner…..Brad Moss….. Karen Lynch…Julie Jeffers…. Kat Klingerman…Eddie Goldstein ……Steve Black
7/28… Gary 'SUSHI' Marion…Diane Covan…Ruth Reiter…Dave Brangaccio…Rolland Montefalcon…Christopher Riedel ….Bernard Peter…. Jim Stella…. Curt Lemon …
7/29…Paul Vereb…King Paul Murphy …Allan Leder … Em Lazott ….. Leslie Burns …. Dixie (Spehar) McCarty …(Please remember John Renzi, John Long & Ed McBride.)
7/30…Bert Bender …..Belva 'Sissy' McDonald…Bobby Ciulla …..Kate Peachey…Eric Johnston…Nick Norman …Cindy Caminite…Amara Mullins …. William 'Skip' Davis …..Maylee Albright …Jeanne Mori…..(We remember Alberta Mulligan & Virginia Molzan.)
7/31…Barbara Haws…Ellen Sanford…Jack Burge…Cheryl Walchli … David Koontz …Steve Cottrell…Rick Cartwright…..(We remember Jack Burge….Loretta Morabito and…. Christine Kozera Wieczorek…. And ….Elena Milagro Hoyos.)
8/1…..Barry Cook…Charlie Waite…Bill Adamany…George Korn…Janeen Gracer … Robert Albury …Richard Somers …Joe Luczak….. Pat Brownell… (Please remember… Tyler Saffle… and …. Franklin Marshall.)
8/2…Donna Gallagher…Jim Morris …Dar Castillo…Logan McDonald Good…Bill Fitzgerald ….. Megan Burgess ….. (Please remember Sr. Mary Pat Leopold and Bob Gordon.)
8/3…MaryCarlin Porter…Lisa Roesner…Kym Fulton…Pauline McClosky…
8/4…Meredith Bollong …Aaron Wechter…Velma Christian…Shelly Szurek…..Derek Karavicius …. Phil Tabb….. Tim Mullins ….. Elaine Baburek …..Tom Edgington …. (Please remember Connie Gilbert and Ken Zychowski.)
8/5….Maya Montana…..Melissa Hudak …..Liz Cobley … Mike Seiler ….(We remember Giorgio Aversa!)
8/6…..Carole Sonstein…Larry Blackburn…Neil McMichael …..Richard Perry …..Faith Prince…..Sue Paden …..Randy Detrick …..Rena Caruso… Jim Harrold… George Chase… Megan Maschal….. (Please remember Chris Warner and Dorothy Gasior.)
8/7 …. Al Sachs…Robert Zadkovich… Donna Broski …..Dawn Wajda Riedel…. Dr. Jerry Jackson ….. (We remember David Deal!)
8/8…Scott Burau….…Karen Taporowski…Gail Hollenback …Laurie Thibaud…Caroline Ford-Cotton…Margaret Adorjan….Sho Lichtenstein…Linda Borchik …. (Please remember Jon McIntosh, Donald Gates, Carol Bush, and Donald Lowe.)
8/9…Patti-Cakes Hayes…Lisa Menditch….Nick Mazza…..Rick Boetgger …Bruce Mitchell …..Bobby Peaco…Judy Rafanelli ….. Lilli McDonald Good ….. Matthew Stratton…
8/10…Stuart Kaufman… Valerie Edgington …..Vicki Roush…William Frew….Kristen Gonzalez…Carol Musch…(We remember Howard Wolman…Capt. Tony Tarracino…and Jack McAdams.)
8/11…Georgia Chase…Janie Geer…Carmello Vitale…Joan O'Dowd… Scott Barry…Jackie Dillow…Donald Robbins…Jack Beal ….. Ty Cobb… Terry Cassidy… (Please remember Sal Salinero… and … Alan Ferguson.)
8/12…..Fred Wickman…Francine Kreinces……Gerri Sidoti … Sue Billimoria …. (Please remember Virgil Williams….Richard Kruszinski and Carol 'Kitten' Valentino.)
8/13….Roberta Markow… Lee Perry …..Susie Speidel …Roni Hall…..Annette McGhee …..Gary Hempsey ….. Lisa Leach …Tom Groetz….. (Please remember Linda Greenberg.)
8/14…..Bryan Green…George Ivanov…Alisha Mooney…Nancy Hoff…..(Please remember Joan Rolf … and Dotti Clifford.)
8/15…..Jonathan Beyer…Randy Stindt…..Harrell Odom…Greg Dunbar…Ron Augustine …..Michelle Meck…. Brian Quattrini …..Emma Kahn…. Joey Vocaire ….(We remember Florence Recher, Kay Gerenger, and Victoria Sabol.)
8/16…Phil Wilson…Sandy Thomas…Shelly Lechner…Joan Armbruster…Ashley Dawn …Marge Sabol … (We remember my dear Mother, Adele Stevens aka The Queen!)
8/17…Matthew Kennedy ….Joe Morley …..Frank Braddy…Marilyn Kellner …Sue Iseman …..Yolanda McCarthy…(We remember Dave Schmidt and Harriet Drake.)
8/18…Jim Argoudelis…Susan Bailey…Nick Brown…Harry Deal…Marti Larson … Aurora Solomon …Ruth Uridel… Larry Lunetta ….(We remember Bruce Domski.)
8/19…..Stanley Zabar…Mathias Maloff….Andrew Nyugen…Jan Nelson…Vicki Grant ….. Robin Weiss …Brenda McDonald… Robin Moodley … Porschia Denning…..(We remember Frank Romano.)
8/20….David "Faith" Gernovich…Betty Hanes…..Ruben Navarro…Ryan Tanner ….. Patrick Hegarty … Cliff Gregoire…..Stephen Ray…Mary Collins. (We remember Maurizio Mancioli.)
8/21…..T.K Krakor…..Meghan Barter…..Larry Beaver…Michael Pallansche…Maureen Seewald ….. Scott Walchli …..Barbara Chester…Kathie Hunt….
8/22…Carmen Rodriguez…Nathan Gay…Laura Richardson… Robin Smith Martin … Diane Nyad ….. Maggie Springer…Jenipher Cabot…Sandra Noelting….
8/23…Lee Roy Reams…..Paul Clift….Laura Black…CJ Miller…..David Chatterton….
HAPPY LEO ANNIVERSARY TO….
7/25…Mary & Richard Grusin…..Julie & Terry Jeffers …..Marsha & Jim Domagalski
7/26…Susan & Michael Guadagno
7/27….Sandy & Dan Sujak
7/29…Michelle & Philip Mercio…Coleen Fitzsimmones & Heather Carruthers …(We remember my parents, Adele & Ed Stevens.)
7/31…Sally Stevens & Robert Zadkovich … Anne Shaver & Susanne Woods…Kim Gordon & Steve Mizner…
8/1….Rosi & Jeff Ware
8/2…Bernard & Louise Sledz…Robert & Elena Spottswood
8/3….Steve & Shelly Lechter…Alan & Janie Teitelbaum
8/4…Dave & Carol Moore…Joe & Dina Stevens…Marti & Bill Roberts…Clare & Tom Keller …
8/8…..Caroline Ford & Paul Cotton
8/11…..Susan & Stuart Kaufman…
8/12….Douglas & Marjorie Paul-Shook…Kyla & Dennis Piscopink
8/13….Coreen & Bill Adamany…
8/15…Keith & Red Ibraham Dempster…
8/18…Sharon & Tim Karhan ……Dean & Annette Dressler …
8/20….Kathy & Steve Russ
8/21…Ed & Kathy Stevens … Elaine & Jim Szemplak
8/22…..Bob & Lynda Frechette… Larraine & Don Tacke

If you are one of those amazing Leo personalities and the description pertains to you, please let me know. Also, if you are not on either list and would like to be, please send me your info to kwlynda@bellsouth.net and I will happily add you to the lists.
May each of you celebrating enjoy a wonderful birthday and or anniversary!!!!
Hugs and love,
Lynda