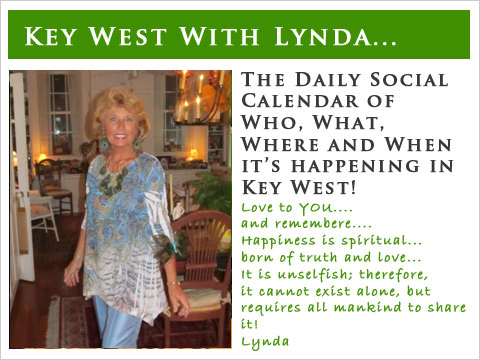 WELCOME TO THE TWILIGHT ZONE !!!!
AUGUST 11 THROUGH AUGUST 31,  2020 …. KEY WEST WITH LYNDA….

MY DEAR READERS…. Remember THE TWILIGHT ZONE,  that old Rod Serling TV Show?  More and more it seems our life today is similar to one of those episodes.  The difference is that this bizarre show keeps going on and on and on.  There is a similarity to every single day…. so I guess The Twilight Zone can be combined with the movie, Groundhog Day too!  The good news is that no matter what TV show we are experiencing, we are surviving and so far, escaping contracting COVID-19…. We continue to follow the three simple rules that, until we get a vaccine, are the only things that work….. WEAR A MASK……SOCIAL DISTANCE…..WASH YOUR HANDS!  It is mind-boggling that EVERYONE knows this (unless you are living under a rock), and yet they refuse to follow the rules.  They say that wearing the mask is taking away their civil liberty…moaning that their freedom is being challenged.  These are three very simple things to do to keep us safe.  Is wearing a seat belt or stopping at a red light in traffic…. taking your liberties away?   Another example…. Not wearing a Mask is like being on a sinking ship when you are told to get in a lifeboat.  Would the person say, "I have every right to remain on the ship and NO ONE is the boss of me, and you can't make me get on that lifeboat!"  Both Masks & Life Boats can save lives….  I have heard all the arguments from the anti-mask people…. Yes, I know, Masks are hot, glasses fog up, and you may not find them attractive…. (though they do hide wrinkles and I find that some people actually look MUCH better wearing a mask)…. This thing we are living through is not slowing down….. just when you think things are settling down…. and you let down your guard…. the number soar… and more people get sick and die.  Wearing that mask will help get us through the new normal sooner and back to the good ole Normal when masks are only used for Halloween!  I say to everyone… Get Used to It!  The Mask I wear helps you (and me) and the one YOU wear helps me (and you!).  I read more and more that if national mandates were made and there had been some real consistency to it right from the start…. we would all be in much better shape, and America wouldn't have the #1 worst record in the world in dealing with this virus.  

Please note that I will not be sending another blog out until the very end of August or early September.  If you have anything that you would like me to promote, please make sure you send to me with all details  Thanks very much!
________________________________________________________________________________
TUESDAY
HAPPY AUGUST 11 BIRTHDAY TO….CARMELLO VITALE…. GEORGIA CHASE … TY COBB .. JACK BEAL …. JACKI DILLOW … DON ROBBINS …. JANIE GEER…. SCOTT BARRY …TERRY CASSIDY …. (Please remember…. Alan Ferguson …Sal Salinero… Harriet Drake.)  HAPPY ANNIVERSARY TO…. SUSAN & STUART KAUFMAN ….

HAPPY AUGUST 18 BIRTHDAY TO…. JIM ARGOUDELIS….. SUSAN BAILEY ….NICK BROWN ….HARRY DEAL … LARRY LUNETTA….RUTH URIDEL ….MARTI LARSON ….AURORA SOLOMON….(Please remember Bruce Domski.)….HAPPY ANNIVERSARY TO…. DANNY WEATHERS & ALAN MELNICK….AND…. DEAN & ANNETTE DRESSLER.

HAPPY AUGUST 25 BIRTHDAY TO…..MIKE EMERSON … ALESSANDRA BOSCHINI PIACIBELLO … JOHN BAIRD ….SUSAN BUTLER …MITZI SMOLIK …. JAMES POJMAN JR. …. GUY BROUILLARD….GEORGE BEACH …. (Please remember David Wolkowsky ….)  HAPPY ANNIVERSARY TO….. JOAN & NORM MALTBY ….QUINCY & LENA PERKINS…..(Please remember Al Romano & Joe Liszka.)

MY BIRTHDAY….. My birthday was July 20….it may be over but the great birthday memories linger on!!!!  I really do feel that more than ever, celebrating a happy occasion like a Birthday, is a real gift and though getting old is not for sissies, my day turned out to be simply wonderful!!!!  So many people, including many of my dear Readers (You know who you are!)… reached out to me with cards, emails, e-cards, flowers, gifts, phone calls, notes, texts, and amazing surprises that had me oohing and ahhing, not only on July 20…. but throughout the month of July…. In fact, truth be known, I am still receiving cards and well-wishes…. and why not?….  I have earned the right to celebrate as long as I want to!!!!  Amen.  I thank you with all my heart for your thoughtful and kind remembrances.  You made turning 39 so much easier to bear!!!!  

KEY WEST ….. I continue to hear that  ever since the barricades were lifted on June 1, our numbers of illnesses and deaths are rising in a shocking manner.  Tourists are not respecting our Island and that disturbs me.  They come to Key West like they were released from their hometown cages and feel they can do and act any way they want to….no rules for them…no way, Jose!  This is not acceptable in my mind.  One part of me thinks that certain of the business owners of restaurant,shops, etc. who also are not enforcing the rules…. who feel it is okay to not adhere to the rules and have an 'anything goes' attitude….should be deemed UNDSAFE PLACES…. This way those who feel comfortable throwing caution to the wind, both proprietors and customers could go there and be unsafe if they want to be…. get sick if that is what you want…  but don't give it to anyone who is being vigilant!!!!   Then all those who are earnestly  following protocol should have a list of SAFE PLACES to frequent.   Those who are vigilant will know where they can dine or shop safely.   Locals and Tourists must be informed about these safe places.  Maybe there should be a SAFE PLACE SIGN in their windows or at the entrance to the business so there are no surprises when you enter.  My sources tell me that many clerks and waiters actually have angry spats with customers who refuse to do the things required.  Scary stuff!  Of course, ideally I would hope that everyone who comes to Key West will be respectful, but if they are not…….

ENFORCEMENT OF THE RULES!!! …  I think fines must be enforced on those who do not adhere to the mandated rules.  If you are not wearing a mask, you must be nabbed and given a ticket  and receive the payment IMMEDIATELY…. right then and there.  I believe that $25 should be the amount for the first offense…. 2nd offense, $50…. 3rd…. throw out of town or send to jail!  

SUPPORT TERI JOHNSTON FOR MAYOR…. Don't know if you realize it but it is of UTMOST importance that Teri wins the Primary re-election on August 18… not wait until November.  Her race will be decided on Aug. 18.  She NEEDS your support…. If you have received your Absentee 
Ballot and you have cast it aside to fill it out later, please please, retrieve it and fill it out and send it in NOW!!!!  I hope you have Key West's best interests at heart and will vote for Teri Johnston!  Note that I ask you to please respect my choice of Teri as the Mayoral candidate….. as I respect yours.  I truly do think Teri has done an extraordinary and exemplary job these last two years… and during this very challenging time dealing with COVID-19.  If it were up to her I know she would not have lifted those barriers in Key Largo so soon… and  our numbers would have remained low.  Teri has only the best interests of the People of the City of Key West at heart.  

ELLEN STEININGER…. My friend Ellen, is most concerned about the chaos going on in Key West since things opened up.  Locals are feeling unsafe and she has established a FACEBOOK Page for Safety Reviews.  If you go out and feel that the shop or restaurant you went to was a positive and safe experience and felt comfortable while there…. please post it on this Page.  She requests no 'bashing'… but if there are places you went to that you were concerned about I think it would be important info for locals to know.  Constructive opinions please.  I also think that as Locals who love Key West, if we do not like what we see in a certain establishment, I think we should have the courage to speak up.  Of course, if you have a bad experience somewhere, you are speaking out by not going there again.

THANK YOU AND CONGRATULATIONS TO THE WATERFRONT PLAYHOUSE !!!!  The Waterfront Playhouse deserves accolades for presenting  wonderful  radio shows onstage at the Playhouse.    We loved them all!!  Performed live onstage at the Playhouse, they were Broadcast at 8 pm on US1Radio (https://us1radio.com), and 104.1 FM.  These are FREE events, however, any donations to help fund other of these events, please visit https://waterfrontplayhouse.org/donate-online. ; Or you can call the box office at 305-294-5015 from 9 am to 12 pm, Monday thru Friday.   Stay tuned for the next presentation.

CRUISE SHIP UPDATE…..Beware of the Key West Bar Pilots Assoc.  This group of 4 men who make over $2 million a year bringing large cruise ships to Key West… (and for them, the bigger the cruise ship, the bigger their paycheck)….These 4 men have filed a lawsuit in a desperate attempt to take away Key West Citizen's right to vote on the Nov. 3 referenda.    They are asking a federal judge to delete the questions from the ballot!  They are suing our non-partisan Supervisor of Elections, Joyce Griffin, the City of Key West and the dedicated Committee for Cleaner and Safer Ships….in a shameful effort to stop 15,000 voters from deciding the future of cruise ships in Key West.  As Arlo Haskell stated…."These questions are on the ballot because thousands of citizens braved a Pandemic to sign petitions that put them there.  Everyone deserves the right to be heard on this issue.  The Bar Pilots want to stop you from voting, plain and simple."  Arlo continues with "These men know the Committee doesn't have $2 million.  They know that the citizens are in this campaign not because we have any financial interests, but because we want to protect Key West's Health, environment and economy for future generations."  I IMPLORE EVERYONE WHO CARES ABOUT THE FUTURE OF KEY WEST….. TO SUPPORT ARLO AND THIS COMMITTEE by donating whatever you can to fight the KW Bar Pilots and their shenanigans!  You can contact Arlo at arlo@safercleanerships.com.  

CRUISE SHIPS GO TO COURT!!!!  AUGUST 12….. Clear your schedules!  It is the Safer Cleaner Ships vs. The Bar Pilots & Pier B Development Corp. lawsuit who want to block the cruise ship vote.  Tune in tomorrow at 9:30 am in a virtual courtroom .  Judge James Lawrence King will hear both our Motion for Summary Judgement to throw this lawsuit out… and their Motion for Summary Judgement to remove  the proposals from the Nov. 3 ballot.  You can watch via Zoom at 9:30 am on Aug. 12….Join Zoom Mtg. at:
https://www.zoomgov.com/j1616140829?pwd=K2dMQkxpTOdpcldDNjUvNEN3YXFGdz09. ; Meeting ID: 161 614 0829   Password: 524276

WHICH OF THE THREE CANDIDATES SUPPORTS  THE CRUISE SHIP REFERENDA?  The ONLY one who supports the three items on the Nov. 3 ballot to have cleaner, smaller, more healthy better cruise ships is MAYOR TERI JOHNSTON.  The other two candidates want more and bigger ships to invade our Island!  PLEASE keep that in mind when you decide who to vote for. 
You know, we moved to Key West some 23 years ago…. During that time there were no Cruise Ships that I recall…. there was no pollution in the air….. the waters were clear and the reefs were not in the danger they are in now.  All the stores on Duval were filled with wonderful unique merchandise…. there were amazing specialty stores….  Locals loved shopping downtown and taking their guests with them.  And then the Monstrous Ships started coming in, polluting everything around us that should be ultra clean and clear.  To quote something I just read in the Citizen….."Smaller & cleaner ships is not a revisioning…. It is a return to a cleaner, more sustainable Island that we had 20-25 years ago.  If you weren't here, you have no idea."  All businesses will re-imagine how wonderful they can be without the Mega-Ships and you will flourish!

WATERFRONT PLAYHOUSE REQUEST…. The Radio shows that have been presented by the Playhouse costs approximately $2,000 each to produce…. this pays the actors, and crew.  Can you consider being a Radio Star… by making a contribution to the Radio Shows?  For $500 or more your name will be added to their roster of Radio Stars and you and a guest can attend one of the Live Broadcasts, as these shows are open to the public with limited seating.  By sponsoring the entire show, you can invite your circle of friends, up to ten and socially distanced…. and make a party of it!  Please help the Waterfront by going to www.waterfrontplayhouse.org or call 305-294-5015.   You can send checks to Waterfront Playhouse at Box 724, Key West, FL 33041.  Thank YOU!  Depending on funding the Waterfront is hoping to present one radio show a month.   

VERY SAD NEWS INDEED….  Since my last blog I am very saddened to announce that we lost some very special people who touched our lives in so many special ways.  We remember ARLENE DOTY……JIM BROGAN….MICHAEL DAVIDSON…DICK GODDARD…. MARY BURGESS… and SHERI BROWN.  Sheri was the beautiful, talented and charming sister of my good friend, Susan Kaufman.  She visited Key West many times and always left a wonderful impression.   You can send Susan & Stuart Kaufman messages of sympathy to them at:  221 Park Ave., Charlevoix, MI 49720.    Mary  frequented Blue Macaw and Aqua Nightclub often with Louis Petrone.  She had a brain tumor…. she seemed the picture of health.  All very very sad.

CLEAR THE ANIMAL SHELTERS…. The Shelters in Keys are closed because of the Virus, but you can still adopt o pet!  If you are interested in adopting, go to www.fkspca.org/adopt, click on the photo of the pet you are interested in and fill out the adoption questionnaire.  You will be contacted by an adoption counselor and a curbside pickup will be arranged.  You have until the end of August, (Aug. 31), to accomplish this!  Visit www.cleartheshelters.com for more information.

REMEMBER THE LEGENDARY COOKIE LADY…AKA MARILYN KELLNER?…. Did you know that this KW "Legend in her own Time," still resides in Key West and that she is still spreading sunshine wherever she goes.???   Little known fact about her, is that not only is Marilyn a true Keys Icon, immortalized at Ft. East Martello…. and quite the baker….. she is also a talented artist, and during this time, she has been working on a 'Corona Virus Series' of paintings.  She is hoping she can help raise needed dollars to help restaurant workers and the like who have been out of work for some 9 + weeks…..  I ask, can anyone use them for a fundraiser?  If you have any thoughts or ideas of how you can use this series of three great paintings to help others out, please contact Marilyn at marilynkellner@gmail.com.   Thank you!!!! 

TAVERN N TOWN….AUG. 11,18,25…..Carmen Rodriguez & Michael Thomas will perform from 5 to 9 pm…

SCHOONER WHARF …. AUG. 11 … 12:30 TO 5 PM,  Adam Stamper… 6:30-10:30, Tom Taylor……..AUG. 18 & 25…..Gary Hempsey 12:30-5 pm and Tom Taylor 6:30-10:30 pm……

LATEDA….AUG. 18 and 25….. The Fabulous Spectrelles perform at 8 pm.

SMOKIN TUNA SALOON….AUG. 11, 18, 25… 6 TO 10 pm, Nick Brownell….

RAM'S HEAD…..AUG. 11,18,25…. Zack Seemiller performs from 4 to 7 pm….

PLEASE PRAY FOR DOUG LAFFERTY…. Our friend, Doug Lafferty of Key West, just contacted me that he was having some vision problems and found out that he has a brain tumor…. and requested to be included in the Prayer List.   He is devastated with this news, but hopeful, and he asks for your prayers.  If there is anyone out there who has experienced a tumor connected to the back of the eye or if you know someone who has, I ask that you please contact Doug at djlarch@aol.com or call him at 528-944-6369.  I believe he is presently at his summer home in Saratoga Springs, NY.  He faces some major challenges.  If you are able to, please send him a card at …..407 County Route 68, Saratoga Springs, NY 12866.  I know he would love to hear from you and receive your support.

NOW OPEN….. THE CUSTOM HOUSE….. LIGHTHOUSE AND FORT EAST MARTELLO opened on August 7… Tennessee Williams will open at a later date. ALL Safety measures will be enacted.  Masks a MUST!  10 am to 3 pm….All tix must be bought in advance online thru the KWAHS website.  

KAREN LEONARD AT THE STUDIOS, AUG. 18…..Key West Playwright, Karen Leonard, will present 'A FLOURISH OF HATPINS", her well-researched original play about a fictional Key West Family in 1920, divided by the politics of a woman's right to vote.  The play deals with equality for women, contagious disease and political conflict… (sounds like things we are still dealing with today!)   Tix for the online event, which can be streamed on demand from Aug. 18-23 are now on sale at The Studios of KW.  Actors will perform the play via Zoom, and the performance will be recorded, edited and made available for on- demand streaming.  It stars, Jessica Miano- Kruel, Erin Uzume McKenna, Karen Grant, Tim Dahms, Kate Miano, Aaron Wechter, Toba Cohen, Marsha Williams, Corey Narson, Louise Pearson,m Barbara Mundy and Diana Heller.  Tix are$15… Members, $10 and you will have on-demand access to the video to stream it at your convenience from 8/18-23.  Get tix at www.tskw.orgf or by calling 305-296-0458.  (Sidebar on Karen…. She is a beautiful and multi-talented person….. I will always be grateful for her singing for me and the Waterfront Playhouse for Aqua Idol several years ago.  No doubt this play will be marvelous!)

THE BIRTHDAY AND ANNIVERSARY LISTS…….. Please let me know if you would like me to forward you these lists….. Simply send me a request and I will send you this month's complete Personality Description plus all those I know who are celebrating birthdays and anniversaries during this special time of year!!!  Also, let me know if you want to be added to it.  Many of You NOW have plenty of time to send notes, cards, emails and texts …it is a chance to remember all those people too nice to forget!!!!

CHIPPEWA LAKE…. I have been getting requests from readers to print my address here at the Lake…..It is: 62 Bungalow Bay Blvd., Chippewa Lake, Ohio 44215….. Sure love getting mail and would enjoy hearing from YOU!  Stay in touch.

****EARLY VOTING……AUG. 3-15….There will be a Primary Election on August 18, 2020.  And the General Election is November 3, 2020.  If you have an Absentee Ballot, and you did not send it in as yet…PLEASE DO ASAP.  If you want to avoid voting crowds on Aug. 18, you can  do early voting until August 15.   You do NOT want to forfeit your privilege to vote in these extremely important elections.  So while you have this time…. please handle this.    ALSO… REMEMBER THAT IF YOU WANT TO VOTE FOR THE MAYOR OF KW, IT WILL BE DECIDED ON THE AUG. 18 BALLOT!!!!  (Hoping you will support TERI JOHNSTON!)  If you will NOT be here for the Nov. 3 Vote….. time to request an Absentee Ballot for that…..It is of the UTMOST IMPORTANCE!!!!!

HEAR YE HEAR YE…..  SHAMELESS PLUG…..MY DAUGHTER IS A MASK-MAKER….. Yes, daughter, Melissa Lang has another 'cottage industry' going.  She makes terrific wearable and washable masks that have personality and pizzazz!  If you would like to order masks, contact her at 224-717-2311 or at granimals@hotmail.com.  People are ordering like hotcakes!  She will take your order, make, and send to you.  Also,  she will be happy to make a mask using  fabric that pertains to a special interest of yours….. like music, gardening, dogs, or pets, etc.  Tell her I sent you!!!  I want to thank all my readers who have ordered masks from Melissa.  You are so kind.

***BIG ANNOUNCEMENT ON THE 2020 WATERFRONT PLAYHOUSE AQUA IDOL… Note that the final two Waterfront Playhouse Aqua Idol Shows will take place sometime, hopefully, in November, IF things are open up and we can do it safely…….something we can ALL look forward to…..  In the meantime…I do NOT want you to forget the Final Eight Vocalists whom we have all come to know and love………They are…..STEPHANIE WISE…. BOB WOOD…. JON HERNANDEZ…. BRIA ANSARA…. GAYLA MORGAN…. TREY FORSYTH….. SARAH DORRANCE … AND… CHARLII CLARK!  These are some of the most wonderful and talented individuals and nicest people I have EVER known… and that also includes those who started the event with us, way back ON JAN. 22…. including…. LUKE FOX.. ZACH FRANCHINI… CALEN D. TOMASZEWSKI… MIKE RIDGEWELL …..RICHARD QUINT ….PERKY SARAH PERKINS…. HERB MILLER..AND  VERA GRIGOROVICH!!!! 

ALL BIG EVENTS CANCELLED UNTIL 2021 OR FURTHER NOTICE…..  No Fantasy Fest… Christmas Parade…. Power Boat Races…. Lobsterfest…. Brew Fest…. Pride Fest…. the list is endless.  So if you want these things to happen next year… Please follow all the rules and let's lower our numbers and good things will lie ahead.

NEWS ABOUT NEW WHALBERGER RESTAURANT OPENING IN KEY WEST….. This has gotten a lot of hoopla and rightfully so!  The famous Boston Wahlberg family has opened their restaurant where White Tarpon used to reside…..great location….We are all hoping to someday hobnob with Mark and Donnie and the rest!!!!!

MY CONCHTV WEBSITE..You are receiving this personally, but note that you can also read this blog in its entirety 24/7..anytime on my website with Conch TV… Just go to www.conchtv.com/author/lynda … and Voila!  There I am!!  Even a picture!!!!  Also, you can see the  Birthday and Anniversary Lists and Personality Traits… Fun!

ONE CLEAN ISLAND FACEBOOK PAGE….Carol Tedesco has informed me that good info is being posted on this page.  Check it out please.  She also sent a plea to support the SOS and Sister Season Fund…..two organizations that I support and totally believe in especially during these crucial times.  

SUPPORT SOS………Prior to the pandemic, more than 50% of Monroe County residents were ALREADY living below the poverty line.  SOS (Star of the Sea) Kitchens have long been providing food for those in need.   PLEASE Support SOS and other orgs such as Sister Season Fund with donations if you can.  Go to…. https://cffk.org/non-profits/sister-season-fund-inc/ … The SOS will be returning to their old regular hours.  

THE STUDIOS KEY WEST….. The Studios has launched a new suite of workshops, exhibits and events that can be enjoyed anywhere…..  The Event will take place on the Studios Facebook Page…..  Check it out.

KELLY NORMAN ANNOUNCES RAM'S HEAD SOUTH SCHEDULE…..Ram's Head Southernmost is open Mon thru Fri noon to 11 pm… food served until 10 pm….. Sat. & Sun., open 9 am to 11 pm… food till 10 pm….Note Kids East FREE on Wednesday…. Burger Special is $5 on Sunday!!!!  Entertainment daily during happy hour from 4 to 7 pm!!! 

DAN REYNEN ANNOUNCES WEBEFIT OPENING…..All dumbell grips, door handles and the front desk has been copper-coated as this substance is known to kill the novel corona virus and other bacteria.  Cheers to Dan who says" There is no excuse for any facility to open up and risk their employees or customer's health, because they want to make a dollar off a session."  Clients must have their temps taken upon entering, must wash their hands and wear masks at all times.  THANKS DAN!  You are a caring and very thoughtful person.  Bravo!  WeBeFit is at 1277 1st St. in Key West.

SUBSCRIBE TO KONK LIFE ELECTRONIC PUBLICATION…… Guy de Boer, publisher of this great Publication has ceased printing an actual paper for right now… but he is offering you a chance to continue to receive KONK Life on a Daily basis.  It is chock full of great up-to-date information.  Times are tough, and until things ease up he is requesting a subscription fee, which I feel is well worth it.    For more information go to  ….. https://konklife.com/?p=47710. ; If you prefer,  you can email Guy at guydeboer@gmail.com and he will advise you on how to subscribe.  You can also text him at 305-766-5832.  

VIRTUAL DIVES…. The National Marine Sanctuary is offering Virtual Dives….dives include Christ of the Abyss, Cheeca Rocks Sanctuary Preservation Area, Coral Nursery, Aquarius Reef Base and the Benwood Wreck.  Go to https://sanctuaries.noaa.gov/vr/florida-keys.

TROPIC CINEMA OFFERS…..Tropic is offering a Virtual Cinematheque Series with ticket purchase giving access to a film for three days.  Visit http://www.tropiccinema.com for further information.  

KEY WEST THEATER & RAM'S HEAD ANNOUNCE NEW DATES FOR POSTPONED SHOWS…..  Ticket holder will be able to use their tix for the new date and KEEP THE SAME SEATS if you choose…. For other options they will be reaching out soon to all buyers on how to proceed.  Rescheduled shows are:  Juliana Macdowell Record Launch…, Nov. 19 ….. Sinatra's 'That's Life' on Dec. 11…..A John Waters Christmas… Dec. 15…. Key West Blues Fest…. Dec. 15… The Theater is working on rescheduling all shows….and ask for your patience…..You will get emailed information with options.  

BARBERSHOP CHORUS….Joe Tripp, Key West's fave police officer and Aqua Idol Star, has started a Barbershop Singing Group…  If you have ideas, suggestions or can help financially…or know someone that can help Joe, please contact him at 813-477-3045 or email him at Joelepro1@gmail.com.  You can send checks to Joe Tripp at PO Box 2374, Key West, FL 33040.  If you are interested in participating in the Chorus, contact Joe also.

KEY WEST ART & HISTORICAL SOCIETY ONLINE SERVICES….An extensive series of Distinguished Speaker Series Presentations filmed over the last three yrs can be seen online….also, Flagler's Railroad…. Historic Marker Tours of Key West Sights…. Depicting Hemingway, and online gallery of 59 original Guy Harvey sketches…. etc…. Mario Sanchez video …Robert the Doll…Hemingway in KW…. and online collections of more than 35,000 objects in the KWAHS archives….  Go to www.kwahs.com.  

AWESOME FOUNDATION KEY WEST!!!  Friend Michael Shields asked that I mention this Foundation that he is heavily involved in.  Globally, there are 90 chapters…there are 50 in the USA, with 5 in Florida, including Key West.  Over $4.4 million granted since 2009.   The mission of the group is to bring more awesomeness to our town, and spreading it by awarding $1,000 grants with no strings attached to the most awesome idea, project, proposal, or plan that is presented to the Group of Trustees, who each plop down from their own pockets the money to fund the Grant.  Sounds totally AWESOME to me!!!  Check it out online at www.awesomefoundationkeywest.org.  These awards have been given since Oct.  To date, over 60 applicants have been received.  Michael Shields is the coordinator of this group.  READ ON….

CONGRATS TO ROBERTA DEPIERO AND CAROL TEDESCO who received a $1,000 AWESOME FOUNDATION grant to fund a limited edition commemorative photo-book of images shot by 25 area photographers during the COVID-19 relief efforts on behalf of workers in tourist related industries including entertainment, hospitality, lodging and retail and guest services.  Titled 'COVID-19 SPRING-WHEN PANDEMIC MET PARADISE'… DePiero's brainchild.  She and Carol are hoping to raise app: $10,000 for Sister Season Fund's crucial outreach during this Pandemic.  The book is anticipated to be in print in August.  Anyone wishing to contribute to the printing  cost and place advance orders, please contact Roberta DePiero at robertadepiero@gmail.com. 

TENNESSEE WILLIAMS THEATRE ANNOUNCES SEASON…..Frank Wood has recently announced an abbreviated yet fascinating performance schedule to the Producers… and ultimately all… for the 2021 Season.  At this point shows that are tentatively scheduled are:
The Choir of Man, Jan. 30, 2011…..Neil Berg's 50 Years of Rock n Roll, Feb. 5, 2021…. A Gershwin Show starring Bobby Nesbitt, with Carmen Rodriguez and Danny Weathers , Jan. 24 & 25….A new Bobby Nesbitt Show on Feb. 28…..Randy Roberts Show with Marilyn Maye , Feb. 2021…..Stayin' Alive Bee Gees Tribute, March 6…. Paradise Big Band, January and March 2021….  ALL shows will be on the MAIN stage and audience will be at only 200 persons for social distancing.  The Theatre needs your support more than ever…..  To make your Producer Contribution for 2020-21 you can do it securely online…. Go to1) https://keystix.ticketforce.com/DonationAddToBasket.asp?camp=9 … or Call Carolyn Cooper at the box office at 305-296-1520 x 1…. For more questions you can call Frank Wood at 305-296-1520 x 2 or email him at frankw@packw.org.   

LATEDA…RESTAURANT SPECIALS…. Customers  are being welcomed and Lateda is doing everything possible to make it a very safe and pleasant dining experience.  Reserve at … 305-296-6706.  . LATEDA announces $15.99 Daily Dinner specials:  Mon., Meatloaf…Tues., Tuna….Wed. Prime Rib … Thurs. Bolognese…. Fri., Fish & Chips and Sunday, Salsa & Pasta.  NO TAKE OUT …… PLEASE MAKE A NOTE THAT ENTERTAINMENT IN THE CRYSTAL ROOM IS SCHEDULED TO POSSIBLY BEGIN IN AUGUST… FEATURING THE FABULOUS CHRISTOPHER PETERSON!!!!

NEW BOOKS BY MY READERS ANNOUNCED…
AUTHOR GEORGE FONTANA….George has a new book out, "Where in the World: Notes from the Tour Zone"  … available in paperback with photos & commentary by George's unique perspective…you will be taking a world cruise with George!  Now at http://www.amazon.com/Where-World-Notes-Tour-Zone/dp1951150112. ;  Enjoy the tour!!!   

BOOKS & BOOKS OFFERS FREE HOME DELIVERY….Those  home bound or practicing social distancing and all else, can go to www.shop.booksandbooks.com or call 305-320-0208 and order a book.  Order by noon and delivery will be done by 4 pm that day.  Mon-Fri only.  No better to enjoy a self quarantine better than with a good book!

LUANN GROSSCUP ANNOUNCES NEW BOOK!!!.. 'FLIGHT: An American Pilot's Story of Adventure, Descent, and Redemption', by local author and friend, Luann Grosscup and Capt. Neil Hansen has been released!!!  It is one man's aviation story (Neil Hansen), within the context of CIA covert operations in Southeast Asia during the Vietnam War.  Presently, the book is available at www.amazon.com, in either soft cover or kindle.  
Go to: https://www.amazon.com/Flight-Neil-GrahamHansen/dp/1940773814/ref=sr_1_1?keywords=FLIGHT+Hansen+paperback&gid=1552398027&s=gateway&sr=8-1.      

BIRTHDAY/ANNIVERSARY LISTS….If you would like to be included in the Birthday and Anniversary Lists that I send out every month, please let me know your month and day by sending that info to me at kwlynda@bellsouth.net.  There are special perks to being on the lists!!!!  One of the perks is having your name in KONK Life on the day of your Birth…. 
 
PRAYER CHAIN…..Please continue to remember the following in your thoughts and prayers….. Prayers for all of us in the Keys who are facing this pandemic corona-virus… it is a serious thing… ….  Give us the strength to practice social distancing… let everyone realize how important it is to wear a facial covering………… let us all stay healthy and sensible and supportive of one another…..Please pray for….Pat Green……Douglas Lafferty …..the family and friends of Mary Burgess who recently passed away…..Caroline Cash…. the family & friends of Susan & Stuart Kaufman on the loss of Susan's beloved sister, Sheri Brown…..David Buffam ….Lurann Wood.. ….. Paul Politte…. …the family & friends of Arlene Doty……the family & friends of Jim Brogan and Don Strang…..my nephew FRED STEVENS and his wife Judi…..for the Family and Friends of Charlie Allen, who was deeply loved by many…. for Jodyrae Campbell in the loss of her husband, Brian Belanger….. for Kevin Hoyes in the loss of his beloved daughter, Alexandria Hoyes….. the family of  Bob Sledz in the loss of his dear sister Carol Hines……..all those in the Keys who have tested positive for the virus…..Mayor Teri Johnston……Javier Lopez … …. .Michael Amin …for Tom Walters on the loss of his wife, Beverly….Fiona Molloy… …..all those in town who are financially challenged during  this time….. our wait staff, shop owners, entertainers, etc……Bucky Montgomery ……Pat West who is fighting Covid-19……John Baird. ….Michael Thomas ………Barbara Brant….. Jim Hall ……..Sissy McDonald….. Chuck Selph…. Larry Selph …..Genevieve Isaksen  …Ann Marie Adreani. …..John Behmke …..Sandy Abookire ….Jerry Galeana ….RE Frechette . …..the friends and family of Ron Maranian, who recently passed away….he was a funny man!!! ….. Donna Barnett….….Sharron Mondo… Maggie Domski ….Len Stevens  ….. .Joe McMurray …George Kling …..Mary Larkin …. …Robin Deck …Paul Cotton.. …… Nancy Williams …Christy Nelson… Virgil Williams .. .…Fred Lima  …Maryann Barth…..Kathy Stevens ….Ed Stevens Jr…..Georgia ….Dena Badgerow…..…Bella Rettenwander ……Diane Covan ….Paul C…….Guy de Boer….….Dawn de Boer … …Joe Dallas Sr … Jan Cernan ….Donna Stanton   …Lee Garrison … Lou Ann Cymont … Cheryl Walchli … Terri White …John Padget  …..Eric Nelson …….Gary Rivenson …Donna Stabile ….Todd Reifschneider … …Pat Waller …..Millie Chawlew  ……. Lee Knight …..…Frank Gren  … …Sherrey Welch …Marta White  ….… Peter Deksmith …Bill Lodermeir …Betty & Jack Darst……Richard and Betty Carraway ……Lottie Domski …. Anne McKee …..Teresa Lawson ……. Tony Martinez … Star Husky…  …Marec Yooree ……. Pamella C. Bocdow. …Dee Dee Duecker … Karla Muir … Vincent Gregory …Tony Freese… Jennifer O'Lear … Kent Gater….Margaret Taylor … Roland Ryper …Patrick Richards.   Remember, there are many reasons that we pray…not just because people are ill…. I do believe that when we all send prayers and good vibes to those in need, those prayers mystically meet and surround those being prayed for.  Sometimes we pray for miracles and the impossible….sometimes we pray to just cope with the results of what happens to those we are praying for.  Sometimes we pray for strength to go on and to accept…sometimes we pray for thanksgiving.  We are in this thing called 'Life' together….and we all have power within us to help our fellow man.  Bless you for remembering our loved ones….Prayer changes things!  Let me know if you know of anyone who should be added to this list.

BOB FRECHETTE=FABULOUS REALTOR IN TOWN!!!!…..Need a realtor in town?  My husband BOB FRECHETTE IS YOUR MAN!!!!  He has been with the marvelous Compass Realty ( NOW Keller-Williams Compass) for 20+ years …Give him a call at 305-304-2584!  Email him at rfrechette@bellsouth.net.  He is the BEST! I promise!!!!  Honest, Loyal, Fair, and Adorable too!!!  He will have ONLY your best interests at heart.   

MONROE COUNTY LIBRARIES….. Because the virus has infiltrated workers at the Library, they are only offering curbside pick up and drop off until further notice.

TAKE STOCK IN CHILDREN NEEDS VOLUNTEER MENTORS….mentors needed to work with dedicated students….If interested call Karla Quintana at 305-293-1546 or email her at karla.quintana@keysschools.com. 

LOWER KEYS MEDICAL CENTER NEEDS VOLUNTEERS….There are opportunities available for volunteers… at reception desk, as a greeter, an escort, etc….Call 305-294-5531 for information extension 4771 or email Tami.Harmon@LKMC.com

A PUN or LEXOPHILE FOR YOU…..I don't trust these stairs, cause they are always up to something!
 ________________________________________________________________________________________________

WEDNESDAY
HAPPY AUGUST 12 BIRTHDAY TO….FRED WICKMAN …. VIRGIL WILLIAMS …. GERRI SIDOTI … SUE BILLIMORIA …FRANCINE KREINCES,,,,, (Please remember Carol 'Kitten' Valentino….and… Richard Kruszynski.)  HAPPY ANNIVERSARY TO….DOUG & MARJORIE PAUL-SHOOK ….. KYLA & DENNIS PISCOPINK.

HAPPY AUGUST 19 BIRTHDAY TO….. STANLEY ZABAR … MATHIAS MALOFF …ANDREW NYUGEN … VICKI GRANT … ROBIN WEISS… JAN NELSON …. BRENDA MCDONALD …PORSCHIA DENNING ….(Please remember Frank Romano.)

HAPPY AUGUST 26 BIRTHDAY TO…. LAURA BOHDAN …. BARBARA NEAGLEY …. RENETTA SARNACKI…. HAPPY ANNIVERSARY TO….BARBARA & ROSS NEAGLEY… AND …. MICHAEL CITRO & ED DOZIER.
______________________________________________________________________________
KEY WEST TROPICAL FOREST & BOTANICAL GARDEN …. open at 10 am…..visit this sylvan setting and  the 15 acres of trails and lovely sites….native plants are abloom…lots of birds and butterflies surround this outdoor refuge…. just the antidote for the corona virus blues!  Safe distancing will be key….10 am to 4 pm 7 days a week. 

TAVERN N TOWN…….AUG. 12 & 26…. ROB DISTASI FROM 5 T FROM 6 TO 9 PM….AUGUST 19…. MIKE EMERSON

LATEDA, AUGUST 12,19,26…. The Fab Spectrelles entertain at 8 pm….   

BETWEEN TWO PALMS, AUG 12 AND 19….. The Studios with interviewer, Jeff Johnson….There will be a live stream discussion and Q & A with Anika Larsen on Aug. 12 and with Marisa Tomei on Aug. 19.  Contact the Studios at 305-296-0458 or go online to www.tskw.org for info and tickets to these events.

SCHOONER WHARF… AUGUST 12, 19, 26……12:30-5 pm, Tony Baltimore…… 6:30-11 pm, Raven Cooper…

SMOKIN TUNA SALOON, AUG. 12, 19, 26….. Caffeine Carl & Friends perform from 6 to 10 pm.

RAM'S HEAD SOUTH… AUG. 12,19,26….Entertainment by Keith Franx from 4 to 7 pm…

THE KEY WEST PARROT HEAD CLUB….This fun loving, and very philanthropic group who love Jimmy Buffet, partying with a  purpose and supporting our community is seeking new members.  Single memberships is $20… and you receive a KW Parrot Head license plate frame and other special privileges.  To join call 262-705-8204 or go to http://keywestparrotheadclub.wildapricot.org.  ;

THE KEY WEST GARDEN CLUB AT HIGGS BEACH OPEN….  FREE…. 9:30-12:30 pm on Sat. and Sun…. Open at 11 am the rest of the week.

KEY WEST ART CENTER & GALLERY …. This Front St. Gallery is selling art which can be delivered curbside in KW or by mail.  Go to http://www.keywestartcenter.com for a listing and photos of original art, pottery, sculpture, jewelry and more, created by our very talented artists! 

STRING MUSICIANS SOUGHT…. The KW Community String Orchestra is seeking those who play violin, cello, viola, etc. at all levels of experience.  For info contact Lynn-Marie at lynnmariekw@gmail.com.   

KNOW YOUR RISK DURING COVID-19…..On a Scale of 1 to 10….. these are how various activities are ranked from Low to High…                LOW RISK: 1) Opening your Mail….2) Getting takeout food…Pumping gas… Playing Tennis… Camping….3) Grocery shopping…Going for a walk, run bike ride with others … Playing Golf….. 4) Staying at a hotel for 2 days…. Sitting in a doctor's office…. Going to a library or museum …..Eating OUTSIDE in a restaurant …Walking in a busy downtown …Spending an hour at a playground….5) Dining at Someone's home ….Going to a backyard Bar BQ… Going to the Beach … Shopping at a Mall….. 6) Sending kids to camp, daycare or school …Working a week in an office bldg. …  Swimming in a public pool ….Visiting an elderly friend in their house…… 7)  Going to Spas, Salons or Barbershops … Indoor eating at a Restaurant … Attending a wedding or funeral …Traveling by Plane … Playing basketball or football ….Hugging or shaking a friend's hand……8)  Eating at a Buffet ….Working out in a gym ….Going to an Amusement Park… Going to a Movie Theater….. 9) Going to a large music Concert … Going to a sports stadium… Attending a Religious Service with 500 + worshipers …Going to a Bar.  And of course…. PLEASE maintain all the rules.  And when in doubt… STAY HOME!!!! 

FORMER FANTASY FEST QUEEN PAT GREEN…. This very beloved an colorful former FF Queen, now at age 96, had contracted the Covid-19 virus and we are happy to announce to all Pat's fans, that she has survived with more flying colors!!!!!  Long live the Queen!
_______________________________________________________________________________

THURSDAY
HAPPY AUGUST 13 BIRTHDAY TO….RONI HALL ….SUSIE SPEIDEL … ROBERTA MARKOW … GARY HEMPSEY ….ANNETTE MCGHEE …LISA LEACH ….(Please remember Linda Greenberg.)….HAPPY ANNIVERSARY TO….. CHRIS & JON HERNANDEZ ….LAURIE & PAUL NICK …. COREEN & BILL ADAMANY.

AUGUST 20  BIRTHDAY TO ….. DAVID 'FAITH' GERNOVICH …. PATRICK HEGARTY ….BETTY HANES ….STEPHEN RAY ….RUBEN NAVARRO ….RYAN TANNER ….CLIFF GREGOIRE ….MARY COLLINS…. (Please remember Maurizio Mancioli.)  HAPPY ANNIVERARY TO ….KATHY & STEVE RUSS ….

HAPPY AUGUST 27 BIRTHDAY TO…..TOM CLEMENTS …. PEYTON EVANS …. LENORE TROIS …. THOMAS BOYER ….(Please remember Nancy Friday…. Lonni Jacobson ….Bob Rokos…. Mrs. Gavin.)  HAPPY ANNIVERSARY TO…. JUDI & FRED STEVENS.

NEW PODCAST WITH MARK AND AMY!!!!…AUG. 13,20,27…. and EVERY Thursday!!!  Beloved Key Westers, AMY CULVER  & MARK WATSON, have combined their many talents to produce 'KEY WEST..WHERE THE WEIRD GO PRO-SUNSET with AMY & MARK'….This is a weekly half hour Interview show streamed on YouTube and broadcast LIVE from Higg's Beach at 6 pm!  These programs will feature interesting Key West characters and their contributions to the Community!  Last Thursday was the first show and featured Sister Season President, Duchess Julie Hanson & VP Ryan McCauley.  This wonderful group raised over $340,000 to help pay rents, utilities, etc. of those in KW who have been laid off.  Amy and Mark conduct this Podcast in the Gazebo near Salute restaurant!  If you choose, you can bring a lawn chair and a mask and social distance and watch the Podcast LIVE on the Beach!  

THANKFUL ON THURSDAY……I am deeply thankful for all those who reached out to me so kindly with special thoughts, remembrances and love on my July 20 birthday.  You made my heart sing!  I must include the following names of those who went over and above any call of duty in remembering me in some amazing and over-the -top ways.  BIG thanks, in no particular order… to….Darla Snyder ….. Bobby Nesbitt & Mike Mulligan…. Randy Roberts….. Suzanne Washburn …. Lee Ann Holland …. Alison Teal…. Danny Weathers & Alan Melnick …. Tom Thayer & John McDonald….Ed & Amy Stevens ….Sally Stevens & Rob Zadkovich….. Toby Botha & Michael Lansdell ….Mary Borrell ….Kathy & Jim Haymaker …. Jimmy Olson & Lance….. Trey Forsyth…..Jennifer Stevens & Peter Vishton …. Greg & Basia Chaplin…. Noreen Collins …. Billy Cartledge & Jim Hall…. Mary Lynne Price…. Margot Gordon…. Bob Price …. Melissa Lang….Paul & Pam Vereb…. Iolanda & John Stashenko…. Bruce Moore…. Gayla Morgan…. Fran & Ron Chmura….Marjorie Paul-Shook… Susie Speidel … Kat Klingermann…. Vicki Roush…. Joy Hawskins… Mimi McDonald…. Kristen Michelle….Annie Miners….Stephen Kitsakos….. Janet & Charlie Bengel …. Dave Bootle…..Arlo Haskel….  In addition…. I want to give thanks to all those who are being vigilant and adhering to the rules and trying to right this virus era that we are going through…. thanks to all business owners who are enforcing the rules …..and MOST OF ALL…. THANKS FOR MY DEAR HUSBAND BOB…. ALWAYS BOB…. !!!!

TRUMAN WATERFRONT FARMERS MARKET….AUG. 13,20,27…… 3 pm to Sunset…. Many vendors…. MUST wear masks and social distance.

TAVERN N TOWN….AUG. 13, 20,27….CARMEN RODRIGUEZ AND MICHAEL THOMAS PERFORM FROM 5 TO 9  PM. IN THE LOUNGE!

SCHOONER WHARF…AUGUST 13, 20, 27…….12:30-5 pm, Tim Hollohan…..6:30-10:30 pm, KONCHED OUT DUOo . 

SMOKIN TUNA SALOON, AUG.13, 20, 27…. 6-10 pm, Caffeine Carl and the Friends.

LATEDA… AUG. 13, 20, 27….. 3 SUM performs at 8 pm in the Lounge for dinner pleasure…

RAM'S HEAD SOUTH, AUG. 13,20,27….entertainment by Ross Brown Music, 4 to 7 pm.

MICHAEL ROBINSON DOES WEEKLY PIANO CABARET EVERY FRIDAY…..The fabulous Michael Robinson, who has thrilled and delighted his many fans at The Gardens Hotel and at shows at Tennessee Williams Theatre, is doing an online cabaret LIVE at 5 pm on Facebook.  Bravo Michael!  Tune in!  He is an entertainer extraordinaire!!!!

WALKING TOURS …… WILL begin again Every Friday and Saturday, when the coast is clear!!!!..Call number below to check to see if these tours are open.   This tour features former homes and fave haunts of well known KW writers.  Tours start at 4:30 pm on Fri. and 10 am on sat.  Meet at KW Library, 700 Fleming St……and finish on Greene St… Reservations…call 305-293-9291…Guides are the very handsome Scott Burau and the adorable Sarah Goodwin.
_____________________________________________________________________________________________________

FRIDAY…. 
HAPPY AUGUST 14 BIRTHDAY TO ….. BRYAN GREEN …. ALISHA MOONEY …. NANCY HOFF … GEORGE IVANOV….(Please remember Joan Rolf… and Mary & Walt Keller.)

HAPPY AUGUST 21  BIRTHDAY TO …..T.K. KRAKOR….. MEGHAN BARTER….. SCOTT WALCHALI …. LARRY BEAVER …. MICHAEL PALLANSCHE …. BARBARA CHESTER …. KATHIE HUNT…. MAUREEN SEEWALD. … HAPPY ANNIVERSARY TO….. ED & KATHY STEVENS….. ELAINE & JIM SZEMPLAK ….(Please remember Dorothy & Art Gasior.)

HAPPY AUGUST  28 BIRTHDAY TO …..STEVE HABBERSTAD…. SHEILA IRBY …. RANDALL NILES …. CYNDI SEILER…. EDWIN DUNCAN ….ELAINE WISE…. HAPPY ANNIVERSARY TO….. KERRY CRESSMAN & SANDY CRAWFORD…. INGRID & BOB SLEDZ….

GARDENS HOTEL….. Classical Guitarist, Mateo, performs at 526 Angela St. from 5 to 7 pm….Rules are kept…. order your drinks at your table outdoors…. enjoy a lovely evening at The Gardens!

SCHOONER WHARF, AUG. 14…..12:30-5 pm, Raven Cooper…. 6:30-10:30 pm, Sam Ramos & Nina Newton…..AUG. 21,….6:30-11:30 pm, Tony & Hiram….AUG. 28….12:30-5 pm, Tony Baltimore…. 6:30-11:30 pm, Christopher Dean Band….

TAVERN N TOWN,  AUG. 14,21,28….. MICHAEL EMERSON ENTERTAINS FROM 5 TO 9 PM IN THE LOUNGE.

SMOKIN TUNA SALOON, AUG. 14,21,28.. ..3:30  PM, Nick Brownell… Caffeine Carl & the Buzz at 9 pm….

LATEDA, AUG. 14, 21, 28… 3 SUM performs at 8 pm.

RAM'S HEAD SOUTH, AUG. 14, 21, 28… 4 TO 7 PM, Rich Rogenmoser entertains.

COMMUNITY WINS!!!…AUG. 21…This would traditionally be the Royal Kick off for Fantasy Fest where the royal candidates are announced.  In lieu of this, a campaign to raise badly needed $$$ for housing needs will begin.  Events & donations will continue thru Oct. 16.  Scott Pridgen Exec. Director of AH is teaming up with Sister Season Fund, Samuel's House and the FLA Keys Outreach Coalition to raise money to help our residents keep a roof over their heads.  Many of the events will be Virtual… those at actual venues will enforce all rules, distancing and mask….  Helping manage this will be CEO of CFFK, President Jennifer McComb.    This is a wonderful alliance.  All funds gathered at each event, whether at an actual or virtual venue, will be made out to Community Wins!!!!  CFFK will also provide a financial match to the first $10,000 raised… so they are off to promising start already!  For those who want to donate but are not able to attend either way, you can access www.CFFK.org/CommunityWins. ; Donations can also be raised at www.fantasyfest.com.  A nod to tradition means past and present Royalty will somehow be involved 'with a twist.'  

LARRY BAEDER & FRIENDS AT KW THEATER….AUG. 28… 7 PM….tix are $15….Limited tix sold for social distancing.  Masks a must!

**VIVA'S S SALOON.. OPEN FOR OUTDOOR DINING….. LARGE PROPERTY & VERY SAFE FOR SOCIAL DISTANCING…..OPEN FOR TAKE OUT TOO!!!!…..DELISH FOOD…… OWNER  ALFREDO GIMENEZ IS A GEM!!!!!  903 Duval St… Entertainment on weekends….. tables spread out in this large garden area.  Leave it to Alfredo and Gaston, the owners, to do everything right and take care of their clientele.  

 _______________________________________________________________________________________

SATURDAY
HAPPY AUGUST 15  BIRTHDAY TO…..JONATHAN BEYER….. RANDY STINDT… HARRELL ODOM…. MICHELLE MECK…. GREG DUNBAR …. EMMA KAHN …. BRIAN QUATTRINI …. JOEY VOCAIRE …. RON AUGUSTINE…. (Please remember Florence Recher…. Victoria Sabol…. Kay Gerenger.)  HAPPY ANNIVERSARY TO…. KEITH & REDZA DEMPSTER.

HAPPY AUGUST 22 BIRTHDAY TO….. CARMEN RODRIGUEZ ….NATHAN GAY …. LAURA RICHARDSON …. DIANE NYAD …. MAGGIE SPRINGER …. JENIPHER CABOT …. ROBIN SMITH MARTIN …..SANDRA NOELTING …. HAPPY ANNIVERSARY TO….. LYNDA & BOB FRECHETTE…… HARRELL & BARRY COOK …. AND….. LORRAINE & DONALD TACKE.

 HAPPY  AUGUST 29 BIRTHDAY TO….ALICIA RENNER…. KARL STAHL….. ROBIN ROBINSON…. SHAWN CAMP …. SARAH SANDNES….SCOTT COULDER….(Please remember…. Frank Galeana …. Will Stephens ….Linda Rysman …. Henry Soldano…)

TAVERN N TOWN, AUGUST….AUG. 15,22,29….. MICHAEL THOMAS ENTERTAINS IN THE LOUNGE FROM 5 TO 9 PM.

VIVA SALOON ON DUVAL STREET….AUG. 15,22,AND 29. EVERY SATURDAY, Entertainment by SKIPPER KRIPITZ & TRAVIS ERWIN from 7:30 to 10:30 pm……

RAM'S HEAD SOUTH…. AUG. 15,22, 29…….  11 AM TO 2 PM, Ross Brown Music….. 4 to 7 pm, Jean-Paul Trio.

LATEDA, AUGUST 15,22,29….. 3 SUM entertains in the Lounge during dinnertime.

THE GARDENS HOTEL, AUG. 15,22,29….. Bobby Green at the Piano from 5 to 7 pm…. 20% off bottle of wine purchases.  Enter from the LOBBY AND EXIT THROUGH THE GARDEN…MASK REQUIRED AT ALL TIMES…SOCIAL DISTANCING!  BE SEATED AND BAR STAFF WILL COME TO YOU!

SMOKIN TUNA SALOON…. AUG. 15, 22, 29 …. Nick Brownell and Friends 5 to 8 pm…. Caffeine Carl & the Buzz at 9 pm..

SCHOONER WHARF…. AUGUST 15, 22, 29…. RAVEN COOPER  from 12:30-5 pm….CAYO RITMO performs 6:30-10:30 pm… 

THE WILLIAM WELCH LEGACY….This wonderful man and amazing artist is no longer with us,  and he is missed more than words can say.  However, his beloved sister Sherrey Welch , and Bill's partner Dave,  are determined to keep Bill's art and legacy alive through the new website, at www.williamwelchcollection.com.   Please forward this info to anyone who may be interested in Bill's work retrieved from Nantucket, Key West and France.  Bill Welch was a true gentleman…. kind, caring and deeply talented…. 
_________________________________________________________________________________________….    
SUNDAY….
HAPPY  AUGUST 16 BIRTHDAY TO …PHIL WILSON …. JOAN ARMBRUSTER …. SANDY THOMAS …. SHELLY LECHNER …. MARGE SABOL …. ASHLEY DAWN….. (Please remember my beloved mother, Queen Adele Stevens on what would have been her 103rd Birthday!)

HAPPY  AUGUST 23  BIRTHDAY TO…. PAUL CLIFT…. LARUA BLACK …. DAVID CHATTERTON …. LEE ROY REAMS ….

HAPPY AUGUST 30 BIRTHDAY TO….. HAL HOWLAND …. JAY LEVIN …. CHRIS TITTEL …. SANDY CRAWFORD….. RANDY REAMS…..HAPPY ANNIVERSARY TO…. HELEN & BEN HARRISON….. BARBARA ROSS & GLEN WILSON.

TAVERN N TOWN…. AUG. 16, 23, 30,… ROB DI STASI ENTERTAINS, 5 TO 9 PM… 

RAM'S HEAD SOUTH, AUG. 16,23,30….. 11-2 pm, Dave Richards….. 4 -7pm, Dan Harvey…..From 4 to 9 pm, it is $6 burger night at Ram's Head for a limited time…. 804 Whitehead St.

VIVA SALOON, AUG. 16,23,30….. Skipper Kripitz and the CRZB's perform….7:30-10:30 pm…. every Sunday!  VIVA SALOON is the perfect spot for good food, entertainment and they take good care of their customers… lots of space to social distance, sanitizers everywhere, masks, etc.!!

SMOKIN TUNA SALOON.. AUG. 16,23,30….. Myles Mancuso & Friends 6-10 or 7-11 pm….

SCHOONER WHARF…….AUG. 16….BIG DADDY RICH, 12:30-5 pm….KONCHED OUT DUO from 6:30-10:30 pm……  AUG. 23…. BIG DADDY RICH 12:30- 5 PM….. CHRIS CASE, 6:30- 11 PM….AUG. 30….BIG DADDY RICH, 12:30- 5 PM….RAVEN & CLAIRE , 6:30-11 pm. 

SKIPPER KRIPITZ RECOMMENDS…. He recently saw a movie called "13th", which is about the 13th amendment.  It is free to watch on YouTube & Netflix….it is a real eye-opener. 

THE BIRDS AT NEW YORK PASTA GARDENS!!!!   A MESSAGE FROM JIMMY OLSON…..Jimmy, a good friend, wants everyone to know about a situation that is happening and is asking for your help.  Recently, the dear, long-time owner of NY Pasta Garden & Ocean Grill, passed away.  Jimmy, along with many others frequented this restaurant often and loved the owner, John Gadonniex.  One of the special parts about going to these restaurants were John's beautiful Birds (parrots) who always put on quite a show for those dining.  John LOVED these STUNNING birds… but guess what?  They have strangely been 'voted off the Island……The Homeowner's Association that surrounds Duval Square,  has decided, after some 15 years, to get rid of these Birds which were an attraction and provided entertainment to so many.  Jimmy and many others are outraged and maybe you are too!  You are asked to voice your thoughts and opinions and hopefully, the Birds will be returned to their nightly perch to continue to delight and keep John's memory alive.  Please direct your comments to Dawn Thornburgh by emailing her at dawn@homesofkeywestflorida.com.  PLEASE HELP!  Read more in the electronic version of Keys Weekly News…. Mandy Miles wrote a terrific article (as only she can) on the plight of these Birds!  Let's try to get this wrong act righted!!!!
______________________________________________________________________________________________________

MONDAY… 
HAPPY AUGUST 17 BIRTHDAY TO ….MARILYN KELLNER …. SUE ISEMAN…. FRANK BRADDY ….JOE MORLEY…. MATTY KENNEDY …. (Please remember Harriet Drake….and … David Schmidt.)

HAPPY  AUGUST 24  BIRTHDAY TO…..LAURIE MCCHESNEY …. BERT ANGERMANN …. MIKE CASTELLANO….  HAPPY ANNIVERSARY TO ….. NANCY & WALLY STEVENS.

HAPPY AUGUST 31 BIRTHDAY TO…..JERRY TOMITA…. BARBARA MCCONAGHY …. JAY KROTTINGER …. AL SUBARSKY…. BYRON BARLOW….(Please remember David Dludzynski Sr.)

TAVERN N TOWN, AUG. 17,24,31…. MICHAEL THOMAS ENTERTAINS IN THE LOUNGE FROM 5 TO 9 PM.

**LOUIS PETRONE TALK SHOW PODCAST EVERY TUESDAY..AUG. 17,24,31… Resident sage, Louis Petrone who sends a wonderful blog every day, has a Blog Podcast every Tuesday at 9 pm.  To catch it and hear him rant and rave and expound with verve and logic, you can go to www.blogtalkradio.com/key-west-lou. ; Lou has a HUGE following and rightly so!

SMOKIN TUNA SALOON, AUGUST 17,24,31….. 6 – 10 pm, Myles Mancuso and Friends perform….

SCHOONER WHARF… AUGUST 17 & 31……. RAVEN COOPER 12:30- 5pm…..ZACK SEEMILLER from 6:30-10:30 pm. …. AUG. 24…. RAVEN COOPER 12:30-5 PM….CHRISTOPHER DEAN, 6:30-11 PM……

________________________________________________________________________________
LOVE TO YOU, AND REMEMBER….A true friend is someone who thinks that you are a good egg… even though he knows that you are slightly cracked!
Lynda
________________________________________________________________________________________________________
 
PS…..AND HERE'S MORE INFORMATION:  SOME INFO WILL OR WILL NOT BE RELEVANT!

REMAINING SHOWS AT WATERFRONT PLAYHOUSE…….Check out the fabulous Radio Shows onstage and streamed every month!  Note that  when we are fully  open again, we will welcome you back with open arms and open heart!
 
FOSTER HOMES WANTED….Wesley House Family Services is seeking families in the community interested in providing a home to children in the foster care system.  Classes begin Wed., June 12 at 99451 Overseas Hwy. in Key Largo. 

WOMAN'S CLUB OFFERS FREE TOURS….Called 'The Hellings House'…the home of the KW Woman's Club… has free tours 10 am to 3 pm Tues. thru Sat. each week. NO TOURS FOR AWHILE….

TROPIC CINEMA SEEKS VOLUNTEERS…..For info call John at 305-295-9493 or go to www.tropiccinema.com.  Training is provided.  'Payment' is free movie passes and popcorn for each shift worked.  NOTE …. CLOSED INDEFINITELY…..

KEY WEST TROPICAL FOREST & BOTANIC GARDEN SEEKS BOARD MEMBERS…  This non profit is looking for interested Board Members….particularly that of Treasurer … term is two years…..If interested send a letter to Key West Botanical Garden 5210 College Rd., Key West, FL 33040.  Or email audrinnakkw@gmail.com. 

VOLUNTEERS NEEDED FOR REEF RELIEF….For info call 305-294-3100.

STAR OF THE SEA OUTREACH MISSION NEEDS VOLUNTEERS….To help with the food pantry on Stock Island….This mission serves hundreds of the community's needy operating Mon-Fri.  Call Donna at 305-407-5967 for info.

SHAL SEEKS VOLUNTEERS…Southernmost Homeless Assistance League has begun serving an evening meal each day at the homeless shelter with food from the Soup Kitchen….Volunteers are needed to help.  For info call John Miller at 502-876-5092.

TENNESSEE WILLIAMS EXHIBIT:…. .513 Truman Ave…This wonderful Museum is under the auspices of the Key West Art & Historical Society with founder, Dennis Beaver as its curator.  The Museum is on Hiatus now but when open again…..Visitors and Locals are invited to tour this preserved and showcased collection of historic, archival objects that promote the importance of Williams's legacy and offers the largest collection of his memorabilia and artifacts available to the public.  Will be Open daily from 9:30 am to 4:30 pm…. Admission: Adults $7. … Children under 6 Free…. KWAHS Members: Free… For more info call 305-204-4527. 

KW TROPICAL FOREST & BOTANIC GARDEN, NEEDS VOLUNTEERS….To volunteer please call 305-296-1504. 

GRACE ON FRANCES STREET……….This is a glorious shop at 6oo Frances….a lush  addition to Key West's upscale shopping scene…one of a kind items … spectacular jewelry….Japanese ceramics….cashmere from the Himalayas… the softest and finest you ever touched….Gorgeous items from India, Africa, the Orient, and Europe….a worldwide search to find the BEST of Everything' for your pleasure. It offers luxury to the nth degree….you will feel with all your senses.  Please stop by…take your time and savor everything within……open daily, at the corner of Southard!   Owned by Wendy Asplundh, she of the exquisite taste… and her great and dedicated staff includes Samantha Rivier, Dorthe Thure, and Jolie Witherow.

LA RUBIA KEY WEST….…OPEN…..Stephanie Hellstrom (THE Blonde!) is the owner of this new delightful shop at 510 Fleming St….next to Assortment….You can purchase hand woven Panama hats, handcrafted wearable accessories, and organic chocolates from Ecuador…. along with handbags, scarves, bamboo wraps, jewelry and more.  What a pleasure it is to have some unique and interesting new shops in Key West!!!  Congrats to Stephanie. Call 296-6059 for more details!!!

TAKE STOCK IN CHILDREN ORG. SEEKS VOLUNTEERS…..This marvelous, award winning scholarship program mentoring group is looking for giving souls to help mentor 50 some qualified students from lower income families ….They cannot be admitted unless a volunteer steps forward.  It takes less than an hour each week.  Call Chuck Licis, program coordinator at 305-394-7974 or e-mail him at chuck.licis@keysschools.com.

CUSTOM HOUSE & LIGHTHOUSE MUSEUMS ARE SEEKING VOLUNTEERS…If you have a few hours to offer as a docent, archives asst., exhibit builder, or event volunteer, please offer your services!
________________________________________________________________________

THE LEO PERSONALITY…..JULY 24 THROUGH AUGUST 23
Leo is the most regal sign of the Zodiac. Leos have an air of dignity and they behave accordingly. They know they are different from everyone else and do not want anyone to forget it. Just like the Sun which rules Leo, we would die without the Sun, and, on some level, Leos know that everyone else would wither up without them. Leos are definitely life enhancing!
You can usually spot a Leo by their hair. Most have luxuriant thick manes….and, they take a lot of care with their tresses…spending a lot of dollars on all the best treatments and products. They are most exuberant and enthusiastic….as well as very warm and affectionate. Everyone needs at least one Leo in their lives, simply for the ego boosts they will receive from their Leo friend. Most Leos are quietly confident and don't feel the need to prove how great they are. It's very important for a Leo to feel they've made an impression on people…but this happens quite naturally. A Leo doesn't have to put on airs and graces to do it.
Leos excel at organization…they are brilliant at making things happen. They have a natural air of authority that makes everyone else sit up and take notice.
Family matters are very dear to every Leo's heart. They place a lot of importance on keeping in touch with scattered members of the clan. They love gathering their relatives around them. They have a big interest in their children and will teach them to stand on their own two feet.
Leo is the sign of creativity….they are filled with many talents, and need to find ways to express themselves creatively, lest they become frustrated and irritable. They love to dance, act and paint….and also enjoy other people's artistic abilities, especially in the cinema and theater. Leo is the sign of Drama!!!!!
Love & Leo go together…they find it easy to show affection to those in their lives. The typical Leo has a huge heart and boundless supplies of love for everyone they care about. Once someone has caught a Leo's affections they'll always retain a place in the Leo's heart…unless they hurt them so deeply that they can never forgive them. Loyalty is high on a Leo's list of priorities….they are most faithful and expect their loved ones to behave in the same way. They show their affection outwardly. Their friends can look forward to being cherished by the Leo.
There is one snag in relationships, and that is the Leo's tendency to boss others around. It's not that they mean to do it…more that they just can't seem to help themselves! Their confidence in themselves makes them feel they can always call the shots. The best signs for a Leo are Gemini, Cancer, Libra….also Scorpio and Aries.
Leos have tremendous potential and can turn their hand to do virtually anything. They are continuously discovering fresh talents and skills. They are blessed with plenty of creative and artistic skills. Leos don't expect constant praise but they like to know they are appreciated. If a Leo can't make things happen, no one can. Leos need to take center stage ….it is the rare Leo who is content to sit on the sidelines. That is why so many Leos work in the entertainment industry, excelling at acting, dancing, singing. Writing, and designing. They are also drawn to painting, fashion, sports, and cooking.
Leos need money because they have very high standards….only the very best is good enough for them, because they feel they deserve it. They are drawn to the best that money can buy….Quality not quantity is their motto. Leos adore lavishing presents on loved ones…just to let them know they care. They love to spoil their favorite people no matter the cost.
WE LOVE OUR VERY TALENTED, CARING, LEO FRIENDS & FAMILY MEMBERS!!!
HAPPY LEO BIRTHDAY TO….
7/24…Kathy Russ …..Susan Guadagno…Destiny Montgomery …John Ma Evans …. Christine Washburn ….. Art Powell…… Norman Wells ……Leo Waters….Ellen Peter …. Rita Eaton……Dick Beaver …. Alison Weimer…..(We remember Jean Claude Gosselin!)
7/25…Joyce Chilton…Sharon Ward…Michael Chapman…Steve Braddock…Dave Mitchell ….. (Please remember Donald Otto.)
7/26…Rob McKeage…Al McConagha…Evie Evers Kling…Mick Jagger ….(Please remember Earl Duncan.)
7/27…Sam Brown…..Luke Fox…Shelly Woessner…..Brad Moss….. Karen Lynch…Julie Jeffers…. Kat Klingerman…Eddie Goldstein ……Steve Black
7/28… Gary SUSHI Marion…Diane Covan…Ruth Reiter…Dave Brangaccio…Rolland Montefalcon…Christopher Riedel ….Bernard Peter…. Jim Stella…. Curt Lemon …
7/29…Paul Vereb…King Paul Murphy …Allan Leder … Em Lazott …..Dixie (Spehar) McCarty …(Please remember John Renzi and John Long.)
7/30…Bert Bender …..Belva 'Sissy' McDonald…Bobby Ciulla …..Kate Peachey…Eric Johnston…Skip Davis…Nick Norman …Cindy Camanite…Maylee Albright …Jeanne Mori…..(We remember Alberta Mulligan!)
7/31…Barbara Haws…Ellen Sanford…Jack Burge…Cheryl Walchli … David Koontz …Steve Cottrell…Rick Cartwright…..(We remember Jack Burge….Loretta Morabito and….Elena Milagro Hoyos.)
8/1…..Barry Cook…Charlie Waite…Bill Adamany…George Korn…Janeen Gracer … Robert Albury …Richard Somers …Joe Luczak….. Pat Brownell… (Please remember Franklin Marshall.)
8/2…Donna Gallagher…Jim Morris …Dar Castillo…Logan McDonald Good…Bill Fitzgerald ….. Megan Burgess ….. (Please remember Sr. Mary Pat Leopold and Bob Gordon.)
8/3…MaryCarlin Porter…Lisa Roesner…Kym Fulton…Pauline McClosky…
8/4…Meredith Bollong …Aaron Wechter…Velma Christian…Shelly Szurek…..Derek Karavicius …. Phil Tabb…..Elaine Baburek …..Tom Edgington ….(Please remember Connie Gilbert and Ken Zychowski.)
8/5….Maya Montana…..Melissa Hudak …..Liz Cobley … Mike Seiler ….(We remember Giorgio Aversa!)
8/6…..Carole Sonstein…Larry Blackburn…Neil McMichael …..Faith Prince…..Sue Paden …..Randy Detrick …..Rena Caruso… Jim Harrold… George Chase… Megan Maschal….. (Please remember Chris Warner and Dorothy Gasior.)
8/7 …. Al Sachs…Robert Zadkovich… Donna Broski …..Dawn Wajda Riedel…. Dr. Jerry Jackson ….. (We remember David Deal!)
8/8…Scott Burau….…Karen Taporowski…Gail Hollenback …Laurie Thibaud…Caroline Ford-Cotton…Margaret Adorjan….Sho Lichtenstein…Linda Borchik …. (Please remember Jon McIntosh, Donald Gates, Carol Bush, and Donald Lowe.)
8/9…Patti-Cakes Hayes…Lisa Menditch….Rick Boetgger …Bruce Mitchell …..Bobby Peaco…Judy Rafanelli ….. Lilli McDonald Good ….. Matthew Stratton…
8/10…Stuart Kaufman… Valerie Edgington …..Vicki Roush…Kristen Gonzalez…Carol Musch…(We remember Howard Wolman…Capt. Tony Tarracino…and Jack McAdams.)
8/11…Georgia Chase…Janie Geer…Carmello Vitale…Joan O'Dowd… Scott Barry…Jackie Dillow…Donald Robbins…Jack Beal ….. Ty Cobb… Terry Cassidy… (Please remember Sal Salinero… and … Alan Ferguson.)
8/12…..Fred Wickman…Francine Kreinces…..Virgil Williams…Gerri Sidoti … Sue Billimoria …. (Please remember Richard Kruszinski and Carol 'Kitten' Valentino.)
8/13….Roberta Markow…Susie Speidel …Roni Hall…..Annette McGhee…..Gary Hempsey ….. Lisa Leach …Tom Groetz….. (Please remember Linda Greenberg.)
8/14…..Bryan Green…George Ivanov…Alisha Mooney…Nancy Hoff…..(Please remember Joan Rolf.)
8/15…..Jonathan Beyer…Randy Stindt…..Harrell Odom…Greg Dunbar…Ron Augustine …..Michelle Merr …. Brian Quattrini …..Emma Kahn…. Joey Vocaire ….(We remember Florence Recher, Kay Gerenger, and Victoria Sabol.)
8/16…Phil Wilson…Sandy Thomas…Shelly Lechner…Joan Armbruster…Ashley Dawn …Marge Sabol … (We remember my dear Mother, Adele Stevens aka The Queen!)
8/17…Matthew Kennedy ….Joe Morley …..Frank Braddy…Marilyn Kellner …Sue Iseman …..Yolanda McCarthy…(We remember Dave Schmidt and Harriet Drake.)
8/18…Jim Argoudelis…Susan Bailey…Nick Brown…Harry Deal…Marti Larson … Aurora Solomon …Ruth Uridel… Larry Lunetta ….(We remember Bruce Domski.)
8/19…..Stanley Zabar…Mathias Maloff….Andrew Nyugen…Jan Nelson…Vicki Grant ….. Robin Weiss …Brenda McDonald… Robin Moodley … Porschia Denning…..(We remember Frank Romano.)
8/20….David "Faith" Gernovich…Betty Hanes…..Ruben Navarro…Ryan Tanner ….. Patrick Hegarty … Cliff Gregoire…..Stephen Ray…Mary Collins. (We remember Maurizio Mancioli.)
8/21…..T.K Krakor…..Meghan Barter…..Larry Beaver…Michael Pallansche…Maureen Seewald ….. Scott Walchli …..Barbara Chester…Kathie Hunt….
8/22…Carmen Rodriguez…Nathan Gay…Laura Richardson… Robin Smith Martin … Diane Nyad ….. Maggie Springer…Jenipher Cabot…Sandra Noelting….
8/23…Lee Roy Reams…..Paul Clift….Laura Black…CJ Miller…..David Chatterton….
HAPPY LEO ANNIVERSARY TO….
7/25…Mary & Richard Grusin…..Julie & Terry Jeffers …..Marsha & Jim Domagalski
7/26…Susan & Michael Guadagno
7/27….Sandy & Dan Sujak
7/29…Michelle & Philip Mercio…Coleen Fitzsimmones & Heather Carruthers …(We remember my parents, Adele & Ed Stevens.)
7/31…Sally Stevens & Robert Zadkovich … Anne Shaver & Susanne Woods…Kim Gordon & Steve Mizner…
8/1….Rosi & Jeff Ware
8/2…Bernard & Louise Sledz…Robert & Elena Spottswood
8/3….Steve & Shelly Lechter…Alan & Janie Teitelbaum
8/4…Dave & Carol Moore…Joe & Dina Stevens…Marti & Bill Roberts…Clare & Tom Keller …
8/8…..Caroline Ford & Paul Cotton
8/11…..Susan & Stuart Kaufman…
8/12….Douglas & Marjorie Paul-Shook…Kyla & Dennis Piscopink
8/13….Coreen & Bill Adamany…
8/15…Keith & Red Ibraham Dempster…
8/18…Sharon & Tim Karhan ……Dean & Annette Dressler …
8/20….Kathy & Steve Russ
8/21…Ed & Kathy Stevens … Elaine & Jim Szemplak
8/22…..Bob & Lynda Frechette… Larraine & Don Tacke
If you are one of those amazing Leo personalities and the description pertains to you, please let me know. Also, if you are not on either list and would like to be, please send me your info to kwlynda@bellsouth.net and I will happily add you to the lists.
May each of you celebrating enjoy a wonderful birthday and or anniversary!!!!
THE VIRGO PERSONALITY….AUGUST 24-SEPTEMBER 23
Virgos are perfectionists! They like to do things properly and are furious with themselves if they think they have turned in a second rate job. They will fiddle with something endlessly, trying to improve on what they have already done very well. They worry about tiny details ….may even wake in the middle of the night thinking of what they may have forgotten to do…and of course they have a hard time falling back to sleep! But when you want something done, who do you turn to? The Virgo, every time!! Virgos take a very practical approach to life, making them methodical, efficient, and sensible. They are a tower of strength in a crisis. People rely on them but they also take them for granted.
Virgo's are famous for their modesty….they have so many positives about them, but they seem to see only their shortcomings. The Virgo sees minor faults as major flaws. They are always wondering 'why can't I be tidier…neater…more organized?'….Virgos have very high standards, and they apply these rigorously, sometimes seeming harsh and unsympathetic. Just remember, the Virgo may be tough on you, but they are even tougher on themselves!
The Virgo will choose classic clothes, in conservative colors, rather than the latest fads. They prefer to look neat, polished and rarely do they look messy…even if they have been up all night.
When it comes to relationships, Virgos struggle with their emotions and have a hard time expressing their feelings. They have such high standards, that those interested often feel there is no way they can live up to them. Virgos are much brainier than others….they enjoy analyzing situations and need a partner who will share their need to talk things through. They will soon lose patience with anyone who has fluff for brains or can only talk about events concerning their favorite soap opera. Despite their modest and polite appearance, they are pretty hot in the bedroom, managing to cast aside that reserved demeanor! They are, however, tongue tied in revealing how they feel…..not only with lovers but even with friends. The best signs for a Virgo are Taurus and Capricorn. In careers, a typical Virgo prefers to take a back seat rather than be in the front line. They thrive on being a valued member of a support team. They lean toward careers as accountants, agents, teachers, writers, critics, doctors, nurses, and scientists. Because of their fine minds, they need a job that will stretch their brain and intellect.
WE LOVE OUR VIRGO FRIENDS AND FAMILY MEMBERS!!!
HAPPY VIRGO BIRTHDAY TO……
8/24…..Bert Angermann…Mike Castellano…Laurie McChesney …..
8/25…John Baird…..Mike Emerson…Susan Butler …..Guy Brouillard…George Beach …Alessandra Boschini Piaciabello…..Mitzi Smolik… James Pojman Jr….Michelle Nicklas…. (Please remember David Wolkowsky.)
8/26…Laura Bohdan….Barbara Neagley … Renetta Sarnacki ….
8/27…Peyton Evans…Tom Clements…Lenore Troia…Tom Boyer …..(Please remember Bob Rokos…. Mrs. John Gavin….Lonnie Jacobson…. Nancy Friday….)…
8/28…Sheila Irby…..Alfredo Giminez…..Steve Habberstad…Edwin Duncan…Randall Niles …. Cyndi Seiler ….. Elaine Wise ……
8/29…Robin Robinson …Karl Stahl…Helen Fahey …..Alicia Renner ….Sarah Sandnes…Scott Coulter…(Please remember Linda Rysman….Will Stephens….. Frank Galeana… and Henry Soldano.)
8/30…Hal Howland … Jay Levin…Christopher Tittel…Sandy Crawford…Randy Reams…
8/31…Barbara McConagha…Jerry Tomita…..Jay Krottinger…Byron Barlow….Al Subarsky …..(Please remember Dave Dludzynski, Sr.)
9/1…Stacey Mitchell…Greg Slowiak…Ron Snider …..Kevin Theriault….. Lois Taylor….. (Please remember Ray Limbert and Don Casper!)
9/2…Mark Rossi….Bridget Chase…..
9/3…Karen Leonard…Cody Borah…..Barry Tarrola….Thom Toler …..Joan Specht…Gloria Nowak … Thomas Kulwicki ….
9/4…Lynn Kaufelt….. Judith Hadley…..Karla Muir…(Please remember Jeannette Donnellann!)
9/5…Susan Cardenas …Monnie King…..Malcolm Kutner…Joan Pollock…Sebrina Acevedo ……Michael McAdam … Joyce Porozynski ….. (Please remember David Herndon.)
9/6…..Marjorie Paul-Shook…Susan Puskedra …Susannah Wells …Marika Cross…Michelle Cates-Deal … Stephen Haas ….Richard Forbis…Kathy Laglia …George Wallace… Mary Lourdes Petrone… Jim Pojman Sr. ….Marion Boucek …. (Please remember David Mack.)
9/7…Nancy Nelson…Adam McLaughlin … Al Meddy …Susan Cardenas…Steve Misener …Bill Suddaby……Ben Khalil…. Mary Ann Brangaccio…..
9/8…Ben Harrison …Frank Menditch …..Joe Alan Carr…..Barbara Ross…Milos Mandzo…Ed Dozier… Tony Rosberil ….. (Please remember David Kaufelt and…..Jinny Luczak.)
9/9…Craig Cates…Stephanie Hellstrom …Randy Thompson…Marge Holtz…..Jeff Leap …Virginia Wark…. Skip Sher…Staci Hendrickson …Christy Moats….. Scott Schilero …..( Please remember Adeline Turner.)
9/10…Danny Weathers…J.B. McLendon…Joe Viana…Betty Renzi….Christine Gorham…Eric Cole…..
9/11…Shawn Curran…Diana Sutton…Larry Baeder…Daniel Schiavonne… Gary Groetz…. Wanda Santa.
9/12…Christopher Smith…Jennifer White….Neva Townsend ….. Jackie Madjeski…..Jessica Christianson …Pat Meyers… (Please remember Bill Hudson and Joni Dollhausen.)
9/13…Peter Glicklich…Celeste Fehlig …Mandy Murray …..Kim Cicolani…Anne Marie Flood …Diane Hardesty ….. Nancy Mack …..(Please remember Ruth Brown.)
9/14…Donna O'Hara…..Zachary Franchini…..John Spottswood III….Alicia Metzler ….Glenn Wilson…Linda Eicher…
9/15…Jimmy Weekley…Libby York…C.W. Colt….Joie Switzer ….Elizabeth Ritter…CarolAnn Sharkey …Tim Gauthier ….. Bob Gold ….. Carmen Martinez. ..( Please remember Susan Mesker.)
9/16…Mark Watson….Nancy Bender ….Julie Fondreist…Stephen Parchini… Luann Grosscup ….Michael Fauss ….Mark Ebenhoch…. Bob Douville…..Ed Stevens Jr….Anna Denhammer ….(Please remember Karen Jones….)
9/17…Lisa Vangilder ….Cali Roberts …Maribeth Graham …Ralph Graham…Mark Pence… Rosi Gregush Miller…..
9/18…Jean Zeman…Keith Bland… Stephanie Leone….Jane Bielat….. Katelyn Weber ….. Jeffrey Gasser….Jeff Lang…Joseph Pickett… Cheryl Ann Chase…..
9/19…Cheryl Cates…Michael Behmke…Dave Bevens…..…John Mumford… Susan Phillips … Dana Black … …Jonathan Grim…JoAnn Gotches…Carmen Greenberg…Sandra Klein…..
9/20…Bob Wood …James Luther…Inez Casey…Tracy Sexton…Joan Lord Papy… Patty Workman…
9/21…Kristin Larkin LoGerfo…..Teresa Wright…Cricket Desmarais…Jessica Miano-Kruel…Tim Torre….. David Hecht ….Nan Klingener….. Bruce Baxter…Sid Goldman…
9/22…Cindy Cameron…Barbara Webb….Andy Kellar…John Smith…Cathy Kahn…Jack Darst… Kennedy Pugh ….Lisa Buck … Erik Billimoria……(Please remember Hans Dollhausen.)
9/23…Craig Martin……Karen Hammond …Barbara Weikel…Hendrix Jude Piscopink … Gianluca Siena…Judy DeVries … Julia Gustafson…Shirley Gustafson…Lee Conway….Pat Livesay…Assam Awad….. Avalon 'Bebe' Schneider..….(Please remember RV Beaumont and…. Shaun Frechette.)
HAPPY VIRGO ANNIVERSARY TO…
8/24….Wally & Nancy Stevens
8/25…Quincy & Lena Perkins…..Norm & Joanne Maltby….. (Please remember Joe Liszka & Frank Ronano.)
8/26…Ed Dozier & Michael Citro…Barbara & Ross Neagley
8/27…Judi & Fred Stevens…
8/28…Bob & Ingrid Sledz…Kerry Cressman & Sandy Crawford
8/30…Helen & Ben Harrison….Barbara Ross & Glenn Wilson
8/31…Bill Heisler & John Wilson
9/1…Linda & Jack Hulligan
9/2….Terry & Rosemarie Zawacki
9/3…Monnie & Peter King…..Sally & Ron DeAnna
9/4….Amy & Steve Ray….Mimi & Joe Burke…
9/5…Kathy & Jim Haymaker…..Carol & Rob Mone…
9/7…..Sue & Steve Iseman…. Sam Trophia & Shane Hall…..
9/9…Lynn & Craig Smith …(Please remember Milly & Andy Ashmore.)
9/11…Cheryl & Craig Cates…Kay & John Behmke…Mark & Shanna Frechette
9/14…Cathy & Kelvin Ono…Mindy & Bob Duecker
9/16…Pam & Larry Beaver…Juanita & Chick Huber
9/19… Annette McGhee & Terry Howery…..
9/20….Patticakes Hayes & Lester Boatwright…
9/21…..Larry Blackburn & Stephanie Hellstom…..Bruce & Debbi Baxter…Richard & DeeDee Duecker…Christy & Rick Mack
9/22…(Please remember Carol & John Wickes.)
Hope you will remember these not to be forgotten Virgos!!! If you are not on this list and want to be, please send pertinent birthday and anniversary information to me at kwlynda@bellsouth.net and I will gladly include you. If you know someone who should be on this list, let me know. If you are one of those Virgos, let me know if any of the above information pertains to you in any way!!!!
Have a wonderful birthday and anniversary!!!!
Hugs and Love, Lynda