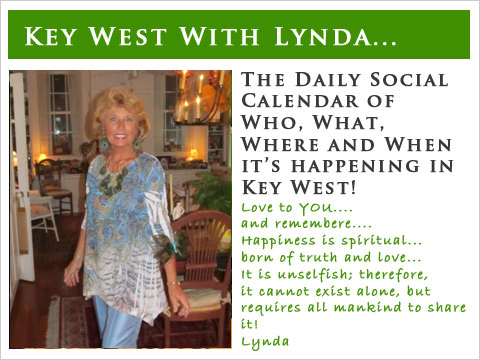 IT'S BEEN A "SORT OF" GOOD YEAR SO FAR!!!!
HAPPY NEW YEAR AND CHEERS FOR 2023!!!!!

JANUARY 2 THRU JANUARY 31, 2023…IN KEY WEST WITH LYNDA

Dear Readers…What a way to end a year and start the New!!!! December had been a whirlwind of activity… but on Dec. 28 the festivities came to a screeching halt as I tested positive for COVID 19. And Bob tested positive on Jan. 1, New Year's Day!!!! Yes… after being so careful and proud of ourselves, and grateful that we had dodged the disease since it reared its ugly head, we both got it. The good news is that we caught it in time, went to the Urgent Care Walk-in Clinic, got on the right drug, Paxlovid…. and are getting better. It also helps that we have had all our vaccinations so hopefully we should be out and about very soon. Thanks for all who found out about it and have reached out to us with concern…it means a lot to know there are those out there who truly care! That's the beauty of Key West. And Readers… This thing isn't over yet, so be careful out there!
Also coming to a halt were our continued efforts to get organized and unpacked at our new townhouse at 47 Seaside South Ct., Key West, FL 33040. My goal is to have things in order by Valentine's Day….wish us luck!

ALSO….If you would like to contact me, direct all messages to me at kwlynda@bellsouth.net, I am interested in all you may have to say. Also, if you have any information that I could use in this blog, please send it to me and I will try to include it next time. Lynda

______________________________________________________________________________
MONDAYS IN JANUARY…..
HAPPY JAN. 2 BIRTHDAY TO….JUNE HUDSON …. STEVE SAGMAN … MARTHA BARNES … CHRIS REHM … EVA LIMBERT…. MIRA NEGRON… JIMMY SYDENSTRICKER … NELSON FUENTES…. DIANE ELIOPOLIS …. HAPPY ANNIVERSARY TO…. MARGARET & KEN DOMANSKI …. AND… DAVID & IRENE EYER.

HAPPY JAN. 9 BIRTHDAY TO…TEVIS WERNICOFF… (Please remember Stuart Woods… and… Neal Hartman.)

HAPPY JAN. 16 BIRTHDAY TO…..REBECCA TOMLINSON …. MARY HAFFENREFFER…. JOE SHAW…. MICHAEL FATICA…. DIANE STRONG…. SALLY GALBRAITH…(Please remember Richard Crooks…and…Fran Ford.)

HAPPY JAN. 23 BIRTHDAY TO….TERRY NARLOCK….. CLAIRE FINLEY…ALAN GILLESPIE … STEPHEN HOLLINGER….PAUL AMOS…. ANKIE AMOS….DIANA SZUFLADA….AMY CLEVELAND…. (Please remember.. John T. Bootle….) HAPPY ANNIVERSARY TO….JEANNA & JAVIER GARRIDO…. AND…PAUL & ANKIE AMOS.)

HAPPY JAN. 30 BIRTHDAY TO….QUEEN KATE MIANO….. ROSS PIPKIN…. CAROLYN SANGSTON …. ISA & KAITO ONO…. RITA BOF….

LOTS OF GREAT EVENTS HAPPENING IN KEY WEST!!!! MARK YOUR CALENDARS!!!!
_________________________________________________________________________
***LIBBY YORK AT THE STUDIOS ON JAN. 2… The sultry and lovely chanteuse, Libby York, will be entertaining atop Hugh's View at 5:30 pm with Skipper and Co…..She will also be releasing her new CD "DreamLand"….Go to www.tskw.org for tickets. LIBBY WILL NET APPEAR AT THE STUDIOS ON FEB. 6…. 533 Eaton St.

***UPCOMING EXCITING NEWS…. Just heard that two of Key West's most beloved EVER musical entertainers, DEBRA & PATRICK will be coming to Key West and do a bit of performing at various favorite nightspots in town during this month…PLUS…. the always divine, TIM MAYER, saxophonist extraordinaire…… Which will make for some glorious nights of entertainment on the Rock!!!! Scroll down to read about when and where…and thanks to our dear Skipper for putting it all together.!!!

***WATERFRONT PLAYHOUSE OPENS ITS THRILLER, 'AN INSPECTOR CALLS'… on JAN. 11 Preview…Grand Opening on Jan. 12…. and Closes on Jan. 28!!!! Scroll down for more details.

**TAVERN N TOWN….NEW TAPAS MENU…Served nightly from 5 to 7 pm at the Bar….. Only $7 each and they are ALL delish! …Choose from Oyster Rockefeller…Giant Meatball… KW Bang Bang Shrimp….Lamb Lollipops…Asian Sticky Ribs….Classic Shrimp Cocktail….and…Spicy Salmon Bites….Also… they have a BOGO for drinks from 5 to 7 pm. (We sure do miss their Local $19.95 specials when seated by 6:30 pm!!!)

***LATEDA…. LATEDA …. Performing in the Crystal Room at Lateda at 9 pm during December are Christopher Peterson's EYECONS show and Randy Roberts LIVE! You will not see finer shows in Vegas, trust me!!!! Show….1125 Duval St. To check on the January schedule go to the Lateda website…Showtime is 9 pm. You can reserve seats by going directly to Lateda or on the website. They do not take phone reservations. Downstairs in the Lounge most every eve of the week at 8:30 pm, are either the Fabulous Spectrelles….. or 3SUM…..both wonderful! Every Sunday at 4 pm is the Lateda Tea Dance with Rude Girl spinning the records to dance the night away!…great fun always! The superb 3 SUM performs on Thursday thru Monday in the Lounge at 8:30 pm. And the Fabulous Spectrelles are on Tues. and Wed. at 8:30 pm……And Dinner at Lateda is always first class!!!!!!
SPECIAL THANKS TO CHRISTOPHER ROUNDS & PATRICK HEGARTY…. Thanks to this dynamic Duo for hosting their annual Christmas Party for the Community, at which a fabulous Buffet Array of deliciousness is served all evening long, accompanied by great entertainment… and the only requirement is that an unwrapped gift for children is donated by each attendee….The entire indoor bar was piled to the ceiling with toys and gifts for children in need. Thank you!

CHRISTOPHER PETERSON… We took in Chris's Annual Christmas Show on Dec. 25 and though we have seen it just about every year, it was Better than EVER! As fate would have it, there was a great audience of some good friends of ours, and we all agreed that Christopher was NEVER Better! What a great way to end Christmas Day in Key West or anywhere!!!! BRAVO BRAVO!!!

LITTLE ROOM JAZZ CLUB, JAN. 2….5:30-7:30 pm, Paul Warthen at the piano….. 8 pm… Peter Diamond and Company perform! Entertainment Jan. 9, 16,23,30.

THE GARDENS HOTEL EVERY MONDAY. JAN. 2,9,16,23…..from 5 to 7 pm it's Mary Spear. 526 Angela St. (subject to change weekly)

AT VIVA SALOON ON MONDAYS…..Robert Douglas entertains…. 6 to 9 pm….

AQUANETTES PERFORM …SHOWS EVERY SINGLE NIGHT. Aqua Nightclub at 711 Duval St. is the place to see the most fabulous Drag Queens….including FAITH…INGA ….ELLE…JESSICA… BEATRIX…… MAYA…and EPIPHANY (aka Calen Tomaszewski)!!! All are sublime! Shows are Monday and Tuesday at 9 pm….and from Wednesday thru Sunday, there are two shows…at 7 pm and 9 pm. ..Reserve at www.aquakeywest.com. Aqua is open from noon to 2 am nightly…. drink specials… full menu… lunch specials…. I recommend reserving a table…. call 305-294-0555. or go online to www.aquakeywest.com. Also at Aqua…. there is the Back Bar, the Side Bar , the Outdoor Poke Bar and Grill, and each has its own personality!!!!!

THE STUDIOS GATHERINGS AT HUGH'S VIEW….The Studios is sponsoring these GLOW eves. Cash bar available. Limited to 50 per visit. Hugh Ware, the View's namesake, was one of the dearest, most adorable persons we ever knew. For more info go to www.tskw.org. The GLOW Hours are 6-8 pm. FREE with advance registration. 533 Eaton St.

TAVERN N TOWN…..JAN. 2,9,16,23…….ROB DI STASI performs from 5 to 9 pm….This entertainer is just getting better and better…..smooth as silk!

KARI WOLF AT HALO ON JAN. 9…..This luminous star performs from 7 to 10 pm at Halo's at The Saint.
KARI WOLF AT SLOPPY JOE'S, JAN. 23….. Kari performs from 5:30-9:30 pm. Enjoy!

LEARN BURLESQUE AT THE HOUSE OF TATAH DU JOUR….. Learn from the Queen of KW Burlesque……Tatah is offering Private Burlesque Classes …for Bachelorette & Birthday Parties….Classes in Burlesque 101 include: Basic Bumps and Grinds, and all that hot stuff! For info call 305-169-2862 or email TatahDuJour@yahoo.com. Located at 521 Eaton St. Suite 215. (Just a note that Tatah's 12 Days of Christmas Show was simply wonderful, delightful and great fun!!!!!!)

MAJ JOHNSON NOT JUST A FAB JAZZ SINGER…BUT ALSO TEACHES WATERCOLOR CLASSES….Maj gives classes once monthly at The Old Stone Church Coffeehouse. She charges $20. per class and the profits go to charity. For more info call or text her at 305-587-8455 or email her at maryanne.johnson@westcare.com.

MY BLOG ALSO AT CONCHTV…. You can also go to https://www.conchtv.com/author/lynda and get my blog anytime…. also the current birthday and anniversary lists…. and my picture too!!! And the Frechette Gazette from 2021!!!

801 CLUB…….Famous Drag Shows are at 801 Duval St… every night at 9 or 11 pm. Book Online….. www.801.bar or call 305-923-9296. The amazing and internationally known Sushi runs the show with amazing Drag Queens with names like Deja, Mulysa, Marilyn, Racquel, Kylie .

UNSUNG HEROES…. The Community foundation of the Fla Keys is accepting nominations for its Unsung hero celebration…Each org can nominate 1 Volunteer or Stand out person to be honored. For info call 305-292-1502.

THE TROPIC CINEMA AT 416 EATON ST…. For info on movie schedules and house rules go to http://www.tropiccinema.com or call 305-396-4944. Go online to reserve your times. We were dad to hear that the darling Peggy Dow Theatre at the Tropic is now closed. A sign of the times, it seems.

THE BIRTHDAY AND ANNIVERSARY LISTS…….. Please let me know if you would like me to forward you these lists….. Simply send me a request at kwlynda@bellsouth.net and I will send you this month's complete Personality Description plus all those I know who are celebrating birthdays and anniversaries during this special time of year!!! Also, let me know if you want to be added to it .. You can also see it by going to https://www.conchtv.com/author/lynda… and then scroll down.
THE 2022 FRECHETTE GAZETTE…. Let me know if you would like me to send you our Annual Gazette and I will email it to you. Request this at kwlynda@bellsouth.net.

SUPPORT SOS………Many Monroe County residents are living below the poverty line. SOS (Star of the Sea) Kitchens have long been providing food for those in need. PLEASE Support SOS and other orgs such as Sister Season Fund with donations if you can. Go to…. https://cffk.org/non-profits/sister-season-fund-inc

AWESOME FOUNDATION KEY WEST!!! .. The mission of the group is to bring more awesomeness to our town, and awarding $1,000 grants, with no strings attached, to the most awesome idea, project, proposal, or plan that is presented to the Group of Trustees, who each plop down from their own pockets the money to fund the Grant. Sounds totally AWESOME to me!!! Check it out online at www.awesomefoundationkeywest.org. Michael Shields is the coordinator of this group.

BIRTHDAY/ANNIVERSARY LISTS….If you would like to be included in the Birthday and Anniversary Lists that I send out every month, please let me know your month and day by sending that info to me at kwlynda@bellsouth.net. There are special perks to being on the lists!!!! One of the perks is having your name in KONK Life on the day of your Birthday!!!

PRAYER CHAIN…..Please continue to remember the following in your thoughts and prayers….. ……Please pray for….the family and friends of the late Norma Gilmore…..Michael Lefferts….Lynn Williams….Ron Klug……and….Michelle Nowakowski, whom we recently lost. Please include prayers for…..Tanya Leto …..Ann Whipple… Julia Davis…. Johnny and Audrey Pollizi….. James Hollabaugh ….. Tim Dunn ……Bill Schmock……..Perry Arnold …..Michael Benner …… Carey Moore…. Jo Gerenger ….Genevieve Isaksen ……..Laura Hettinger. … ….David Buffam ….Lorann Wood ….. Paul Politte …. Fred Stevens and his wife Judi. ……..Pat West . ….The People of the Ukraine …..Jim Hall …… Chuck Selph…..Ann Marie Adreani ……Bob, Fiona Molloy, Carmen Me..and all others who are dealing with Covid….. ….Sharron Mondo ….Len & Helen Stevens .. …..Mary Larkin .…Maryann Barth …Bella Rettenwander …..Dawn de Boer ……The Staff at Pickle Mama's….. Everyone at The village Inn….. Lou Ann Cymont … Cheryl Walchli … Bert Peranteau …..Terri White …John Padget ….. ….Todd Reifschneider ……Pat Waller …Marta White ….… Peter Deksmith … …. Anne McKee ……… Pamella C. Bocdow. …Dee Dee Duecker …Tony Freese… Jennifer O'Lear……Patrick Richards. Remember, there are many reasons that we pray…not just because people are ill…. I do believe that when we all send prayers and good vibes to those in need, those prayers mystically meet and surround those being prayed for. Sometimes we pray for miracles and the impossible….sometimes we pray to just cope with the results of what happens to those we are praying for. Sometimes we pray for strength to go on and to accept…sometimes we pray for thanksgiving. We are in this thing called 'Life' together….and we all have power within us to help our fellow man. Bless you for remembering our loved ones….Prayer changes things! Let me know if you know of anyone who should be added to this list.

BOB FRECHETTE=FABULOUS REALTOR IN TOWN!!!!…..Need a realtor in town? My husband BOB FRECHETTE IS YOUR MAN!!!! He has been with the marvelous Compass Realty ( NOW Keller-Williams Compass) for 20+ years …Give him a call at 305-304-2584! Email him at rfrechette@bellsouth.net. He is the BEST! I promise!!!! Honest, Loyal, Fair, and Adorable too!!! He will have only have YOUR best interests at heart.

A PUN or LEXOPHILE FOR YOU… My friend claimed he accidentally glued himself to his autobiography…but I don't believe him. But that is his story, and he's sticking to it!
______________________________________________________________________________
TUESDAYS IN JANUARY……

HAPPY JAN. 3 BIRTHDAY TO….JEAN CARPER….. HOWARD LIVINGSTON…. DAVE HERZOG …. GENEVIEVE ISAKSEN…. CAROL MONAGHAN…. MICHAEL BLUMENTHAL … MARY BETH KOERWER…. DR. MARK WHITESIDE…

HAPPY JAN. 10 BIRTHDAY TO….ROB REY… GREG POLICASTRO…. MARY LOU HOOVER… MICHAEL BOYER….. MARY PISZKER…. BRUCE PATERSON….BARBARA CRESPO…. (Please remember Mary Jo DaSilva….and George Maurer.) HAPPY ANNIVERSARY TO…. CHRIS & LIV SHULTZ.!

HAPPY JAN. 17….BIRTHDAY TO…..BLAKE HUNTER…..JOHN McDONALD….KAREN LOCKWOOD…. XAVIER McKNIGHT ….SCOTT HALL …. RONALD STADNIK …. PAIGE DILLOW…. (Please remember…Mabel Paul… and Linda Patchett.)

HAPPY JAN. 24 BIRTHDAY TO….BUNNIE SMITH…. TOM LUNA…. TERRI WHITE…SCOTT MASON …. SIMON KAUFMAN….LARRY GUZY ….IZABELLA INGRAM… (Please remember my dear friend, Sandy Abookire.)

HAPPY JAN 31 BIRTHDAY TO…..ERIC GRAHL….GEORGE KLING….JUDI STEVENS…. SHAWNA LACY WYND…. TENAYA GUTFREUND…. HENRY KASPAROVSKY ….. TODD 'SASSY' TUTTLE …. JEANMARIE WOODS…. (Please remember Greg Sergo.) HAPPY ANNIVERSARY TO…. LEE & RICHARD PERRY.
__________________________________________________________________________________________________________________
TAVERN N TOWN….JAN. 3 ….It's Michael Thomas, 5 to 9 pm…. JAN.10, It's Mike Emerson….. JAN. 17….Carmen Rodriguez with James King….

LITTLE ROOM JAZZ CLUB… JAN. 3…. 5:30-7:30 pianist Larry Brown….. 8 pm…. Larry Baeder Bluesday Tuesday…..Entertainment on Jan. 10, 17, 24, 31.

INGHAM SHIP TOURS…..Open for Tours Tuesday thru Saturday, 10 am to 4 pm. $15 for adults and $5 for kiddies. Happy Hour is held from one hour before and one hour after sunset each Friday and Saturday weather permitting…$5. This grand ship is located at the Truman Waterfront Park! Thanks to Bill Verge for all his dedication to the Ingham!!!!! Contributions to keep the Ingham a afloat and thriving are requested Send to www.USCGCINGHAM.ORG….These donations will help restore and save this National Historic Landmark and Treasure. Also send them to BILL VERGE at PO Box 186, Key West, FL 33041.

KARI WOLF PERFORMS WITH JACK WOLF AT MANGOES, JAN. 3 AND JAN. 24….. 8:30-11 pm.
KARI WOLF AT HALO ON JAN. 17…. At The Saint upstairs, 7 to 10 pm.

FOR COMPLETE LIST OF GREAT CLASSES OFFERED BY THE STUDIOS, GO TO WWW.TSKW.ORG.

**THE RED BARN THEATRE PRESENTS…JAN. 3 and 10….This is a wonderful show that you should not miss …. Ken Ludwig's poignant award-winning play, 'DEAR JACK, DEAR LOUISE'….starring one of Key West's most gifted actresses, JESSICA MIANO KRUEL…. and the suave and adorable CODY BORAH..and directed by Joy Hawkins. No doubt this lovely show will touch your hearts as it did ours! Get tix now at www.redbarntheatre.com or call the box office at 305-296-9911. (Show runs through Jan.14)
OTHER RED BARN SHOWS THIS SEASON….Jam. 18- thru Jan. 21….Christine Mild presents "Back in Baby's Arms"…..Jan. 31-Feb. 25…."Flaming Guns of the Purple Sage"….March 7-March 25…."The Code"….."Short Attention Span Theatre, 2023" is the final show.

COMEDY KEY WEST……We are so lucky to have a great Comedy Club in Key West. Well known comedians are brought in from throughout the nation and they are hilarious. For ALL information on what is going on nearly every day at this super spot located at 218 Whitehead St…..Go to www.comedykeywest.comto get tix and see the monthly lineup…. Or call 305-985-7370.
Also…there are some fun special events and our local Comedians are fabulous and usually are the starting act for the headliner.

**DEAR JACK, DEAR LOUISE AT RED BARN…JAN. 3, 10, …. Get tix now for this poignant and heartwarming and very well-acted play at the Barn go to 305-296-9911 or go to the www.redbarntheatre.com website. 8 pm….

***AN INSPECTOR CALLS AT WATERFRONT PLAYHOUSE, JAN. 17 AND 24….. Get tix now at www.waterfrontplayhouse.org…NOT TO MISS….

AT THE STUDIOS JAN. 10 & JAN. 11….Susan Werner in Concert….Get tix at www.tskw.org.
AT THE STUDIOS JAN. 17 & 18….Grammy winning singer, Louden Wainwright III in Concert….Get tix at www.tskw.org.

KEY WEST THEATER…JAN. 10….Cash Unchained at 8 pm… For info and tickets go to www.thkeywesttheater.com. 512 Eaton St.

AT VIVA SALOON…. EVERY TUESDAY EVE, …..Coconut Koalas Duo …performs from 6 to 9 pm.

RED BARN PRESENTATION, JAN31-FEB. 25…."Flaming Guns of the Purple Sage"….Get tix at www.redbarntheatre.com or call 305-296-9911.

LOUIS PETRONE PODCAST EVERY TUESDAY…..Resident sage bon vivant, and raconteur, Louis Petrone, who knows a LOT about EVERYTHING…. will rant and rave, and expound on all the goings on in the world, under the sun!!!!!…and then some!!!! Always interesting …never dull! Go to: www.blogtalkradio.com/key-west-lou. Catch Lou's podcast every Tuesday! Also.. Read Lou's great columns and his unique insight on just about everything, in KONK Life every day!

THE GARDENS HOTEL EVERY TUESDAY…JAN 3,10,17,24 …. Kenneth Albert Duo …..entertaining from 5 to 7 pm in the Atrium.

AT TENNESSEE WILLIAMS THEATRE… JAN. 24….The Greatest Love of All…Tribute to Whitney Houston…. 8 pm…. get tix at www.keystix.com.

LIBBY YORK AT TRUMAN LITTLE WHITE HOUSE, ON FEB. 28, 6 TO 7 PM…..She will present her always fabulous concert in the Living Room of the historic White House with Chicago pianist Tom Vaitsas at Harry's piano! Get tix by going to the Little White House website. trumanlittlewhitehouse.org. Then click on events.

THE KEY WEST GARDEN CLUB AT HIGGS BEACH OPEN…… 9:30-5 pm on Sat…..daily. Free admission….1100 Atlantic Blvd.

STRING MUSICIANS SOUGHT…. The KW Community String Orchestra is seeking those who play violin, cello, viola, etc. at all levels of experience. For info contact Lynn-Marie at lynnmariekw@gmail.com.
______________________________________________________________________________
WEDNESDAYS IN JANUARY…..

HAPPY JAN. 4 BIRTHDAY TO …..KEITH LAPP…. CHRIS HIGGINS…. KIMBALL INGRAM ….. CLIFF SAWYER…. CLARENCE GLADYSZEWSKI…. PATRICIA NEYRA….

HAPPY JAN. 11 BIRTHDAY TO….NANCY CAMPBELL…. ALEXANDER HALL …. AGNES VARIS… JEFFREY SCHMITT…(Please remember…. Ed Knight…and… Kathy Cawley.) HAPPY ANNIVERSARY TO….. REEF & ROBERTA PERKINS….TERESA & JIM WALLACE…. MARK BUCZAK & JON GRIM.

HAPPY JAN. 18….BIRTHDAY TO….ERIC DEAN DAVIS…. JENNIFER CORNELL …. CAROL BLAHA FRAC… LENNY BORNINO….(Please remember Tim Wegman.)

HAPPY JAN. 25… BIRTHDAY TO….PAUL DIETZ…. VIDAL…. TIM KOENIG…. RICK ELIAS… JENNIE WOLF…. CATHERINE VOGEL…MURPHY DAVIS…. SHARON McCALLUM….JUDY SKOCZEN …. CAROL MACARTEE….VIRGINIA ROBBINS…. (please remember… Mary Lynn Furth ….Jim Corrigan …. Henry G. Brownell…. Jerry Cash.)

________________________________________________________
LITTLE ROOM JAZZ CLUB….WEDNESDAY AT 5:30-7:30… Karen Heins at the Piano… . AT 8 PM… Joe Dallas Presents Paradise Swing Band including Skippo…..great Jazz from our fab local artists…JAN. 4, 11, 18, 25.

****'AN INSPECTOR CALLS' AT THE WATERFRONT PLAYHOUSE…OPENS IN PREVIEW ON JAN. 11…. This thriller takes place on a night in April 192…the prosperous upper middle-class Birling Family is visited by a man calling himself Goole, inspecting the murder of a young woman. Dan Waller stars as the Inspector. He has appeared with the prestigious Goodman and Steppenwolf Theatres in Chicago as well as appearing in films and television shows. Others in the play are Key West favorites, David Black and Barbara Mundy, Arthur Crocker, Jillian Todd and J. Michael Wright and Mia Cawvey. Direction by Patrick New, and set design by Michael Boyer. This promises to be a huge hit so get tickets NOW. At www.waterfrontplayhouse.org or call 305-294-5015. Play also on Tuesday, Jan. 18 and 25. Closes on Jan. 28….

BOOK LAUNCH AT SAN CARLOS INSTITUE ON JAN. 11….Award-winning author Joy Castro offers book reading and signing of her new novel "One Brilliant Flame." 5 to 6:30 pm… at 516 Duval St.

TAVERN N TOWN ….WED. JAN. 4 & 18……MIKE EMERSON… performs…5 TO 9 PM….. On Jan. 11…It is Carmen Rodriguez with Larry Smith.

RED BARN THEATRE, JAN. 18-21…. "Back In Baby's Arms" starring the marvelous Christine Mild…Get tix at www.redbarntheatre.com. Or call 305-296-9911.

KARI WOLF AT HALO AT THE SAINT, JAN. 18…. 7 to 10 pm. Kari rocks!!!!

**OTHER GREAT FRINGE PRESENTATIONS THIS SEASON…. "EL ISLENO"..new untold story by KW Legend in his own time…. Ben Harrison…. on Feb. 15-25….at KW Armory at 600 White St. 7 pm…."WOMAN OF THE WORLD" starring the fabulous KITTY CLEMENTS …A ONE WOMAN SHOW presented at The Woman's Club…. March 14-18…..'THE OTHER PLACE"….April 12-22…. 7 pm at The Armory, 600 White St….'THE LAST FIVE YEARS" …March 10-20….at the Armory….

COMEDY CLUB OFFERS LOCAL DISCOUNT….The Comedy Club Owners are offering Locals a HUGE discount off your tickets…ONLY to Locals. When you get your tix at checkout online enter your code LOCAL at www.comedykeywest.com to get your discount. Big thanks to Joe Madaus and Nathan Knight and all those running this super Club!!!!

***DEAR JACK DEAR LOUISE AT RED BARN, JAN. 4 and 11 ……8 pm….I recommend this show. Get tix at www.redbarntheatre.com. The performances by Jessica Miano-Kruel and Cody Borah are wonderful!

****DAVE BOOTLE AT MANGOES….WEDNESDAY THRU SATURDAY EVERY SINGLE WEEK….Note Dave is on hiatus for a bit….. Enjoy this marvelous entertainer… one of Key West's true GEMS….. and dance the night away… You are SURE to have the best time ever! 9 pm…till Midnight. ….DON'T MISS!!!!!! Dave packs em in…and it always a party with Dave!!!!!
***FAB FRINGE BENEFIT ON JAN. 25….The fabulous Musical Duo of DEBRA (Dean)& PATRICK (Lawler) will be performing for a glorious one night only event at the gorgeous home of Queen Kate Miano… 6 pm at 618 Free School Lane…..Music, Drinks, and appetizers…. We ALL have deeply missed this dynamic couple we know and love….and can't wait to see and hear them once again….Get tix NOW as space is limited… www.fringetheater.org.

KEY WEST FOOD & WINE FEST, JAN. 25-29…This Event celebrates the amazing food and wines from Argentina….Glad to see that VIVA Saloon plays a big roll in this Event. For info and schedule of Festival go to….www.keywestfoodandwinefestival.com.

THANKFUL ON WEDNESDAY…..I am grateful for many things and mostly for so many people who have touched my life in special ways of late…Stanley & Judith Zabar…..Sue & Stuart Kaufman…..Bunnie Smith…. Jim Argoudelis and Dan Ward….Bill Cartledge & Jim Hall …..Sally Stevens & Rob Zadkovich…. Ed & Amy Stevens…. Maryann Westerlund….Terri Wilson…. Nand Pandey …. Red and Keith Dempster ….Christopher Peterson….Christa TaTah duJour Hunt….Jean Carper….Christopher Rounds & Patrick Hegarty…. Suzanne Moore …..Lucy Barker….Kitty Clements….Trey Forysth…. Linda Sparks…..The Choir at St. Mary SOS….. Marti & Bill Roberts ……..Kate Miano….Melissa Lang ……George Fernandez …..Fr. John Baker ….Harrel Odom and Barry Cook……Tom Thayer ….. Cody Borah ….Susan & Stuart Kaufman …… Jessica Miano-Kruel…..Christopher Elwell……. Diane May…. Mike McCabe…. Bobby Nesbitt…… Scott Burau & Eric Teves……Maria Zito Kaufman …Dave Bootle …. Tonto Zotola … Paul & Pam Vereb..Howard Wolff…Maggie Domski…. Diane Strong …. …Gary & Tom Groetz .. ….Kevin Melloncamp & Scott Mason …..Patrick Hayes.. Kristen Ryan…. Jani Krejcirova….Mary Lynne Price….The Stevens, Frechette and Peranteau Families….Louis Petrone….Tommy Luna….All those who sent us Christmas Cards, notes and greeting during the Holidays…To me there is Nothing more wonderful than connecting with friends and family members we do not see often….and from all those we DO see often!!!!

BELLE JAMPOL AT THE GARDENS HOTEL.. WEDNESDAYS…..JAN. 4, 11,18,25 …. The fabulous Belle Jampol will entertain from 5 to 7 pm at The Gardens…. Belle is the ultra talented…daughter of Penny Leto and Mateo Jampol. She grew up performing all through grade and high school…always had the leads…has appeared on all stages in Key West and was the lead singer of some great KW Groups, like Coconut Telegraph! This is a nice opportunity to see her in an intimate format. (Remember how great she was in Young Frankenstein and Rocky Horror Show?)

HEAD'S UP ON……BEN HARRISON'S NEW MUSICAL AT FRINGE…OPENS FEB. 15 thru FEB. 25…Title is EL ISLENO 1921: THE UNTOLD KEY WEST STORY…..This original musical by multi-talented, Ben Harrison, will be told in ragtime and jazz….Directed by Rebecca Tomlinson….musical director, Michael Robinson… This is a huge undertaking and donations are being accepted to help get this show onstage! 100% tax deductible….You can advertise or to be a sponsor. Find out all the Advertising Rates by going to fringetheater.org…. Or contact Helen Harrison at 305-294-0609…. or email her at hh@harrison-gallery.com. Note that this show will be presented at The Armory at 600 White St.

JOIN THE FRIENDS OF THE KW LIBRARY…Go to www.friendsofthekeywestlibrary.org. Join or Renew for the Season. If you act now your membership will extend to Jan. 1, 2023.
__________________________________________________________________________________________________________________
THURSDAYS IN JANUARY ………

HAPPY JAN. 5 BIRTHDAY TO…..TRISH MANLEY ….MICHAEL MUNOZ…. KAREN RYAN …. BARBARA SCERBO… KELLY SCHMOTZER…. (Please remember….Millie Kapela.) HAPPY ANNIVERSARY TO… KAREN & VINCE TAPOROWSKI….. (Good news about Trish…She is coming back to Key West to stage manage KINKY BOOTS!!!!)

HAPPY JAN. 12…. BIRTHDAY TO….MARY GRUSIN …. GEORGE BESHIRE…. LYNNE VANTRIGLIA…. LUIS FEBO …. CHUCK BENEWAY…. (Please remember Dan Halloran.) HAPPY ANNIVERSARY TO…. GINNY & TAYLOR DOEBLER.

HAPPY JAN. 19….BIRTHDAY TO…KATHY HAYMAKER….. NIKOLA CZERNY …. MICHELLE DRAVIS….ROGER HARMON….HUCKLEBERRY AUGUST WILDE STANOVSKY BROWN ….

HAPPY JAN. 26 BIRTHDAY TO….IDRIS OMARI…. ANNE LOWE… ADAM KENDRICK…. CODY BESHIRE…. REBECCA ROBINSON….(Please remember Claire Ryan.) HAPPY ANNIVERSARY TO…. JOE & MARTHA DOOLEY… AND …. JIM & REBECCA ROBINSON.
_________________________________________________________

FARMER'S MARKET… THURSDAY……2 to 7 pm every Thursday….. … Produce, beverages, music, seafood, apparel, cheeses, gifts, art, books, etc…. fun….

TAVERN N TOWN ..JAN.5….. Michael Thomas performs 5 to 9 pm…..in the Lounge! ….JAN. 12 & 19…. Carmen performs with James King from 5-9 pm….

LITTLE ROOM JAZZ CLUB……..THURSDAYS. JAN 5.5:30-7:30 pm, The Ken Albert Duo …. 8 pm, It is SKIPPER & Mike Emerson & Dalton………..Entertainment at its best….. 821 Duval St. all day and great food and drink too! JAN. 5, 12, 19,26. (Special Skippo show on Jan. 19… scroll down.)

***DEAR JACK, DEAR LOUISE…JAN. 5, AND 12…A very Lovely show at The Red Barn .. …. heartwarming & beautifully acted. Jessica and Cody are divine! Get tix now at 305-296-9911. Closes Jan. 14.

*****"AN INSPECTOR CALLS" JAN. 12 GRAND OPENING…. 8 PM at Waterfront Playhouse ….Opening night includes an after party ……The skinny is that this great show will KNOCK YOUR SOCKS OFF!!!!! This play promises to keep you guessing and riveted to your seats….This is a MUST see… Get tix at www.waterfrontplayhouse.org or call 305-294-5015 NOW. Show runs through Jan. 28. Great cast…direction by Patrick New…. Brilliant set by Michael Boyer. Also Thursday, Jan. 19 and 26.

****DEBRA & PATRICK IN TOWN AT LITTLE ROOM ON JAN. 19….What Joy! This fab duo appear with Skipper Kripitz and Tim Mayer the amazing saxophonist!!!!! 8 pm… the place will ROCK!!!!!

DISTINGUISHED SPEAKER SERIES AT ART & HISTORICAL…JAN. 5….FREE lecture by Dr. Cori Convertito titled "Shaping an Island: Key Wes's Black History"….Lecture held at The Tropic Cinema at 416 Eaton St.at 6 pm. Must register at www.kwahs.org.

*****WATERFRONT PLAYHOUSE 2023 SEASON SHINES!!! …So far, three great shows presented and…… Now get tix for "AN INSPECTOR CALLS" playing Jan. 11-Jan. 28….(a stellar cast starring…. DAVID BLACK, DAN WALLER, BARBARA MUNDY, ARTHUR CROCKER, AND JILLIAN TODD…and directed by PATRICK NEW…….The dynamite musical "KINKY BOOTS" will be presented Feb. 14 thru March 18….starring RICHARD QUINT….COURTNEY DEASE… JESSICA MIANO-KRUEL ….CAROLYN COOPER … RAY WEST…JILLIAN TODD…. BARBARA MUNDY…. ERVIN TUMM…. JIM SPEAKE… JAMES HARCUP….JOHN SWANN….JACK D'EMILIO…CHRISTIAN MATOS…JORDAN CRAWFORD. Award-winning musical by Harvey Fierstein and Cyndi Lauper….ON MARCH 5 will be "Trunk Material" starring a number of Key West actors and entertainers one night only….MARCH 12 & 13…."SUDDENLY LAST SUMMER"…..(In honor of Tennessee Williams Birthday Month)…..ON APRIL 6-22, it's Pulitzer Prize winning play, THREE TALL WOMEN. starring LESLIE GREEENE, MAGGIE McCALLISTER, and JESSICA MIANO-KRUEL……..ON MAY 11-27 WILL BE…. The beloved comedy, "ARSENIC AND OLD LACE" starring KW Legendary Actress/comedienne, GERRI LOUISE GATES & PEGGY MONTGOMERY! ….. During Pride Week, on June 7-10, will be HEDWIG & THE ANGRY INCH, starring the talented, PHILLIP COLE WHITE. Wrapping the glorious season will be 'CHARLOTTE'S WEB" based on the lovely children's book by EB White….only June16 & 17. You do NOT want to miss a single show so go to www.waterfrontplayhouse.org or call 305-294-5015 for tickets NOW… And please become a member of the Playhouse…so many perks at every level of membership.

AT TENNESSEE WILLIAMS THEATRE, JAN. 19…. Piano Concert by Sara Daneshpour… 7:30 pm….. Get tix at www.keystix.com.

AT THE GARDENS HOTEL EVERY THURSDAY… JAN.5, 12,19,26 ….From 5 to 7 pm, TBA.

AT THE STUDIOS, JAN. 12…..8 pm Screening…. With Brdwy & Theater credits ranging from The Color Purple to Choir Boy, 'Sunny' Kil sits down with the fab Stephen Kitsakos to talk about her journey from Korea, to NYC to Key West! For info go to www.tskw.org.

THE KEY WEST THEATER… JAN. 19….The Linda Rondstadt Experience Tribute Event…. 8 pm… Go to www.thekeywesttheater.com.

KEY WEST THEATER, JAN. 26….The Skatalites at 8 pm…. For information and tickets go to www.thekeywesttheater.com.
KEY WEST THEATER….FEB. 2…. TONY BALTIMORE ENTERTAINS…..

AT THE STUDIOS, JAN. 26…. 5:30 pm concert… The Art of the String with Key West Duo….Violinist, Irie Monte and Cellist, Denise Nathanson are The Duo…Listen to the beautiful music written for their instruments and their friendship. www.tskw.org.

HISTORIC LECTURE SAIL…. JAN. 19… 9 to 11 am….Key West Art & Historical Society offers a lecture, "Conch Cuisine & Culture", by KW Food Tours owner, Analise Andrews aboard the sailing ship, Argo Narvis. Cost is $75 for members and $90 non members Go to www.kwahs.org/upcoming-events.

BEREAVEMENT MEETINGS EVERY THURS…….If you are working through the grief process of losing someone dear, there is help for you. Join this caring Support Group at 7:15 pm at the Klaus-Murphy Center at the Basilica of St. Mary Star of the Sea. You are not alone…. God bless Velma Christian for her special ministry, ______________________________________________________________________________
FRIDAYS IN JANUARY…..

HAPPY JAN. 6 BIRTHDAY TO…CYNDY LVINGSTON ….HELEN HARRISON…. GINGER BONCEK……JACK BEHMKE…MICHAEL ROTH…..EMILY REUTHER….MINDY DUECKER…. (Please remember….. Ray Fogg Sr….Patrick Junior Winters…. Paul Hilson…Norm Dobbs.)

HAPPY JAN 13… BIRTHDAY TO…JIM WALLACE….KING CARLOS HOME… DEVON REIMERS…. KRISTIE A. REILLY…. (Please remember…. Bob Arnold.)

HAPPY JAN. 20 BIRTHDAY TO….CLAYTON BEATTIE…. PEARY FOWLER…. COREEN ADAMANY…. LINDA CURTIS…. GINA KARR… NANCY NORRIS…. NANCY BOYCE…. STACY ORTIZ…. DAVE FRONHEISER…. TORI GREGG…. STEPHEN SELKA…. STEPHEN RICHARDSON…. (Please remember Gladys Rybicki… and Joy Peck.)

HAPPY JAN. 27 BIRTHDAY TO….JIMMY OLSON….DENISE "DEE" RYBICKI…. STACY STAHL…. DAN SIMPSON….. RANDALL LAIL…. JEFF BURNHAM…. KARL JUNEVICIUS….(Please remember Rose Lopez.)…. HAPPY ANNIVERSARY TO…. BARRY PHILIPSON & WILL NETHAWAY.
_________________________________________________________
WOUNDED WARRIORS RIDE….JAN. 6…..These Riders arrive at 8 am on Jan. 6 at the Veterans of Foreign Wars Post 10211, 102255 Overseas Hwy., Key Largo…. ALL invited to welcome these combat wounded veterans as they begin their bike journey to Key West.

DONATIONS SOUGHT…. KW Homeless Coalition INC, is seeking donations of new and used towels to help the homeless stay clean and dry.. also need single sheet sets… Call or text 305-304-0578 for pickups. Drop offs welcome Mon-thru Fri from 9 to noon at 2405 N. Roosevelt Blvd.

KARI WOLF AT HALO AT THE SAINT…. 7 TO 10 PM….. Always a happening with Kari!!!

THE GARDENS HOTEL EVERY FRIDAY….JAN. 6,13,20,27 … .John Hobbins entertains .In the Atrium…. From 5 to 7 pm, … 526 Angela St. (could change weekly)

***TERRI WHITE PERFORMS EVERY FRIDAY AT PAPA PILAR'S RUM FACTORY…3 to 6 pm. FRI., JAN, 6,13,20,27… Located at the corner of Greene and Simonton Sts.

***DEAR JACK, DEAR LOUISE AT RED BARN, JAN. 6,AND 13…. Get tix now at 305-296-9911. This play will warm the cockles of your heart and then some!!!!

****"AN INSPECTOR CALLS", JAN. 13, 20, 27…. This thriller will do just that…keep you breathless and on the edge of your seat….. Great cast starring David Black, Dan Waller, Barbara Mundy, Jillian Todd, Arthur Crocker, J. Michael Wright and Mia Cawvey…directed by Patrick New and sets by Michael Boyer…. Get tix NOW at www.waterfrontplayhouse.org or call 305-294-5015.

AT THE STUDIOS…..JAN. 6….4-6 pm event….Pricilla Presley is the steward of the Elvis Presley Legacy…Celebrity Artist, Adam Rote accompanies Pricilla for this Art Experience. Go to www.tkwt.org.

TAVERN N TOWN, JAN. 6,13,20, 27……..Mike Emerson entertains from 5 to 7 pm!!!!

LITTLE ROOM JAZZ CLUB….ENTERTAINMENT EVERY FRIDAY, JAN.6, 13, 20, 27… 821 Duval St. At 5:30-7:30, it's Michael Thomas and Jerilyn Barack…… and at 8 pm it is Barry Cuda and the Sharks!!!!!

KEY WEST THEATER, JAN. 13….Reverend Payton's Big Damn Band, at 8 pm…. Go to www.thekeywesttheater.com for tix.
KEY WEST THEATER, JAN. 27…..The Massacoustics perform… 8 pm. 512 Eaton St. Get tix at www.thekeywesttheater.com.

AT THE STUDIOS, JAN. 13…..Live Premier of 'REPAIR' A Mike Marrero live screening… Get tix at www.tskw.org. 8 pm. 533 Eaton St.

***VIRGILIOS…4 STAR TREAT…. JAN. 20 & 21… a DO NOT MISS…. The amazing DEBRA & PATRICK are back in town along with equally amazing TIM MAYER… and they join SKIPPO at Virgilios on Friday and Saturday!!!!!

*VIVA SALOON…EVERY FRIDAY AND SATURDAY… CHRISTINE CORDONE & LARRY SMITH and SKIPPO!!!!…. Jazz Music every weekend. 903 Duval St…. 6:30 PM..

THE WILLIAM WELCH LEGACY….This wonderful man and amazing artist is no longer with us, and he is missed more than words can say. However, his beloved sister, Sherrey Welch , is determined to keep Bill's art and legacy alive through the new website, at www.williamwelchcollection.com. Please forward this info to anyone who may be interested in Bill's work retrieved from Nantucket, Key West and France. Bill Welch was a true gentleman…. kind, caring and deeply talented…. he was loved and is missed deeply.

______________________________________________________________________________
SATURDAYS IN JANUARY…..

HAPPY JAN. 7 BIRTHDAY TO….ANNE FISHER-WOOD…. LARA FOX…. JODELL ROBERTS…. LISA ELENA MONDO…. JULES MOODLEY…. LARRY KETRON…. (Please remember Frank Gren and Adeline Turner today.)

HAPPY JAN. 14 BIRTHDAY TO…..MICHAEL APPELES… JESSICA GEIDE…. LINDA BEACH …. JASON BORCHIK….. HAPPY ANNIVERSARY TO… JAN GEBHART & BOB PRACHER…. AND…. GEORGE & JULIE WALLACE.

HAPPY JAN. 21 BIRTHDAY TO…LYDIA WATERLOO …. SEBRINA ALFONSO….. OMARI OMARI ….CHARLIE STRAUSS…. (Please remember Arvid Wegenek.)

HAPPY JAN. 28 BIRTHDAY TO…JOHN PADGET…. MARY FALCONER…. HELEN O'CONNOR…. CAROLINE FORBIS…. ELAINE SHELBY ….JAMIE HASKINS…. RONALD CLEM… JOSEPH HARDING….. JANICE HILLARD. …. HAPPY ANNIVERSARY TO…. GEORGE FERNANDEZ AND TOM GREENWOOD.
______________________________________________________________________________
***TERRI WHITE AT BLUE HEAVEN…. JAN. 7…. The fabulous Terri White, Legend in her own time, will be performing at this legendary Restaurant from 6 to 9 pm.

**WOUNDED WARRIOR SCHEDULE ON JAN. 7…10:30 AM..The riders leave the Air Station at Boca Chica to Bayview Park… NOON…Ceremony at Bayview Park in Key West….12:45 pm…A Community Ride from Bayview Park until 2 pm…ends at Bayview Park. The public is invited to ride with the warriors to historic KW Military sites. Patriotic bike decor are encouraged. Suggested donation is $20.

TAVERN N TOWN……SAT., JAN. 7,14,21,28…..it is Larry Smith at the PIANO….from 5-9 pm..

KEY WEST THEATER, JAN. 14…. Bob Seger Classic Tribute…. 8 pm… 512 Eaton St. ….Get tix at www.thekeywesttheater.com.

THE GARDENS HOTEL…EVERY SATURDAY.JAN 7,14,21,28 ……..From 5 to 7 pm, Bobby Green entertains in the Sun Room at The Gardens. Always FREE to attend…Great Wine Gallery!

LITTLE ROOM ON SATURDAYS…JAN. 7, 14, 21, 28… 5:30-7:30 pm…..Sing Along with Malathi……At 8 pm, it is The Michael Feinberg Trio…..Always some great music and song at this HOT SPOT!!!!! 821 Duval St….. Thee spot to be every evening!

FRIENDS OF KW LIBRARY BOOK SALES…. FIRST SATURDAY OF THE MONTH… JAN. 7, FEB. 4, MARCH 4, AND APRIL 1!!!! Held in the Palm Garden at 700 Fleming from 10 am to 1 pm.
FRIENDS OF THE LIBRARY 2023 SPEAKER SERIES ARE HELD ON…JAN 6…JAN. 23…JAN. 30…FEB. 6…FEB. 13 (also gala and fundraiser)…FEB. 20 (joint event with KW Art & Historical Assoc.),,,,FEB, 27… AND …. MARCH 6. These are wonderful FREE events held at 6 pm in the Palm Garden unless otherwise noted.

****"AN INSPECTOR CALLS"…JAN. 14, 21, 28….. This Thriller is at The Waterfront Playhouse with an all star cast…..last three Saturdays to see this wonderful mystery. Call the Playhouse at 305-294-5015 or go to www.waterfrontplayhouse.org for tickets!!!!

***DEAR JACK, DEAR LOUISE, JAN. 7 AND 14….Last chances to see this very dear play by two adorable actors….. Don't miss1 Directed by Joy Hawkins.

THE 37TH ANNUAL KEY WEST CRAFT SHOW, JAN. 28 AND 29… 10 AM TO 5 PM….On Whitehead St. and Caroline St. in the Annex. Juried Craft show….Proceeds for the show support the Key West Art Center on Front St.

SOUTH FLORIDA SYMPHONY, JAN. 28….Shostakovich, Gottsch World Premier & Great Opera Arias… 8 pm at Tennessee Williams Theatre… Get tix at www.keystix.com.
______________________________________________________________________________
SUNDAYS IN JANUARY….

HAPPY JAN. 8 BIRTHDAY TO….ANTHONY SCALERA….. MAUREEN RYAN … JOHN HAMMOND… MARISSA FOWLS…. BARBARA RUPER…. (Please remember…. Millie Ashmore…. Bonnie Bajko…. Elvis Presley)….. HAPPY ANNIVERSARY TO … JEAN & JOE THORNTON.

HAPPY JAN. 15 BIRTHDAY TO….ERIC TEVES…. VIRGINIA BUTLER…. KARI (DALEY) WOLF…. STEVE ANDRES….. KAY BRESLIN …. ALEXANDER BENJAMIN LEE HUNT… DAVID VAN DER WEHEN ….SOPHIA PERANTEAU…. (Please remember Sheila Taylor … Joann Hoffman.)

HAPPY JAN. 22 BIRTHDAY TO…..CAROLYN SULLIVAN…. CLAIRE LOUISE CARROLL…. CORY HELD… HEIDI SEIDEL …. MARION STRAUSS… ALLEN MEESE…. MARY ELLEN CERNY…. (Please remember…. John Schnepf…and… Orchid Duncan.)… HAPPY ANNIVERSARY TO….DEANNA & DAMIAN DEANGELIS….AND … JOHNNY & AUDREY POLLIZI.

HAPPY JANUARY 29 BIRTHDAY TO….MELODY COOPER…. STEWART ANDREWS…. ARI MIRANDA…. CINDY JEFFERSON…. LINDA DUNNE. (Please remember….HUGH WARE…. Carol Wickes…)
______________________________________________________________________________
IMPROMPTU CONCERT, JANUARY 8….The Calidore String Quartet at 4 pm at St, Paul's Church. Tix at www.keystix.com or at the door. ON JAN . 22, it's the Lysander Trio at 4 pm at St. Paul's Church. Get tix at www.keystix.com.

KARI WOLF AT WILLIE T'S ON JAN. 8….. Kari entertains from 2:30-5:30 pm…..
KARI & JACK WOLF AT MANGOE'S ON JAN. 8……8:30-11 PM!!!! Fabulous Duo!!!
KARI & JACK ALSO AT MANGOE'S ON JAN. 22 AND 29…..8:30-11 PM.

***"STILL WILD ABOUT HARRY" SHOW STARRING the FABULOUS BOBBY NESBITT & CARMEN RODRIGUEZ…AT LITTLE WHITE HOUSE. JAN. 22 AND JAN. 23 ONLY…..GET TIX NOW…SENDING THIS EARLY FOR ALL YOU BOBBY AND CARMEN FANS AND YOU ARE LEGION!!! Go to the Little White House website for more info. Doors open at 6:30 pm….show starts at 7:30 pm. We've had our Jan. 22 tix for a month or longer. (This show will also be presented on March 19 & 20.)

LITERARY WALKING TOURS…..EVERY SUNDAY…..10 am….. Tour explores info on famous KW authors and writers and their homes….. Only 6 per group….. Go online to find out more info.

KEY WEST CEMETERY STROLL, JAN. 8….Times of departure are 9:30, 9:50. and 10:10 am…. tour takes 90 minutes. Wear comfy shoes and plan to walk nearly a mile on uneven ground. Bottled water provided. Reservations a must….Call or text 305-304-1453 or email hfkf@bellsouth.net.

SUNDAYS AT MANGOES…. 8:30 PM…. It's the fabulous WOLF LOVE BAND with adorbs married duo, Kari (Daily) and Jack Wolf…they make beautiful music together

JAZZ IN THE GARDENS …JAN. 8….. 5 TO 7:30 PM…. It's harpist, Scott Marischen, Skipper and Friends….

****PATRICK & DEBRA AT THE GARDENS ON JAN. 22…. 5 to 7:30 pm, along with the SAXY TIM MAYER, and our fave Drummer Boy…SKIPPO!!!! A night to remember for sure!!!!

VIVA SALOON ON SUNDAYS…. ….It's the wonderful Marjorie Lee Mitchell… 6 to 9 pm.

ARTISAN MARKET ON SUNDAYS…. JAN. 15 AND JAN. 29…. Held at Indigenous Park from 10 am to 2 pm… at Higgs Beach…. Mark calendars for these other dates…. FEB. 12 & 26 …MARCH 5, 12, 19, 26…APRIL 2,9,16,23….

KEY WEST THEATER, JAN. 15….The Machine—PINK FLOYD TRIBUTE…. entertains… 8 pm… For tickets and more info go to www.thekeywesttheater.com.
KEY WEST THEATER, JAN. 22….Livingston Taylor entertains at 8 pm at 512 Eaton St.

LITTLE ROOM JAZZ CLUB….. EVERY SUNDAY….JAN. 8, 15,25….5:30-7:30 PM, Iit is Paul Warthen at the piano……..8 pm……Larry Smith and a Company of fab musicians and singers Jam for your great pleasure!!!!! 821 Duval St…..Great way to begin or to cap off an evening. WE LOVE THE LITTLE ROOM!!!!!

TAVERN N TOWN …..JAN. 8, 15, 22, 29…It's Rob DiStasi in the Lounge ,from 5 to 9 pm…..

TERRI WHITE AT THE GARDENS ON JAN. 15…. A rare opportunity to hear the wonderful voice of Broadway Legend, TERRI WHITE… 5 to 7:30 pm at the Gardens Hotel Jazz Night!

*RED BARN "BIG NIGHT OUT…THE PARTY"…JAN.15… 6 TO 9 pm at The Oldest House, 322 Duval St….get tix at www.redbarntheatre.com/tickets. Destination Catering, Tapas style menu, open bar, entertainment by Jim Rice with Randy Roberts and Christine Mild, plus wonderful Silent Auction….

**PARADISE BIG BAND CONCERT, JAN. 29….. Get tix NOW at www.keystix.com. This is a do not miss… The wonderful Joe Dallas runs this group of local dedicated musicians and singers of all ages…. He works his magic every year in January and March ( 26)… We never miss! Always some fabulous guest singers. On Jan. 29 special guests are TIM MAYER….DARCY COOKE, R.B. TOLAR,& PETER DIAMOND!!! Tix are only $25-$35.

**LIBBY YORK AT GARDENS HOTEL, JAN. 29… 5 to 7:30 pm…. She will be releasing her new CD too…. Note other dates she will be there are Feb. 26 and March 26.

MANGOES DRUNKEN DRAG BRUNCH….SUNDAYS….. Go to Mangoes Facebook Page or google to find out details, like dates, ticket cost, and times. Sounds like a fun way to spend a Sunday afternoon in Key West!!! This is not every week, so call Mangoes or go online to find out when, etc.

THE FRINGE THEATER IS LOOKING FOR A FEW GOOD HANDS…. The Fringe needs stage hands, run crew stage managers, and board members. If you are interested email your info and areas of interest and expertise to info@fringetheater.org. Some work is volunteer and some is paid. The Fringe can be flexible… you can work show by show.

CHECK OUT THE WEBSITES OF THE VARIOUS CLUBS IN TOWN TO FIND OUT THEIR MUSIC SCHEDULES….. JUST GOOGLE OR CHECK OUT THE SCHEDULES PROVIDED BY THE KEY WEST CITIZEN AND OTHER PUBLICATIONS.

PLEASE SEND ME ANYTHING YOU NEED TO BE PROMOTED….. AND … I will do my best to include in future blogs!
_____________________________________________________________________________

LOVE TO YOU, AND REMEMBER….When I was young I admired clever people. Now that I am older, I admire kind people. Be tender with the young, compassionate with the aged, tolerant of the weak… because someday in your life, you will be all of those things.
Lynda
PS Because of 'the way the world is now' various singers and entertainers sometimes are not at the venue they are scheduled to be at. Do check with the club to make sure the person you want to see is there before going. Things change.
______________________________________________________________________________

PS…..AND HERE'S MORE INFORMATION:

THE IMPROMPTU CONCERTS… For more info go to www.keywestimpromptu.org.

WOMAN'S CLUB RESTAURANT & THEATER TOUR CARD BEING SOLD….$100…. and effective till Sept. 30…. Call Susan Mitchell at 740-274-9091 or go to the Woman's Club Facebook page.

TROPIC CINEMA SEEKS VOLUNTEERS…..For info call John at 305-295-9493 or go to www.tropiccinema.com. Training is provided. 'Payment' is free movie passes and popcorn for each shift worked.

KEY WEST TROPICAL FOREST & BOTANIC GARDEN SEEKS BOARD MEMBERS… This non profit is looking for interested Board Members….particularly that of Treasurer … term is two years…..If interested send a letter to Key West Botanical Garden 5210 College Rd., Key West, FL 33040. Or email audrinnakkw@gmail.com.

VOLUNTEERS NEEDED FOR REEF RELIEF….For info call 305-294-3100.

STAR OF THE SEA OUTREACH MISSION NEEDS VOLUNTEERS….To help with the food pantry on Stock Island….This mission serves hundreds of the community's needy operating Mon-Fri. Call Donna at 305-407-5967 for info.

SHAL SEEKS VOLUNTEERS…Southernmost Homeless Assistance League has begun serving an evening meal each day at the homeless shelter with food from the Soup Kitchen….Volunteers are needed to help. For info call John Miller at 502-876-5092.

TENNESSEE WILLIAMS EXHIBIT:…. .513 Truman Ave. This wonderful Museum is under the auspices of the Key West Art & Historical Society with founder, Dennis Beaver as its curator….Visitors and Locals are invited to tour this preserved and showcased collection of historic, archival objects that promote the importance of Williams's legacy and offers the largest collection of his memorabilia and artifacts available to the public. Open daily from 9:30 am to 4:30 pm…. Admission: Adults $7. … Children under 6 Free…. KWAHS Members: Free… For more info call 305-204-4527. Big Thanks to Dennis Beaver and Bert Whitt for their great efforts to make this Museum world class!

KW TROPICAL FOREST & BOTANIC GARDEN, NEEDS VOLUNTEERS….To volunteer please call 305-296-1504.

NEW ADDRESS FOR LA RUBIA KEY WEST….…OPEN…..Stephanie Hellstrom (THE Blonde!) is the owner of this delightful shop…NOW AT 1121 DUVAL ST., right near LATEDA. You can purchase hand woven Panama hats, handcrafted wearable accessories, and organic chocolates from Ecuador…. along with handbags, scarves, bamboo wraps, jewelry and more.

TAKE STOCK IN CHILDREN ORG. SEEKS VOLUNTEERS…..This marvelous, award winning scholarship program mentoring group is looking for giving souls to help mentor 50 some qualified students from lower income families ….They cannot be admitted unless a volunteer steps forward. It takes less than an hour each week. Call Chuck Licis, program coordinator at 305-394-7974 or e-mail him at chuck.licis@keysschools.com.

CUSTOM HOUSE & LIGHTHOUSE MUSEUMS ARE SEEKING VOLUNTEERS…If you have a few hours to offer as a docent, archives asst., exhibit builder, or event volunteer, please offer your services!