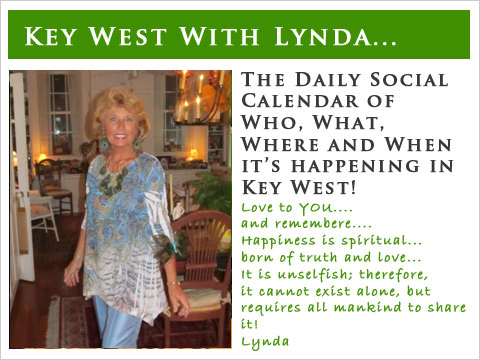 "KEY WEST IS CALLING ME"!!!!!
OCT. 25 THRU NOV. 2021 …IN KEY WEST WITH LYNDA

DEAR READERS…"KW is Calling Me" is a wonderful song written by the sensational Bobby Nesbitt, many years ago.  We love it (and Him) and when we heard it, we KNEW we would someday be moving to Key West.  23 years after we moved here, we still are inspired by the lyrics Bobby wrote!  It should be the Official Song of Key West for Sure!!!  Anyway….We have been at dear Rose Cottage in Chippewal Lake, Ohio since May, and we have enjoyed just about every moment.  The autumn colors are beautiful but it is really starting to get ccccc-old!!!!  Hence… we are in the throes of heading south, back to Key West.  This is always a major 'to-do' …especially as we get older….it also becomes more and more emotional.  We feel sad when we close Rose Cottage up, but we both look forward to our exciting life in Key West, seeing all our marvelous and colorful friends again, and enjoying the beautiful weather.  So… wish us well as we begin our trek.  We are aiming to be back in time to attend closing night of ROCKY HORROR SHOW at the Waterfront Playhouse.  If you are there on Oct. 29, we look forward to seeing you!
_______________________________________________________________
MONDAY…..
HAPPY  OCT. 25  BIRTHDAY TO….KATE REGAN ….JANE WURST …. JILL CALDWELL… CORI CONVERTITO….MICHAEL GUADAGNO….FRED STEVENS II…MARION LA BELLA…. JACKIE LORBER…. BRUCE WILSON …. MARK FRECHETTE…..VICKI NELSON DUNBAR…. (Please remember Randy Baird.)   HAPPY ANNIVERSARY TO….. DANA & STAN DAY!

HAPPY NOV. 1 BIRTHDAY TO…..ERIC HALEY….CAMPBELL CAWOOD ….RAQUEL CRUMMIT…. JUSTIN KAWALER…. DONNA PEZZI… ERIKA MONET BUTTERS…. DAMIAN STOUT…. ALEXIS LARSEN…. (Please remember…Leonard Domski….Judy Mack…. Jim Tober…. Sherry Carten….Barbara Nimesheim.)

HAPPY NOV. 8 BIRTHDAY TO…JEAN-MICHEL ARTIGAUD….NICK DOLL … LANCE MORRIS …. FRANCIE McKENZIE….KIMMEE NAPIER….
_______________________________________________________________
THE WATERFRONT PLAYHOUSE ANNOUNCES STELLAR SEASON FOR 2021 AND 2022…..  Mark Your Calendars…..Shows are:  THE ROCKY HORROR SHOW (Oct. 26,27,28,29) …. SHOUT THE MUSICAL!!!!(Nov. 17,18,19,20)…..EVERY BRILLIANT THING…. (Nov. 21,22,28, 29) ….. ALL IS CALM….. (Dec.  8,9,10,11,15,16,17, 18,22, 23,24,25) ….MATILDA the Musical… (Jan. 12,13,14,15,19,20,21,22,26,27,28,29)….. CLUE (comedy…. Feb. 12,17,18,19,23,24,25,26, March 2, 3,4,5)… SOMETHING ROTTEN (Musical…. March 22,23,24,25,26,29,30,31, April 1,2, 5,8,9,12, 13,14,15 16.)    …A LIFE IN THE THEATRE… (May 4, 5, 6,,7,11,12,13,14, 18,19,20,21). 
PLEASE NOTE THAT MEMBERSHIPS ARE NOW AVAILABLE BY GOING to….. www.waterfrontplayhouse.org.  Get the seats you want on the day you want… before everyone else!!

THE WONDERFUL DANNY WEATHERS…In my last blog, I had written about Danny finally being able to leave the hospital and be at home, cared for by his devoted husband of 45 years, Alan Melnick.  We all had high hopes that Danny would get better and recover from the health problems he had faced for such a long period of time.  But alas!  This was not to be.  By now, you are all well aware that our beloved Danny succumbed to cancer on August 21.  He died peacefully, surrounded by Alan and his two adored canines, Rupert and Maude.  The entire Theater community in Key West, mourns his loss, especially The Waterfront Playhouse where he reigned as the amazing Artistic Director for 12 glorious years.  When Danny announced his retirement and then, that he and Alan would be leaving the Keys for CA, we were  devastated.  We all wondered, "What will happen at the Playhouse without Danny there?"  He was so instrumental in turning the theater around when he took over after years of gloom and doom.  He brought joy and gladness to the Arts Community and he was loved and adored beyond words.  Danny knew how we felt, and thanks to him, he was able to highly recommend Tom Thayer, who had been running the box office and had actually run a theater in another state for 30+ years.  Who knew?  Danny did!  He wanted to make sure that the transition would go seamlessly.  He didn't want to leave us in the lurch.  That was Danny … always caring and concerned about the Waterfront Playhouse and the Theater Community in Key West.  And now he is gone… but will NEVER be forgotten.  He holds a cherished place in all our hearts and minds.   Again… if you would like to send Alan Melnick a message of love and support, send to him at: 2114 S. via Mazatlan, Palm Springs, CA 92264. 

STAY TUNED FOR INFO ON A MEMORIAL FOR DANNY…  I am thrilled to announce that the entire  Theater Season at The Waterfront Playhouse is dedicated to DANNY WEATHERS and the impact he had on our Arts Community.  When an official Playbill is produced there will be a full page to honor his Memory.  Also, note that there will be a special evening Tribute to Danny sometime in February.  Ideally we hoped it would be at The Waterfront Playhouse, but because a huge number of people are expected to want to attend, and because our theater is only operating at partial capacity due to Covid,  it was worked out with former Waterfront Board President, Jeff Johnson, and current President, Christopher Elwell, that it made more sense to host it at the larger venue, Tennessee Williams, where more of Danny's adoring fans can attend safely.   I will let you know when tickets for this event will be on sale.  Big thanks to Frank Wood, to Jeff Johnson, Hy Conrad, Bobby Nesbitt, Chris Elwell, and all the performers who will be participating in this Event.  No doubt it will be an Evening to Remember Always!

THE BEATTIES HAVE LEFT THE ISLAND!!!!…  This too, is sad but true!  Our long-time good friends, Mary Ellen and Clayton Beattie, whom can be counted on to attend every single great event in Key West…every opening…every gala…the list goes on…have moved to the Juno Beach area and they are spreading their special brand of sunshine to everyone there!  They have been the  dearest of friends and we will miss them, as I know will most of you reading this right now.  We wish them only the great happiness in their new environment as they have given to us all!!!  We hope they will make many visits back to Key West.

FABULOUS FLORAL SHOP IN TOWN!!!!! ….. Two  wonderful friends, Dan Ward & Jim Argoudelis,  opened a divine new Floral Shop, called DAN'S FLORAL & GIFT BASKETS……It is located at 605 Simonton St.  It is open from 9 am to 5 pm…. Dan's work is unique and fabulous, like Dan!! The website is www.dansfloralkeywest.com.   We wish them a blooming success!!!!!!   Shop will be open 9 to 5 pm, Monday thru Friday…. 9 am to 2 pm on Saturday…. Closed Sunday.  Phone: 305-396-7007.    

 THE VACCINE…Way back when COVID appeared…I remember hoping and praying for a Vaccine, thinking it would be the most effective in combating this plague.  After all… no one had polio anymore…Why?  Because we all got vaccinated, right?  I naively assumed EVERYONE would feel the same.  Boy was I wrong!  We were fortunate to get the Moderna early on, and felt for awhile, "Free at Last"…and that it would all be back to normal soon… but  many, for various reasons, have chosen to not get vaxxed leaving them vulnerable to get sick…to pass it on to others, and that is exactly what has happened.  This has become the Pandemic of the Unvaxxed… and 98% of those getting sick are those folks.  The Delta Variant has made things worse, and it seeks you out and finds you.  I have three good friends who were double vaxxed and they got sick…. but they all told me that had they not been vaxxed they know they would have died.   By our getting vaccinated I am helping you and you are helping me!  By the way…. I am happily returning to Key West with my Moderna Booster!!!!  Yay!!!!!

CRUISE SHIPS….   Along with getting Vaccinated, I am also passionate about Cleaner, Safer, Smaller Ships!!!!!    I hope that our Mayor and Commissioners will continue to fight for our Voters and support us.  We need a good lawyer who is on OUR side and not on the side of those who only have their own agendas.  I think all businesses in town are flourishing in spite of the lack of Cruise ships coming to town to play havoc on our fragile environment.  Again…heartfelt thanks to Arlo and Evan Haskel, the Benson Brothers and ALL those who have been dedicating their life to this project.

PAINT & CHUG AT COMEDY KEY WEST ON ….OCT 25, NOV.1,8,,15,22,29. ..This is a popular event…. 7 pm at 218 Whitehead St….Call 305-985-7370….Go to website at www.comedykeywest.com.   Contact them about the great Local's Discount.

THE GARDENS HOTEL EVERY MONDAY…from 5 to 7 pm it's Nina Newton at the piano.  526 Angela St.

AQUANETTES PERFORM …SHOWS EVERY SINGLE NIGHT.  Aqua Nightclub at 711 Duval St. is the place to see the most fabulous Drag Queens….including FAITH…INGA ….ELLE…JESSICA… BEATRIX…… MAYA…and NEW AQUANETTE, EPIPHANY (aka Calen Tomaszewski)!!!  All are sublime!  Shows are at  7 and 9 pm on Thursday thru Saturday….Reserve at www.aquakeywest.com.  Aqua open from noon to 2 am nightly…. drink specials… full menu… lunch specials….  Protocols enforced!!!  On Monday, Tuesday, Wednesday and Sunday, there is only one show at 8 PM.   I recommend reserving a table…. call 305-294-0555.  or go online to www.aquakeywest.com.    Also at Aqua…. there is the Back Bar, the Side Bar , the outdoor bar, and each has its own personality!!!!!

THE STUDIOS GATHERINGS AT HUGH'S VIEW….The Studios is sponsoring these GLOW eves.    Cash bar available.  Limited to 30 per visit.   Hugh Ware, the View's namesake, was one of the dearest, most adorable persons we ever knew. For more info go to www.tskw.org.  The GLOW Hours are 6:30-8 pm.    FREE with advance registration.  533 Eaton St.

TAVERN N TOWN…OCT. 25. and NOV. 1.. Rob DiStasi entertains from 5-9 pm.

SLOPPY JOE'S COMIC BOOK CAPE-ERS PARTY….OCT. 25…. Dancing at 5:30….Party starts at 8…Whiskey Kiss at 8.  

GINGERBREAD GALLERY…….This esteemed Gallery presents outstanding artists always… 1207 Duval St… open 10:30 am to 7 pm.  

SCHOONER WHARF, OCT 25….. Raven Cooper from, noon to 5 pm… 6:45 – 11 pm, it's The Joe Show….

AUTHOR VICKI RILEY PRESENTS HER FAB NEW BOOK….This wonderful book, entitled CAYO HUESO…is filled with marvelous Literary Writings by Vicki Riley and magical artwork by Linda Cabrera.  I think it should be a must have for all Key West Lovers…and aren't we all?  You can obtain this book at the KW Art Center, the Curry Mansion, Books & Books, Island Book Store and at the Custom House.  For more information go to https://www.vickiriley.com.  Or call her at 407-729-7289.  It is truly a Labor of Love.  Congratulations to Vicki…and Linda too!

GUITAR CLASSES OFFERED BY MATEO….EVERY MONDAY…..This is a class for Beginners from 4 to 5 pm at Williams Hall at 729 Fleming St.  To register go to http://www.williamshall.org.  Classes are only $20.

SMOKIN TUNA SALOON…..OCT.25…Farewell to Cowboys at 1 pm….Emma Zink AT 5 PM…. Caffeine Carl & The Buzz at 9 pm…NOV.1…Farewell to Cowboys at 1 pm…Thom Shepherd at 5 pm…Caffeine Carl, 9pm.   NOV.8…. Farewell to Cowboys at 1 pm….KW Parrot Club Party w/Brendan Mayer at 5 pm…. 9 pm… Miles Mancuso & Band…….4 Charles St.

THE GREEN PARROT………. Hosts Charity Bingo every Monday from 7 to 9 

801 CLUB…….Famous Drag Shows are at 801 Duval St… every night at 9 or 11 pm.  Book Online….. www.801.bar or call 305-923-9296.  The amazing and internationally known Sushi runs the show with amazing Drag Queens with names like Deja, Mulysa, Marilyn, Racquel, Kylie . 

THE TROPIC CINEMA AT 416 EATON ST…. IS NOW OPEN FOR MEMBERS AND FANS.  For info on movie schedules and house rules go to http://www.tropiccinema.com or call 305-396-4944. Go online to reserve your times.

THE BIRTHDAY AND ANNIVERSARY LISTS…….. Please let me know if you would like me to forward you these lists….. Simply send me a request and I will send you this month's complete Personality Description plus all those I know who are celebrating birthdays and anniversaries during this special time of year!!!  Also, let me know if you want to be added to it .. You can also see it by going to https://www.conchtv.com/author/lynda… and then scroll down.

AQUA IDOL POSTPONED ONCE AGAIN….  We had very high hopes that we would be able to finish the Waterfront Playhouse 2020 Aqua Idol in November, but after talking it over with Shawn Clark, Mgr. at Aqua, it has been decided that we once again, would have to shelve this event until further notice.  This is a MAJOR Disappointment, but the care of our contestants and our audience members is key, and we cannot yet enforce the safety precautions at Aqua that we are able to enforce at our Theater.  It also means that at this point, we will not restart a new Idol in January either.  Stay tuned.  Truly, at the time, I felt everyone would be vaxxed and we could all get on with living again…. but with so many still not vaxxed… how can we subject our vocalists to this?  Don't forget our  Final Magnificent 7 ….. STEPHANIE WISE…. BOB WOOD…. BRIA ANSARA….JON HERNANDEZ… SARAH DORRANCE….. CARL TREY FORSYTH … AND …. CHARLII CLARK… all stars….

FANTASTY FEST…. Check out www.keystix.com to see the various wild and wacky and also tacky events you can attend for Fantasy Fest.  

SUPPORT SOS………Many Monroe County residents are living below the poverty line.  SOS (Star of the Sea) Kitchens have long been providing food for those in need.   PLEASE Support SOS and other orgs such as Sister Season Fund with donations if you can.  Go to…. https://cffk.org/non-profits/sister-season-fund-inc/ 

SUBSCRIBE TO KONK LIFE ELECTRONIC PUBLICATION…… Guy de Boer, publisher of this great Publication  is offering you a chance to continue to receive KONK Life on a Daily basis.  It is chock full of great up-to-date information.  Times are tough, and until things ease up he is requesting a subscription fee, which I feel is well worth it.    For more information go to  ….. https://konklife.com/?p=47710.  If you prefer,  you can email Guy at guydeboer@gmail.com and he will advise you on how to subscribe.  You can also text him at 305-766-5832.   

AWESOME FOUNDATION KEY WEST!!!  ..   The mission of the group is to bring more awesomeness to our town, and spreading it by awarding $1,000 grants with no strings attached to the most awesome idea, project, proposal, or plan that is presented to the Group of Trustees, who each plop down from their own pockets the money to fund the Grant.  Sounds totally AWESOME to me!!!  Check it out online at www.awesomefoundationkeywest.org.  These awards have been given since Oct.    Michael Shields is the coordinator of this group.  READ ON….   

BIRTHDAY/ANNIVERSARY LISTS….If you would like to be included in the Birthday and Anniversary Lists that I send out every month, please let me know your month and day by sending that info to me at kwlynda@bellsouth.net.  There are special perks to being on the lists!!!!  One of the perks is having your name in KONK Life on the day of your Birth.
 
PRAYER CHAIN…..Please continue to remember the following in your thoughts and prayers….. Prayers for all … please guide all our people to be vaccinated……Please pray for….the friends and family of Danny Weathers ……. Lee Garrison and Shaw Garrison…..Genevieve Isaksen ……. …..Laura Hettinger……Bill Blue…..Andy Kellar … Dorothy Revollini …Louis Petrone…..the family and friends of………David Buffam ..Lorann Wood. ….. Paul Politte……Russell Martin… Diane Hohman…. Brenda McDonald…..my nephew Fred Stevens and his wife Judi. …Michael Amin …..our wait staff, shop workers, entertainers, check out clerks, doctors, nurses, etc……Bucky Montgomery ……Pat West …. Michael Thomas  …..Our Nation …. Barbara Brant….. Jim Hall ……..Sissy McDonald…..Jackie McDonnell … Chuck Selph…. Larry Selph  …Ann Marie Adreani ….S. Stephens…. Sandy Abookire ….Wally Stevens…. ….Sharron Mondo… Maggie Domski ….Len Stevens ……..Joe Biden.. …..Joe McMurray …George Kling …..Mary Larkin …. …Robin Deck..  …Christy Nelson……Fred Lima  …Maryann Barth… ….Kathy Stevens ….Ed Stevens Jr.. ….Dena Badgerow…..…Bella Rettenwander ……Diane Covan ….Paul C…..Dawn de Boer  … Jan Cernan ….Donna Stanton  … Lou Ann Cymont … Cheryl Walchli … Terri White …John Padget  …..Eric Nelson …..Gary Rivenson  ….. Donna Stabile ….Todd Reifschneider …Carlos Warner ……Pat Waller … …Frank Gren   …Marta White  ….… Peter Deksmith …Bill Lodermeir …Betty & Jack Darst……Richard and Betty Carraway …. Anne McKee …..Teresa Lawson …  Carey Moore….. Pamella C. Bocdow. …Dee Dee Duecker … Karla Muir … Vincent Gregory …Tony Freese… Jennifer O'Lear …….Margaret Taylor ……Patrick Richards.   Remember, there are many reasons that we pray…not just because people are ill…. I do believe that when we all send prayers and good vibes to those in need, those prayers mystically meet and surround those being prayed for.  Sometimes we pray for miracles and the impossible….sometimes we pray to just cope with the results of what happens to those we are praying for.  Sometimes we pray for strength to go on and to accept…sometimes we pray for thanksgiving.  We are in this thing called 'Life' together….and we all have power within us to help our fellow man.  Bless you for remembering our loved ones….Prayer changes things!  Let me know if you know of anyone who should be added to this list. 

LOVED ONES LOST…..Since I last sent my blog, we have lost some very dear folks…. Please keep the following and their families and friends in your thoughts and prayers. …..Donna Moody … Anne Marie Flood… Crystal Cates…Madeline Bogart…Paul Cotton…Joe Viana…. MaryAnn Lipka….Marlen Hummell ….Frank Gren … Bill Suddaby …Karen Lynch … Jan Nanna Cernan ….Joann Hoffman …Diane Covan …Danny Weathers…. Wayne Van Hest …Lynda Hambright….Larry Lee Batts…Ruth Uridel ….Julie Seamon …Marguerite Whitney …. Betty Groff…..Jane Powell…John Ruper…. Bishop Anthony Pilla …Milan Busta …. 

BOB FRECHETTE=FABULOUS REALTOR IN TOWN!!!!…..Need a realtor in town?  My husband BOB FRECHETTE IS YOUR MAN!!!!  He has been with the marvelous Compass Realty ( NOW Keller-Williams Compass) for 20+ years …Give him a call at 305-304-2584!  Email him at rfrechette@bellsouth.net.  He is the BEST! I promise!!!!  Honest, Loyal, Fair, and Adorable too!!!  He will have only have YOUR best interests at heart.   

A PUN or LEXOPHILE FOR YOU…The World Health Org. has announced that dogs cannot get COVID-19.  Dogs previously held in quarantine can now be released.  To be clear…WHO LET THE DOGS OUT?
 ______________________________________________________________
TUESDAY…..
HAPPY OCTOBER 26 BIRTHDAY TO…. KEITH STRICKLAND…. GARY McDONALD …. NINA NEWTON …. GERRY BERNAT …. CHRISTINA BOROS …. ARLENE MEDORA ….JAN KRUGER ….. KIM RETTENWANDER….

HAPPY NOVEMBER 2 BIRTHDAY TO…MARIA CONDELLA ….HILARY DOLBEARE ….RICHARD GRUSIN ….BERT BUTLER …. SUE INTERDONATO…. CHRISTOPHER FRECHETTE…. HAPPY ANNIVERSARY TO….. DONNA BARNETT & TERRI WHITE!!

HAPPY NOV. 9 BIRTHDAY TO….. SUSIE SAVITCH …. VANNA ROBBINS …. KIM WILKERSON …DREW WENZEL …. KEN MACHOR….. GARY YOUNG…. DIANE SHELBY …..JOHN ALBERTONE….MEGAN CLAY…CARLO DENNY …. (Please remember WINK GASSER, who was like a sister to me.)
_______________________________________________________________
U.S. COASTGUARD CUTTER INGHAM OPEN FOR TOURS TUESDAY, THRU SATURDAY…..From 10 am to 4 pm…. At Waterfront Park at Truman Waterfront…..Happy Hour held…. Call Mike at 305-292-5072 for more info and details.

COMEDY KEY WEST…. THE MAD HOUSE…OCT. 26..8 pm get tix a www.comedy keywest.com.  Ask about the great Local's Discount!!!!

KEY WEST THEATER…OCT. 26,27,28….. Harriette Potter & the Enchanted Tassel…A Burlesque Parody….8 pm at 512 Eaton St….. Get tix at www.keywesttheater.com.  

TAVERN N TOWN…..OCT.26, NOV. 2,9,16,232,30…….It's Carmen Rodriguez along with James King, 5 to 9 pm…. 

BRIDGE PLAYERS WANTED…FOR TUESDAYS, THURS. & SUN….. The Conch Duplicate Bridge Club is seeking new members.  Meeting at 1 pm.  A BEGINNER'S GROUP WILL TAKE PLACE IF ENOUGH ARE INTERESTED.   Call Beth Howe at 814-779-2489 for info.

LOUIS PETRONE PODCAST EVERY TUESDAY………..Resident sage bon vivant, and raconteur, Louis Petrone, who knows a LOT about EVERYTHING…. will rant and rave, and expound on all the goings on in the world, under the sun!!!!!…and then some!!!!  Always interesting…never dull!  Go to:  www.blogtalkradio.com/key-west-lou.  Catch Lou's podcast every Tuesday!

LATEDA,  OCT 26….. Fab Spectrelles at 8:30 pm….Randy Roberts!….AT 9 pm in the Crystal Room….NOV. 2,9,23,30… Fab Spectrelles at 8:30 pm..AND…Christopher Peterson at 9 pm in the Crystal Room…..

TOASTMASTERS MEET ON OCT. 26… All welcome…noon at the Gato Bldg. at 1100 Simonton St.  One hour meetings.  Call 305-295-7501 for info.

THE GARDENS HOTEL EVERY TUESDAY……It is Kenny Albert entertaining from 5 to 7 pm in the Atrium.

SMOKIN TUNA SALOON, OCT. 26…Caffeine Carl & Zack Seemiller at 1 pm…Emma Zink at 5 pm…. Nick Brownell at 9 pm…..NOV. 2….Thom Shepherd 1 pm….Tall Paul Kristie & Friends at 5 pm……NOV. 9….Caffeine Carl & Zack Seemiller at 1 pm…. Brendan Mayer at 5 pm…..Nick Brownell at 9 pm….

SCHOONER WHARF ….OCT. 26……..Noon to 5 pm, Gary Hempsey … 6:30-11:00, Tom Taylor….

DENIS LEBEDEV AND KATE OPEN NEW RESTAURANT…..  You MUST stop at La GRIGNOTE…at 1211 Duval St. ..Denis was one of the very suave, handsome and debonair managers at Tavern n Town.  He and his lady, Kate, bought La Grignote and it is getting RAVES from everyone who goes.  Check out Yelp!!!!!  The menu is fab as is Denis….Scrumptious Breakfasts and Lunches…. Salads, Veggie dishes …Sandwiches to make your mouth water….7 am to 3 pm…closed on Monday I believe.  We are so happy and thrilled for Denis and Kate!!!  Congratulations.

VIVA SALOON ANNOUNCES…. This great place for dining, drinks and entertainment, is now offering a daily Brunch from 10 am to 3 pm….I have heard raves from all those who have attended.  903 Duval St.  Alfredo Gimenez knows how to run a fabulous place, and makes everyone feel at home.

THE KEY WEST PARROT HEAD CLUB….This fun loving, and philanthropic group who love Jimmy Buffet, partying with a  purpose and supporting our community, is seeking new members.  Single membership is $20… and you receive a KW Parrot Head license plate frame and other special privileges.  To join call 262-705-8204 or go to http://keywestparrotheadclub.wildapricot.org.  

THE KEY WEST GARDEN CLUB AT HIGGS BEACH OPEN….  FREE…. 9:30-5 pm on Sat…..daily.  Free admission….1100 Atlantic Blvd.   Masks and distancing required. 

STRING MUSICIANS SOUGHT…. The KW Community String Orchestra is seeking those who play violin, cello, viola, etc. at all levels of experience.  For info contact Lynn-Marie at lynnmariekw@gmail.com. 

THE STUDIOS IS OFFERING….The Studios offers an open air happy hour experience in the newly opened Hugh's View….Reservations are a must for this sunset event, which will offer a cash bar.  For info go to https://www.tskw.org and click on the Glow Hours Link.  

BRUCE MOORE STARS IN …"SOMETHING ROTTEN"….. MUSICAL AT WATERFRONT PLAYHOUSE …..MARCH 22-APRIL 16, 2022…. This has been lauded as 'the funniest musical comedy in at least 400 years'!!!  (And it happens to be one MY fave all-time musicals!) Excited to find out that good friend, former long-time KW resident and Broadway Performer,  BRUCE MOORE is cast as Shakespeare, The Bard, in this musical…Others starring are…. JEFFREY HARWELL, ARTHUR CROCKER, ALEXANDRA ZETO, KARL STAHL, STEPHANIE SANDER, XAVIER McKNIGHT, ERVIN TUMM, CHRIS HOMBERG, MATHIAS MALOFF, TIM DAHMS, DOMINIC PAOLILLO, DANIEL BOCHLAS, ROSS PIPKIN, JOHN McDONALD, JILLIAN TODD, KELSEY LAKEMAN, AND LAUREN THOMPSON!!!  
_______________________________________________________________
WEDNESDAY
HAPPY  OCTOBER 27 BIRTHDAY TO…MICHAEL MEYER….HAPPY ANNIVERSARY TO….. JOE AND ELIZABETH JO DALLAS SR.

HAPPY  NOV. 3 BIRTHDAY TO …..WYNETKA ANN REYNOLDS…. JOHN BOUTTE … NORMA WIEBE …. MARGARET GLENN.. (Please remember the wonderful Terrence McNally.)  HAPPY ANNIVERSARY TO…. CATHY & PAUL KAHN.

HAPPY NOV. 10 BIRTHDAY TO….BOBBY NESBITT…..RICHIE SPADA….CYNTHIA DRESOW….ERIN STOVER-SICKMAN ….MICK KILGOS …TRENT RIEDEL…..JIM GRANT …. (Please remember…. Judy Wood…..Nancy Nolan.)  HAPPY ANNIVERSARY TO….DAN SCHIAVONNE & BRENT GORDON.
________________________________________________________
SCHOONER WHARF…..Tony Baltimore…… Noon to 5 pm….Raven Cooper….6:45-11 pm.  Check website with schedules for November.    Two shows a night.

COMEDY CLUB OFFERS LOCAL DISCOUNT….The Comedy Club Owners are offering Locals a HUGE discount off your tickets…ONLY to Locals.  When you get your tix at checkout online enter your code LOCAL at www.comedykeywest.com to get your discount.  Big thanks to Joe Madaus and Nathan Knight and all those running the fabulous Comedy Club in Key West!!!!!
OCT 27 …NOV. 3,10,17,24….AT COMEDY CLUB… Paint & Chug at 7 pm!!!!!

DAVE BOOTLE AT MANGOES….WEDNESDAY THRU SATURDAY EVERY SINGLE WEEK…. Enjoy this marvelous entertainer and dance the night away… You are SURE to have the best time ever!  9 pm…till Midnight….DON'T MISS!!!!!!
  
THANKFUL ON WEDNESDAY…..I am so grateful for so many things and mostly to so many people who have touched our lives in special ways of late…. Thanks to.. Ed Stevens … Jennifer Stevens….Alison Weimer.. …..Noreen Collins……Mary Borrell & Gene Knudson ……….Diane Strong …..Bobby Nesbitt.. .. ….George Chase  ……The Waterfront Playhouse……. JT Thompson. …… Nand Pandey ….Bob Sledz…….Carl McMackin …..Fran Chmura…..Carol Mone …..Keith Dempster…….Maria & Si Kaufman ….Fred Greenberg & June Hudson …. Sally Stevens & Rob Zadkovich ….Rusty Hodgdon …Marilyn Rintamaki …Bert Whitt & Dennis Beaver … All those who are working  so hard for the Ship Referenda ……..ESPECIALLY Arlo & Evan Haskel, the Benson Bros….. and many others. ……and MOST OF ALL…. THANKS FOR MY VERY DEAR HUSBAND BOB…. ALWAYS BOB…. !!!!  He has been through the mill but remains optimistic and upbeat as ever!!!

TAVERN N TOWN….OCT.27, NOV..3… Mike Emerson performs from 5 TO 9  PM. IN THE LOUNGE!…(Sometimes it will be Rob DiStasi)

KWNOW MEETS OCT. 27….The KW Chapter of the National Org for Women meets at 5:30 pm at Shanna Key Pub at 1900 Flagler.  For info call Darlene Thomas at 305-304-1043.

SMOKIN TUNA SALOON ….OCT. 27….Emma Zink at 3 pm….6 pm… 29th Homemade Bikini Contest….  Caffeine Carl at 9 pm…. NOV. 3….NE PARROT HEADS BM PARTY, 10 am…Tall Paul Kristie at 5 pm …. Caffeine Carl & Friends at 9 pm. …..NOV. 10……Charlie Miller at 1 pm…. Brendan Mayer at 5 pm…. Caffeine Carl at 9 pm…

LATEDA… OCT. 27, NOV. 3,10,17,24…The Fab Spectrelles perform at 8:30 pm in the Lounge for your dining pleasure. ..   
AT THE GARDENS HOTEL….EVERY WEDNESDAY…..It is Mary Spears entertaining from 5 to 7 pm.

GREEN PARROT OCT. 27 & 28…. The Red Elvises at 5:30.9 pm and 11 pm….

AT THE STUDIOS…NOV. 3…. 6:30 pm….At Carriage Trade Courtyard….One man play, THE MON VALLEY MEDIUM, by Alec Silberblatt.  Go to www.tskw.org.

AT THE GARDENS…. NOV. 10….Wine Classes at The Gardens Hotel…..Contact Jim at 305-294-2661.   These sell out…. Other dates are *Nov. 18…..Dec. 8 & *16…..Jan. 12 & *20….Feb. 9 & *24 ….. March 9….April 13…March 11.  All classes taught by Jackie Gwidt or *Jimmy James Hilferty.  Both excellent.  Located at 526 Angela St.  5:30-7 pm….$70 per table of two.  Everyone takes home a bottle of wine.

'SHOUT' AT THE WATERFRONT PLAYHOUSE, NOV. 17-NOV. 20….This irresistible musical will take the audience back to the  songs of the 60's… The great cast will sings such faves as To Sir With Love, Downtown, Son of a Preacher Man, and Goldfinger…The Cast consists of Belle Jampol, Kelsey Lakeman, Stephanie Sander, Jessica Miano Kruel, and Jillian Todd.  BUY TIX NOW!!!

"ALL IS CALM" AT THE WATERFRONT PLAYHOUSE…. DEC. 8 DEC. 25….This moving play takes place on the Western Front on Christmas 1914… when out of the silence and extraordinary night of camaraderie, music and peace takes place…. A remarkable True Story, told in the words and songs of the men who lived it.  The Cast…. Clayton Sallee, Joshua Lawson, JT Thompson, Andrew Theede, Daniel Bochlas, Tim Dahms, Domini Paolillo, Matthias Maloff, Chris Homberg, and Jim Speake.

"MATILDA…THE MUSICAL"…..OPENS AT THE WATERFRONT PLAYHOUSE JAN. 12-JAN. 29 …. Starring DAVID BLACK….JESSICA MIANO KRUEL,.. …CAROLYN COOPER…. DONOVAN PAVLICEK…. BARBARA MUNDY… EVIN TUMM..ARTHUR CROCKER… JAMES HARCUP….JILLIAN TODD… HEATHER MAE SLOAN… AND some of Key West's ultra talented child actors!!!!

"CLUE" …(LIVE ON STAGE)….AT THE WATERFRONT PLAYHOUSE,.. FEB. 16-MARCH 5 ….Based on the iconic 1985 movie and based on the Game of Clue…. this is a hilarious farce-meets-murder mystery…Everyone is a suspect when the host turns up dead!  Cast is Michael Aaglan, Jillian Todd, Susannah Wells, Barbara Mundy, Erin McKenna, Ross Pipkin, John McDonald, Mathias Maloff, Carolyn Cooper and Zachary Franchini!
_______________________________________________________________
THURSDAY…. 
HAPPY  OCT. 28 BIRTHDAY TO …..ROSI WARE…. JEREMY ZOMA…. JIMMY HARCUP …. WENDY ALLEN …. DORIAN PATTON…. DENNIS SLOAT …..HAPPY ANNIVERSARY TO….. CINDY & TY COBB.

HAPPY NOV. 4  BIRTHDAY TO ….VIRGINIA PANICO …JEREMY WILKERSON …. TERESA HOOVER …DAVID FISHER…. GIANCARLO ESPINOSA ….BOB RAFANELLI ….MARTY MANESA ….TOMMY RYAN…..BARBARA NESBITT….(Please remember Adare Fritz.)

HAPPY NOV. 11 BIRTHDAY TO…..JIM SCHOLL …. WENDY FRENCH ….COLlEEN NEEDHAM … MARK SCIARELLO… DOMINIQUE BARRERA…. NANCY LAMKIN ….JUANITA GREEN …. HAPPY ANNIVERSARY TO….. JILL CALDWELL & RICHARD FROST.
_________________________________________________________
TRUMAN WATERFRONT FARMER'S MARKET… EVERY THURSDAY…..3 TO 8 PM….. at the end of Southard St…. Produce, beverages, music, seafood, apparel, cheeses,  gifts, art, books, etc…. fun….

TAVERN N TOWN …..OCT. 28… Larry Smith entertains…..NOV.4,11,18,25….Carmen Rodriguez performs with John King from 5 to 9 pm.

SMOKIN TUNA SALOON,  OCT. 28…Justin Angelo at 1 pm……….Emma Zink at 5 pm….. Caffeine Carl & Friends at 9 pm……  NOV. 4….John Frinzi & Friends, 10 am….Noon to 4 pm, Bch Front Radio Show…..4-4:30 JESSA…Cliff Cody & Artis Albritton 5 pm….Tall Paul Kristie at 9 pm…   NOV. 11…Justin Angelo at 1 pm…. Brendan Mayer at 5 pm…. Caffeine Carl at 9 pm….

LATEDA, …..OCT 28….3 SUM performs at 8 pm… NOV. 4,11,18,25.. 3 Sum at 8:30 pm….Christopher Peterson in the Crystal Room at 9.  

AT THE GARDENS HOTEL EVERY THURSDAY….. From 5 to 7 pm, it is Mateo Jampol entertaining in the Atrium!!!!

CONCERT ON NOV. 4….Blues player G. Love appears at 7 pm at Ft. East Martello, 3501 S. Roosevelt Blvd.  FREE to all Locals with ID… Sponsored by COAST. and the KWAHS.  To get in Free, register at http://www.https://www.coastisclearfest.com/free by Noon on Wed. Nov. 3 or when venue capacity is reached.  All adults must register separately and each adult may bring 5 children.  Food and drinks will be on premises to buy.  Bring blankets and chairs.  NO dogs or coolers allowed.

GREEN PARROT, OCT. 28….The Red Elvises  at 5:30 & 9 pm.  

SCHOONER WHARF… OCT. 28..NOV. 4,11,18,25. ..Noon to 5 pm, Michael McCloud…. 6:30-11 pm, AJ Stamper & Dockside Darren….

COMEDY KEY WEST… OCT. 28,29,30…….Headliner is Dan Boulger…. 8 pm……… go to www.comedykeywest.com. Or call 305-985-7370. …NOV. 4,5,6…Headliner is Mike Cronin….NOV. 11`,12,13, Headliner is Eddie lfft…. NOV.18,19,20…Headliner is April Macie….

SARABETH'S RESTAURANT ON SIMONTON ST……. offers Free dinner on your Birthday… half price on all bottles of wine always, etc.

BEREAVEMENT MEETINGS EVERY THURS….OCT 28, NOV. 4,11,18,25…If you are working through the grief process of losing someone dear, there is help for you.  Join this caring Support Group at 7:15 pm at the Klaus-Murphy Center at the Basilica of St. Mary Star of the Sea.  You are not alone….  God bless Velma Christian for her special ministry.

TENNESSEE WILLIAMS MUSEUM OPENS ….This fab Museum will be open from Thursday thru Sundays from 10 am to 4 pm.  Private tours are available.  Mon-Wed by appointment only.  

**VIVA'S  SALOON.. GREAT SPACE FOR  OUTDOOR DINING….. LARGE PROPERTY & VERY SAFE FOR SOCIAL DISTANCING…..OPEN FOR TAKE OUT TOO!!!!…..DELISH FOOD…… OWNER  ALFREDO GIMENEZ IS A GEM!!!!!  903 Duval St… Entertainment on weekends….. tables spread out in this large garden area.  Leave it to Alfredo and Gaston, the owners, to do everything right and take care of their clientele.   

THE ROCKY HORROR SHOW…At the Waterfront Playhouse THRU OCT. 29…..  GOOD LUCK IF YOU DO NOT HAVE TIX FOR THIS SHOW!!!  The all star cast includes, Christopher Peterson….Joshua Lawson….Arthur Crocker…. Belle Jampol …. Carolyn Cooper… Donovan Pavlicek … Kelsey Lakeman.,.. Ross Pipkin ….Tony Konrath and John McDonald!  TIX HAVE FLOWN OUT OF THE BOX OFFICE!!!!  Give a call to see if anyone has turned their tix in.
_______________________________________________________________
FRIDAY
HAPPY OCT. 29 BIRTHDAY TO….SALLY DE HAVEN …. NORANNE FLANAGAN … DONNA HEID …. SHELLY BELL …. JASON GAINEY… LYLE MILLER….

HAPPY NOV. 5 BIRTHDAY TO…..RICK HOLTZ…. DENNIS ZACEK …. STEVEN MURRAY SMITH …. GARY KAICH …JEFF ARMOR …(Please remember Roger Westerlund… and… Anna Sabol.)  HAPPY ANNIVERSARY TO …. RITA & JIM BOF …. STEVE RICHARDSON & BRET BUTLER.

HAPPY NOV. 12 BIRTHDAY TO……EVAN CORNS …. CASSIE MCGHEE…. JIM DOMAGALSKI …. AMANDA KRUEL …. TOM RYBICKI ….DOLORES BOFF … LINDSAY COLLINS….MARION FETCHIK ….NEIL YOUNG….DOUGLAS GERENGER … (Please remember….Bernice Schuckert .)  HAPPY ANNIVERSARY TO….. BOB & MELODY MOORE BOWERSOX.
_________________________________________________________
TAVERN N TOWN…OCT. 29…..Carmen Rodriguez performs with John King……entertaining from..5 to 9 pm in the lounge…..NOV. 5….Mike Emerson entertains.

LATEDA, ….OCT. 29..3 Sum performs AT 8:30  PM….NOV. 5,12,17,24,…3 SUM at 8:30 pm….CHRISTOPHER PETERSON  at 9 pm in the Crystal Room!!!

THE GREEN PARROT, OCT. 29 & 30…. EXPERIMENTO…. at 5:30 and 9 pm and 11 pm…..JULY 30 & 31, AUG. 1… …..Trae Pierce & the T Stone Band, 5:30, 9 and 11 pm….
 
SMOKIN TUNA SALOON…OCT. 29..Emma Zink at 1 pm….Nick Brownell at 5 pm… Caffeine Carl at 9  pm…..NOV. 5….Parrot Head Party at 9 am….Cliff Cody & Arlis Albritton at 5 pm….Jimmy & the Parrots at 9 pm…. NOV. 12…Farewell to Cowboys, at 1 pm….Nick Brownell at 5 pm…Caffeine Carl at 9.

THE GARDENS HOTEL EVERY FRIDAY …. In the Atrium…. From 5 to 7 pm, it's Gregory James vocal & piano…..  526 Angela St.  

SCHOONER WHARF …OCT. 29 & 30…..noon to 5, Michael McCloud… 6:45 to 11 pm, Toad Licker Band  ….

MARK NOV. 5 ON CALENDARS….NOV. 5…..Remember the great Swedish group ABBA?  They thrilled us with songs like Dancing Queen, The Winner Takes It All….the list of hits is endless!  Now after being away from the stage for 40 years the group has come out with a new album, VOYAGE!!!!  The KW BUSINESS GUILD, The Sister Season Fund and 93.7 NRG Radio have teamed up with the AquaPlex Side Bar at 504 Angela St., to present a LISTENING PARTY to hear the new ABBA ALBUM on the club's State of the Art sound system from 6 to 7 pm….on NOV.5 ,  the actual date of the world-wide release. James from the Radio station will host….Admission is FREE…nibbles will be there, and a cash bar of course.  Julie Hanson of Sister Season says, "We just want everyone to come and have good fellowship and FUN."  

COMEDY CLUB ON NOV. 26 & 27…. Headliner is Jessimae Peluso…..Call 305-985-7370….www.comedykeywest.com.  

VIVA SALOON…EVERY FRIDAY AND SATURDAY.. Key West's FAVE Drummer Boy, SKIPPER KRIPTIZ will be entertaining with CHRISTINE CORDONE  & LARRY SMITH…. Jazz Music every weekend.  903 Duval St…. 6:30 PM ON…..

THE WILLIAM WELCH LEGACY….This wonderful man and amazing artist is no longer with us,  and he is missed more than words can say.  However, his beloved sister, Sherrey Welch , and Bill's partner Dave,  are determined to keep Bill's art and legacy alive through the new website, at www.williamwelchcollection.com.   Please forward this info to anyone who may be interested in Bill's work retrieved from Nantucket, Key West and France.  Bill Welch was a true gentleman…. kind, caring and deeply talented…. 
_______________________________________________________________
SATURDAY
HAPPY  OCTOBER 30  BIRTHDAY TO …DAN LOTTEN ….KELLY KOENIG….TOM CALLAHAN ….RONALD SAUNDERS…JIM MARQUARDT ….DEAN WALTER ….RHONDA FLORENCE…..GEORGE LIVENGOOD ….(Please remember Donna Moody.)  HAPPY ANNIVERSARY TO….LUCINDA & JEREMY EMMETT.

HAPPY  NOV. 6 BIRTHDAY TO….NANCY CORBETT…LYNN DAUM …. JEFFREY THACKER ….JIMMY NATH …..(Please remember Carol Chase.)…..HAPPY ANNIVERSARY TO….. CHRISTINE CORDONE AND LARRY SMITH.

HAPPY NOVEMBER 13…..  BIRTHDAY TO…..MY HUSBAND, BOB FRECHETTE …. PERRY ARNOLD….SHERRY READ…. AARON WRIGHT … CAROL ORZECH … JOYCE FOLIANO ….DIAMOND DAVE GONZALEZ….JARRED BISHOP ….(Please remember Rick Pierce.)
_________________________________________________________
TAVERN N TOWN…OCT. 30…. NOV.6,13,20,27…..Larry Smith entertaining FROM 5 TO 9 PM..in the Lounge.

SMOKIN TUNA SALOON, OCT. 30  …Emma Zink at 1 pm….. AJ Stamper & Friends at 5 pm…. Caffeine Carl and the Buzz at 9 pm…..NOV. 6  Bloody Mary Bash at 9 am….5 pm, Nick Brownell…..Cliff Cody, Arlis Albritton and guests at 9 pm…. NOV. 13… Farewell to Cowboys at 1 pm….Nick Brownell at 5 pm… Caffeine Carl at 9. 

THE GREEN PARROT…. OCT. 30….XPERIMENTO at 5:30, 9 and 11 pm…..

LATEDA…OCT. 30…3 SUM AT 8:30…. in the Lounge!!!!…..NOV. 5,12,19,26….3 Sum at 8:30 pm and Christopher Peterson at 9 pm in the Crystal Room. ….

THE GARDENS HOTEL…EVERY STAURDAY..OCT. 30, NOV.5,12,19,26….  From 5 to 7 pm, Bobby Green entertains in the Sun Room at The Gardens.
_______________________________________________________________
SUNDAY… 
HAPPY HALLOWEEN OCT. 31 BIRTHDAY TO …MICHAEL MULLIGAN….. KENNY WESCHLER …..BILL OGLE …. ED WALTERS….. JOAN LONG …. SAUNDRA PARKER….. BRAD BUCK …..
HOPE YOU ALL HAVE A SPOOK-TACULAR, BEWITCHING, AND BOO-TIFUL HALLOWEEN!!!!!!

HAPPY NOV. 7 BIRTHDAY TO …JENNIFER BADRY …. ROGER EMMONS …. ELMIRA LETO …. DAVID KAPELA….(Please remember Kitty Blackburn & Richard Kemble.) HAPPY ANNIVERSARY TO….MARIBELL & JOHNNY MASCHAL… AND   VICKI & JIM GRANT.  

HAPPY  NOV. 14 BIRTHDAY TO….JERRY GALEANA…. DOUG LAFFERTY ….BEVERLY GOLDNER …LARRY WOOD …. PHILLIP COLE WHITE…. JOHN PATTILLO….(Please remember…Lottie Domski….Chuck Hammond.)… HAPPY ANNIVERSARY TO…. AMANDA AND AUSTIN HARRISON.
_________________________________________________________
LITERARY WALKING TOURS…..EVERY SUNDAY…..10 am….. Tour explores info on famous KW authors and writers and their homes…..  Only 6 per group…..  Go online to find out more info.

OLD STONE CHURCH EVERY SUNDAY…. All Welcome to enjoy this Sunday Morning pleasure at 9:15 am to 11 am…. Share music, conversation thoughts and serenity!  Every Sunday is a different and marvelous entertainer.  Located at Eaton and Simonton Sts.

JAZZ AT THE GARDENS HOTEL…EVERY SUNDAY…5 to 7 PM…. A wonderful ensemble entertains every single Sunday…the place to be!!!!  526 Angela St.

TAVERN N TOWN …OCT. 31, NOV. 7, 14,21,28……. It's Rob DiStasi in the Lounge ,FROM 5 TO 9 PM.   

LATEDA OCT. 31 …. ….3SUM performs AT 8 PM  

MATEO OFFERS GUITAR CLASSES…EVERY SUNDAY….This is at the Coffee Mill Studios at 804 White St…a Guitar Orchestra Class from 4 to 5 pm…..All levels welcome.  To register email Mateo at jampolmateo1@gmail.com.  Classes are only $20.

SPECIAL DINING FOR LOCALS AT HYATT CENTRIC AT THE SHOR….. Monday thru Friday… ALL EVENING $20. entrees and half price on bottles of wine….. 601 Front St.

GREEN PARROT, ….1 AND 3 PM…. Jesse Wagner & Gary Hempsey at 1 and 3 pm. …..  Xperimento at 5:30 pm…..

THE COCONUT VICTROLLA …. EVERY SUNDAY…..This dynamite and exciting group of musicians perform in the Gazebo at Higg's Beach at 6 pm on Sundays.  Bring a lawn chair or blanket, make your self comfortable and enjoy some fabulous entertainment on the Beach!!!!  Belle Jampol is the lead singer and she is superb!!!!!!! (and the talented daughter of Penny Leto and Matteo Jampol!!!)

THE KEY WEST THEATER….Please go to the Website to find out about all the shows being scheduled in the months ahead.  Go to www.thekeywesttheater.com.  Located at 512 Eaton St. and operated by Ram's Head.  And thanks to Kelly Norman for all her hard work!!!!

PLEASE SEND ME ANYTHING YOU NEED TO BE PROMOTED….. AND … I will do my best to include in future blogs! 
ALSO…. I WOULD LOVE TO HEAR FROM YOU….AND WE DO LOOK FORWARD TO GETTING BACK TO PARADISE AGAIN!
 ________________________________________________________
LOVE TO YOU, AND REMEMBER…It's never too late to have a happy childhood.  But the second one is up to YOU…and no one else.
Lynda
_______________________________________________________________
 
PS…..AND HERE'S MORE INFORMATION:  SOME INFO WILL OR WILL NOT BE RELEVANT! 

THE IMPROMPTU CONCERTS… For more info go to www.keywestimpromptu.org. 

ONE MANATEE….This is a non-profit started by Quincy Perkins to help the Library find, restore, and digitize old 16 mm and 8 mm films from the FLA Keys.  He is trying to raise needed $$$ to keep this work going.  If you are interested in this project or in donating to help the archival, restoration of these historic KW films go to PayPal at onemanatee@gmail.com.  Or to find out more, contact Quincy at 305-896-1129.  

FOSTER HOMES WANTED….Wesley House Family Services is seeking families in the community interested in providing a home to children in the foster care system.  Classes begin Wed., June 12 at 99451 Overseas Hwy. in Key Largo. 

WOMAN'S CLUB RESTAURANT & THEATER TOUR CARD BEING SOLD….$100…. and effective till Sept. 30…. Call Susan Mitchell at 740-274-9091 or go to the Woman's Club Facebook page.

TROPIC CINEMA SEEKS VOLUNTEERS…..For info call John at 305-295-9493 or go to www.tropiccinema.com.  Training is provided.  'Payment' is free movie passes and popcorn for each shift worked.  NOTE …. CLOSED INDEFINITELY…..

KEY WEST TROPICAL FOREST & BOTANIC GARDEN SEEKS BOARD MEMBERS…  This non profit is looking for interested Board Members….particularly that of Treasurer … term is two years…..If interested send a letter to Key West Botanical Garden 5210 College Rd., Key West, FL 33040.  Or email audrinnakkw@gmail.com.  

VOLUNTEERS NEEDED FOR REEF RELIEF….For info call 305-294-3100. 

STAR OF THE SEA OUTREACH MISSION NEEDS VOLUNTEERS….To help with the food pantry on Stock Island….This mission serves hundreds of the community's needy operating Mon-Fri.  Call Donna at 305-407-5967 for info.

SHAL SEEKS VOLUNTEERS…Southernmost Homeless Assistance League has begun serving an evening meal each day at the homeless shelter with food from the Soup Kitchen….Volunteers are needed to help.  For info call John Miller at 502-876-5092.

TENNESSEE WILLIAMS EXHIBIT:…. .513 Truman Ave…Open by Appointment Only…. at this time!!!   This wonderful Museum is under the auspices of the Key West Art & Historical Society with founder, Dennis Beaver as its curator.  The Museum will be opening SOON!!!!! …..Visitors and Locals are invited to tour this preserved and showcased collection of historic, archival objects that promote the importance of Williams's legacy and offers the largest collection of his memorabilia and artifacts available to the public.  Will be Open daily from 9:30 am to 4:30 pm…. Admission: Adults $7. … Children under 6 Free…. KWAHS Members: Free… For more info call 305-204-4527. Big Thanks to Dennis Beaver and Bert Whitt for their great efforts to make this Museum world class!

KW TROPICAL FOREST & BOTANIC GARDEN, NEEDS VOLUNTEERS….To volunteer please call 305-296-1504.  

LA RUBIA KEY WEST….…OPEN…..Stephanie Hellstrom (THE Blonde!) is the owner of this  delightful shop at 510 Fleming St….next to Assortment….You can purchase hand woven Panama hats, handcrafted wearable accessories, and organic chocolates from Ecuador…. along with handbags, scarves, bamboo wraps, jewelry and more.  What a pleasure it is to have some unique and interesting new shops in Key West!!!  Congrats to Stephanie. Call 296-6059 for more details!!!   

AND WHILE YOU ARE THERE… MAKE SURE YOU STOP IN TO SEE THE GREAT MEN'S WEAR AT THE ASSORTMENT!!!  Claude and Joe are nothing but Class!!!!

TAKE STOCK IN CHILDREN ORG. SEEKS VOLUNTEERS…..This marvelous, award winning scholarship program mentoring group is looking for giving souls to help mentor 50 some qualified students from lower income families ….They cannot be admitted unless a volunteer steps forward.  It takes less than an hour each week.  Call Chuck Licis, program coordinator at 305-394-7974 or e-mail him at chuck.licis@keysschools.com.

CUSTOM HOUSE & LIGHTHOUSE MUSEUMS ARE SEEKING VOLUNTEERS…If you have a few hours to offer as a docent, archives asst., exhibit builder, or event volunteer, please offer your services!

**THE SCORPIO PERSONALITY…OCTOBER 23 THROUGH NOVEMBER 22**
I am starting this by saying that some of my best friends are Scorpios….as well as my very best friend, my dear husband Bob! They are an amazing group….terrific company and possess a fantastic sense of humor. That being said, Scorpios view life in a very emotional and intense way….and they find it very difficult to express profound feelings that they have. Scorpios keep their deep feelings buried under the surface. They have an innate need for privacy and secrecy making them reluctant to let people know how they feel. This sign is often viewed as being obsessive and it is true that a Scorpio takes things quite seriously. They are happiest when they are able to concentrate their energies in particular directions, because they need to feel emotionally involved in everything they do. Otherwise life loses its meaning and purpose. Once a Scorpio has made up their mind about something, it is very hard to persuade them to change it. They often have fixed ideas about all sorts of things and can take a very hard line over such topics as capital punishment and imprisonment. Despite a Scorpio's natural loyalty, if you push them too far or double cross them in some way, they will never forget it and they will never forgive you. They will probably give you the cold shoulder to exact their revenge. It is wise not to get on the wrong side of a Scorpio! A Scorpio's magnetic charm and powerful personality attract many fans. People love the fact that 'still waters run deep'….and when a Scorpio is silent, everyone wonders what they are thinking and go to great lengths to find out. They know there is lots more going on under the surface than the Scorpio will reveal.

Love is an area that can cause problems for Scorpios as they take it so seriously. There is nothing superficial about members of this sign, and as a result they need relationships that are deep and satisfying. One night stand and brief flirtations quickly lose their charm…the Scorpio is looking for something more significant than that, and when they find it they will channel all their energies into it. They do demand a great deal from their partner, with love and loyalty at the top of the list. One big Scorpio problem is jealousy and another is possessiveness. If a Scorpio has been hurt in the past, it can be very hard for him to resolve these issues. Sex and Scorpio go together like bread and butter. They place such great importance on sex because it is such a good way for them to express their feelings. The best signs for a Scorpio are Taurus, Cancer, Virgo another Scorpio and Leo.

What a Scorpio does for a living must have meaning and purpose, needing to feel emotionally involved in their career. Otherwise they will feel unhappy and dissatisfied. They must believe their work is meaningful…nothing demeaning or boring for them! They will pour all their energies into their work wanting to do something that provides endless interest and stimulation.

Scorpios also love to know what's going on…so they are the eyes and ears enjoying sharing the latest gossip and intrigue. It is important for them to get on well with their colleagues and that they work in a comfortable atmosphere. They need positions of power, even though it may be minor…..the thought that everyone else has control but them is devastating! Scorpios are attracted to law, science, detective work, medicine, research and the like. They also get great satisfaction from working in the wine trade…especially if they can attend lots of wine tastings. Scorpios need more money than most…as financial security is very important to them….they also enjoy the power that comes with money. Living comfortably is of utmost important to the Scorpio…..In their hearts they know they should have been born with a silver spoon in their mouth…. And if they were not to the manor born, they will do everything in their power to achieve that status symbol. Investing and accumulating are important to the Scorpio…they are canny investors and love playing the stock market.

WE LOVE OUR MARVELOUS SCORPIO FRIENDS AND FAMILY MEMBERS!!!!!
HAPPY SCORPIO BIRTHDAY TO…..
10/23….Larry Eynon….Jack McDonald…Tom Lavender….….Barbara Corns….Neil Chamberlain…Jordan Cisneros…Donald Dotzauer …..Lili Morgan…(Please remember Kyle Caskey.)
10/24….Michael Stewart….Sandy Swan…..Dustan Carpenter…..Steve Sonstein….Chris Case….Priscilla Cox…Daniel Horwath…..….(Please remember Eddie Harris and Tom Ruppell.)…
10/25…..Kate Regan ….Cori Convertito….…Michael Guadagno….Jackie Lorber….Jane Wurst…..Jill Caldwell …Fred Stevens Jr. ….. Marion LaBella… Mark Frechette… Bruce Wilson …..Vicki Nelson Dunbar…..(Please remember Randy Baird.)
10/26…..Julian Keith Strickland…Gary McDonald…Gerry Bernat…..Kim Rettenwander…Christina Boros…..Jan Kruger… Nina Newton …. Arlene Medora…
10/27…..Michael Meyer…
10/28…..Rosi Ware…. Jeremy Zoma…..Jimmy Harcup…..Dorian Patton….Wendy Allen… Dennis Sloat …
10/29…..Sally De Haven …..Jason Gainey…Shelly Bell…Donna Heid…Lyle Miller…..Noranne Flanagan …..
10/30…Tom Callahan…..Dan Lotten ……Kelly Koenig …..Jim Marquardt …..Rhonda Florence…Ron Saunders…Dean Walter …..George Livengood… (Please remember Donna Moody.)
10/31…..Michael Mulligan….Kenny Weschler…..Saundra Parker….. Bill Ogle …..Ed Walters ….Brad Buck…..Joan Long … (Please remember Joan Ezzo.)
11/1…..Eric Haley…Justin Kawaller…Erika Monet Butters….Campbell Cawood…..Raquel Crummit ….Donna Pezzi ….Alexis Larsen….……Damian Stout…. (Please remember Leonard Domski…. Judy Mack….. Sherry Carten …. Barbara Nimesheim….and…..Jim Tober.)
11/2…..Hilary Dolbeare…Richard Grusin….Maria Condella….. Sue Interdonato…. Bert Butler….. Christopher Frechette
11/3……..Wynetka Ann Reynolds …..Norma Wiebe…John Boutte…. Margaret Glenn…(Please remember Terrence McNally.)
11/4….Virginia Panico ….Bob Rafanelli…Teresa Hoover…Jeremy Wilkerson…..Giancarlo Espinosa…..Tommy Ryan …. Marty Manesa …..Barbara Nesbitt …..David Fisher ….. (Please remember Adare Fritz…..)
11/5…..Steven Murray Smith…Dennis Zacek…Garry Kaich…Jeff Armor….Rick Holtz…(Please remember Roger Westerlund….and …..Anna Sabol….)
11/6…..Nancy Corbett… Jimmy Nath …. Lynn Daum….. Jeffrey Thacker …(Please remember Carol Chase.)
11/7…..Jennifer Badry…Elmira Leto …. Roger Emmons…. Dave Kapela…. (Please remember Richard Kemble and Kitty Blackburn.)
11/8….. Nick Doll…Francie McKenzie…..Jean-Michel Artigaud….. Lance Morris….Kimmee Napier ….
11/9…..Drew Wenzel…Diane Shelby…Susie Savitch… Gary Young…. Kim Wilkerson….. Megan Clay … John Albertone …Kenneth Machor…..Vanna Robbins….. Carlo Denny… (Please remember Wink Gasser.)
11/10…..Bobby Nesbitt…Richie Spada…Jim Grant…Cynthia Dresow….Erin Stover-Sickman… Mick Kilgos….Trent Riedel ….. (Please remember Nancy Nolan and Judy Wood.)
11/11….Jim Scholl…..Dominique Berrera…..Juanita Green….. Wendy French….Betty Darst…..Colleen Needham….Mark Sciarello … Nancy Lamkin …..
11/12…..Evan Corns…Brian Savitch …Cassie McGee….. Amanda Kruel … Lindsay Collins …Marion Fetchik….Dr. Dolores Boff…Neil Young…..Tom Rybicki…Jim Domagalski…Douglas Gerenger …..(Please remember Bernice Schuckert.)
11/13….BOB FRECHETTE……Perry Arnold….Sherry Read….Diamond Dave Gonzalez…..Aaron Wright …..Jarred Bishop….. …..Carol Orzech… Joyce Foliano….(Please remember Rick Pierce.)
11/14….Jerry Galeana….Doug Lafferty…Chuck Hammond… John Pattillo ….Beverly Goldner …. Larry Wood….Phillip Cole White…(Please remember…Chuck Hammond and….Lottie Domski….)
11/15…..Frantz Cahoon…Fred Troxel…..Joe Kiely …..(Please remember Holly Ilaqua Diamond.)
11/16…..Michael Pelkey…Danny Crespo …..Ashley Hoover…Darla Snyder … Rick Ramsay… Ellen Caron….. Robyn Whitehead…..Matthew Domski.
11/17…..John Wells….Roberta Fine….Michael Soddy…Ruth Wolkowsky Greenfield….Darla Walter….
11/18…..Christopher Peterson …..Rusty Hodgdon…Lee Garrison……Allison Mayer…..Scott Armstrong…Matt Rawls… Leila Garcia …Dr. Sharon Van Nostran…..
11/19…..Sherry Sweet-Tewell….. Donald Hinckley …Joe Dooley….. Christopher Ellist …. Gene Kennedy….
11/20…..Larry Abramovitz….…Kevin Hoyes…David Bray…Sam Willmott…Suzanne Moore… Nand Pandey …..Ginny Doebler …. Stacy Beaver …Don Stout… Joe Biden ….
11/21…..Terry Schmida…Barbara Ross…..Paul Foster…Amy Stevens… Kevin Dickard…(Please remember Leonard Szalkiewicz.)
11/22…..Lauren Thompson…..Dennis Hudson…Lucinda Emmett…Jenifer Kruskamp…Dennis Piscopink….Mimi Burke …B.J. Hooks…..
HAPPY SCORPIO ANNIVERSARY TO….
10/24…..Shirrel & Diane Brady Rhoades….Claudia & Craig Pennington
10/25…..Dana & Stan Day….
10/27….. Elizabeth & Joe Dallas Sr….. Donna Stabile & Gary Rivenson…..
10/28….Cindy & Ty Cobb
10/30…Lucina & Jeremy Emmett
11/2…..Donna Barnett & Terri White
11/3…..Cathy & Paul Kahn…
11/4… Matthew & Marge Sabol
11/5…. Steve Richardson & Bert Butler… Rita & Jim Bof…
11/6…. Christine Cordone & Larry Smith
11/7….Maribell & Johnny Maschal…..Vicki & Jim Grant
11/10….Daniel Schiavone & Brett Gordon
11/11… Jill Caldwell & Richard Frost….
11/12….Melody Moore & Bob Bowersox….
11/14…Amanda & Austen Harrison
11/15….Jim Morris & Bob Wood
11/16….Megan & Michael Behmke
11/17….Sue and Dennis Blake…Alison Teal & Sam Brown…
11/18…..Janice & Ross Elwell… Drew & Jose Wenzel….
11/19…Suzanne & Wish Washburn…Lynn & David Ruthenberg
11/20…Pat & John Bollinger
11/21….Fran & Ron Chmura…. (Please remember Charlotte & Bill Ryan.)

WISHING ALL SCORPIOS A WONDERFUL BIRTHDAY….and HAPPY ANNIVERSARY TO ALL CELEBRATING DURING THIS SPECIAL TIME!!!!! If you are not on my lists and would like to be included, please send me the month and day of your occasion, birthday & anniversary if applies, and I will add you…send to me at kwlynda@bellsouth.net. If you are one of those Scorpios, please let me know if any of the above description pertains to you in any way! Thanks a lot….Love and best wishes to ALL…..Lynda