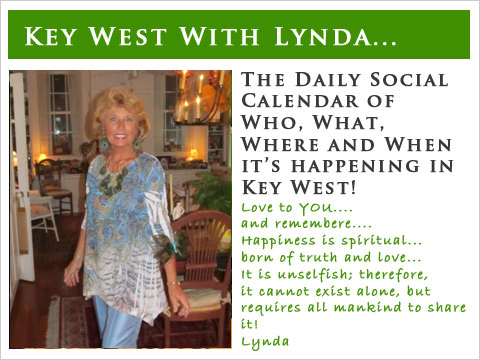 THE MERRY MONTH OF MAY IS ON THE WAY!

HOPE YOU REMEMBERED ON MAY 1…..
BIRTHDAYS OF…..KAREN FRANL-KNOLL….JOE GUTH …NANCY WILLIAMS…HELEN EDGINGTON…JOHN MORGAN…. JOE REGAN…TINA GARRETT…CHRIS TOLER….MICHAEL CATES….PATTY SICKLE… DONALD GOLIGHTLY….(Hope you thought of Rob Halstead….Rory O'Neil…. James B. Stocklas….Jean Olson…. Jack Collins…. and Len and Lottie Domski.)
________________________________________________________
MAY 2 THRU MAY 31, 2022 …IN KEY WEST WITH LYNDA

Dear Readers…They say, April showers bring May flowers….. and Key West is certainly ablaze with blooming Royal Poinciana, Bougainvillea, and Frangipani… We are so blessed to live in a Technicolor World! As many of you know, we are at a crossroads in our life. We have sold our truly wonderful and historic home here in Key West and are working on purchasing a townhome in Key West….something totally different than living in Old Town….but also special in its own way. We also bought another Century Home at Chippewa Lake, Ohio, just around the corner from dear Rose Cottage. We plan to restore this old dame to its former grandeur. Our challenge is that we don't close on anything until the end of June. I am trying to go with the flow, but I am churning inside and am praying that everything falls in place. So…send us good vibes as we mover forward on this journey we call Life…. and we will keep you posted on the adventures. These beautiful and aromatic May Key West blooms, sure make everything easier to bear. Thanks…L
______________________________________________________________________________
MONDAYS IN MAY…..

HAPPY MAY 2 BIRTHDAY TO…ROBIN MITCHELL… BRIAN CORBETT… CLARE FITZSIMMONS-CARRUTHERS… BASIA CHAPLIN… ARTHUR CROCKER… JAN GEBHART… GEORGE DI BRAUD…WILHELMINA LOPEZ-MARTIN …. (Please remember Ric Pinckeney.) HAPPY ANNIVERSARY TO ….MARYANN & DAVID BRANGACCIO.

HAPPY MAY 9 BIRTHDAY TO…..RON BURD…. TONY STAUB…. MICHAEL INTERNICOLA…. (Please remember Bill Haws.)

HAPPY MAY 16 BIRTHDAY TO…..JESSICA DEVEREAUX aka BENJAMIN HEALY…..SANDY WALTERS…. DEB HUDSON …. CAROLYN DALY…BILL RYAN JR. …. (Please remember….Marilyn Holderfield…Bob Ward… Barbara Vernovage….Lynda Hambright…Marlene Hummel….Jim Kosziewicz….)

HAPPY MAY 23 BIRTHDAY TO…..BUCKY MONTGOMERY…. CHRISTINE BASSETT…. JOYCE BURD ….JOHN ANDOLA ….. DONNA SHIELDS…. CHESTER SPARKS….. (Please remember Emily Selph.)…. HAPPY ANNIVERSARY TO….ELLEN & BERNIE PETERS.

HAPPY MAY 30 BIRTHDAY TO….. JENNIFER MCCOMB…..RENAY REGARDIE… DAVID PERLMAN… JEFF KUCIN … SHANNON LYNCH…. KATHLEEN MOODY….(Please remember Mary Keller.) HAPPY ANNIVERSARY TO….. JOHN & JOANN GAVIN-SMYTH.
______________________________________________________________________________
LOTS OF GREAT EVENTS HAPPENING IN KEY WEST!!!! MARK YOUR CALENDARS!!!!

PEOPLE ARE STILL ABUZZ ABOUT …"SOMETHING ROTTEN" AT THE WATERFRONT PLAYHOUSE!…. Yes, folks… if you got to see this top-notch musical at the esteemed Waterfront Playhouse, you had one of thee most enjoyable nights on the town in Key West EVER! Congratulations to director Tom Thayer, set designer Michael Boyer, Musical Director, Michael Fauss & Choreographer, Carolyn Cooper, and the fantastic Cast and Crew. After seeing it for the third time on closing night we only felt bad we couldn't see it again!!!! It was THAT Great!!!! One more mention of the fabulous cast…BRUCE MOORE, BRIAN ROBINSON, ARTHUR CROCKER, SARAH THORN, CANTER O'MAY, ALEXANDRA ZETO, KARL STAHL, XAVIER MCKNIGHT, JOHN MCDONALD, ERVIN TUMM, CAROLYN COOPER, MATHIAS MALOFF, ROSS PIPKIN, BELLE JAMPOL, JILLIAN TODD, JEFF WRIGHT, ANDREW THEEDE, CHRIS HOMBERG, & BARBARA MUNDY… You brought joy and excitement to our Stage! And….. Now The Waterfront Playhouse will be presenting….
_________________________________________________________

******"A LIFE IN THE THEATRE" AT WATERFRONT PLAYHOUSE, MAY 4-MAY 21…..This David Mamet comedy/drama will grace the WP stage on May 4 (Preview night) and run Wed. Thru Sat. until May 21. Director is Tom Thayer and set design is by Michael Boyer! The cast of two stars JOHN MCDONALD as Robert an older and experienced actor and MATHIAS MALOFF as John, a young actor on the move. Robert wants to take John under his wing and pass on his wisdom to the underling. There is conflict and resentment, as the shifting power balance between the two actors emerge. This is a Love Letter to the Theatre….. Get tickets NOW at 305-294-5015 or go online to www.waterfrontplayhouse.org. DON'T MISS!!!

THE WATERFRONT PLAYHOUSE UPCOMING PRODUCTIONS FOR 2022……..A LIFE IN THE THEATRE… (May 4, 5, 6,,7,11,12,13,14, 18,19, 20,21). …Ernest Hemingway's THE FIFTH COLUMN, MAY 8….Auditions for FROZEN ON MAY 15…Show will be on July 1 thru August 31….. JOE POSA AS JOAN RIVERS….. June 3 and 4th.

DANNY WEATHERS….. When you come to the Waterfront Playhouse, please take notice of the very stunning photograph of our former Artistic Director for 15 years, the late, great DANNY WEATHERS. Having his wonderful visage there is comforting beyond words. His memory lives on in all our hearts and minds, and his picture there will be a constant reminder of the legacy he left the Waterfront Playhouse with. Sincere thanks to Tom Thayer, Christopher Elwell, and the Waterfront Board for making this honor to Danny a reality!

THE RED BARN THEATRE……. Congratulations to The Red Barn on a stellar season!!!!! We look forward to a Covid-Free 2022-23 Season!!!!

TENNESSEE WILLIAMS THEATRE….Not many shows left at the Tenn. Wms. Theatre…. Get tix now for the tribute to QUEEN….. This will be fab!!! If you want to be a Producer…..contact Carolyn Cooper. Call at 305-295-7676 or go to www.keystix.com…..or email the box office at boxoffice@keystix.com for tix or info.

CLAIRE CAPLAN TRIO…. EVERY MONDAY, MAY 2,9,16,23,30…. Claire Caplan is a marvelous singer and we are so glad she is back in Key West!!!! Catch her at Andy's Cabana, across from Blue Heaven at 308 Petronia St…. Claire performs from 6:30-9:30 pm every Monday!!! She is really terrific!!!!!

****PLEASE DONATE TO WORLD CENTRAL KITCHEN…..This is a not-for-profit, non-governmental organization…founded by Chef Andres in 2010…which provides free meals in disaster areas. Chef Andres is currently in Poland where he has set up kitchens to feed refugees fleeing Ukraine. If you wish to donate please go to World Central Kitchen site www.wck.org and click on donate. Thank you for caring.

NEW BOOK BY EMIL IMBRO…. Long-time friend, Emil Imbro, has written a most delightful Memoir entitled FATE GAVE ME TWO LIVES. He is a tall, dark and handsome Sicilian, full of charm and optimism. He has led an interesting and exciting life, has encountered major obstacles, but is a survivor…. and has lived to tell the tale. You can obtain this book by going to www.AMAZON. com. Highly recommended.

LATEDA…. LATEDA presents two of Key West's MOST beloved and talented entertainers…..Rotating performers in the Crystal Room at Lateda at 9 pm are the always fabulous CHRISTOPHER PETERSON and his famous EYECONS SHOW…. RANDY ROBERTS LIVE! is there on alternate nights(not performing in May)…. You cannot see a finer show in Vegas or anywhere!!! 1125 Duval St…..Downstairs in the Lounge most every eve of the week at 8:30 pm, are either the Fabulous Spectrelles….. or 3SUM…..both wonderful! Every Sunday at 4 pm is the Lateda Tea Dance…great fun always!

THE GARDENS HOTEL EVERY MONDAY…MAY 2,9,16,23,30….from 5 to 7 pm it's the lovely Nina Newton at the piano. 526 Angela St.

FREE MUSIC CONCERT AT THE LIBRARY…MAY 9….Swedish Folk artist, Sofia Talvik performs at 6 pm in the Palm Garden at 700 Fleming St.

RAM'S HEAD SOUTHERNMOST …MONDAYS….MAY 2,9,16,23,30….5 to 8 pm, it's Tony Roberts entertaining.

AT VIVA SALOON ON MONDAYS…. MAY 2,9,16,23,30….Robert Douglas entertains…. 6 to 9 pm….

AQUANETTES PERFORM …SHOWS EVERY SINGLE NIGHT. Aqua Nightclub at 711 Duval St. is the place to see the most fabulous Drag Queens….including FAITH…INGA ….ELLE…JESSICA… BEATRIX…… MAYA…and NEW AQUANETTE, EPIPHANY (aka Calen Tomaszewski)!!! All are sublime! Shows are Monday and Tuesday at 9 pm….and from Wednesday thru Sunday, there are two shows…at 7 pm and 9 pm. ..Reserve at www.aquakeywest.com. Aqua is open from noon to 2 am nightly…. drink specials… full menu… lunch specials…. I recommend reserving a table…. call 305-294-0555. or go online to www.aquakeywest.com. Also at Aqua…. there is the Back Bar, the Side Bar , the Outdoor Poke Bar and Grill, and each has its own personality!!!!!

THE STUDIOS GATHERINGS AT HUGH'S VIEW….The Studios is sponsoring these GLOW eves. Cash bar available. Limited to 50 per visit. Hugh Ware, the View's namesake, was one of the dearest, most adorable persons we ever knew. For more info go to www.tskw.org. The GLOW Hours are 6-8 pm. FREE with advance registration. 533 Eaton St. MONDAYS AND TUESDAYS.

TAVERN N TOWN..MAY & 9.. Rob DiStasi entertains from 5-9 pm….MAY 16..Mike Emerson performs.

GUITAR CLASSES OFFERED BY MATEO….EVERY MONDAY…..This is a class for Beginners from 4 to 5 pm at Williams Hall at 729 Fleming St. To register go to http://www.williamshall.org. Classes are only $20.

MY BLOG ALSO AT CONCHTV…. You can also go to https://www.conchtv.com/author/lynda and get my blog anytime…. also the current birthday and anniversary lists…. and my picture too!!! And the Frechette Gazette from 2021!!!

KEY WEST ART & HISTORICAL SOCIETY AT CUSTOM HOUSE….See the major display commemorating the 200th anniversary of the first permanent settlement of Key West, 1822. 281 Front St…..Display will remain until Dec. 11, 2022.

801 CLUB…….Famous Drag Shows are at 801 Duval St… every night at 9 or 11 pm. Book Online….. www.801.bar or call 305-923-9296. The amazing and internationally known Sushi runs the show with amazing Drag Queens with names like Deja, Mulysa, Marilyn, Racquel, Kylie .

WATERFRONT PLAYHOUSE ANNOUNCES 2022-23 SEASON!!!! Tom Thayer announced next season's shows and it is another ambitious and exciting season indeed! You will have the chance to see "Rock of Ages"…"Jimmy Buffet's Escape to Margaritaville", "The Santaland Diaries", "An Inspector Calls", "Kinky Boots", "Trunk Material", "Three Tall Women", "Arsenic & Old Lace", and "Hedwig and the Angry Inch", "Charlotte's Web", and more. Wow! Get memberships at www.waterfrontplayhouse.org or call 305-294-5015. Book early for the best seats in the house.

CONGRATULATIONS TO WATERFRONT BOARD MEMBERS!!!!…Joining current Board Member, Chris Elwell, Wayne Smith, Bob Frechette, Amy Bondurant, Frank Menditch, Stuart Kaufman, Alison Teal, Mary Lynne Price, Tim Maloney, Kate Miano, Helen Walker, Lynda Frechette, Bill Regardie, and Maria Renna Sharpe…..will be NEW Board Members….. Brandon Jones……Stephanie Wise…..Ryan Runstadler…. Danielle Martin….. Michael Benner… and Anthony Scalara. We are also excited that Wayne Smith will share the presidency with Christopher Elwell this coming season.

THE TROPIC CINEMA AT 416 EATON ST…. IS OPEN FOR MEMBERS AND FANS. For info on movie schedules and house rules go to http://www.tropiccinema.com or call 305-396-4944. Go online to reserve your times.

THE BIRTHDAY AND ANNIVERSARY LISTS…….. Please let me know if you would like me to forward you these lists….. Simply send me a request and I will send you this month's complete Personality Description plus all those I know who are celebrating birthdays and anniversaries during this special time of year!!! Also, let me know if you want to be added to it .. You can also see it by going to https://www.conchtv.com/author/lynda… and then scroll down.

SUPPORT SOS………Many Monroe County residents are living below the poverty line. SOS (Star of the Sea) Kitchens have long been providing food for those in need. PLEASE Support SOS and other orgs such as Sister Season Fund with donations if you can. Go to…. https://cffk.org/non-profits/sister-season-fund-inc/

AWESOME FOUNDATION KEY WEST!!! .. The mission of the group is to bring more awesomeness to our town, and awarding $1,000 grants, with no strings attached, to the most awesome idea, project, proposal, or plan that is presented to the Group of Trustees, who each plop down from their own pockets the money to fund the Grant. Sounds totally AWESOME to me!!! Check it out online at www.awesomefoundationkeywest.org. Michael Shields is the coordinator of this group.

LASER PERIPHERAL IRIDOTOMY….. Has anyone out there had this eye procedure done? If so, please let me know and share your experiences with it. E-mail me at kwlynda@bellsouth.net. Thank you.

CONGRATULATIONS ON ROBIN KAPLAN AND HER MUSIC ROOM PRODUCTION…… On May 1, this annual production of Robin Kaplan's Music Room Students, presented a wonderful show at the Key West Theater. The audience, mostly composed of the proud parents and relatives of the students, enjoyed a most entertaining show. What a talented and dedicated group of young people we have….they did a stellar job! Congrats to Robin…plus big thanks to the pros Skipper Kripitz, Joe Dallas, and Rolando Rojas who accompanied these students…. their support year after year is heartfelt and sincere. And big thanks to Lauren Thompson and Belle Jampol, two of our most talented and gifted actors & vocalists in town, who went through this program in their youth, and were there to help direct this show, even joining in the entertaining! They are giving back to our Community with their big hearts and dedication.

BIRTHDAY/ANNIVERSARY LISTS….If you would like to be included in the Birthday and Anniversary Lists that I send out every month, please let me know your month and day by sending that info to me at kwlynda@bellsouth.net. There are special perks to being on the lists!!!! One of the perks is having your name in KONK Life on the day of your Birthday!!!

THOSE WE HAVE LOVED AND LOST RECENTLY….In the last few weeks, we have lost some very special persons in our life……They are….. SANDY ABOOKIRE….JIM GAVIN …..JEAN DOSTAL….LESLIE BOATWRIGHT….Please keep them and their families in your choicest thoughts and prayers.

PRAYER CHAIN…..Please continue to remember the following in your thoughts and prayers….. ……Please pray for….the family and friends of the late Sandy Abookire, Jean Dostal, Les Boatwright, and Jim Gavin. ….. Pray also for….. James Hollabaugh….. Tim Dunn ….John Behmke….. Tony Konrath…..Joe Tripp ……Michale Benner ….Russell Martin …… Carey Moore…. Jo Gerenger ….Genevieve Isaksen ……..Laura Hettinger. …..Andy Kellar .. …Louis Petrone ….David Buffam ….Lorann Wood ….. Paul Politte …….my nephew Fred Stevens and his wife Judi. ……..Pat West …. Michael Thomas ….The People of the Ukraine ……. Jim Hall ……Jackie McDonnell … Chuck Selph…. Larry Selph …Ann Marie Adreani ……. Tony Konrath…..Sandy Abookire …… ….Sharron Mondo….Len Stevens .. …..Mary Larkin …. …Robin Deck..…Ana Cobo…….Christy Nelson …Maryann Barth…..Dena Badgerow ….Bella Rettenwander …..Dawn de Boer …… Lou Ann Cymont … Cheryl Walchli … Terri White …John Padget ….Eric Nelson … ….Todd Reifschneider ……Pat Waller …Marta White ….… Peter Deksmith …Bill Lodermeir … …. Anne McKee …..Teresa Lawson …… Pamella C. Bocdow. …Dee Dee Duecker … Karla Muir…Tony Freese… Jennifer O'Lear …….Margaret Taylor ……Patrick Richards. Remember, there are many reasons that we pray…not just because people are ill…. I do believe that when we all send prayers and good vibes to those in need, those prayers mystically meet and surround those being prayed for. Sometimes we pray for miracles and the impossible….sometimes we pray to just cope with the results of what happens to those we are praying for. Sometimes we pray for strength to go on and to accept…sometimes we pray for thanksgiving. We are in this thing called 'Life' together….and we all have power within us to help our fellow man. Bless you for remembering our loved ones….Prayer changes things! Let me know if you know of anyone who should be added to this list.

BOB FRECHETTE=FABULOUS REALTOR IN TOWN!!!!…..Need a realtor in town? My husband BOB FRECHETTE IS YOUR MAN!!!! He has been with the marvelous Compass Realty ( NOW Keller-Williams Compass) for 20+ years …Give him a call at 305-304-2584! Email him at rfrechette@bellsouth.net. He is the BEST! I promise!!!! Honest, Loyal, Fair, and Adorable too!!! He will have only have YOUR best interests at heart.

A PUN or LEXOPHILE FOR YOU… Once upon a time, there was a King who was only 12 inches tall. He was a terrible King…. but he mad a great Ruler!!!
______________________________________________________________________________
TUESDAYS IN MAY….

HAPPY MAY 3 BIRTHDAY TO….TONI DAVIS…. CHAR CLEM …. JOHN BUZOGANY…..HAPPY ANNIVERSARY TO….. DONNA & KEVINGALLAGHER ….SIMON & MARIA ZITO-KAUFMAN….. SANDY & DEAN WALTERS….

HAPPY MAY 10 BIRTHDAY TO…..ALAN MELNICK…. VICKI GORDON…. DAN SKAHEN… LURANNA SNOW…JAN SCHMIDT… GLEE HIGGINS… KATHY ELIAS …. TOM LOWER …. LAURA CHANESKI….STEPHEN PERANTEAU…..

HAPPY MAY 17 BIRTHDAY TO….SUSAN WEEKLEY…. KENNY FRADLEY…. DONNA DEFORREST….. IRIE MONTE…. JOEL NARLOCK….. (Please remember Martin white.) HAPPY ANNIVERSARY TO…. RONALD & GEORGINE STADNIK.

HAPPY MAY 24 BIRTHDAY TO….CALEN DAVID TOMASZEWKI aka EPIPHANY…..RICHARD JAY-ALEXANDER…. DOMINIQUE DOMINGA ….FRAN CHMURA …. TERESA SORENSEN…. HAPPY ANNIVERSARY TO….. GAIL & CRAIG HOLLENBACK…..

HAPPY MAY 31 BIRTHDAY TO…..GEORGE COOPER…. ANN HAMPTON CALLAWAY….SALLY GRIES ….DREW FIRESTALL…QUEEN KELLY SUMMERS…. STANLEY MORRIS…..NANCY STEVENS…..(Please remember Caroline Cash…and …Erin English Beitko…and Kayla & Bob Tollen.)
______________________________________________________________________________

TAVERN N TOWN…….MAY 3, 10,17,24,31….It's Carmen Rodriguez along with James King, 5 to 9 pm….

MISS ISLAND QUEEN..BENEFIT FOR SAMUEL'S HOUSE….MAY 10…….This is a DRAG Extravaganza….Features pro drag coaches and amateur local celeb contestants… Door open for drinks at 5:30 pm….Show at KEY WEST THEATER, 512 EATON ST….at 6:30 pm….Get tix at 305-296-0240 ex: 118 or go online to www.samuelshouse.org. Hosted by Kirby & Britt Myers…..Features Sushi, Kylie, Q Mitch, Elle Taylor, Deja, Mulysa, Jessica, Bill Lay, Shep, Chris McNulty, Erin McKenna, Lance Berry, & Steve Crane. Special performance by CHRISTOPHER PETERSON.

INGHAM SHIP TOURS…..Open for Tours Tuesday thru Saturday, 10 am to 4 pm. $15 for adults and $5 for kiddies. Happy Hour is held from one hour before and one hour after sunset each Friday and Saturday weather permitting…$5. This grand ship is located at the Truman Waterfront Park! Thanks to Bill Verge for all his dedication to the Ingham!!!!!

FOR COMPLETE LIST OF GREAT CLASSES OFFERED BY THE STUDIOS, GO TO WWW.TSKW.ORG.

COMEDY KEY WEST……We are so lucky to have a great comedy club in Key West. Well known comedians are brought in from throughout the nation and they are hilarious. For ALL information on what is going on nearly every day at this super spot located at 218 Whitehead St…..Go to www.comedykeywest.comto get tix and see the monthly lineup…. Or call 305-985-7370.
Also…there are some fun special events and our local Comedians are fabulous and usually are the starting act for the headliner.

AT VIVA SALOON…. EVERY TUESDAY EVE, MAY 3,10,17,24,31……Coconut Koalas Duo …performs from 6 to 9 pm.

LOUIS PETRONE PODCAST EVERY TUESDAY………..On Hiatus presently until further notice…….Resident sage bon vivant, and raconteur, Louis Petrone, who knows a LOT about EVERYTHING…. will rant and rave, and expound on all the goings on in the world, under the sun!!!!!…and then some!!!! Always interesting…never dull! Go to: www.blogtalkradio.com/key-west-lou. Catch Lou's podcast every Tuesday!

THE GARDENS HOTEL EVERY TUESDAY….MAY 3,10,17,24,31…..It is John Hobbins at the piano and entertaining from 5 to 7 pm in the Atrium.

CHRISTOPHER PETERSON AT LATEDA…. See his FAMOUS EYECONS show at 9 pm in the Crystal Room at 1125 Duval St. on the following evening….MAY 3,6,10,12,13,14,17,19,20,21,24,26,27,28,31. Call 305-296-6706 or go to www.lateda.com for tickets.

RAMS HEAD SOUTHERNMOST….TUESDAYS….MAY 3,10,17,24,31……5 TO 8 PM….It is Zack Seemiller performing.

DENIS LEBEDEV AND KATE OPEN NEW RESTAURANT….. You MUST stop at La GRIGNOTE…at 1211 Duval St. ..The suave Denis, formerly a manager at Tavern n Town and his Lady Kate own this great spot!…. The menu is fab as are Denis and Kate……Scrumptious Breakfasts and Lunches…. Salads, Veggie dishes …Sandwiches to make your mouth water….7 am to 3 pm…closed on Monday. No reservations….

VIVA SALOON ANNOUNCES BRUNCH!!!!…. This great place for dining, drinks and entertainment, is now offering a daily Brunch from 10 am to 3 pm….903 Duval St. Alfredo Gimenez knows how to run a fabulous place, and makes everyone feel at home.

THE KEY WEST GARDEN CLUB AT HIGGS BEACH OPEN…… 9:30-5 pm on Sat…..daily. Free admission….1100 Atlantic Blvd.

STRING MUSICIANS SOUGHT…. The KW Community String Orchestra is seeking those who play violin, cello, viola, etc. at all levels of experience. For info contact Lynn-Marie at lynnmariekw@gmail.com.

THE STUDIOS IS OFFERING….The Studios offers an open air happy hour experience in the newly opened Hugh's View….Reservations are a must for this sunset event, which will offer a cash bar. For info go to https://www.tskw.org and click on the Glow Hours Link. New time is 6 to 8:00 PM.
______________________________________________________________________________
WEDNESDAYS IN MAY…

HAPPY MAY 4 BIRTHDAY TO….JANICE STETTNER…. TIM MALONEY….CINDY COBB…. KAY FULLEN….TIM SKOH…..PETER STRONG…. ANN SMITH …. TOMMY MACK…. (Please remember….Dennis Stevens…. Bill Mansfield…. Betty Shields…. Lee Dodez…Joy and Wally Peck.)

HAPPY MAY 11 BIRTHDAY TO….MICHAEL INGRAM…. LANCE HARVEY….JANE GILBERT…. LYNN SHERMAN …. NANCY MRAZ…. VICTOR PEREZ…. LEE APPLEBAUM….GEORGE DVORSKY…..TYLER LUCE…..DEBRA FALCIANI….HAPPY ANNIVERSARY TO….. DEBBIE ROTHSTEIN & TOM LAVENDER.

HAPPY MAY 18 BIRTHDAY TO….STEVE GURMIN…. JUSTIN AHEARN…..(Please remember Jim Spada.)…HAPPY ANNIVERSARY TO LYLE & C MILLER.

HAPPY MAY 25 BIRTHDAY TO…..HEATHER CARRUTHERS…. STEVE ANDREWS…..AMY ROHRBAUGH…..PAM WILLIAMS….TONY LAGLIA….(Please remember Ron Maranian.)……HAPPY ANNIVERSARY TO….JOE & NICKI SHAW….. HY CONRAD & JEFF JOHNSON …. MARY KAY & BOB O'MEARA…. SARA & WALLY CLARK.
________________________________________________________

TAP DANCING CLASS….WEDNESDAYS AT 10:30 AM TO 11:30 AM…..On Hiatus right now but should be resuming…..Email coffemilldance@aol.com or Call 305-296-9982 if you are interested in signing up…..Four students are needed to make this a GO!!!! This is a beginner & intermediate adult Tap class taught by JILLIAN TODD…at the Coffee Mill Studio at 804 White St. Jillian, starred as the Maid in CLUE & SOMETHING ROTTEN at the Waterfront Playhouse! She is adorable and talented and shines in every show she is in!

**"THE PICKPOCKET'S DAUGHTER" BY NEAL RUCHMAN STARTS MAY 18-21 & MAY 25-28 at The Studios…… 533 Eaton St….Limited seating….held in the Helmerich Theater…..Neal Ruchman wrote this fab play about young Matzy Moses who navigates corruption and gang warfare of the 1930's in NYC. Up against her are policemen on the take, Irish gangsters, and shady politicos… But with this resilient and unconventional heroine, you can expect the unexpected! This play is a first class thriller and also filled with lots of laughs!!!! Director is Murphy Davis…. and the Cast Members are…. Jessica Miano-Kruel, Don Bearden, David Black, Mary Falconer, Cody Borah, Jeremy Zoma, Phillip Cole White, Joy Hawkins, Mark Liebert, Cassidy Timms, and Sean Armstrong Verre, Get tix NOW at www.tskw.org or call 305-296-0458. My friend Neal wrote this play and when there was a reading of it a couple of years ago….. everyone RAVED about it! People have been waiting anxiously for the finished product and VOILA!!!! Here is your chance!!!!! Note that Neal based this play on his very own Mother's life as a young girl in NYC!

KEY WEST SONGWRITER'S FESTIVAL IS FROM MAY 4-8…..For all event info, schedules and ticketing visit.www.keywestsongwritersfestival.com. There will be performer entertaining free concerts at many venues all over town…there are venues that cost $$$ and there are swarms of amazing performers.

LITTLE ROOM JAZZ CLUB….WEDNESDAY AT 5:30……MAY 4,11,18,25…… KAREN HEINS AT THE PIANO……AT 8 PM, It's JOE DALLAS PRESENTS….. 821 Duval St. The PLACE TO BE!!!! FULL BAR… GREAT FOOD… Note that at this point, Little Room is closed on Mondays and Tuesdays.

VIVA SALOON…. EVERY WED. EVENING….MAY 4,11,18,25…..Carmen Rodriguez and James King perform from 6 to 9 pm.

LECTURE ON MAY 11…. Anthropologist, John Bratton discusses the Cuban Chug Conservation & Restoration Project at 5 pm…. at Key West Tropical Forest & Botanical Garden. Located on Stock Island on College Rd.

AT THE STUDIOS, MAY 11 & 12…. Old Town New Folk Concert..features Don Flemons…. 8 pm at 533 Eaton St…..www.tskw.org for tix. Inside concert on May 11 and at Hugh's View, outside, on May 12.

RAMS HEAD SOUTHERNMOST…..EVERY WEDNESDAY.,,,MAY 4,11,18,25….KEITH FRANX FROM 5 TO 8 PM.

TAVERN N TOWN …MAY 4, 11,18,25…….Mike Emerson performs…5 TO 9 PM.

COMEDY CLUB OFFERS LOCAL DISCOUNT….The Comedy Club Owners are offering Locals a HUGE discount off your tickets…ONLY to Locals. When you get your tix at checkout online enter your code LOCAL at www.comedykeywest.com to get your discount. Big thanks to Joe Madaus and Nathan Knight and all those running this super Club!!!!

DAVE BOOTLE AT MANGOES….WEDNESDAY THRU SATURDAY EVERY SINGLE WEEK…. Enjoy this marvelous entertainer… one of Key West's true GEMS….. and dance the night away… You are SURE to have the best time ever! 9 pm…till Midnight. ….DON'T MISS!!!!!!

THANKFUL ON WEDNESDAY…..I am grateful for many things and mostly for so many people who have touched our lives in special ways of late…..George Fernandez…Tom Greenwood…… Calen David Tomaszewski……Tom Thayer……..Joan Armbruster……Christopher Elwell……Marilyn & John Rintamaki …..Melissa Lang … Donna Yahares….. Martha Robinson…Michael Pelkey…. Maria Zito Kaufman …. John Padget……..Pam& Paul Vereb….. Bruce Moore …..Harrell Odom & Barry Cook… Ellen Baird Gordon …Kate Miano.. …..John Smyth…. Noreen Collins…….Christopher Peterson…..Kevin Melloncamp and Scott Mason…. Wayne Larue Smith ….Denis Hyland….Kenny Weschler…… . Stephanie Wise…..Robin Kaplan…..Lauren Thompson….Belle Jampol….Skipper….Joe Dallas…. Jackson Moore…. . ….Jessica Miano-Kruel ……Bunnie Smith……. Billy Cartledge……. Kate Regan & Ken Silverman …….. Amy Bondurant & David Dunn…. Stuart & Sue Kaufman …….Jerry Downs…… Bill Melchior………The Waterfront Playhouse . ….Maribell & Johnny Maschal….Cristina Gospodinov…. Jana Krejcirova…..Perry Arnold…. Jerry Galeana….. .Rebecca Tomlinson……Donna & Kevin Gallagher………..and MOST OF ALL…. THANKS FOR MY VERY DEAR HUSBAND BOB…. ALWAYS BOB…. !!!!

AT THE GARDENS HOTEL….EVERY WEDNESDAY…….MAY 4,11,18,25. It is Mary Spears entertaining from 5 to 7 pm.

JOIN THE FRIENDS OF THE KW LIBRARY…Go to www.friendsofthekeywestlibrary.org. Join or Renew for the Season. If you act now your membership will extend to Jan. 1, 2023.
______________________________________________________________________________
THURSDAYS IN MAY….
HAPPY MAY 5 BIRTHDAY TO….PATRICIA BOLLINGER…..STAN MILES…. TAYLOR DOEBLER… JANETTE STONE….RODNEY ROSS….CHRISTY BARLOW…. (Please remember….Florence Recher….Robby Whitney… Louise Harding….Dr. Paul and Rosalie Zito.)

HAPPY MAY 12 BIRTHDAY TO…JIM YOUNG….SUSANNE WOODS…. JOHN NUTTING….. JUAN PISANI…SHIRLEY BLOCK …GAGE GROETZ….BONNIE BOBIN …. STEVE HIATT….(Please remember….Joe Pizzo …. Dink Bruce….Polly Porter….. Chuck Gilmore.)

HAPPY MAY 19 BIRTHDAY TO….NOREEN COLLINS…. GERRI LOUISE GATES….VANESSA MCCAFFREY….MIKE BENNER ….SHIRLEY EZMIRLY ….JEAN FUCILLO ….SHIRREL RHOADES……LEN STEVENS …. FR. JERRY TURNER ….TINA PACE….JOE LYLES JR. …. DONALD PINGSTON…… (Please remember Carol A. Hines…and…Louise Harding.) HAPPY ANNIVERSARY TO….. NATE & CHRISTINE WASHBURN

HAPPY MAY 26 BIRTHDAY TO…..RALPH NACKINO….VINCE TAPOROWSKI….ROBBY LA BLANC….ALEXANDER BAER…. BERNARD MRAZ ….ALAN HORNING….DIANE COLVARD…. DISPANA PROTOPSALTIS….. HAPPY ANNIVERSARY TO…… RUTH REITER & DAN METZLER….SARAH DORRANCE & CHARLIE PAUL …..NANCY STILLWAGON & JON STEIN…..KATHY & TONY LAGLIA……BARBARA & GREG MCSHEA….DORIS ADDENBROOK & FRANK SODETZ.
_________________________________________________________

TRUMAN WATERFRONT FARMER'S MARKET… EVERY THURSDAY…2 to 7 PM….. at the end of Southard St…. Produce, beverages, music, seafood, apparel, cheeses, gifts, art, books, etc…. fun….

TAVERN N TOWN …MAY 5,12,19,26…Carmen Rodriguez and James King perform 5 to 9 pm…..in the Lounge!

LITTLE ROOM JAZZ CLUB….MAY 5, 12,29,26….. Skipper Kripitz and Company entertain at 8 pm till ?

AT THE STUDIOS..MAY EXHIBITS…MAY 5-26….FREE and open to all…. 533 Eaton St. 10 am to 4 pm.

RAMS HEAD SOUTHERNMOST….EVERY THURSDAY….5 to 8 pm, Ross Brown entertains.

AT THE GARDENS HOTEL EVERY THURSDAY…MAY 5, 12,19,26… From 5 to 7 pm, it is Mateo Jampol entertaining in the Atrium!!!!

AT KEY WEST THEATER, MAY 12…..8 pm, INDIGENOUS….. 412 Eaton St. Get tix at www.thekeywesttheater.com.

BEREAVEMENT MEETINGS EVERY THURS…….If you are working through the grief process of losing someone dear, there is help for you. Join this caring Support Group at 7:15 pm at the Klaus-Murphy Center at the Basilica of St. Mary Star of the Sea. You are not alone…. God bless Velma Christian for her special ministry.

GREAT NEWS! TERI JOHNSTON WILL BE RUNNING FOR MAYOR AGAIN!!! … To help contribute to Teri's Re election, please send contributions to: TERI FOR MAYOR….P.O. BOX 5882, Key West, FL 33045. PLEASE INCLUDE A NOTE WITH YOUR HOME ADDRESS & OCCUPATION WITH YOUR CHECK. And don't forget to check in with the Monroe County Supervisor of Elections about your Voter Registration Status and Mail in voting at https://www.keyws-elections.org/ OR CALL 305-292-3416. YOUR support is vital to continue Mayor Johnston's strong, honest, leadership of KW!

RICK FUSCO PERFORMS AT VIVA SALOON.. . EVERY THURSDAY FROM 6 TO 9 PM….
______________________________________________________________________________
FRIDAYS IN MAY….
HAPPY MAY 6 BIRTHDAY TO….GUY ROSS….JODY GROSS….KRISTEN WINTERS…. DIMITRI …. LORI ZYCHOWSKI….(Please remember Jean Nowak.)

HAPPY MAY 13 BIRTHDAY TO….BILLY CARTLEDGE….MARK HAYDA …..JOHN NOLTE….ALAN TEITELBAUM….CARL CSOMBOK….CARRIE BABICH…. WILLIAM HANNIGAN ….ERIC SKYLAR HENCH….. HAPPY ANNIVERSARY TO…. DOLORES & BOB BOFF.

HAPPY MAY 20 BIRTHDAY TO…..DIANE BRADY RHOADES…. JOE McMURRAY ….TONY ROBERTS…. RON CHMURA ….MONICA DENK …. (Please remember Andy Ashmore…. Tom Ratcliffe…. Fr. John Weigand.) HAPPY ANNIVERSARY TO….. KELLY & MINGO CASTELLANOS….. AND SUE & MINOO BILLIMORIIA.

HAPPY MAY 27 BIRTHDAY TO….BOB HOULIHAN…… SALLY WERNICOFF….COLE STEVENS…..HAPPY ANNIVERSARY TO….. JAMES & KIM FISHER.
_________________________________________________________

JERRY DOWNS & FRIENDS AT AQUA SIDE BAR ON MAY 6,13,20,27…The fab Jerry Downs headlines a show with Al Romano & Bill Melchior & the Caraways…….6 to 8 pm…. located on Angela St. Drink specials are great!

HELP CLEAN UP KEY WEST…… IN MAY….all are invited to join the Friday Morning Cleanups from 8 to 9 am….Parking provided and all volunteers get a 24 hour bus pass in exchange for their their time. MAY 6…Meet at The Restaurant Store…cleaning Eaton & White Sts. MAY 13….Meet at Denny's to clean N. Roosevelt at Dredger's Key. MAY 20….Meet at lot across from Harpoon Harry's to clean Caroline & Margaret Sts. MAY 27….Meet at Duval Pocket Park, to clean Duval & South Sts.

TAVERN N TOWN…MAY 6,13, 20 ….. Mike Emerson is entertaining in the Lounge….. 5 to 7 pm.

FREE CONCERTS AT THE PERRY HOTEL….MAY 6..4-7 PM…..Nick Norman, Adam Wood, Nick Walker, Kostas, Ronnie Bowman, Dean Dillon, Scotty Emerick.. Rob Benton… MAY 13…. 7- 9 pm, it's Rob Benton. ….MAY 27….7 TO 9 PM…. The Porch Tour Kickoff with Nick Norman and Lewis Brice.

RAMS HEAD SOUTHERNMOST, EVERY FRIDAY…..Elle noon to 3 pm…..Big Daddy Rich, 5 to 8 pm.

KEY WEST AMPHITHEATER, MAY 6… Chris Young performs…. Ram's Head Production….. Contact www.thekeywesttheater.com.

LITTLE ROOM JAZZ CLUB….. 8 PM AT 821 Duval St. The best jazz in town…..Every Friday and Saturday will be different entertainers. Happy Hour at 5:30 pm.

THE GARDENS HOTEL EVERY FRIDAY…MAY 6,13,20,27…..In the Atrium…. From 5 to 7 pm, it's Gregory James vocal & piano….. 526 Angela St.

VIVA SALOON…EVERY FRIDAY AND SATURDAY…. Key West's FAVE Drummer Boy, SKIPPER KRIPTIZ will be entertaining with CHRISTINE CORDONE & LARRY SMITH…. Jazz Music every weekend. 903 Duval St…. 6:30 PM…..

THE WILLIAM WELCH LEGACY….This wonderful man and amazing artist is no longer with us, and he is missed more than words can say. However, his beloved sister, Sherrey Welch , is determined to keep Bill's art and legacy alive through the new website, at www.williamwelchcollection.com. Please forward this info to anyone who may be interested in Bill's work retrieved from Nantucket, Key West and France. Bill Welch was a true gentleman…. kind, caring and deeply talented…. he was loved and is missed deeply.

______________________________________________________________________________
SATURDAYS IN MAY…..
HAPPY MAY 7 BIRTHDAY TO….QUEEN GINGER KING….MICHAEL NAUGHTON……CHRISTIAN MONZON…PHILLIP LELLE….CHARLES BRADFORD ……MARYANN STANKY ….SR. JEANNE SNYDER ….DAN STAGER…..SKIP DREZNER…..

HAPPY MAY 14 BIRTHDAY TO…..ROSALIND BRACKENBURY….MELISSA INGRAM….CINDY LU KRISANDA….. SHAHEEM LARSON…..PETER MASCHAL …. (Please remember….. Alan Wimer…..and Dick Walsh.) HAPPY ANNIVERSARY TO…… GEORGE SANDERS & SHAWN CURRAN.

HAPPY MAY 21 BIRTHDAY TO….MARTA WHITE…..GENE KNUDSON …. MAJ JOHNSON…..BILL VERGE…. SETH HOLDEN….STEVE WARNER JR. ….JAVIER GARRIDO……(Please remember BILL WELCH.)

HAPPY MAY 28 BIRTHDAY TO….BONNIE PICEU…. JANE DAWKINS…. PAT KENNEDY…. TOM KELLER…. RONALD KLUG ….
______________________________________________________________________________\

TAVERN N TOWN……MAY 7,14,21,28…..it is Larry Smith from 5-9 pm..

HOUSEHOLD HAZARDOUS WASTE DROPOFF…. 8 AM TO NOON On MAY 7…..FREE Drop-off at Indigenous Park on White St.

KENTUCKY DERBY PARTY AT THE GARDENS HOTEL, MAY 7…..5:30 PM…..Best Hat Contest….Mint Juleps and Cocktails….$25 donation at the Door…. All proceeds benefit the Key West Mounted Police. 526 Angela St. Visit the Mad hatter for Hats, Bonnets and More….This shop will donate 10% of all sales to the cause.

AT THE PERRY HOTEL…MAY 7…..1-4 pm…Songwriter's Festival singers….Matt McGinn, Ryan Beaver, John Byron, Joey Hyde, Ben Johnson, Jessi Alexander.

THE GARDENS HOTEL…EVERY SATURDAY… MAY 7,14,21,28……From 5 to 7 pm, Bobby Green entertains in the Sun Room at The Gardens. Always FREE to attend…Great Wine Gallery!

LITTLE ROOM ON SATURDAYS AT 8 PM…. Always some great music and song at this HOT SPOT!!!!! 821 Duval St….. Thee spot to be every evening!

PRE-MOTHER'S DAY FASHION SHOW…MAY 7….Cornish Memorial AME Zion Church hosts this event at 5 to 8 pm….at Frederick Douglas Gym, 111 Olivia St. Tix are $20…includes dinner. Call …. 803-524-4689 for tix.

CONTRIBUTE TO GU DE BOER.. Sailing Race Around the World….The Golden Globe Race…. To prepare his racing yacht and himself to perform at the highest level necessary to win, he is raising money….. go to…. http://gofundme/41803ad3. Guy is the sole American to enter this Race. No American has ever won this race before.

RAMS HEAD SOUTHERNMOST, EVERY SATURDAY…MAY 7,14,21,28…..Dave Richards noon to 3 pm…..Raven Cooper, 5 to 8 pm.
______________________________________________________________________________
SUNDAYS IN MAY….
HAPPY MOTHERS DAY TO ALL MOTHERS, GRANDMOTHERS, AUNTS, NUNS, AND ALL MOTHER FIGURES IN YOUR LIFE!

HAPPY MAY 8 BIRTHDAY TO….DAVID SLOAN….VINCENT SCHILERO…. CARL MIDSON …. CHARLIE LINDBERG…. SEAN HAYES…JOE THORNTON…. BOB PROSSER…. (Please remember PAT MOORE, mother of Bruce, today. She passed away one year ago but her memory lingers on in our hearts.)

HAPPY MAY 15 BIRTHDAY TO….GAYLA MORGAN … MANDY MILES…..TROY ROHRBAUGH…. BOB GRIES….. JIM BORCHIK …. DENNIS DELUGA…. ELIZABETH GIOIA…. KRISTINE HUBBARD…. ANDY McLENDON……BRYCE CARMICHAEL… DAVID BERISH… MICHAEL CHASE…. (Please remember Ruth Cottrell and Frank Galeana.)

HAPPY MAY 22 BIRTHDAY TO…..DENA BADGEROW….. GEORGE GUGLEOTTI … JOANIE SULLIVAN … TERRY LUZIUS…. EVERETT HUDSON SMITH ….RICK MACK ….CAROL BURNS….LUKE WALLACE….HAPPY ANNIVERSARY TO….. DENA & BOB BADGEROW….JOYCE CHILTON & RUSTY HODGDON ….LAURIE & KEVIN McCHESNEY.

HAPPY MAY 29 BIRTHDAY TO….KAY BEHMKE….FRED COVAN….SUSAN DIMBATH….QUEEN ANNE O'SHEA …..DICK NORFORD….BILL BAHLKE…. NICKI SHAW….. (Please remember Nancy Holtkamp…AND…Hans & Joanie Dollhausen.)
______________________________________________________________________________

LITERARY WALKING TOURS…..EVERY SUNDAY…..10 am….. Tour explores info on famous KW authors and writers and their homes….. Only 6 per group….. Go online to find out more info.

AUDITIONS FOR "FROZEN" AT WATERFRONT PLAYHOUSE, MAY 15 AT 2 PM…. AT WATERFRONT PLAYHOUSE…..

"THE FIFTH COLUMN" MAY 8…AT WATERFRONT PLAYHOUSE…..MAY 8TH ONLY….This one night only PLAY READING by Ernest Hemingway will be held. This was Hemingway's sole full length play…..Directed by Mathias Maloff and cast includes, Susannah Wells, Ross Pipkin, Zachary Franchini and Mathias Maloff… Get tix at 305-294-5015…online at www.waterfrontplayhouse.org or at the door.

WATERFRONT PLAYHOUSE AUDITIONS FOR 'KINKY BOOTS' AND OTHER SHOWS….. MAY 29 AT 2 PM….. Call 305-294-5015 for more info. If you are not in town to audition send a video of a monologue or 'whatever'… to artistic director, Tom Thayer, at thayer.tom@yahoo.com. Thank you.

ANIMAL FARM OPEN ON MAY 8….Monroe County Sheriff's Animal Farm is open from 1 to 3 pm….5525 College Rd. You will be delightfully surprised to see all the various rescued animals at this Farm! FREE and open to the Public. (May be open also on May 22.)

OLD STONE CHURCH EVERY SUNDAY…. MAY 8….. Performing is singer-song writer, Adrienne Z!!! All Welcome to enjoy this Sunday Morning pleasure at 9:15 am to 11 am…. Share music, conversation thoughts and serenity! Every Sunday is a different and marvelous entertainer. Located at Eaton and Simonton Sts.

VIVA SALOON ON SUNDAYS…. MAY 8,15,22,29….It's the wonderful Marjorie Lee Mitchell… 6 to 9 pm.

LITTLE ROOM JAZZ CLUB….. EVERY SUNDAY…..8 PM TILL THE WEE HOURS…. MAY 8,15,22,29…..Larry Smith and a Company of fab musicians and singers Jam for your great pleasure!!!!! 821 Duval St…..Great way to begin or to cap off an evening. WE LOVE THE LITTLE ROOM!!!!!

RAMS HEAD SOUTHERNMOST, EVERY SUNDAY…MAY 8,15,22,29……Performing……Marjory Lee, Noon to 3 pm…. Rick Fusco, 5 to 8 pm.

TAVERN N TOWN ……MAY 8,15,22,29…….It's Rob DiStasi in the Lounge ,from 5 to 9 pm…..

MANGOES DRUNKEN DRAG BRUNCH….SUNDAYS….. Go to Mangoes Facebook Page or google to find out details, like dates, ticket cost, and times. Sounds like a fun way to spend a Sunday afternoon in Key West!!! This is not every week, so call Mangoes or go online to find out when, etc.

MATEO OFFERS GUITAR CLASSES…EVERY SUNDAY….This is at the Coffee Mill Studios at 804 White St…a Guitar Orchestra Class from 4 to 5 pm…..All levels welcome. To register email Mateo at jampolmateo1@gmail.com. Classes are only $20.

THE FRINGE THEATER IS LOOKING FOR A FEW GOOD HANDS…. The Fringe needs stage hands, run crew stage managers, and board members. If you are interested email your info and areas of interest and expertise to info@fringetheater.org. Some work is volunteer and some is paid. The Fringe can be flexible… you can work show by show.

CONGRATULATIONS TO THE FRINGE THEATER….. Rebecca Tomlinson, artistic director of the FRINGE has had a great season. We have enjoyed the new venue at the Armory, and look forward to seeing "A FABULOUS EVENING WITH LILIAN BAXTER" running June 1 thru 4 at Little Room Jazz Club. This is the final production for the Fringe this season. Get tix at 305-731-0581.

CHECK OUT THE WEBSITES OF THE VARIOUS CLUBS IN TOWN TO FIND OUT THEIR MUSIC SCHEDULES….. JUST GOOGLE OR CHECK OUT THE SCHEDULES PROVIDED BY THE KEY WEST CITIZEN AND OTHER PUBLICATIONS.

PLEASE SEND ME ANYTHING YOU NEED TO BE PROMOTED….. AND … I will do my best to include in future blogs!
_________________________________________________________

LOVE TO YOU, AND REMEMBER…..You can always pray for someone when you don't have the strength to help him/her in any other way.
Lynda
______________________________________________________________________________

PS…..AND HERE'S MORE INFORMATION:

THE IMPROMPTU CONCERTS… For more info go to www.keywestimpromptu.org.

FOSTER HOMES WANTED….Wesley House Family Services is seeking families in the community interested in providing a home to children in the foster care system. Classes begin Wed., June 12 at 99451 Overseas Hwy. in Key Largo.

WOMAN'S CLUB RESTAURANT & THEATER TOUR CARD BEING SOLD….$100…. and effective till Sept. 30…. Call Susan Mitchell at 740-274-9091 or go to the Woman's Club Facebook page.

TROPIC CINEMA SEEKS VOLUNTEERS…..For info call John at 305-295-9493 or go to www.tropiccinema.com. Training is provided. 'Payment' is free movie passes and popcorn for each shift worked.

KEY WEST TROPICAL FOREST & BOTANIC GARDEN SEEKS BOARD MEMBERS… This non profit is looking for interested Board Members….particularly that of Treasurer … term is two years…..If interested send a letter to Key West Botanical Garden 5210 College Rd., Key West, FL 33040. Or email audrinnakkw@gmail.com.

VOLUNTEERS NEEDED FOR REEF RELIEF….For info call 305-294-3100.

STAR OF THE SEA OUTREACH MISSION NEEDS VOLUNTEERS….To help with the food pantry on Stock Island….This mission serves hundreds of the community's needy operating Mon-Fri. Call Donna at 305-407-5967 for info.

SHAL SEEKS VOLUNTEERS…Southernmost Homeless Assistance League has begun serving an evening meal each day at the homeless shelter with food from the Soup Kitchen….Volunteers are needed to help. For info call John Miller at 502-876-5092.

TENNESSEE WILLIAMS EXHIBIT:…. .513 Truman Ave. This wonderful Museum is under the auspices of the Key West Art & Historical Society with founder, Dennis Beaver as its curator….Visitors and Locals are invited to tour this preserved and showcased collection of historic, archival objects that promote the importance of Williams's legacy and offers the largest collection of his memorabilia and artifacts available to the public. Open daily from 9:30 am to 4:30 pm…. Admission: Adults $7. … Children under 6 Free…. KWAHS Members: Free… For more info call 305-204-4527. Big Thanks to Dennis Beaver and Bert Whitt for their great efforts to make this Museum world class!

KW TROPICAL FOREST & BOTANIC GARDEN, NEEDS VOLUNTEERS….To volunteer please call 305-296-1504.

LA RUBIA KEY WEST….…OPEN…..Stephanie Hellstrom (THE Blonde!) is the owner of this delightful shop at 510 Fleming St….next to Assortment….You can purchase hand woven Panama hats, handcrafted wearable accessories, and organic chocolates from Ecuador…. along with handbags, scarves, bamboo wraps, jewelry and more. What a pleasure it is to have some unique and interesting new shops in Key West!!! Congrats to Stephanie. Call 296-6059 for more details!!!

AND WHILE YOU ARE THERE… MAKE SURE YOU STOP IN TO SEE THE GREAT MEN'S WEAR AT THE ASSORTMENT!!! Claude and Joe are nothing but Class!!!! And Will Dewey is a stellar and charming manager.

TAKE STOCK IN CHILDREN ORG. SEEKS VOLUNTEERS…..This marvelous, award winning scholarship program mentoring group is looking for giving souls to help mentor 50 some qualified students from lower income families ….They cannot be admitted unless a volunteer steps forward. It takes less than an hour each week. Call Chuck Licis, program coordinator at 305-394-7974 or e-mail him at chuck.licis@keysschools.com.

CUSTOM HOUSE & LIGHTHOUSE MUSEUMS ARE SEEKING VOLUNTEERS…If you have a few hours to offer as a docent, archives asst., exhibit builder, or event volunteer, please offer your services!
** THE TAURUS PERSONALITY….APRIL 21 THROUGH MAY 21….. **
People know they can trust a Taurus, for they are reliable, faithful, practical, and people to turn to in a crisis. They can be counted on! Although they are steadfast, they are also very resistant to the idea of change. It makes them feel nervous…as if everything is going to collapse around them! Taureans always take a long time to get used to any major alterations in their life, and they they can feel dislocated by change. As a result, they tend to slip into routines that quickly become ruts, as they would rather know what each day will bring, even though it is boring or tedious…than risk getting upset when their regular schedule is disturbed.
Taureans take things slow….preferring to do things in their own time and in their own way, and often turn a deaf ear to anyone who may try to persuade them otherwise. They have tremendous determination and will power but this can turn into that stubborn streak that Taureans are famous for. Nothing will change their mind; people can go blue in the face trying to reason with them, but they just won't listen!
Taureans do need their sense of self-worth and they associate their possessions as status symbols. The problem with this, is that they often become hemmed in by their possessions as they start to rule their lives. Letting go and simplifying is not an easy task for a Taurean!
The Taurus is the one least likely to lose their temper over trifles. They grit their teeth and give others the benefit of the doubt over and over again…until things go TOO far, and then they blow their top! This is a frightening experience for everyone around when this happens….so look out!
Family means the world to a Taurean and they devote lots of time to their nearest and dearest. They enjoy keeping up long standing traditions especially at the holidays. They are loyal, loving and steadfast, which endears them to anyone who likes to know that their affection won't be tossed away. They make adoring friends and they usually have a select circle of very close friends that they have know for a long time rather than a wide range of acquaintances. It takes a Taurean quite some time to get to know people properly and others have to earn a Taurean's trust…but once they've done that, the Taurean becomes the sort of pal who will stand by them through thick and thin. This love and affection sometimes turns into a tendency to be possessive however. The best signs for a Taurus are Cancer, Virgo, Scorpio, Capricorn and Pisces.
In careers, the Taurean loves to work and are good solid members of any team…they get the job done. They may not do it very quickly as others but they keep at it and don't cut corners. They are not interested in self-employment, but if they do decide to work for themselves they will try their hardest to make a go of it. They are attracted to work in finance, banking, and investments. Also, the beauty industry appeals to them as they are one of the best looking signs of the Zodiac, They make great models, masseurs, perfumiers. They love professions connected with nature, farming, gardening or floristry. Because many are blessed with lovely voices, they are drawn to the music industry and singing, particularly.
HAPPY BIRTHDAY TO OUR TAUREAN FRIENDS AND FAMILY MEMBERS!!!!
4/21…..Melissa Frechette Lang…..Penny Leto…Joe Madaus…..Marie 'Mouka' Novak …..Rob Mone …. Richard Duecker…Paul Nick …. (Please remember Ray Perdion….and …. Tom Lefkowski.)
4/22…..Patty Rodriguez….…Caroline Taylor…..Jack Agnew…… Phillip Decker ……Beth Ranson … …Jeff Chesson … Dave Snowball ….(Please remember Jacob Gelt Dekker ….Rosemary Frechette Stout …..Ted Watson… and Reggie Jenkins.)
4/23…..Tony Konrath….Stephen Kitsakos….Guy de Boer….Linda Jurin Cruz…Bill Lane…..Greg Collins ….(Please remember Sam Stevens and Nidia Borders.)
4/24…….Elena Devers…Elena Warner…Glenda Donovan…Janet Schmock …..(Please remember Margaret Clerico.)
4/25…..Gordon Mackey…Sarah Dorrance…Christopher Stryon…..Al Flott….. Richard Klitneck …..Tom Murtha…..Susan Winshall …Andrew Ambrose…. Jonathan Scott Traut….
4/26…..Megan Behmke…Marky Pierson…Jens Nielsen…..Kenne Tucker….Rosemary Enright…Camille Toler…Jeffrey Katz…Barbara Grob…Jack Hulligan…..Parker Elizabeth Farmer…(Please remember Jacqi Blatchford.)
4/27….Marcia Melody Lynne Faber..Bill Delgado…..Steve Hatch….Tom Brinkman…Maria Protopsaltis…
4/28…Alison Teal….Fran Decker…..Dick Weithas…Gail Leder…Greg Hazel…..Rick Bodner…..Curt Lemon ….Michael Hughes…..
4/29…..Queen Scott Fuhriman…Sarah Goodwin……Matt Hollis Hulsey… Diana Davis… Daniel Genica ….Adam Sweitzer…. Bill Noelting …. Jonathan Stein…..Sean Breaux….Henry Davis Peter ….
4/30….Denise Gant …..Serge Gerasse…Kathryn Lynn Price…Danny Carter….Christopher Crespo …. Debra Baum …..(Please remember Dick Walsh.)
5/1…..Queen Karen Frank-Noll …..Nancy Williams…Joe Regan…Chris Toler…Joe Guth ….. Donald Golightly …..Bob Bernreuter…..Patty Sickel….. Helen Edgington ….. John Morgan …Michael Cates… Tina Garrett… Susan Nanna …. (Please remember……Rob Halstead…..James B. Stocklas…and Rory O'Neil.)
5/2….George diBraud……Jan Gebhart….Arthur Crocker ….Clare Carruthers-Fitzsimmons……Robin Mitchell…Brian Corbett…Wilhelmina Lopez Martin …Basia Chaplin…..(Please remember Ric Pinckney.)
5/3…Toni Davis…Char Clem…John Buzogany…..
5/4…Timothy Maloney…..Janice Stettner…Tim Skoh…..Kay Fullen……Tommy Mack …..Eshika N. Pandey ….. Cindy Cobb ….Ann Smith…Peter Strong …(Please remember Dennis Stevens….also, Lee Dodez, Betty Shields and Bill Mansfield.)
5/5…..Taylor Doebler…Patricia Bollinger …Stan Miles…Janette Stone ….Rodney Ross…..Christy Barlow… Quinn Mullins…..(Please remember Robby Whitney today!)
5/6….Guy Ross…Kristen Winters….Jody Gross…Dimitri…Lorie Zychowski ….(Please remember Jean Nowak….)
5/7…..Ginger King…..Michael Naughton …..Skip Drezner…Christian Monzon…Philip Lelle…Maryann Stanky…Sr. Jeanne Snyder… Danny Stager…Charles Bradford…
5/8…..Carl Midson ….Joe Thornton…..David Sloan…..Charlie Lindberg….Sean Hayes…Bob Prosser… Vince Schilero …(Please remember Patricia Moore.)
5/9….Tony Staub…Ron Burd…. Michael Internicola….(Please remember Bill Haws… and James Delmar Marquardt.)
5/10…..Dan Skahen ….Jan Schmidt…Alan Melnick…Luranna Snow…..Glee Higgins….Vicki Gordon …..Laura Chaneski …Tom Lower… Stephen Peranteau….Kathy Elias….(Please remember David Kaufelt …. And Betsy Dietz.)
5/11…..Lynn Sherman…Michael Ingram …. Lance Harvey….Debra Faliciani …..Lee Applebaum ….Jane Gilbert…Nancy Mraz… George Dvorsky …Tyler Luce… Victor Perez… (Please remember Denis Kwiatkowski.)
5/12…..Juan Pisani……..Shirley Block…..John Nutting…..Jim Young….Susanne Woods….. Steve Hiatt….Bonnie Bobin … Gage Groetz…(Please remember Benjamin 'DINK' Bruce…..Joe Pizzo ….. Polly Porter and Chuck Gilmore.)
5/13……Billy Cartledge…..Carrie Babich…John Nolte…Alan Teitelbaum… Mark Hayda…Carl Csombok Eric Skyler Hench …. William Hannigan…..
5/14…..Melissa Evans Ingram …Rosalind Brackenbury….Cindy Lu Krisanda…… Peter Maschal ……Shaheem Larson… (Please remember Allan Wimer.)
5/15…..Gayla Morgan….Mandy Miles…..Troy Rohrbaugh….Bob Gries….Dennis Deluga…Kristine McNealey Hubbard ….…Andy McLendon… Jim Borchik …..Elizabeth Gioia…. Michael Chase….Bryce Carmichael… David Berish ….. (Please remember Ruth Cottrell.)
5/16… Benjamin 'Jessica Devereaux' Healy ….Deb Hudson …. Sandy Walters ….Carolyn Daly…..Bill Ryan Jr…. Nadine Swank….(Please remember Bob Ward …. Barbara Vernovage ….Jim Kosciewicz ….Marlene Hummel….Lynda Hambright…. and Marilyn Holderfield.)
5/17…..Susan Weekley…Irie Monte….Donna Deforrest ……Kenny Fradley….. Joel Narlock…….(Please remember Martin White.)
5/18…..Justin Ahearn …Steve Gurmin….
5/19…..Noreen Collins…..Gerri Louise Gates…Shirrel Rhoades….Vanessa McCaffrey…Mike Benner….. Jean Fucillo …Shirlee Ezmirly ….. Joseph Lyles, Jr. …..Fr. Jerry Turner …Don Pingston….Len Stevens …..Tina Pace… (Please remember Louise Harding … and Carol Sledz Hines…)
5/20…..Joe McMurray….Diane Brady-Rhoades….Monica Denk……Tony Roberts….Ron Chmura …. (Please remember Andy Ashmore and Tom Ratcliffe.)
5/21…..Maj Johnson…Seth Holden…Bill Verge…Marta White…. Javier Garrido ….. Eugene Knudson ….. Steve Warner Jr….….(Please remember the wonderful William Welch.)
HAPPY TAUREAN ANNIVERSARY TO…..
4/21…..James & Chloe Hodgdon Sandlin ….
4/22…..Kristen & Jim Ryan…..Marlene & Dean DeBrito…. (Please remember, Orchid & Earl Duncan!!!)
4/24…..Kat Klingerman & Jean Colton
4/26…..Katy & Mike Werner…Erika & Simon Butters……..Joan & Chuck Armbruster…..
4/28…Emmily Sue & Tyler Smith
4/29….. Kathy & Richard Elias …. Rodney Ross & Greg Charleston…
4/30…Jacqui & Monte Dillow..
5/1….. Please remember Lottie and Len Domski..
5/2…Dave & Maryann Brangaccio
5/3…..Donna & Kevin Gallagher……Dean & Sandra Walters….Maria Zito & Simon Kaufman. (Please remember Joy & Wally Peck.)
5/5….(Please remember Rosalie & Paul Zito…. And Louise & Joe Harding.)
5/11…..Tom Lavender & Debbie Rothstein
5/13….Dolores & Bob Boff
5/14…..George Sanders & Shawn Curran
5/15 ….. Take time to remember Jerry & Frank Galeana!!!!
5/16…..Melissa & Ed Tausche
5/17…Ron & Georgene Stadnik….
5/18…Lyle & C. Miller
5/19…. Nate & Christine Washburn….
5/20…..Kelly & Mingo Castellanos…Sue & Minoo Billimoria…..
If you are one of those stubbornly wonderful Taureans, and you read the personality and it pertains to you in any way, please let me know. Also, if you are receiving my blogs, but are not included in the Birthday/Anniversary Lists, and would like to be, please let me know by e-mailing your month & day of your birthday & anniversary to kwlynda@bellsouth.net. This whole thing is about community and reaching out to our friends near and far, who are celebrating their special days. You do not want to forget these special people who are too super to forget!!!!
Love to you…..Lynda