Key West Fishing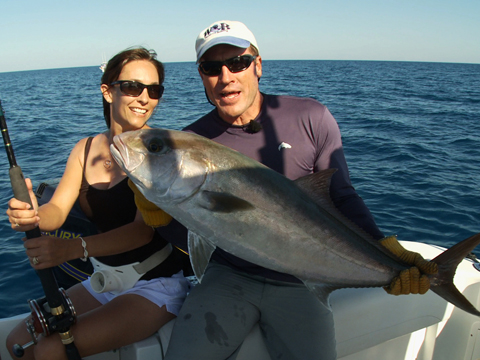 Fishing Charters,   Fishing Reports,  Flats & Backcountry,    Light Tackle,   Offshore,   Party Boats,    Services & Supplies,   Specialty,   Tournaments
Key West Fishing Guide
Key West is and absolute dream come true for any angler. Even if you are just beginning or are a seasoned pro, the waters surrounding the island of Key West are sure to give you a day of fishing that you will never, ever forget. There is fantastic fishing to be had anywhere in the waters off Key West. Key West has some of the worlds most experienced fishing captains that would really enjoy taking you out on their charter boat and showing you what true saltwater fishing is really about. There's even back country fishing for fly fishing enthusiasts! Fishing in the waters off Key West will have you reeling in tarpon, bonefish, permit, marlin, dolphin, redfish and many more exotic and beautiful trophies.
The waters off Key West is where fishing legends originated. Ernest Hemingway fished the Florida Straights located between Cuba and Key West for giant blue marlin. The legendary writer Zane Grey fished the in shore and back country Gulf waters of the Florida Keys for sailfish and giant tarpon. There are 225 species of game fish that inhabit the turquoise, clear waters of the Florida Keys and Key West.
For visitors, you can bring your own boat or charter one when you arrive. The most important thing for you to bring is your luck. The charter boats and guides will provide the rest. The seasoned and knowledgeable Key West deep sea fishing captains are here to take you and your family into the beautiful, warm, Gulf stream which lies just minutes away from any key west dock.
Similar to the other islands of the Florida Keys, there are several types of fishing found in the waters of Key West. Flats fishing, light tackle sport fishing and Offshore Deep Sea Fishing. Whichever your favorite, there is an abundance of guides and party boat charters to make your Key West fishing vacation a dream come true!
In addition to fishing, there are countless other adventures to be had on the waters surround Key West.
The diving off the reefs surrounding Key West is exceptional, especially the waters surround the Dry Tortugas. Here you can enjoy diving, snorkeling and snuba in the crystal clear, warm turquoise waters where the Gulf of Mexico and The Atlantic ocean meet.