Key West Hotels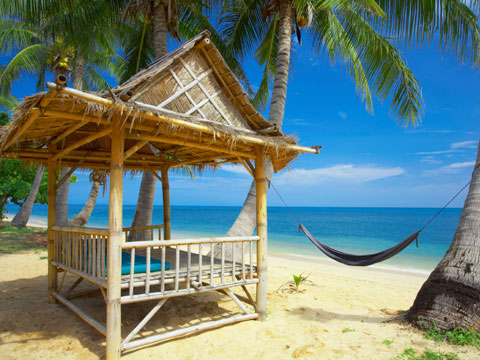 Bed & Breakfast, Camping, Gay & Lesbian, Guest Houses, Historic Inns, Hotels & Motels, Pet Friendly, Resorts & Spas, Vacation Rentals, Waterfront
Key West Hotel Guide
Key West is literally "the end of the road," and is the last in the chain of islands south of mainland Florida. As such, it reflects the charisma of Caribbean islands.
Because it attracts so many internationsl visitors from around the world, many national hotel/resort chains have beautiful properties on the island, providing every possible amenity. There are also many privately owned luxury resorts catering to the more affluent visitor.
But not all hotels are luxury. Although there is no such thing as "cheap hotels" in Key West, there are many guest houses, bed and breakfasts, inns, and quaint motels scattered throughout the tropical island, some on the beach, others on or near renowned Duval Street, the scene of Key West's raucous nightlife.
Taxi service or car rentals are easily available at the airport, and many of the larger resorts have guest limos to pick up registered patrons. Because the simplest mode of transportation is the bicycle, many hotels and motels have free bicycles on the premises for use by their guests.
For those who wish to arrive on their own boats, Key West and Stock Island dozens of marinas that provide dockage for private vessels, and many people prefer to live right aboard their yachts.
Home to events like Pridefest and Womenfest, festivals for gays and lesbians, Key West offers several guest houses restricted to them—some for men, some for women, and many others for either sex.
Private vacation rentals of homes are restricted to 28 days or more; there are rental agents and property managers in Key West to assist you with a private home rental for an extended stay. Just simply click on the type of accommodation you would require for information that will assist you find the perfect one for you. An excellant example of a private viall rental can be viewed by clicking on Casa Aqua and watching the beautiful video.
Be sure to also watch the travel video about the Key West Chamber of Commerce and the many other accommodations videos inside ConchTV for more tourist and vacation information! Also, print out the discount coupons associated with many videos. Plus, to make getting there easy, there are even driving maps as well.
Perhaps the most popular island in all of the Florida Keys is Key West and it hosts a diverse choice of visitor accommodations for vacationers to choose from. Situated just 90 miles from Havana, Cuba, and sporting a year round tropical climate, there are delighful resorts and spas, numerous hotels,  from small to grand as well as private inns, quaint guesthouses, charming bed and breakfasts and many private homes with guest cottages.
   The larger resorts and guest spas offer careful attention to detail that is world class. Many have been recently renovated and provide luxurious creature comforts with in-house spas that offer massage therapy, steam rooms, gyms, and so much more. Gorgeous swimming pools with swim up tiki bars and samdy beaches create a tropical experience that rivals the Caribbean. These world class hotels also provide wireless internet services, as well high definition cable TV with premium channels.
   Every Key West resort hotel features multiple dining facilities to select from, casual or elegant, fine dining continental to waterfront.
   The larger Key West properties also encourage corporate events and meetings. They provide support with in-house A-V equipment and fax machines and computers. Meeting planners are on hand to coordinate off property events. These include, Airport Meet & Greet, Catering & Local Dining, Eco Tours & Kayaking, Floral & Decor, Fishing & Tournaments – Deep Sea, Light Tackle, Flats & Fly Fishing, Music & Entertainment, Golf & Instruction & Tournaments, Local Color! – Female Impersonators & Mallory Square Sunset Performers, Photography & Videography Services, Key West Tours, Spouse Programs, Watersports, Parasailing, Jet Ski's and All Day Watersports Parties.
   Key West also boasts many national hotel or motel facilities that cater to the family traveler and also tourists that are on a buget. These venues feature the common amenities that one would expect to find at a national chain hotel plus many are situated just a few steps from downtown Key West's famous Duval Street. "Old Town" hosts attractions like The Hemingway House, Sloppy Joe's Bar, Jimmy Buffet's Margaretville, The Key West Aquarium, The Mel Fisher Maritime Museum, Cowboy Bill's Honky Tonk Saloon plus local theaters, exhibits and many, many other tropical attractions.More Key West Hotel Info
   Key West charming guest houses are very popular in Key West. Many are original antique style "Conch" houses that have been carefully restored and turned into wonderful guest accommodations. Full suites with modern kitchens and private rooms can be found at these guest houses. Some include private guest cottages and clothing optional outdoor Jacuzzi spas and pools for nudists. Other guests houses are marketed to the gay and lesbian community and these properties often host gay events and festivals.
   Key West welcomes it's vacation visitors with quaint inns and bed and breakfast accommodations. Here the local people open up their doors to share traditional local cooking and "Conch" style living.
   Key West private owned homes are available to rent on only a monthly basis, are set in amongst charming restaurants, bistros, bakeries and fabulous coffee shops. Many local restuarants feature Cuban cuisine as well as other diverse ethnic dishes. Key West restaurants cater to every taste in food, from fine dining to casual off the sidewalk restaurants. Many are open air and invite pet lovers as well as the free range local chickens and roosters that walk the streets and lanes of Key West. Check out KeysTV and its' Key West Restaurant Guide for more information.
   Key West's world renowned nightlife begins at the world famous Sunset Celebration at Mallory Square. Quite a few larger hotels surround the beautiful waterfront sunset celebration area and you will enjoy all of the sights and sounds right from your balcony or private terrace. Here charter sailboat cruises takeKey West tourists on sunset sails with complimentary adult drinks and delicious food. Back on land, Key West street performers of all ages entertain the growing nightly Key West crowds with feats of juggling, fire eating, tight rope walking, and unique magic and animal acts.
  When the sun goes down be sure to stroll along the tiny Key West streets and take in the exciting, legendary nightlife. bars with live music, restaurants, gift shops, fine jewelry, shopping, drag shows and people watching are just some of the attractions to see and do.
   And while you are staying in Key West, be sure to enjoy one of the many events and festivals that will surely be going on. Fantasy Fest, Conch Republic Days, The Parrot Head Convention, The Songwriters Festival, The Cuban American Festival, The Poetry and Literary Festival, The Key West Sailing Regatta, The Offshore Powerboat Races, Sculpture Key West,
The Hemingway Days, Womenfest, and many more.