Islamorada Fishing. Islamorada FL Fishing Vacations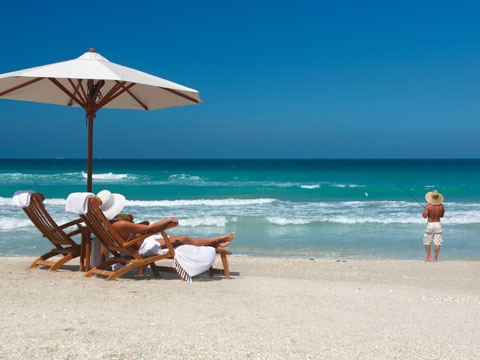 Fishing Charters,   Fishing Reports,  Flats & Backcountry,    Light Tackle,   Offshore,   Party Boats,    Services & Supplies,   Specialty,   Tournaments
Islamorada Fishing Information
Islamorada is often referred to as "The Fishing Capitol of the World." It's no surprise then that most Islamorada hotels here cater to the sport fishing enthusiast.
Islamorada has a wealth of accommodations to choose from. The majority of Islamorada hotels are positioned toward the more well healed travel sport fishing crowd who enjoy their days renting charter boats for fishing expeditions. One resort in particular is a favorite of a recent United States president who's hobby is fly fishing for bonefish such as tarpon, wahoo, barracuda and many other types of game fish. Annually, Islamorada is host to dozens of fishing tournaments and fishing related events. Most notably, Islamorada is home to the annual Redbone Fishing Tournament.
In addition to accommodation rentals, Islamorada hosts one of the largest fishing charter boat fleets in the world. And don't forget the numerous kayak, ecotours and jet ski rentals.
Many hotels are conveniently located near the multitude of fishing shops and bait and tackle shops that supply all the specific needs to seasoned anglers, sport fishermen and amateurs alike. Here, fishing visitors will find books about fishing, fishing equipment, fishing licenses, scuba diving equipment, snorkeling equipment, spear fishing, commercial fishing, fly fishing, electronics, off shore fishing, charters and guides, marinas and launching ramps.
For those wishing to enjoy simply looking at the fish, there is a fantastic attraction that is an educational and entertaining marine animal park where performances are up close and personal. You can swim with dolphins, sea lions, and stingrays in their natural salt water lagoons through interactive programs. The lagoons, and lush, tropical gardens at are home to Atlantic bottlenose dolphins, California sea lions, sea turtles, tropical and game fish, sharks, stingrays, alligators, marine invertebrates, colorful parrots, and birds-of-prey.
What could be better than to spend your days fishing in Islamorada and then have the restaurant chef cook up your catch that evening? Islamorada boasts many fine dining restaurants, some located right on the hotel's property. There are dozens of Islamorada bars and restaurants that offer spectacular sunset views and are just steps away from an Islamorada world class fishing resort.
Islamorada has many upscale vacation villa rentals that are also very popular with anglers. Several are located on their own private Florida Keys island and provide unsurpassed privacy and dockage for your boat.
In spite of Islamorada's reputation for being a playground for the upscale Florida fishing tourist there are still several hotels that cater to young couples and families. Many Islamorada hotels feature activities like parasailing, boat rentals, snorkel trips, in addition to charter boat fishing.
There are more Florida Keys art galleries in Islamorada than any other key in the Florida Keys other than Key West. Many galleries have aquatic and fishing related art work.
In Islamorada, you're either on the water, in the water or near the water.