Key West Attractions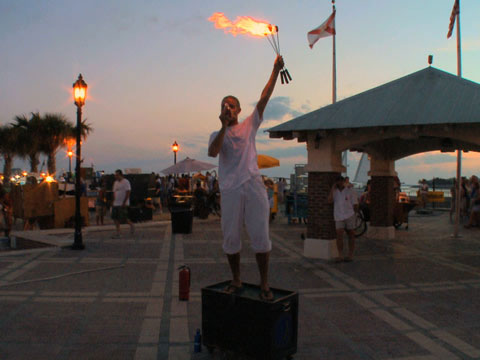 Air Sports,   Beaches & Parks,   Ecological,   Eco-Tours,   Festivals,   Museums,   Places of Interest,   Sightseeing Tours,   Theaters,   WaterSports
Key West Attractions and Things to do
 When you enjoy a stroll through historic Old Town you will see hundreds of examples of 19th century architecture. Take a sail only seven miles offshore and you and your family will experience North America's only living coral reef. If you choose to tour the homes of Hemingway and Harry S. Truman, you will be thrust back into time. Take part in the sunset party every night on a Mallory Square or aboard a sailingcruise on the Key West harbor's water. Don't forget to visit some of the most amazing museums in the United States, and they are right here in Key West. Also, experience Key West's heritage in dozens of art galleries, gifts shops, world class hotels and fine restaurants, all designed to suit every style and taste.
Just walking down any street, is a photographer's dream come true. Key West is visually rich in texture, unlike more modern travel destinations. Everywhere you look, you can imagine what you are seeing becoming a postcard from paradise. During the early morning hours as the sun is rising and during the evening hours when the sun is setting, you'll see what is called by photographers and film makers "the golden hours." During those times, everything is bathed in a rose like golden glow of sunlight. Some say it's quality most closely resembles that found only in the South of France.
According to the legend, if Key West sand gets into your shoes, you'll return again and again.
One of the many private beaches on the island, the Casa Marina, Flagler's grand hotel resort.
Free roaming chicken families are typically seen on most streets of Key West.
Float viewing during The Fantasy Fest parade is the culminating event of the week-long event. A popular location is the La Concha Hotel.
Sunset at Fort Zachary Taylor. Many visitors rent a bicycle and explore the history and architecture of Old Town Key West. Walking tours, including a tour of the unusual Key West Cemetery, are available. The Sunset Celebration at Mallory Square is a daily spectacle for visitors and residents. Boat excursions and tours provide a great way to view https://www.conchtv.com/key-west/key-west-chamber-of-commerce?rootcat=key-west&jcarStart=16from the water.
The Duval Street bar and restaurant district includes many different entertainment options, all within walking distance of each other including Cowboy Bill's. The Studios of Key West, founded in 2006 and based at the island's historic Armory building, was established as a new model for an artist community. It comprises a dozen working studio spaces, a main exhibition hall, sculpture garden, and several adjoining residencies and cottages. Its programming continues to grow, and includes an extensive series of creative workshops, free humanities lectures, cultural partnerships, and innovative ideas for artist and audience.
The Florida Keys Council of the Arts serves as the primary cultural umbrella for Monroe County, from Key Largo to Key West. A non-profit local arts agency, it makes grants, operates the Monroe County Art in Public Places program, sponsors seminars, and manages the on-line cultural calendar for the region. It also manages the County's Tourism Development Council arts marketing grants and serves as a leading advocate for cultural tourism in lower Florida.
The Tennessee Williams Theatre is a performing arts center, a civic center, and a community center. It is based at the Florida Keys Community College.
The Key West Literary Seminar, a celebration of writers and writing held each January, attracts an international audience to hear such writers as Ian McEwan, Margaret Atwood, Billy Collins, and Joyce Carol Oates.
The Key West Botanical Forest and Garden is an excellent, frost-free arboretum and botanical garden containing a number of "champion tree" specimens.
Nancy Forrester's Secret Garden is a one acre (4,000 m²) garden resembling a lush, predominantly green, rainforest. It is an exhibit of wild nature's artistry in a woodland garden.
The Key West Butterfly & Nature Conservatory features a 5,000 square foot (460 m²) glass-domed tropical butterfly habitat.
A permanent AIDS Memorial is at the White Street Pier.
The Mel Fisher Maritime Museum showcases gold, silver, and treasure recovered from shipwrecks around the world.
Some tourists mingle with the locals, shop, and dine at the Key West Historic Seaport at the Key West Bight.
The Key West Lighthouse and Keeper's Quarters Museum preserves the history of the Key West Lighthouse built in 1847.
Nobel Prize-winning author Ernest Hemingway's former home is now open to the public as a museum, populated by as many as sixty descendants of his famous polydactyl cats.
PrideFest is seven days of events, presented by the Gay and Lesbian Community Center of Key West the first week in June. The schedule includes the Pride Follies talent extravaganza; contests to select a Mr., Ms. and Miss PrideFest; parties, a tea dance; and the PrideFest Parade down Duval Street.
In 1979 the Key West Tourist Development Association, Inc. started Fantasy Fest to attract tourists at the traditionally slow time at Halloween, which is at the end of the hurricane season. Fantasy Fest regularly attracts approximately 80,000 people to the island, and has become a huge success.
In June 2006 the Key West Gay & Lesbian Museum & Archive opened at the Gay and Lesbian Community Center at 513 Truman St. Featured exhibits include a Tennessee Williams typewriter as well as an extensive collection of memorabilia and papers of Richard A. Heyman who was one of the first openly gay mayors before dying in 1994 of AIDS.