Key West Wedding Photos
Explore hundreds of wedding photos, locations, wedding dresses, cakes, flowers, hair, makeup, and much more!
Enjoy Abracadabra Production's unique style to visual storytelling as our wedding couples share their destination weddings. See wedding pictures, cinema-style filmmaking and personalized album stories to get a feel fo our style and technique.
Abracadabra Productions is the preferred wedding photographer at numerous Key West wedding locations and we've already scouted the most falttering stunning backdrops and sunset situations that each has to offer. Enjoy our photo gallery for Key West wedding photo inspiration that we've taken at actual weddings along with insider suggestions about the best spots for fantastic photos.
Gail Hollenback prefers to go beyond the typically posed portraits. She works hard to capture special, intimate moments throughout the event, resulting in some very memorable images. Her attitude, which translates to her images is " Weddings are fun, they are celebrations"! Gail loves to photograph details and behind-the-scene images as they help tell the story of the couple's special day. She also approaches her shooting projects with an unobtrusive style, preferring to capture the events as they happen, instead of stopping the action. As a world traveler, Gail understands diverse cultures and thanks you for considering her company Abracadabra Production's role in creating the Key West wedding photos of your dreams at affordable wedding photography prices.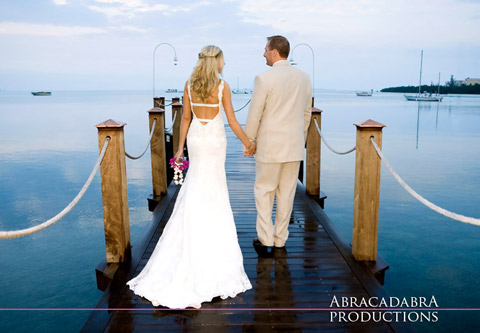 links to professional Key West wedding services