Key West Transportation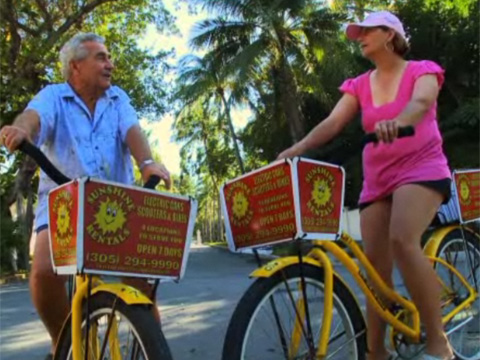 Metered parking spaces are available downtown for $2 an hour. At 300 Grinnell Street there is a Park and Ride garage. Parking is relatively cheap and you can ride a regularly operating city bus to your destination. In addition, there are dozens of privately owned parking lots around the area, and proices varry.
Key West also has several free parking spaces outside the main commercial area. But be cautious that about half of the spaces are marked in paint on the street "residential parking" and if your car doesn't have Monroe County plates or a residential parking sticker issued by the City, you will be fined.
Key West Taxi service is available throughout the town and private limo service is also easy to obtain.
About 25% of Key West's locals use bicycles to get around the city. The tropical island is small and flat.. Some guesthouses and hotels have bike rentals for their guests and bike rental shops are everywhere. Bike paths are becoming more plentiful, and where they are not available, you are allowed to ride on the sidewalk. Please, remember, pedestrians always have the right of way and bikers must follow all traffic laws as if they were driving a car. You will be ticketed for running a red light or stop sign, or for riding at night without a light on your bike or driving drunk!
And, of course, where there is a tropical island, there are mopeds and scooters, and Key West is no exception. Often times you will be able to rent them from the same shops that rent bicycles. But, please be careful. Ambulances respond to around 300 moped accidents each year and tourists are involved in about three-quarters of them; many of which are alcohol related. Most of the accidents are not serious, but some involve concussions, skull fractures, and brain hemorrhages. You must be at least eighteen years old and a licensed driver with a credit card in order to rent a moped or scooter. Helmets are available upon request.
Key West also has other ways to get around. Most notably is The Conch Tour Train and The Conch Trolly. In additon to hese, there are dozens of pedicabs that are eager to drive you to your destination. Plus, they're fun!
Airport Shuttles
Airporter The, Key Largo/Miami…..(305) 852-3413
Florida Keys Personal Driver, Key West…..(305) 304-5209
Island Transport Service…..(305) 745-7270
Keys Shuttle…..(305) 289-9997
Trident Services, 3491 S Roosevelt Blvd, Key West…..(305) 295-0095
Key West Bicycles
Adventure Scooter & Cycle Rentals,
   2900 N Roosevelt Blvd…..(305) 292-9933
Bicycle Center The, 523 Truman Av…..(305) 294-4556
Bike Shop The, 1110 Truman Av…..(305) 294-1073
Conch Bike Express, 3340 N Roosevelt Blvd…..(305) 294-4318
Island Bicycles and Skateboards, 929 Truman Av…..(305) 292-9707
Island Watersports, Hilton, 245 Front St…..(305) 296-1754
Moped Hospital, 601 Truman Av…..(305) 296-3344
Paradise Rentals, 105 Whitehead St…..(305) 293-1112
Sunshine Bike Rentals, 801 Eaton St…..(305) 295-0079TROPICAL BICYCLE RENTALS 1300 Duval St…..(305) 294-8136
Kid-trailers, tricycles, tandems, beach cruisers multi-speeds & motor scooters
Key West Car Rentals
Alamo, 2516 N Roosevelt…..(305) 294-6675
Avis, 3495 S Roosevelt Blvd…..(305) 296-8744
Dollar, Key West Int'l Airport…..(305) 296-9921
Conch Electric Cars of Keys West, 2826 N Roosevelt Blvd…..(305) 294-0995
Electric Cars of Key West, 500 Truman Av…..(305) 294-9990
Enterprise, 2834 Roosevelt Blvd…..(305) 292-0220
Hertz, 3491 S Roosevelt Blvd…..(305) 294-1039
Key West Cruiser, 500 Truman Av…..(305) 294-9990
National Car Rental, 2516 N Roosevelt Blvd…..(305) 296-8472
Southernmost Beach Buggies Inc  
   2801 N Roosevelt Blvd…..(305) 292-4868
Thrifty,
   5300 US Hwy 1…..(305) 292-5595
   Airport…..(305)283-0898
Ley West Limos
Atlantis Limo Service…..(305) 292-2901
Carr Limousine…..(305) 296-1911
Island Transportation…..(305) 745-7270
Look Limo Service, 3708 N Roosevelt Blvd…..393-3593
Paradise Limousine Service…..(305) 872-1665
Top Shelf Limo, Stock Island…..(305) 296-1911  
Key West Taxis
A AA Cab Co…..(305) 292-0000
Five 6's Cab, 6631 Maloney Av…..(305) 296-6666
Friendly Cab Co…..(305) 292-0000
 
Key West Busses
Bone Island Shuttle, 1805 Staples Av…..(305) 293-8710
Greyhound, 3535 S Roosevelt Blvd…..296-9072
Key West Ferry Services
Key West-Ft Meyers Ferry Service
Key West Ferry Inc…..(800) 273-4496
   Ft Meyers area, call……765-0808
Key West Shuttle…..(888) 539-2628
Key West – Marco Island Ferry Service
Key West Shuttle…..(888) 539-2628
   Ft Meyers/Marco Island area: (239) 394-9700
Key West-Miami Ferry Service
Fast Cats Ferry Service…..(786) 206-8583
Key West-Dry Tortugas/Ft Jefferson Ferry Service
Yankee Freedom II…..(305) 294-7009
Miami – Islamorada Ferry Service
Fast Cats Ferry Service…..(786) 206-8583