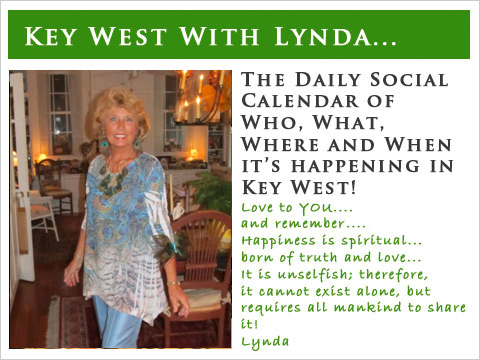 JUNE WILL SOON BE 'BUSTING OUT ALL OVER!'
Monday, May 30, 2022
MAY 30 THRU JUNE 30, 2022 …IN KEY WEST WITH LYNDA

Dear Readers…It is mind-boggling, but I am sad to say that, after 24 truly wonderful years, this is the last month that we will be residing in our home on Caroline St.  Years filled with countless memories, great events, dinners, holidays, benefits, celebrations, shared with so many marvelous friends and family members….many who are reading this right now.  I am trying to look at it all in a positive way, but in reality, leaving  this home, where we have lived longer than any other, is breaking my heart.  I have loved all the houses we have lived in and they have each been difficult to leave…but this one will be especially difficult.  Keep us in your thoughts and prayers as we pack up all my many collections and decide where everything is going next….not an easy thing to do when you are young let alone when you are a Dinosaur.  For those who know me, I have enormous collections of antiques…. I have been collecting things to do with Little Red Riding Hood for years…plus have acquired a vast Christmas Collection….bathing beauties and things to do with the sea…. and so much more….. Our home, circa 1874, lent itself well to all these artifacts and collectibles.  Now they will  all be divided up and heading to a charming Century home in Chippewa Lake, Ohio, near Rose Cottage (that we plan to restore)…and to a 4 story Townhouse at Seaside South Ct.  We have much to look forward to and be excited about, but nevertheless, it is still very difficult.  I feel that we are in Limbo right now….Getting through the move is a challenge….but your support 'behind the scenes' will help.  We do not close on anything until June 30.  Until then, you can still send mail to us at 330 Caroline St., Key West, FL 33040.  After that, the best address for us will be 62 Bungalow Bay Blvd., Chippewa Lake, Ohio 44215.  That is where we will be all summer and into the fall, I think.    We do not start restoring our 'new old home' at Chippewa until after July 20.  Thankfully, we will live at Rose Cottage while this work is being done.  Anyway….our life is certainly heading toward new horizons!  Stay tuned! L

______________________________________________________________________________
MONDAYS IN  MAY & JUNE…..

HAPPY MEMORIAL DAY TO ALL….REMEMBER ALL THOSE WHO GAVE THEIR LIVES SO THAT WE MAY BE FREE!

HAPPY MAY 30 BIRTHDAY TO…. JENNIFER McCOMB…. RENAY REGARDIE…. DAVID PERLMAN…. JEFF KUCIN ….SHANNON LYNCH ….KATHLEEN MOODY. (Please remember Mary Keller.)  …  HAPPY ANNIVERSARY TO ….. JOHN & JOANNE GAVIN-SMYTH.

HAPPY JUNE 6 BIRTHDAY TO…JOHN STASHENKO… JEAN THORNTON….. ANNETTE 'CHEFFY FOLEY….. ALAN SOLOMON…. BILL HELLER …. DAVID SCOTT MEIER…. MELISSA McELVANEY…. MARILYN GALLAGHER…(Please remember Norbert Leszcz.)  HAPPY ANNIVERSARY TO…. MARY JANE & LOU SYRONEY.

HAPPY JUNE 13 BIRTHDAY TO…..FRANK WOOD…. BRIA ANSARA …. DARREL 'DD SHARP' GODDARD….MARY KATY COTTRILL … DAVID BEAM … LENNY ROSIGNALLI….BRET PIPA…. JAMES DALAKAS…….HAPPY ANNIVERSARY TO…. PAM & PAUL VEREB…. NANCY & ED SWIFT.

HAPPY JUNE 20 BIRTHDAY TO…..JANE GARDNER….. MARILYN VANDER VEEN….CARL GILLEY …. BRIAN FURLONG…. JUSTIN FRECHETTE…. RENEE MACK ….HAPPY ANNIVERSARY TO…. ALESSANDRA & FRANCO PIACIBELLO….DENISE & TOM RYBICKI.  (Please remember Sandy Abookire & Ron Leonard.)

HAPPY JUNE 27 BIRTHDAY TO…..JON HERNANDEZ….BILL LODERMEIER….MONA SANTIAGO …. JOSEPH PASIK….JOHN WIST….DINA STEVENS …. DAVID ABOOKIRE….  (Please remember Emil LaVache.)….HAPPY ANNIVERSARY TO…. TOM & DEBBIE MACK….RICK & BERWYN HARTY….. (Please remember Virginia & Art Molzan.)
______________________________________________________________________________
LOTS OF GREAT  EVENTS HAPPENING IN KEY WEST!!!!  MARK YOUR CALENDARS!!!!
_________________________________________________________

THE WATERFRONT PLAYHOUSE UPCOMING PRODUCTIONS FOR 2022…. JUNE 3…ONE NIGHT ONLY……JOE POSA AS JOAN RIVERS….. Show time is 8 pm….. This hilarious show will be like a reincarnation of the real Joan…..  Get tix now at www.waterfrontplayhouse.org or call 305-294-5015.  Then on JUNE 10 & 11… will be FROZEN….. For the whole Family!  Do Not Miss!

AT BLUE HEAVEN…..MAY 30…..6:30 pm…. It is Skipper Kripitz with Belle Jampol and Nina Newton.

CLAIRE CAPLAN TRIO…. EVERY MONDAY, MAY 30 and  JUNE 6,13,20,27…. Claire Caplan is a marvelous singer and we are so glad she is back in Key West!!!!  Catch her at Andy's Cabana, across from Blue Heaven at 308 Petronia St…. Claire performs from 6:30-9:30 pm every Monday!!!  She is really terrific!!!!!  Make sure also that you catch her when she performs at LITTLE ROOM JAZZ CLUB!!!!!!   

****PLEASE DONATE TO WORLD CENTRAL KITCHEN…..This is a not-for-profit, non-governmental organization…founded by Chef Andres in 2010…which provides free meals in disaster areas.  Chef Andres is currently in Poland where he has set up kitchens to feed refugees fleeing Ukraine.  If you wish to donate please go to World Central Kitchen site www.wck.org  and click on donate.  Thank you for caring.  

NEW BOOK BY EMIL IMBRO…. Long-time friend, Emil Imbro, has written a most delightful Memoir entitled FATE GAVE ME TWO LIVES.  He is a tall, dark and handsome Sicilian, full of charm and optimism. He has led an interesting and exciting life, has encountered major obstacles, but is a survivor…. and has lived to tell the tale.  You can obtain this book by going to www.AMAZON. com.  Highly recommended.

NEW BOOK BY VAL MARMILLION…. The wonderful Val has written a Collection of Essays and the Title of the Book is YES!!  I am really enjoying his essays tremendously.  Printed by the Lisburn Press, you can  get a copy by going to Val's online FACEBOOK page and request a copy.  We sure do miss Val and Juan Pisani and the Peace Store in Key West!!!!

LATEDA…. LATEDA ….Performing in the Crystal Room at Lateda at 9 pm the entire month of June is the always fabulous CHRISTOPHER PETERSON and his famous EYECONS SHOW….  You will not see a finer show in Vegas, trust me!!!!  (RANDY ROBERTS LIVE! show is on hiatus the month of June.)..  1125 Duval St…..Downstairs in the Lounge most every eve of the week at 8:30 pm, are either the Fabulous Spectrelles….. or 3SUM…..both wonderful!  Every Sunday at 4 pm is the Lateda Tea Dance…great fun always!  CHRISTOPHER PETERSON 'S EYECONS SHOW will be every Tuesday, Thursday, Friday and Saturday in June.  The Spectrelles are on Tues. and Wed. and 3 SUM performs on Tues. thru Sunday in the Lounge.

THE GARDENS HOTEL EVERY MONDAY…MAY 30, JUNE 6,13,20,27 ….from 5 to 7 pm it's Mary Spear.  526 Angela St. (subject to change weekly)

RAM'S HEAD SOUTHERNMOST …MONDAYS…..5 to 8 pm, it's Tony Roberts entertaining.

KEY WEST THEATER JUNE 6….. The Original 80's Prom….8 pm….. 512 Eaton St.

AT VIVA SALOON ON MONDAYS…. JUNE 6,13,20,27…Robert Douglas entertains…. 6 to 9 pm….

AQUANETTES PERFORM …SHOWS EVERY SINGLE NIGHT.  Aqua Nightclub at 711 Duval St. is the place to see the most fabulous Drag Queens….including FAITH…INGA ….ELLE…JESSICA… BEATRIX…… MAYA…and NEW AQUANETTE, EPIPHANY (aka Calen Tomaszewski)!!!  All are sublime!  Shows are  Monday and Tuesday at 9 pm….and from Wednesday thru Sunday, there are two shows…at 7 pm and 9 pm.  ..Reserve at www.aquakeywest.com.  Aqua is open from noon to 2 am nightly…. drink specials… full menu… lunch specials….  I recommend reserving a table…. call 305-294-0555.  or go online to www.aquakeywest.com.    Also at Aqua…. there is the Back Bar, the Side Bar , the Outdoor Poke Bar and Grill, and each has its own personality!!!!!

THE STUDIOS GATHERINGS AT HUGH'S VIEW….The Studios is sponsoring these GLOW eves.    Cash bar available.  Limited to 50 per visit.   Hugh Ware, the View's namesake, was one of the dearest, most adorable persons we ever knew. For more info go to www.tskw.org.  The GLOW Hours are 6-8 pm.    FREE with advance registration.  533 Eaton St.  MONDAYS AND TUESDAYS.

TAVERN N TOWN..JUNE 6….Mike Emerson performs.  TAVERN N TOWN IS STARTING UP A 9 TO 11 PM HAPPY HOUR!!!  CHECK IT OUT!!!!

GUITAR CLASSES OFFERED BY MATEO….EVERY MONDAY…..This is a class for Beginners from 4 to 5 pm at Williams Hall at 729 Fleming St.  To register go to http://www.williamshall.org.  Classes are only $20.

LEARN BURLESQUE AT THE HOUSE OF TATAH DU JOUR….. Learn from the Queen of KW Burlesque……Tatah is offering Private Burlesque Classes …for Bachelorette & Birthday Parties….Classes in Burlesque 101 include: Basic Bumps and Grinds, and all that hot stuff!  For info call 305-169-2862 or email TatahDuJour@yahoo.com. Located at 521 Eaton St. Suite 215.  

MY BLOG ALSO AT CONCHTV….  You can also go  to https://www.conchtv.com/author/lynda and get my blog anytime…. also the current birthday and anniversary lists…. and my picture too!!!  And the Frechette Gazette from 2021!!!

KEY WEST ART & HISTORICAL SOCIETY AT CUSTOM HOUSE….See the major display commemorating the 200th anniversary of the first permanent settlement of Key West, 1822.  281 Front St…..Display will remain until Dec. 11, 2022.

801 CLUB…….Famous Drag Shows are at 801 Duval St… every night at 9 or 11 pm.  Book Online….. www.801.bar or call 305-923-9296.  The amazing and internationally known Sushi runs the show with amazing Drag Queens with names like Deja, Mulysa, Marilyn, Racquel, Kylie . 

WATERFRONT PLAYHOUSE ANNOUNCES 2022-23 SEASON!!!!  Tom Thayer announced next season's shows and it is another ambitious and exciting season indeed!   You will have the chance to see "Rock of Ages"…"Jimmy Buffet's Escape to Margaritaville", "Fully Committed", "An Inspector Calls", "Kinky Boots", "Trunk Material", "Three Tall Women", "Arsenic & Old Lace", and "Hedwig and the Angry Inch", "Charlotte's Web", and more.  Wow!  Get memberships at www.waterfrontplayhouse.org or call 305-294-5015.  Book early for the best seats in the house.
    
CONGRATULATIONS TO WATERFRONT BOARD MEMBERS!!!!…Joining current Board Member, Chris Elwell, Wayne Smith, Bob Frechette, Amy Bondurant, Frank Menditch, Stuart Kaufman, Alison Teal, Mary Lynne Price, Tim Maloney, Kate Miano, Helen Walker, Lynda Frechette, Bill Regardie,  and Maria Renna Sharpe…..will be NEW Board Members….. Brandon Jones……Stephanie Wise…..Ryan Runstadler…. Danielle Martin….. Michael Benner… and Anthony Scalara.  We are also excited that Wayne Smith will share the presidency with Christopher Elwell  this coming season.

CONGRATULATIONS TO THE WATERFRONT PLAYHOUSE ON A FABULOUS SEASON !  An already great season ended with A LIFE IN THE THEATRE, starring John McDonald and Mathias Maloff!  They did a magnificent job, and sad for you if you missed this very moving and beautifully acted and directed drama. 
Great job Tom Thayer…and Michael Boyer!!!!  Our long-time Waterfront Playhouse Stage manager, Trish Manley was recognized on closing night.  She is retiring and moving out of Key West to be closer to her family.  She was deeply loved, appreciated and will be sorely missed!!!  Godspeed Trish!

THE TROPIC CINEMA AT 416 EATON ST…. IS OPEN FOR MEMBERS AND FANS.    For info on movie schedules and house rules go to http://www.tropiccinema.com or call 305-396-4944. Go online to reserve your times. 

THE BIRTHDAY AND ANNIVERSARY LISTS…….. Please let me know if you would like me to forward you these lists….. Simply send me a request and I will send you this month's complete Personality Description plus all those I know who are celebrating birthdays and anniversaries during this special time of year!!!  Also, let me know if you want to be added to it .. You can also see it by going to https://www.conchtv.com/author/lynda… and then scroll down.

SUPPORT SOS………Many Monroe County residents are living below the poverty line.  SOS (Star of the Sea) Kitchens have long been providing food for those in need.   PLEASE Support SOS and other orgs such as Sister Season Fund with donations if you can.  Go to…. https://cffk.org/non-profits/sister-season-fund-inc

PRIDE FOLLIES REVIEW…..  I congratulate Queen Destiny Montgomery for putting on a fabulous Pride Follies to a Full House Crowd of Appreciative revelers!  What talent in this tiny town!  Amazing!   I am proud that many performing had starred  one or more years for the Waterfront Playhouse Aqua Idol  and they were sensational!!!!   They were Jon Hernandez and Vicki Rowden (the last two winners!!), plus Bria Ansara, Luke Fox, Bernadette Restivo,  Jim Speake, Joe Tripp, & Destiny,…..plus great comedy by Gwen Filosa, the fab Gerri Louise Gates who never fails to delight, and Kevin Assam (Who knew how funny he was?)…..Other wonderful performers were Mary Lynne Price, Drew Forestall, Abigail Houff, DJ & Jenna, the Barbershop Group, Christine Cordone & Larry Smith, Erin McKenna, Carlos Home, Nick Mazza, Heather-Mae Sloan(Hope I didn't miss anyone!).  Must also mention JT Thompson, who gave a stirring introductory talk which touched everyone's heart!  It was one of the best ever Pride Follies!

AWESOME FOUNDATION KEY WEST!!!  ..   The mission of the group is to bring more awesomeness to our town, and  awarding $1,000 grants, with no strings attached, to the most awesome idea, project, proposal, or plan that is presented to the Group of Trustees, who each plop down from their own pockets the money to fund the Grant.  Sounds totally AWESOME to me!!!  Check it out online at www.awesomefoundationkeywest.org.   Michael Shields is the coordinator of this group.

HAVE YOU HAD A LASER PERIPHERAL IRIDOTOMY?…. Has anyone out there had this eye procedure done?  If so, please let me know and share your experiences with me.  E-mail me at kwlynda@bellsouth.net.  If you have my phone you can also text or call me. Thank you.   I only heard from one person…anyone else hear of this or have had it done?  

BIRTHDAY/ANNIVERSARY LISTS….If you would like to be included in the Birthday and Anniversary Lists that I send out every month, please let me know your month and day by sending that info to me at kwlynda@bellsouth.net.  There are special perks to being on the lists!!!!  One of the perks is having your name in KONK Life on the day of your Birthday!!! 

PRAYER CHAIN…..Please continue to remember the following in your thoughts and prayers….. ……Please pray for….the family and friends of  the late Sandy Abookire, Jean Dostal, Les Boatwright, and Jim Gavin. ….. Pray also for…..Ann Whipple… Julia Davis….  James Hollabaugh….. Tim Dunn ….John Behmke….. Tony Konrath………Michale Benner ….Russell Martin …… Carey Moore…. Jo Gerenger   ….Genevieve Isaksen ……..Laura Hettinger. …..Andy Kellar .. …Louis Petrone ….David Buffam ….Lorann Wood  ….. Paul Politte …….my nephew Fred Stevens and his wife Judi. ……..Pat West …. Michael Thomas  ….The People of the Ukraine ……. Jim Hall ……Jackie McDonnell … Chuck Selph…. Larry Selph  …Ann Marie Adreani ……. Tony Konrath…..Sandy Abookire ….Me…… ….Sharron Mondo….Len Stevens .. …..Mary Larkin …. …Robin Deck..…Ana Cobo…….Christy Nelson …Maryann Barth…..Dena Badgerow ….Bella Rettenwander …..Dawn de Boer  …… Lou Ann Cymont … Cheryl Walchli … Terri White …John Padget  ….Eric Nelson … ….Todd Reifschneider  ……Pat Waller   …Marta White  ….… Peter Deksmith … …. Anne McKee …..Teresa Lawson …… Pamella C. Bocdow. …Dee Dee Duecker … Karla Muir…Tony Freese… Jennifer O'Lear …….Margaret Taylor ……Patrick Richards.   Remember, there are many reasons that we pray…not just because people are ill…. I do believe that when we all send prayers and good vibes to those in need, those prayers mystically meet and surround those being prayed for.  Sometimes we pray for miracles and the impossible….sometimes we pray to just cope with the results of what happens to those we are praying for.  Sometimes we pray for strength to go on and to accept…sometimes we pray for thanksgiving.  We are in this thing called 'Life' together….and we all have power within us to help our fellow man.  Bless you for remembering our loved ones….Prayer changes things!  Let me know if you know of anyone who should be added to this list. 
 
BOB FRECHETTE=FABULOUS REALTOR IN TOWN!!!!…..Need a realtor in town?  My husband BOB FRECHETTE IS YOUR MAN!!!!  He has been with the marvelous Compass Realty ( NOW Keller-Williams Compass) for 20+ years …Give him a call at 305-304-2584!  Email him at rfrechette@bellsouth.net.  He is the BEST! I promise!!!!  Honest, Loyal, Fair, and Adorable too!!!  He will have only have YOUR best interests at heart.   

A PUN or LEXOPHILE FOR YOU… Every morning I announce to my family that I'm going jogging, but then I don't.  It's a running joke.
 ______________________________________________________________________________
TUESDAYS IN JUNE….

HAPPY MAY 31 BIRTHDAY TO….GEORGE COOPER….. QUEEN KELLY SUMMERS….ANN HAMPTON CALLAWAY…..DREW FORESTALL ….STAN MORRIS …. NANCY STEVENS II…….(Please remember Caroline Cash…and…Erin English Beitko.)… HAPPY ANNIVERSARY TO….BOB & JUDY RAFANELLI.  (Please remember Kayla & Bob Tollen.)

HAPPY JUNE 7  BIRTHDAY TO….JIM RYAN ……SCOTT KIRBY … DEBRA DEAN…. MARGARET DOMANSKI…. BOBBIE PAVLIC…. DORIS ADDENBROOK…. CYNTHIA RHYNER WOOD…. (Please remember Jim and Nancy Nolan.) 

HAPPY JUNE 14 BIRTHDAY TO…..TOM CAWLEY… JEFF OVERBY …. MALATHI CHANRUGAR…. JOHN PERDION…. INGRID SLEDZ ….HAPPY ANNIVERSARY TO….. SHARON & LARRY ROHRBAUGH.  (Please remember Gladys and Bob Rybicki.)

HAPPY JUNE 21 BIRTHDAY TO….CRAIG HOLLENBACK…. CAROLINE STOVER-SICKMAN …. PETER DIAMOND ILAQUA …. STEVE ISEMAN …. JEFF BERN …. CHARLIE MULLIGAN….BOB WILLIAMS…..HAPPY ANNIVERSARY TO…. RITA LINDER & PERRY ARNOLD…..CONNIE & JEFF HURST….. (Please remember Franco Richmond and Jim Fisher.)

HAPPY JUNE 28…. BIRTHDAY TO….MARIA ZITO KAUFMAN…. LORI WALTERS…. KATHY HOOPER…. WAYNE HAMMOND…. MARILYN SEAMON … LOLA HELMAN ….KATIE ALBRIGHT…..HAPPY ANNIVERSARY TO….PETER & BOB SCHROCK.
______________________________________________________________________________

TAVERN N TOWN……MAY 31, JUNE 7,14,21,28….It's Carmen Rodriguez along with James King, 5 to 9 pm…. 

INGHAM SHIP TOURS…..Open for Tours Tuesday thru Saturday, 10 am to 4 pm.  $15 for adults and $5 for kiddies.  Happy Hour is held from one hour before and one hour after sunset each Friday and Saturday weather permitting…$5. This grand ship is located at the Truman Waterfront Park! Thanks to Bill Verge for all his dedication to the Ingham!!!!!  Contributions to keep the Ingham a afloat and thriving are requested   Send to www.USCGCINGHAM.ORG….These donations will help restore and save this National Historic Landmark and Treasure.  Also send them to BILL VERGE at PO Box 186, Key West, FL 33041.  

FOR COMPLETE LIST OF GREAT CLASSES OFFERED BY THE STUDIOS, GO TO WWW.TSKW.ORG.

COMEDY KEY WEST……We are so lucky to have a great Comedy Club in Key West.  Well known comedians are brought in from throughout the nation and they are hilarious.    For ALL information on what is going on nearly every day at this super spot located at 218 Whitehead St…..Go to www.comedykeywest.comto get tix and see the monthly lineup…. Or call 305-985-7370.
Also…there are some fun special events and our local Comedians are fabulous and usually are the starting act for the headliner.

AT VIVA SALOON…. EVERY TUESDAY EVE, JUNE 7,14,21,28……Coconut Koalas Duo …performs from 6 to 9 pm.

AT VIRGILIOS ON MAY 31….. 8 pm, it's Skipper Kripitz with Larry Smith & Christine Cordone.

AQUA IDOL FOR THE FKSPCA, EVERY TUESDAY …. 6 PM at Aqua Nightclub….Enjoy listening to 12 great contestants as they sing to raise dollars for a good cause, the FKSPCA!!!!  Ric Dery is the emcee….711 Duval St.

LOUIS PETRONE PODCAST EVERY TUESDAY………..On Hiatus presently until further notice…….Resident sage bon vivant, and raconteur, Louis Petrone, who knows a LOT about EVERYTHING…. will rant and rave, and expound on all the goings on in the world, under the sun!!!!!…and then some!!!!  Always interesting…never dull!  Go to:  www.blogtalkradio.com/key-west-lou.  Catch Lou's podcast every Tuesday!  

THE GARDENS HOTEL EVERY TUESDAY….JUNE 7,14,21,28…..It is Ellie entertaining from 5 to 7 pm in the Atrium.

RAMS HEAD SOUTHERNMOST….TUESDAYS….JUNE 7,14,21,28…..5 TO 8 PM….It is Zack Seemiller performing.

DENIS LEBEDEV AND KATE OPEN NEW RESTAURANT…..  You MUST stop at La GRIGNOTE…at 1211 Duval St. ..The suave Denis, formerly a manager at Tavern n Town and his Lady Kate own this great spot!…. The menu is fab as are Denis and Kate……Scrumptious Breakfasts and Lunches…. Salads, Veggie dishes …Sandwiches to make your mouth water….7 am to 3 pm…closed on Monday.   No reservations….

VIVA SALOON ANNOUNCES BRUNCH!!!!…. This great place for dining, drinks and entertainment, Also offers a daily Brunch from 10 am to 3 pm….903 Duval St.  Alfredo Gimenez knows how to run a fabulous place, and makes everyone feel at home.

THE KEY WEST GARDEN CLUB AT HIGGS BEACH OPEN…… 9:30-5 pm on Sat…..daily.  Free admission….1100 Atlantic Blvd.   

STRING MUSICIANS SOUGHT…. The KW Community String Orchestra is seeking those who play violin, cello, viola, etc. at all levels of experience.  For info contact Lynn-Marie at lynnmariekw@gmail.com. 

THE STUDIOS IS OFFERING….The Studios offers an open air happy hour experience in the newly opened Hugh's View….Reservations are a must for this sunset event, which will offer a cash bar.  For info go to https://www.tskw.org and click on the Glow Hours Link.  New time is 6 to 8:00 PM.
______________________________________________________________________________
WEDNESDAYS IN JUNE…

HAPPY JUNE 1 BIRTHDAY TO ….. ALAN ROBBINS….. WISH WASHBURN …. CHAD SCHMOCK….LORA WANDRAS…. (Please remember Mary Irene Warner.)  HAPPY ANNIVERSARY TO… EDIE HAMBRIGHT & JULIA DAVIS….. JUNE HUDSON & FRED GREENBERG.

HAPPY JUNE 8 BIRTHDAY TO….SUZANNE WASHBURN ….BETTY LIGHTCAP ….IRENE EYER…. GILDA NILES…. JODY HELMAN …. MIKE BOYKIN ….. JOHN ZADKOVICH …. HEIDI KHALIL…. AUGUST ARMBRUSTER…. (Please remember Linda Greenberg.)…..  HAPPY ANNIVERSARY TO…..MARYCARLIN & BILL PORTER.

HAPPY JUNE 15 BIRTHDAY TO….DAVID BLACK…..WAYNE LARUE SMITH ….. SHARMAN WILSON …. BETH ORAPEZA….. ROSS CLAIBORNE…. SUE CLAY MALONEY….. MARILYN LARKIN…. SALLY GRIES…. SANDY GROUDLE…. FRANK NIMESHEIM ….. HAPPY ANNIVERSARY TO…..MIMI & GARY McDONALD …. SALLY & BOB GRIES….. PAM & BOB WILLIAMS….. 

HAPPY JUNE 22 BIRTHDAY TO….SHARRON MONDO….CATHY SEMBERT…. MELANIE KELLER…. ALEXANDRIA TAYLOR FRECHETTE…..JACKIE SKRZYPCK …. CASEY WOJCIECHOWSKI…..(Please remember Robert R. Frechette and…. Trumpet Bob Wandras.)  …. HAPPY ANNIVERSARY TO….. JUDITH AND STANLEY ZABAR….. AL & BARBARA McCONAGHA….KRISTEN AND GARY GROETZ…..

HAPPY JUNE 29 BIRTHDAY TO…..NANCY FREUND….BRANDY CANALES….. KATHLEEN FITZSIMONS….TOM WALTERS…… (Please remember Marin Kay.)  HAPPY ANNIVERSARY TO….. WENDY & DAVID FRENCH.
__________________________________________________________________________

KUDOS TO PLAYWRIGHT NEAL RUCHMAN….Congratulations to my friend Neal Ruchman on his marvelous production of THE PICKPOCKET'S DAUGHTER, performed at The Studios…. This has been a labor of love for Neal for more than 5 years….  Based on Neal's mother's life…from stories she related to him, he wrote this play and it was presented for 8  nights only to enthusiastic audiences.   Not everyone makes his/her dream come true, but Neal did!  Bravo my Friend!  And Kudos  ALSO to the great cast and crew!!!!!

'A FABULOUS EVENING WITH LILLIAN BAXTER' ON JUNE 1 THRU JUNE 4.   This Fringe Theater Presentation will take place at The Little Room Jazz Club for 4 nights only.  John Vessels stars as Lillian…'who was almost big in the 60's…her voice taking her to places her looks could not.'  This show is a musical Pride Parade of show tunes, gay anthems and disco.  Jay Schwandt is at the piano.  You will have a most delightful time at this show.  Showtime is 7 pm…doors open at 6 pm…. 821 Duval St.  Get tix at www.fringetheater.org or call 305-731-0581.

KEY WEST THEATER, JUNE 1…..Toad the Wet Sprocket w/Better Strangers at 8 pm at 521 Eaton St.    
 
LITTLE ROOM JAZZ CLUB….WEDNESDAY AT 5:30-7:30……… KAREN HEINS AT THE PIANO……ON JUNE 1 AT 9 PM, IT'S THE PARADISE SWING BAND with some of the finest musicians from Paradise big Band!!!!!  …. 821 Duval St.  The PLACE TO BE!!!!  FULL BAR… GREAT FOOD… Note that at this point, Little Room is closed on Mondays and Tuesdays.

RAMS HEAD SOUTHERNMOST…..EVERY WEDNESDAY.,,….KEITH FRANX  FROM 5 TO 8 PM.

TAVERN N TOWN ……….JUNE 8,15,22,29….Rob DiStasi…. performs…5 TO 9 PM.                                                              

COMEDY CLUB OFFERS LOCAL DISCOUNT….The Comedy Club Owners are offering Locals a HUGE discount off your tickets…ONLY to Locals.  When you get your tix at checkout online enter your code LOCAL at www.comedykeywest.com to get your discount.  Big thanks to Joe Madaus and Nathan Knight and all those running  this super Club!!!!

DAVE BOOTLE AT MANGOES….WEDNESDAY THRU SATURDAY EVERY SINGLE WEEK…. Enjoy this marvelous entertainer… one of Key West's true GEMS….. and dance the night away… You are SURE to have the best time ever!  9 pm…till Midnight. ….DON'T MISS!!!!!!  Dave packs em in…and it always a party with Dave!!!!!   

KEY WEST THEATER ON JUNE 22….. Ladies Night Out 7 pm….In the Back Stage Listening room…..doors open at 6 pm.

THANKFUL ON WEDNESDAY…..I am grateful for many things and mostly for so many people who have touched my life in special ways of late….Brian Robinson and Brendan Hill……George Fernandez……..Tom Thayer……JT Thompson…..Destiny Montgomery…….Neal Ruchman….Melissa Jean McDaniel…. Ed Stevens…. …..Christopher Elwell.. ..Mike Benner…. Destiny Montgomery…..  Kristen Ryan ……Melissa Lang ….. Maria Zito Kaufman …..Rusty Hodgdon ….Nancy Williams…. Mary Ellen Lapp…. Joan Armbruster …. Matthew Sabol…Carolyn Scott …. Ruth Reiter….Gail Lima…. Kristin LoGerfo… Lisa Krosse…. Fran Chmura…. Bruce Moore ….Jennifer Stevens….Andy Kellar. … Ellen Baird Gordon …….Jim Hall…. Bunnie Smith….. Maj Johnson…… Stephanie Wise….Cindy Cobb… Fr. John Baker …. John Smyth ….Libby York…. John Cobley … Nancy Mraz….Mary Borrell…. Gayla Morgan …Jim Haymaker….. Clare Berry……Jessica Miano-Kruel …..Bobby Nesbitt …. .Patrick Hayes…Cassidy Timms…… Billy Cartledge …….Anne Stevens …… Kate Regan & Ken Silverman ….John McDonald …. Mathias Maloff …..Carol Mone…. .Donna & Kevin Gallagher………..and MOST OF ALL…. THANKS FOR MY VERY DEAR HUSBAND BOB…. ALWAYS BOB…. !!!!   

AT THE GARDENS HOTEL….EVERY WEDNESDAY…… It is Ellie…. entertaining from 5 to 7 pm.

JOIN THE FRIENDS OF THE KW LIBRARY…Go to www.friendsofthekeywestlibrary.org.  Join or Renew for the Season.  If you act now your membership will extend to Jan. 1, 2023.
______________________________________________________________________________
THURSDAYS IN JUNE….

HAPPY JUNE 2 BIRTHDAY TO…..BABS WADE… LENA PERKINS…. DAVID CASE… LEE ANN HOLLAND…CASSIDY TIMMS….WAYNE BRADY ….CAROLYN SCOTT …. LYNNE HIGGINS…. SEAN YODER…. LYNNE SMITH …. TOVA CORMAN ….HAPPY ANNIVERSARY TO…. MELISSA & KIMBALL INGRAM …. (Please remember Wink & Fred Gasser.)

HAPPY JUNE  9 BIRTHDAY TO….STEVE PANARIELLO….. SAIAN DASHANIMAER…. JENNIE WOLF….. WENDY VAN DER WHEN…..KEVIN KEMNER…..(Please remember Barbara Gilliam Carpenter…Sue Segersten…Gary Helman…and Alan Zambie.)……HAPPY ANNIVERSARY TO…… CLARE & BERT ANGERMANN ….. RICHARD & MITZI SMOLIK ….. SHIRLEY & FRANK PIKU…..

HAPPY JUNE 16 BIRTHDAY TO…DANIELLE MARTIN…..KEVIN McCHESNEY …..STEVE KRAMER….. DOUG MALENO ….. JUDY BRAMSON ….LOUISE HEMEL GANLEY ….. TINA SYDENSTRICKER …..HAPPY ANNIVERSARY TO…. KATHLEEN & DICK MOODY…..ARLENE & KEN MACHOR…..(Please remember Walter Lepperd….and James Mill.)

HAPPY JUNE 23 BIRTHDAY TO….ELLEN STEININGER…..ADAM HAYWARD…. LYN BENSON-KABAKOFF….HAPPY ANNIVERSARY TO….. GREG & COLLEEN NEEDHAM ….. LINDA & JOHN ALBERTY….. ANN & MIKE HUGHES…..

HAPPY JUNE 30  BIRTHDAY TO…..JIM HAYMAKER…..DENNIS HOWLEY…. MOOK J……PAUL KAHN …. GRACE OSBORN…. CARRIE HELLIESEN…. BARRY HITCH …. DENNIS PITASI …. GREG WENDZICKI…. KARILYN TISCHLER….. CYNTHIA FOSTER….. MICHAEL BERMAN …..(Please remember…. Mimi Dixon…. Ann Rupp…..King Timothy Brown…..
____________________________________________________________________________

TRUMAN WATERFRONT FARMER'S MARKET… EVERY THURSDAY…2 to 7 PM….. at the end of Southard St…. Produce, beverages, music, seafood, apparel, cheeses,  gifts, art, books, etc…. fun….

TAVERN N TOWN …JUNE  2,9,16,23,30…Carmen Rodriguez and James King perform 5 to 9 pm…..in the Lounge! 

LITTLE ROOM JAZZ CLUB……..THURSDAYS…… Skipper Kripitz and Company entertain at 9 pm till ?  On June 2, Skipper is with Tommy Tangie and Dad Celeb.

RAMS HEAD SOUTHERNMOST….EVERY THURSDAY….5 to 8 pm, Ross Brown entertains. Located on Whitehead St.

AT THE GARDENS HOTEL EVERY THURSDAY…JUNE 2,9,16,23,30.. From 5 to 7 pm, it is the Kenny albert Duo entertaining in the Atrium!!!! 

KEY WEST THEATER PRESENTES…. JUNE 23…. The Raw Drawers at 8 pm…… 

KEY LIME PIE FEST JUNE 30-JULY 4…..Starts at 6:30 pm at Curry Mansion with a cookbook signing and champagne reception featuring author dand fest co-founder, David Sloan.  511 Caroline St.  Go online to find a list of all the hilarious and delish events!!!!

BEREAVEMENT MEETINGS EVERY THURS…….If you are working through the grief process of losing someone dear, there is help for you.  Join this caring Support Group at 7:15 pm at the Klaus-Murphy Center at the Basilica of St. Mary Star of the Sea.  You are not alone….  God bless Velma Christian for her special ministry.

TERI JOHNSTON IS RUNNING FOR MAYOR AGAIN!!! … To help contribute to Teri's Re election, please send contributions to: TERI FOR MAYOR….P.O. BOX 5882, Key West, FL 33045.  PLEASE INCLUDE A NOTE WITH YOUR HOME ADDRESS & OCCUPATION WITH YOUR CHECK.  And don't forget to check in with the Monroe County Supervisor of Elections about your Voter Registration Status and Mail in voting at https://www.keyws-elections.org/  OR CALL 305-292-3416.  YOUR support is vital to continue Mayor Johnston's strong, honest, leadership of KW!

RICK FUSCO PERFORMS AT VIVA SALOON.. . EVERY THURSDAY FROM 6 TO 9 PM…. 
______________________________________________________________________________
FRIDAYS IN JUNE….
HAPPY JUNE 3 BIRTHDAY TO….MARIBELL MASCHAL ….QUEEN DIANE HILTON MAY …. AARON DUCLOS….JOHN JURKOWSKI…. ROBERT 'HELLINBED' MOCCIA…. AMANDA SIGLIN ….KRISTINA BRADLEY…..BRADY STEVENS…. (Please remember…. Basil Markow…and…Elizabeth Warner.)  HAPPY ANNIVERSARY TO…. SUE CAPANJOLA & LEE APPELBAUM.  

HAPPY JUNE 10 BIRTHDAY TO….ANN GUTH…..BECCA MORSE WHITTEN… ALEXANDRA ZETO….BOB MIANO …DON MICHAUD….GARY NOVAK….TAMMY SHEAFFER…. JILL CASSELL… JIA JIA SHEN VOGEL ….MARCIA DOMOGALSKI….JOHN ALBERTY….FRANK SODETZ….(Please remember…Ron Johns…. Francis Sczczepinski….Ric Pinckney.)  HAPPY ANNIVERSARY TO….BOBBY NEXBITT & MICHALE MULLIGAN ….CHRISTY & BYRON BARLOW

HAPPY JUNE 17 BIRTHDAY TO…..NORM MALTBY….LORI REID…. KING RYAN ACKER….BETH ROONEY ….AMY RAY ….BOB BOFF ….MELISSA PETRUSZKA …. (Please remember Dennis Charles Cooper.)….HAPPY ANNIVERSARY TO….. MARY LOU HOOVER & CHARLEI WAITE.  (Please remember Ruth & Al Uridel.)

HAPPY JUNE 24 BIRTHDAY TO….ROGER KOSTMAYER…. LARRY JOHNSON…. BOB WOLZ….MARY MARGARET SMITH….. LONNIE HENSLEY….ANDREA ROBINSON…..(Please remember Karen Schillero….and… Jim Cameron.)
____________________________________________________________________________

"FROZEN"…AT WATERFRONT PLAYHOUSE, JUNE 10 & 11 ONLY…..Get tix NOW at 305-294-5015….or go to www.waterfrontplayhouse.org.  See all the wonderfully talented Keys Kids perform this magical production!  On June 10, showtime is 7 pm.  On June 11, showtime is Matinee at 2 pm and evening at 7 pm.  

TAVERN N TOWN…JUNE 3, 10 ….. Mike Emerson is entertaining in the Lounge….. 5 to 7 pm.

RAMS HEAD SOUTHERNMOST, EVERY FRIDAY…..Elle noon to 3 pm…..Big Daddy Rich, 5 to 8 pm.

LITTLE ROOM JAZZ CLUB….. 5:30-7:30 PM HAPPY HOUR….8 PM AT 821 Duval St.  The best jazz in town…..Every Friday and Saturday will be different entertainers.  Happy Hour at 5:30 pm.
 
THE GARDENS HOTEL EVERY FRIDAY…….In the Atrium…. From 5 to 7 pm, it's Ellie entertaining…  526 Angela St. (could change weekly)
       
SALT GALLERY….. JUNE 10 OPENING,  6 TO 8 PM…Features magical artist Emma Starr…. Gallery is at 830 Fleming St.  For info call 305-517-6088.  

VIVA SALOON…EVERY SATURDAY…. Key West's FAVE Drummer Boy, SKIPPER KRIPTIZ will be entertaining with CHRISTINE CORDONE  & LARRY SMITH…. Jazz Music every weekend.  903 Duval St…. 7:00 PM…..

THE WILLIAM WELCH LEGACY….This wonderful man and amazing artist is no longer with us,  and he is missed more than words can say.  However, his beloved sister, Sherrey Welch , is determined to keep Bill's art and legacy alive through the new website, at www.williamwelchcollection.com.   Please forward this info to anyone who may be interested in Bill's work retrieved from Nantucket, Key West and France.  Bill Welch was a true gentleman…. kind, caring and deeply talented…. he was loved and is missed deeply.
______________________________________________________________________________
SATURDAYS IN JUNE

HAPPY JUNE 4 BIRTHDAY TO….BELLE JAMPOL….ED GUTFREUND….PETE HART…. LAUREN DOMSKI…. DENICE CARTWRIGHT…. (Please remember Rich Simone.)….HAPPY ANNIVERSARY TO GENEVIEVE & JOHN ISAKSEN.

HAPPY JUNE 11 BIRTHDAY TO…..MICHAEL LANSDELL….PAUL BERRES…. MATT McGRATH…. KATY WERNER….JEANNE ROGALSKI….(Please remember Bob Dixon.)…. HAPPY ANNIVERSARY TO….SUE FORTI & BOB HOULIHAN …. ERIN & CAROLINE STOVER-SICKMAN….BRENDA & RICK BODNER….THERESA &  SCOTT HOOVER.

HAPPY JUNE 18 BIRTHDAY TO….TERRY HOWERY….TOM KIRDAHY ….RITA BERKIN…. JOY BRENNER DAVIS….JUDY HELM…. KELLY STALLARD…. PHIL KHALIL….(Please remember Michael Domski.)…..HAPPY ANNIVERSARY TO…..VIRGINIA & DON ROBBINS…. DOUG & CARRIE HILLIESEN.    

HAPPY JUNE 25 BIRTHDAY TO… ELENA SPOTTSWOOD….DENIS HYLAND….. KRIS PABIAN….. MARGOT GORDON….. BOUNCE MARGIL …..ERIN MALLOY…. NICOLE STRONG…. ANNE TYLOR….. JOANNE SZCZECHOWSKI…..(Please remember Adeline & John Turner.)
______________________________________________________________________________

PRIDE STREET FAIR …JUNE 4….Takes place in the 600 to 900 blocks of Duval St.  10 am to 5 pm.   Many vendors with crafts, food, art, merchandise of all kinds and  LBGTQ info and Food Stalls.

DISCO STREET DANCE IS AFTER THE FAIR…..JUNE 4… in the 700 block of Duval.  Wear Rainbow outfits….Party favors, contests, prizes, happy hour prices, etc.  For more info go to www.gaykeywest.com/pride.  

TAVERN N TOWN……….JUNE 4, 11,18,25……..it is Larry Smith from 5-9 pm..

HOUSEHOLD HAZARDOUS WASTE DROPOFF…. 8 AM TO NOON On JUNE 4…..FREE Drop-off at Indigenous Park on White St.

THE GARDENS HOTEL…EVERY SATURDAY………From 5 to 7 pm, Bobby Green entertains in the Sun Room at The Gardens.  Always FREE to attend…Great Wine Gallery! 

LITTLE ROOM ON SATURDAYS AT 8 PM…. Always some great music and song at this HOT SPOT!!!!!  821 Duval St…..  Thee spot to be every evening!

VIVA ON SATURDAY…. Skipper Kripitz is joined by Peter Diamond and James King on June 4.  7 pm

TRUMAN TROPICAL FRUIT FEST AT LITTLE WHITE HOUSE ON JUNE 18…..9 AM to Noon…..at Little White House, 111 Front St.   Enjoy delish tropical fruits…vendors on premises….food and fruit beverages including cocktails available….fun activities for kiddies…. For more info go to…. www.trumanlittlewhitehouse.org/foundation/events or contact Brooke Atwell at Brooke.Atwell@historictours.com.

KEY WEST THEATER PRESENT…JUNE 18…. Jason Lamson at 8 pm…. 512 Eaton St.   ON JUNE 25, it's JAMES KIRBY AT 7  PM!!!! 

ONE NIGHT STAND AT THE STUDIOS…JUNE 25…..Calling for participants….A 24 Hour Theater PRoject…. 2 performances on June 25 at 7 & 9 pm only.  Seeking theater and fun loving people to participate that develops 4 brand new pieces of theater from start to finish in only 24 hours time.  All levels of ability needed…. Over 50 actors, directors, writers, artists, etc. make it all work.  No experience necessary.  Contact the Studios at www.tskw.org for more info.  If you just want to see the finished product, also contact The Studios!  www.tskw.org  

CONTRIBUTE TO GUY DE BOER.. Sailing Race Around the World….The Golden Globe Race…. To prepare  his racing yacht and himself to perform at the highest level necessary to win, he is raising money….. go to…. http://gofundme/41803ad3.  Guy is the sole American to enter this Race. No American has ever won this race before.

RAMS HEAD SOUTHERNMOST, EVERY SATURDAY…….Dave Richards noon to 3 pm…..Raven Cooper, 5 to 8 pm.
______________________________________________________________________________
SUNDAYS IN JUNE….

HAPPY JUNE 5 BIRTHDAY TO….NANCY 3 HOFFMAN….TREY FORSYTH…..MAXINE WHEELAN….. RICK HARTY…. BERYN HARTY ….TEDDY PHILPUT…. TONY SANTORA…. (Please remember Jean Olson…and…. Mike Stallard.)

HAPPY JUNE 12  BIRTHDAY TO….KELLIE NILES….KING SHANE HALL …. DEBORAH GRAY…. GREG BEAVER…. SUE CAPANJOLA…. JEANETTE RHYNER…. (Please remember … Eric Weinberger…. Angela Presti… Gail Leadbeter.)

HAPPY JUNE 19th FATHERS DAY TO ALL DADS, GRAMPAS, UNCLES, FRIENDS AND FATHER FIGURES!!!

HAPPY JUNE 19 BIRTHDAY TO…..KEITH DEMPSTER…..RICHARD QUINT….ANNE SHAVER…. MERYL BERMAN …. LORIE KJOS…. MARYANN REIFSCHNEIDER….. JAMISON GILLILARD…. CAROLYN JOHNSON….AUBREE SMITH…..HAPPY ANNIVERSARY TO….. BOUNCE & KAREN OOH-LA-LA GRANT MARGIL….LEN & HELEN STEVENS…… BILL & MARY KAY LEE COTTRILL.   

HAPPY JUNE 26 BIRTHDAY TO….BRUCE FOSTER…. CAROL FAUTH …. SOPHIE DEVOOGHT….DAVID EYER….. (Please remember Franko Richmond…and… Athena McKewan.) …… HAPPY ANNIVERSARY TO…..NEAL RUCHMAN & MELISSA JEAN McDANIEL…. AND… JIM & AIMEE TORRE..
______________________________________________________________________________
LITERARY WALKING TOURS…..EVERY SUNDAY…..10 am….. Tour explores info on famous KW authors and writers and their homes…..  Only 6 per group…..  Go online to find out more info.

ANNUAL PRIDE FEST PARADE ON JUNE 5…… 5 TO 7 PM…..Goes down Whitehead St….turns at Duval and then heads for the Tea Dance at Lateda!!!!

ANIMAL FARM OPEN ON JUNE 12 …Monroe County Sheriff's Animal Farm is open from 1 to 3 pm….5525 College Rd.  You will be delightfully surprised to see all the various rescued animals at this Farm!  FREE and open to the Public.  (May be open also on May 22.)

THE GARDENS HOTEL SUNDAYS…. Bobby Green entertains from 5 to 7 pm.  (Jazz on hiatus.)

OLD STONE CHURCH EVERY SUNDAY……..  All Welcome to enjoy this Sunday Morning pleasure at 9:15 am to 11 am…. Share music, conversation thoughts and serenity!  Every Sunday is a different and marvelous entertainer.  Located at Eaton and Simonton Sts.  

VIVA SALOON ON SUNDAYS…. ….It's the wonderful Marjorie Lee Mitchell… 6 to 9 pm.  

KEY WEST THEATER, ON JUNE 5…. Presents Kevin Flynn:Fear of Heights 7 pm…. doors open at 6.  Check website for tix.  512 Eaton St.

COFFEE BUTLER AMPHITHEATER ON JUNE 5TH…..Rebelution performs at 8 pm….. get tix at www.thekeywesttheater.com or thekeywestamp.com.  

LITTLE ROOM JAZZ CLUB….. EVERY SUNDAY…. ….5:30-7:30 PM is Larry Smith's Sunday Showcase…….At 9 pm, Larry Smith and a Company of fab musicians and singers Jam for your great pleasure!!!!!  821 Duval St…On June 4 Claire Caplan and Bob Boyd are performing along with Skippo!!!!!   ..Great way to begin or to cap off an evening.  WE LOVE THE LITTLE ROOM!!!!!

RAMS HEAD SOUTHERNMOST, EVERY SUNDAY…MAY 8,15,22,29……Performing……Marjory Lee, Noon to 3 pm…. Rick Fusco, 5 to 8 pm.     

TAVERN N TOWN …JUNE 5,12,19,26………It's Rob DiStasi in the Lounge ,from 5 to 9 pm…..

STOCK ISLAND FESTIVAL, JUNE 15-19…..Go to www.ILoveStockIsland.org to find out all the great events occurring during this event.  Many fun activities and events for the whole family.  Check it out!!!!!

MANGOES DRUNKEN DRAG BRUNCH….SUNDAYS….. Go to Mangoes Facebook Page or google to find out details, like dates, ticket cost, and times.  Sounds like a fun way to spend a Sunday afternoon in Key West!!!  This is not every week, so call Mangoes or go online to find out when, etc.

MATEO OFFERS GUITAR CLASSES…EVERY SUNDAY….This is at the Coffee Mill Studios at 804 White St…a Guitar Orchestra Class from 4 to 5 pm…..All levels welcome.  To register email Mateo at jampolmateo1@gmail.com.  Classes are only $20.         

THE FRINGE THEATER IS LOOKING FOR A FEW GOOD HANDS…. The Fringe needs stage hands, run crew stage managers, and board members.  If you are interested email your info and areas of interest and expertise to info@fringetheater.org.  Some work is volunteer and some is paid.  The Fringe can be flexible… you can work show by show.

CHECK OUT THE WEBSITES OF THE VARIOUS CLUBS IN TOWN TO FIND OUT THEIR MUSIC SCHEDULES….. JUST GOOGLE OR CHECK OUT THE SCHEDULES PROVIDED BY THE KEY WEST CITIZEN AND OTHER PUBLICATIONS. 

PLEASE SEND ME ANYTHING YOU NEED TO BE PROMOTED….. AND … I will do my best to include in future blogs!  

ONE MORE THING….. This is probably the last Blog I will be sending from my desk here at 330 Caroline St.  I say this with a heavy heart… but also with optimism that subsequent blogs will be sent to you from other special homes.  Have a great summer, stay in touch, stay healthy…..and thanks for your support always!
_____________________________________________________________________________
 
LOVE TO YOU, AND REMEMBER…..When just one single person says to me, 'You have made my day!'….That makes MY day!
Lynda
______________________________________________________________________________
 
PS…..AND HERE'S MORE INFORMATION:  

THE IMPROMPTU CONCERTS… For more info go to www.keywestimpromptu.org. 

FOSTER HOMES WANTED….Wesley House Family Services is seeking families in the community interested in providing a home to children in the foster care system.  Classes begin Wed., June 12 at 99451 Overseas Hwy. in Key Largo. 

WOMAN'S CLUB RESTAURANT & THEATER TOUR CARD BEING SOLD….$100…. and effective till Sept. 30…. Call Susan Mitchell at 740-274-9091 or go to the Woman's Club Facebook page.  

TROPIC CINEMA SEEKS VOLUNTEERS…..For info call John at 305-295-9493 or go to www.tropiccinema.com.  Training is provided.  'Payment' is free movie passes and popcorn for each shift worked.  

KEY WEST TROPICAL FOREST & BOTANIC GARDEN SEEKS BOARD MEMBERS…  This non profit is looking for interested Board Members….particularly that of Treasurer … term is two years…..If interested send a letter to Key West Botanical Garden 5210 College Rd., Key West, FL 33040.  Or email audrinnakkw@gmail.com.  

VOLUNTEERS NEEDED FOR REEF RELIEF….For info call 305-294-3100. 

STAR OF THE SEA OUTREACH MISSION NEEDS VOLUNTEERS….To help with the food pantry on Stock Island….This mission serves hundreds of the community's needy operating Mon-Fri.  Call Donna at 305-407-5967 for info.

SHAL SEEKS VOLUNTEERS…Southernmost Homeless Assistance League has begun serving an evening meal each day at the homeless shelter with food from the Soup Kitchen….Volunteers are needed to help.  For info call John Miller at 502-876-5092.

TENNESSEE WILLIAMS EXHIBIT:…. .513 Truman Ave.   This wonderful Museum is under the auspices of the Key West Art & Historical Society with founder, Dennis Beaver as its curator….Visitors and Locals are invited to tour this preserved and showcased collection of historic, archival objects that promote the importance of Williams's legacy and offers the largest collection of his memorabilia and artifacts available to the public.   Open daily from 9:30 am to 4:30 pm…. Admission: Adults $7. … Children under 6 Free…. KWAHS Members: Free… For more info call 305-204-4527. Big Thanks to Dennis Beaver and Bert Whitt for their great efforts to make this Museum world class!

KW TROPICAL FOREST & BOTANIC GARDEN, NEEDS VOLUNTEERS….To volunteer please call 305-296-1504.  

LA RUBIA KEY WEST….…OPEN…..Stephanie Hellstrom (THE Blonde!) is the owner of this  delightful shop at 510 Fleming St….next to Assortment….You can purchase hand woven Panama hats, handcrafted wearable accessories, and organic chocolates from Ecuador…. along with handbags, scarves, bamboo wraps, jewelry and more.  What a pleasure it is to have some unique and interesting new shops in Key West!!!  Congrats to Stephanie. Call 296-6059 for more details!!!   

AND WHILE YOU ARE THERE… MAKE SURE YOU STOP IN TO SEE THE GREAT MEN'S WEAR AT THE ASSORTMENT!!!  Claude and Joe are nothing but Class!!!!  

TAKE STOCK IN CHILDREN ORG. SEEKS VOLUNTEERS…..This marvelous, award winning scholarship program mentoring group is looking for giving souls to help mentor 50 some qualified students from lower income families ….They cannot be admitted unless a volunteer steps forward.  It takes less than an hour each week.  Call Chuck Licis, program coordinator at 305-394-7974 or e-mail him at chuck.licis@keysschools.com.

CUSTOM HOUSE & LIGHTHOUSE MUSEUMS ARE SEEKING VOLUNTEERS…If you have a few hours to offer as a docent, archives asst., exhibit builder, or event volunteer, please offer your services!