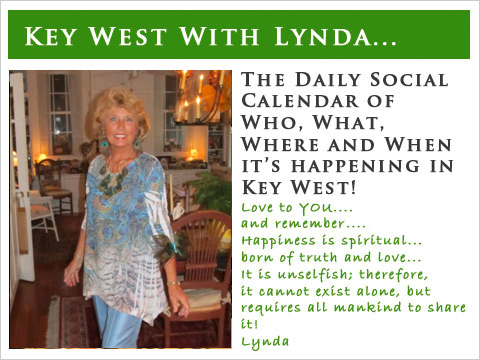 HAVE A BLESSED HOLIDAY SEASON!
Sunday, December 19, 2021
DEC. 20, 2021…. TO JAN. 9, ETC. 2022 …IN KEY WEST WITH LYNDA

SUNDAY, DEC. 19…HAPPY BIRTHDAY TO…. BARB HERZOG…BILLY HOLLOWELL….JORDAN FIFE-HUNT….

LIBBY YORK AT THE GARDENS TONIGHT…..DEC. 19…. Jazz sensation, Libby York and Co. will perform at the Gardens Hotel tonight, 5-7 pm…. The Place to be on a Sunday Eve in KW!!! 526 Angela St.
THE MUSIC ROOM PROGRAM, "A MUSICAL WINTER WONDERLAND….DEC. 19 directed by Robin Kaplan, will be at 4 pm at St. Paul's church 401 Duval St. FREE…performed by the young musicians and accompanied by Skipper Kripitz and Joe Dallas. Contributions are asked for the Wesley House Holiday Helpers Initiative and gifts are requested for children in need.
HOLIDAY SILENT AUCTION, ON DEC. 19….At Anchor' Aweigh Clubhouse…404 Virginia St…. Auction is from 10:30 am to 4:30 pm….jewelry, certificates, artwork, china, etc. for sale!
_________________________________________________________

DEAR READERS…It is a beautiful season filled with love and joy…but also, for those dealing with the loss of a loved one, it is a bittersweet time! May you and those you love, enjoy a peaceful and memorable Holiday Season…and may 2022 be a year of good health and healing for us all!
______________________________________________________________________________
MONDAY…..
HAPPY DEC. 20 BIRTHDAY TO…..RALPH DE PALMA….SEBASTIAN VISHTON… KEVIN DICKENSON… KRISTEN LIVENGOOD…BOB MOATS…SUE DAVIS…. HAPPY ANNIVERSARY TO … LOLA & JIM CORRIGAN.

HAPPY DEC. 27 BIRTHDAY TO…SKIPPER KRIPITZ….ROBIN DECK …RUTH CAHOON … RODGER STUART DAVIS…. HAPPY ANNIVERSARY TO NANCY & JAVIER LOPEZ….MARION & CHARLIE STRAUSS

HAPPY JAN. 4 BIRTHDAY TO…..KEITH LAPP…CHRIS HIGGINS … KIMBALL INGRAM … CLIFF SAWYER …PATRICIA NEYRA… CLARENCE GLADYSZEWSKI….
______________________________________________________________________________
MARK YOUR CALENDARS FOR THESE GREAT FUTURE EVENTS……

KEY WEST HAS A ZILLION THINGS HAPPENING… As you take in all the wonderful events happening during this festive season, bear in mind that the Pandemic is NOT over… the virus continues to spread…. so…I am just suggesting that you try extra hard to be vigilant. I am afraid we will be living with precautionary rules like masking, hand-washing, distancing, and awareness of where you are and whom you are with, etc. for a good long time. But we are Key West strong… and we will persevere and also manage to have a lot of fun while doing it!

THE WATERFRONT PLAYHOUSE UPCOMING PRODUCTIONS…….The Waterfront Playhouse Season is dedicated to the Memory of the late, wonderful and talented, DANNY WEATHERS, who was the Artistic Director there for 15 years. Tickets are now being sold for a Celebration Concert to honor DANNY…scroll down for info. Remaining shows for the 21-22 season are: ALL IS CALM….. (Dec. 8,9,10,11,15,16,17, 18,22,23,24,25) ….MATILDA the Musical… (Jan. 12,13,14,15,19,20,21,22,26,27,28,29)….. CLUE (comedy/mystery/…. Feb. 12,17,18,19,23, 24,25, 26, March 2, 3,4,5) SOMETHING ROTTEN (Musical…. March 22,23,24,25,26,29,30,31, April 1,2, 5,8,9,12, 13,14,15 16.) …A LIFE IN THE THEATRE… (May 4, 5, 6,,7,11,12,13,14, 18,19, 20,21).

MEMBERSHIPS ARE AVAILABLE…We hope that each of YOU will become a MEMBER of the Waterfront Playhouse. There are many levels of support and each one awards many perks and privileges. Please go to ….. www.waterfrontplayhouse.org to see the ways you can join and help our Playhouse thrive and continue to present quality theater to our Community. As you saw above, our season is fabulous!!!! Please be a part of our Waterfront Playhouse Family. We NEED your support more than ever…. I say this to you as a proud and devoted Board Member for some 13 years of the Waterfront Playhouse. If you have any questions please call the Box Office at 305-294-5015 and ask to speak to Tom Thayer, our Artistic Director. Note that the Waterfront is doing EVERYTHING possible to keep the Theater running, safe and well during this challenging time. Health protocols are being observed, and proof of vaccination or recent negative Covid test will get you in the theater. Because we love our Theater Community, we want the Show to go ON for YOU!!!!

CONGRATULATIONS TO THE WATERFRONT PLAYHOUSE….The Playhouse presented EVERY BRILLIANT THING, a one man show starring Arthur Crocker. It was beautifully presented, and a real tour de force for Arthur, who was truly brilliant in this production. His performance was mesmerizing. Also, now playing at the Waterfront, and continuing through Christmas Day, is ALL IS CALM. This is a poignant and wonderfully staged play with music, about an event that actually happened in 1914…when a cease fire took place between the troops. For 24 hours, weapons were set aside and these soldiers from all parts of the world shared, sang, dined and spoke together and celebrated Christmas peacefully. Congratulations to Nancy 3 Hoffman, the musical director who worked her special magic with the wonderful actors. The harmony of these male voices is unforgettable. Directed by Tom Thayer with set design by Michael Boyer..this is a DO NOT MISS! Get tix at www.waterfrontplayhouse.org or call 305-294-5015.

"ONE SINGULAR SENSATION!!" FEB. 27, 2022…CELEBRATION CONCERT FOR DANNY WEATHERS….Get Tickets NOW at www.keystix.com, or call the box office at 305-295-7676. Directed by Murphy Davis….Musical Direction by Jim Rice…. Produced by Hy Conrad and Jeff Johnson….Choreographer is Penny Leto….The fabulous Host is BOBBY NESBITT, who also wrote the show..!!!! Come one and all to celebrate the theatrical legacy of DANNY WEATHERS… a True Singular Sensation! This gala event stars Danny's treasured friends… David Black, Laurie Breakwell, Mary Falconer, Joy Hawkins, J.B. McLendon, Kristen Michelle, Bruce Moore, Marjorie Paul-Shook, Christopher Peterson, Randy Roberts, Carmen Rodriguez, Vicki Roush, Stephanie Sander, and of course Bobby! Tickets range from $10 to $100 each. Danny was one of a kind….he was deeply loved, greatly admired and is missed more than words can say. There will be a complimentary pre-show and interval wine bar, courtesy of Danny's beloved canines Rupert and Maude. Again….Tix can be obtained by going to www.keystix.com. This Concert will be a Benefit for the Florida Keys SPCA…The Animal Shelter.

THE RED BARN THEATRE…. ANNOUNCES 21-22 SEASON…. Thrilled that the Barn will be presenting four main-stage shows!!!! Also thrilled that the Red Barn is also dedicating their season to, as Joy Hawkins relates…"the memory of the oh-so-extraordinary and never to be forgotten, DANNY WEATHERS." We saw Danny perform in so many fantastic shows at The Red Barn through the years. The Red Barn Season kicks off Dec. 28, 2021-Jan. 29, 2022 with the engrossing CATS TALK BACK, in which actors who starred in CATS on Brdwy reminisce about their experiences on stage….this show will be presented outdoors, under the stars in the Zabar Courtyard. Feb. 15, 2022-March 12, it is the premier of author/actor Hy Conrad's play, QUARANTINE FOR TWO… Hy, creator of Monk and The Good Cop on TV, has taken the trials of the pandemic and turned them into a play that mixes hilarity, with intrigue, murder and a twist that will knock your sox off. March 22-April 16….Will be HURRICANE DIANA…. the new comedy by Pulitzer Prize finalist, Madeline George…The Greek god Dionysus returns to the modern world and where better to begin than with 4 Real Housewives from NJ?….April 29-May 1, 2022…..HOW TO EAT LIKE A CHILD & OTHER LESSONS IN NOT BEING GROWN UP…stars some of Key West's finest young actors. NOTE THAT ALL COVID PRECAUTIONS WILL BE TAKEN TO ASSURE YOUR SAFETY. Tix will be available soon by going to www.redbarntheatre.com or check their Facebook Page.

THE FRINGE THEATER SEASON….The Main Stage Season for the FRINGE is: DIVA! LIVE FROM HELL, Dec. 29-Jan. 15, 2022….HOW I LEARNED WHAT I LEARNED…by August Wilson…. Feb. 8-Feb. 12…….LOOPED, March 15-26…..TENNESSEE WILLIAMS SHORT STORIES, March 31……CONCH REPUBLIC THE MUSICAL…April 19-April 24…..MORE KEY WEST CHARACTERS, May 18-21, 2022. Tix will go on sale on November 15!!!!!! The Fringe is honoring CHARLIE ALLEN, dedicated board member of the Fringe Theater

TENNESSEE WILLIAMS THEATRE….Tickets are now on sale for multiple productions at Tennessee Williams Theatre. Go to www.keystix.com and get your tix now!!! Tix are being sold for…. Tina Turner Tribute show…. the B-Gees.. the Peking Acrobats….Choir of Man…. American In Paris the Musical….Neil Berg's Years of Rock & Roll…. The 10 Tenors….Key West Dance Collective…. South Fla Symphony …..Paradise Big Band… …Classical Music Concert….etc. Frank Wood always finds wonderful shows to present at The Tennessee Williams Theatre. If you are a want to be a Producer…..contact Carolyn Cooper. Call at 305-295-7676 or email the box office at boxoffice@keystix.com.

WE ARE ALL THRILLED THAT THEATER IS ALIVE AND THRIVING THIS SEASON!!!

LATEDA, DEC.20 &JAN 3…CHRISTOPHER PETERSON IN THE CRYSTAL ROOM AT 9 PM…..DEC. 27 …RANDY ROBERTS IN THE CRYSTAL ROOM AT 9 PM…

MOVIE AT CONGREGATION B'NAI ZION….DEC. 20….Movie title is 'SHOELACES'…FREE… 7:30 pm at 750 United St. About the complicated relationship between an aging father and his special-needs son whom he abandoned as a young boy. Doors open at 7:15…Masks required and you must show that you tested negative to a Covid test within 72 hrs. prior, or show your Full Covid Vax Card.

DAVE BOOTLE SEEKING AN APT… The charming and multi-talented Dave Bootle is looking for an apartment to rent. He needs a 1 bedroom, 1 bath, unfurnished place in Key West proper. If you know of, or have a place to rent to him, contact him directly at davebootle@gmail.com or call him at 305-587-9195. Dave is one of Key West's treasures….. hope there is someone out there who can help him out!!!! We stopped there the other night with friends, Stuart & Susan Kaufman, and how great it was to see so many familiar faces having a super time!

FABULOUS FLORAL SHOP IN TOWN!!!!! ….. Two wonderful friends, Dan Ward & Jim Argoudelis, opened a divine new Floral Shop, called DAN'S FLORAL & GIFT BASKETS……It is located at 605 Simonton St. It is open from 9 am to 5 pm…. Dan's work is unique and fabulous, like Dan!! The website is www.dansfloralkeywest.com. Shop will be open 9 to 5 pm, Monday thru Friday…. 9 am to 2 pm on Saturday…. Closed Sunday. Phone: 305-396-7007.

BOB'S SISTER PASSES FROM COVID…….In my last blog sent out before Thanksgiving, I talked about traveling to Williamsburg, VA to spend the holiday with our niece and her family. En route we spent an overnight in Savannah, GA and got to see Michal Zajicek, his wife Jolene and their three adorable daughters. Michal worked at Azur and Latitudes for years, and he was one of our fave waiters. He and his family moved to Savannah and we enjoyed a delightful visit with them in their lovely new home. Thanksgiving went wonderfully and were treated royally by Jennifer and husband Peter. On the way back to Key West we encountered terrible traffic problems and everything seemed to go wrong. Nothing prepared us for the news that we received when we were on the final leg of our journey back home. Bob, the second oldest of 5 children, and I got the news that Bob's youngest sister, Rosemary, was taken to the hospital not being able to breathe. Sadly, she had contracted Covid. This was 11/27. On the 28th, she was put on a ventilator in the ICU.. and she also was put on a Dialysis machine. Everything was failing. Sadly, she died on Dec. 3. I can only think that had she been vaccinated she would still be alive. She may have gotten ill, but the Vaccine would have probably kept her out of the hospital. We are devastated. Please keep us all in your thoughts and prayers. Thank you.

PLEASE…. I IMPLORE… ON BENDED KNEES…..FOR EVERYONE TO GET VACCINATED…..I know you are all tired of hearing this, but getting vaccinated is a matter of life and death. And now it is hitting so close to home….. it's frightening! By our getting vaccinated I am helping you and you are helping me! Let's be kind to one another during this season of love and joy. The sooner we are ALL vaccinated the sooner we can get back to a more normal life than we have been living. I SEE IT HAS OUR MAIN HOPE!!!! Also….please get your Booster shots!!!
PAINT & CHUG AT COMEDY KEY WEST ON …. DEC.20,27, JAN 3, 10,17,24,31…. ..This is a popular event…. 7 pm at 218 Whitehead St….Call 305-985-7370….Go to website at www.comedykeywest.com. Contact them about the great Local's Discount.

THE GARDENS HOTEL EVERY MONDAY… DEC.20,27, JAN. 3,10,17,24,31..from 5 to 7 pm it's the lovely Nina Newton at the piano. 526 Angela St.

SCHOONER WHARF…DEC. 20 & 27 … Raven Cooper at NOON to 5 pm…. at 6:30- 11 pm…. .Joe the Show…. Check the website for future shows…. entertainment daily!!!!

AT VIVA SALOON ON MONDAYS…..Robert Douglas entertains…. 6 to 9 pm….

AQUANETTES PERFORM …SHOWS EVERY SINGLE NIGHT. Aqua Nightclub at 711 Duval St. is the place to see the most fabulous Drag Queens….including FAITH…INGA ….ELLE…JESSICA… BEATRIX…… MAYA…and NEW AQUANETTE, EPIPHANY (aka Calen Tomaszewski)!!! All are sublime! Shows are at 7 and 9 pm on Thursday thru Saturday….Reserve at www.aquakeywest.com. Aqua open from noon to 2 am nightly…. drink specials… full menu… lunch specials…. Protocols enforced!!! On Monday, Tuesday, Wednesday and Sunday, there is only one show at 8 PM. I recommend reserving a table…. call 305-294-0555. or go online to www.aquakeywest.com. Also at Aqua…. there is the Back Bar, the Side Bar , the Outdoor Poke Bar and Grill, and each has its own personality!!!!!

THE STUDIOS GATHERINGS AT HUGH'S VIEW….The Studios is sponsoring these GLOW eves. Cash bar available. Limited to 30 per visit. Hugh Ware, the View's namesake, was one of the dearest, most adorable persons we ever knew. For more info go to www.tskw.org. The GLOW Hours are 6:30-8 pm. FREE with advance registration. 533 Eaton St.

TAVERN N TOWN… .DEC, 20 & 27… Mike Emerson…. entertains from 5-9 pm.

GINGERBREAD GALLERY…….This esteemed Gallery presents outstanding artists always… 1207 Duval St… open 10:30 am to 7 pm.

AUTHOR VICKI RILEY PRESENTS HER FAB NEW BOOK….This wonderful book, entitled CAYO HUESO…is filled with marvelous Literary Writings by Vicki Riley and magical artwork by Linda Cabrera. I think it should be a must have for all Key West Lovers…and aren't we all? You can obtain this book at the KW Art Center, the Curry Mansion, Books & Books, Island Book Store and at the Custom House. For more information go to https://www.vickiriley.com. Or call her at 407-729-7289. It is truly a Labor of Love. Congratulations to Vicki…and Linda too!… Note they are getting all kinds of awards and accolades on this amazing book!!!!

GUITAR CLASSES OFFERED BY MATEO….EVERY MONDAY…..This is a class for Beginners from 4 to 5 pm at Williams Hall at 729 Fleming St. To register go to http://www.williamshall.org. Classes are only $20.

MY BLOG ALSO AT CONCHTV…. You can also go to https://www.conchtv.com/author/lynda and get my blog anytime…. also the current birthday and anniversary lists…. and my picture too!!!

FRECHETTE GAZETTE…. If you would like a copy of our annual FRECHETTE GAZETTE FOR 2021, Please let me know and I will be glad to forward it to you.

SMOKIN TUNA SALOON….DEC. 20 & JAN. 3…Farewell to Cowboys at 1 pm…Jay Klein at 5 pm.. Mancuso-King Band 9pm. DEC. 27…. Farewell to Cowboys at 1 pm….Jay Klein at 5 pm…. 9 pm…

KARI WOLF PERFORMS AT SLOPPY JOE'S……. AT 12 NOON…..until 4:45 pm….. (Kari IS the artist formerly known as Karri Daley!!

801 CLUB…….Famous Drag Shows are at 801 Duval St… every night at 9 or 11 pm. Book Online….. www.801.bar or call 305-923-9296. The amazing and internationally known Sushi runs the show with amazing Drag Queens with names like Deja, Mulysa, Marilyn, Racquel, Kylie .

THE TROPIC CINEMA AT 416 EATON ST…. IS NOW OPEN FOR MEMBERS AND FANS. For info on movie schedules and house rules go to http://www.tropiccinema.com or call 305-396-4944. Go online to reserve your times.

THE BIRTHDAY AND ANNIVERSARY LISTS…….. Please let me know if you would like me to forward you these lists….. Simply send me a request and I will send you this month's complete Personality Description plus all those I know who are celebrating birthdays and anniversaries during this special time of year!!! Also, let me know if you want to be added to it .. You can also see it by going to https://www.conchtv.com/author/lynda… and then scroll down.

SUPPORT SOS………Many Monroe County residents are living below the poverty line. SOS (Star of the Sea) Kitchens have long been providing food for those in need. PLEASE Support SOS and other orgs such as Sister Season Fund with donations if you can. Go to…. https://cffk.org/non-profits/sister-season-fund-inc/
AWESOME FOUNDATION KEY WEST!!! .. The mission of the group is to bring more awesomeness to our town, and awarding $1,000 grants, with no strings attached, to the most awesome idea, project, proposal, or plan that is presented to the Group of Trustees, who each plop down from their own pockets the money to fund the Grant. Sounds totally AWESOME to me!!! Check it out online at www.awesomefoundationkeywest.org. Michael Shields is the coordinator of this group.
BIRTHDAY/ANNIVERSARY LISTS….If you would like to be included in the Birthday and Anniversary Lists that I send out every month, please let me know your month and day by sending that info to me at kwlynda@bellsouth.net. There are special perks to being on the lists!!!! One of the perks is having your name in KONK Life on the day of your Birthday!!!
PRAYER CHAIN…..Please continue to remember the following in your thoughts and prayers….. Prayers for all … please guide all our people to be vaccinated……Please pray for….the family and friends of June Hudson on the tragic loss of her 17 year old grandson Blake Barklage…..the family & friends of Rosemary Stout, Bob's sister, who recently passed away…..the friends and family of Danny Weathers …..Joe Tripp …. Christopher Rounds….Paul Murphy on the loss of his father…..Russell Martin …. . Benda McDonald …..Fram Chmura…. Mallerie Estes…Joe at the Village……… the friends and family of Gail Lima on the passing of her father Fred Lima…the friends and family of Carolyn Cooper on the recent loss of her beloved father…… the Sykes family on the great loss of Morgan….the friends and family of Woody Cornell….the friends an family of Ken Peskett, James Delmar Marquardt, and Phyllis Strunk……Carey Moore…. Jo Gerenger ….Lee Garrison and Shaw Garrison …..Genevieve Isaksen ……..Laura Hettinger. …..Andy Kellar … Dorothy Revollini …Louis Petrone……David Buffam ..Lorann Wood. ….. Paul Politte …..Russell Martin… Diane Hohman…. Brenda McDonald…..my nephew Fred Stevens and his wife Judi. …Michael Amin …..our wait staff, shop workers, entertainers, check out clerks, doctors, nurses, etc……Bucky Montgomery ……Pat West …. Michael Thomas …..Our Nation …. Barbara Brant….. Jim Hall ……..Sissy McDonald…..Jackie McDonnell … Chuck Selph…. Larry Selph …Ann Marie Adreani ….S. Stephens…. Sandy Abookire ….Wally Stevens…. ….Sharron Mondo….Len Stevens ……..Joe Biden.. …..Mary Larkin …. …Robin Deck.. …Christy Nelson …Maryann Barth… ….Kathy Stevens ….Ed Stevens Jr.. ….Dena Badgerow….Bella Rettenwander …..Dawn de Boer …… Lou Ann Cymont … Cheryl Walchli … Terri White …John Padget …..Eric Nelson …..Gary Rivenson ….. Donna Stabile ….Todd Reifschneider ……Pat Waller …Marta White ….… Peter Deksmith …Bill Lodermeir ……Richard and Betty Carraway …. Anne McKee …..Teresa Lawson …… Pamella C. Bocdow. …Dee Dee Duecker … Karla Muir … Vincent Gregory …Tony Freese… Jennifer O'Lear …….Margaret Taylor ……Patrick Richards. Remember, there are many reasons that we pray…not just because people are ill…. I do believe that when we all send prayers and good vibes to those in need, those prayers mystically meet and surround those being prayed for. Sometimes we pray for miracles and the impossible….sometimes we pray to just cope with the results of what happens to those we are praying for. Sometimes we pray for strength to go on and to accept…sometimes we pray for thanksgiving. We are in this thing called 'Life' together….and we all have power within us to help our fellow man. Bless you for remembering our loved ones….Prayer changes things! Let me know if you know of anyone who should be added to this list.

RECENT LOVED ONES LOST… Please keep the following and their families and friends in your thoughts and prayers. …..Rosemary Stout (Bob's sister)…Ron Leonard….Lou Calmer…Morgan Sykes….

BOB FRECHETTE=FABULOUS REALTOR IN TOWN!!!!…..Need a realtor in town? My husband BOB FRECHETTE IS YOUR MAN!!!! He has been with the marvelous Compass Realty ( NOW Keller-Williams Compass) for 20+ years …Give him a call at 305-304-2584! Email him at rfrechette@bellsouth.net. He is the BEST! I promise!!!! Honest, Loyal, Fair, and Adorable too!!! He will have only have YOUR best interests at heart.
A PUN or LEXOPHILE FOR YOU…I've always had an irrational fear of speed bumps…but I'm slowly getting over it.
______________________________________________________________________________TUESDAY…..
HAPPY DEC. 21 BIRTHDAY TO…JOHN CORREA…NICOLE NURENBERG…ROY BISHOP …SARAH KAHN…. JUDY FARRELL … ED HEID…SARAH KAHN ..(Please remember Leslie Leonelli… and Pauline Palub.)

HAPPY DEC. 28 BIRTHDAY TO…..FATHER JOHN BAKER….BERNARD SLEDZ… LEIGH PUJADO …. BOB PERLOW…. JEFFREY JOHNSON … KELSEY LAKEMAN … KELLY FARRELL … LOU HERNANDEZ… DAWN KING …(Please remember Ella Mae Neuman.) …HAPPY ANNIVERSARY TO….LINDA & GEORGE BEACH.)

HAPPY JAN. 5 BIRTHDAY TO …..TRISH MANLEY…KAREN RYAN…. MICHAEL MUNOZ … BARBARA SCERBO….KELLY SCHMOTZER…. HAPPY ANNIVERSARY TO…. KAREN & VINCE TAPOROWSKI.
______________________________________________________________________________
TAVERN N TOWN.. DEC.21,28, JAN 4, 11,18,25…….It's Carmen Rodriguez along with James King, 5 to 9 pm….

KARI WOLF AT GENERAL HORSEPLAY.. DEC. 21…9 PM until 1 AM!!!
KARI WOLF AT CASA MARINA, DEC. 28….6 to 9 pm!!!!!

COMEDY KEY WEST……DEC. 21 & 22….Headliner is Bob Dibuono…DEC. 27…and JAN. 4,11,18,25…..MAD HOUSE at 8:30 pm….AT 8:30 PM. 218 Whitehead St. Get tix at 305-985-7370 or go to www.comedykeywest.com.

AT VIVA SALOON…. EVERY TUESDAY EVE…DEC. 21,28….Coconuts Koalas Duo …performs from 6 to 9 pm.

BRIDGE PLAYERS WANTED…FOR TUESDAYS, THURS. & SUN….. The Conch Duplicate Bridge Club is seeking new members. Meeting at 1 pm. A BEGINNER'S GROUP WILL TAKE PLACE IF ENOUGH ARE INTERESTED. Call Beth Howe at 814-779-2489 for info.

LOUIS PETRONE PODCAST EVERY TUESDAY………..Resident sage bon vivant, and raconteur, Louis Petrone, who knows a LOT about EVERYTHING…. will rant and rave, and expound on all the goings on in the world, under the sun!!!!!…and then some!!!! Always interesting…never dull! Go to: www.blogtalkradio.com/key-west-lou. Catch Lou's podcast every Tuesday!
LATEDA, .. DEC. 21…..Fab Spectrelles at 8:30 pm..AND…Randy Roberts at 9 pm in the Crystal Room…. DEC. 28….. Fab Spectrelles at 8:30 pm and … Christopher Peterson at 9 pm!!!!!
JAN. 4….The Fab Spectrelles at 8:30 and Randy Roberts at 9 pm in the Crystal Room.

TOASTMASTERS MEET ON….DEC. 28….Noon at the Gato Bldg. 1100 Simonton St. Visitors welcome. Call 305-295-7501 for info.

THE GARDENS HOTEL EVERY TUESDAY.. DEC. 21,28, JAN.4,11.18…It is The Kenny Albert Duo entertaining from 5 to 7 pm in the Atrium.

SMOKIN TUNA SALOON…DEC. 21…Caffeine Carl & Zack Seemiller at 1 pm….Jay Klein at 5 pm…..Myles Mancuso at 9 pm……..DEC. 28…..Caffeine Carl & Zack Seemiller at 1 pm…. Jay Klein at 5 pm… at 9 pm..Caffeine Carl & the Buzz….

DENIS LEBEDEV AND KATE OPEN NEW RESTAURANT….. You MUST stop at La GRIGNOTE…at 1211 Duval St. ..Denis, one of the very suave, handsome and debonair managers at Tavern n Town, and his lady, Kate, bought La Grignote and it is getting RAVES from everyone who goes. We went there and it deserves all the accolades! Check out Yelp!!!!! The menu is fab as Denis and Kate……Scrumptious Breakfasts and Lunches…. Salads, Veggie dishes …Sandwiches to make your mouth water….7 am to 3 pm…closed on Monday I believe. We are so happy and thrilled for Denis and Kate!!! Congratulations. No reservations….

SCHOONER WHARF ON DEC. 21….Gary Hempsey noon to 5 pm…. Tom Taylor, 6:30- 11 p,m….DEC. 28….Gary Hempsey noon to 5 pm…. 6:30-11 pm, Sushi Roll Band….

RED BARN PRESENTS "CATS TALK BACK"….DEC. 28 THRU JAN. 29….This is a mock-docu-comedy in which several actors who supposedly spent a good part of their lives performing in the musical CATS, reminisce about their various experiences, in this long running show. It will be presented outdoors in the Courtyard….all health standards will be followed and enforced. This show is full of surprises, and stars Michael Mulligan, Marjorie Paul-Shook, Murphy Davis, Nicole Nurenberg and Rhett Kalman, and is directed by Joy Hawkins. Get tix online at www.redbarntheatre.com or call 305-296-9911.

VIVA SALOON ANNOUNCES BRUNCH!!!!…. This great place for dining, drinks and entertainment, is now offering a daily Brunch from 10 am to 3 pm….I have heard raves from all those who have attended. 903 Duval St. Alfredo Gimenez knows how to run a fabulous place, and makes everyone feel at home.

THE KEY WEST PARROT HEAD CLUB….This fun loving, and philanthropic group who love Jimmy Buffet, partying with a purpose and supporting our community, is seeking new members. Single membership is $20… and you receive a KW Parrot Head license plate frame and other special privileges. To join call 262-705-8204 or go to http://keywestparrotheadclub.wildapricot.org.

THE KEY WEST GARDEN CLUB AT HIGGS BEACH OPEN…. FREE…. 9:30-5 pm on Sat…..daily. Free admission….1100 Atlantic Blvd. Masks and distancing required.
STRING MUSICIANS SOUGHT…. The KW Community String Orchestra is seeking those who play violin, cello, viola, etc. at all levels of experience. For info contact Lynn-Marie at lynnmariekw@gmail.com.

THE STUDIOS IS OFFERING….The Studios offers an open air happy hour experience in the newly opened Hugh's View….Reservations are a must for this sunset event, which will offer a cash bar. For info go to https://www.tskw.org and click on the Glow Hours Link.

BRUCE MOORE STARS IN …"SOMETHING ROTTEN"….. MUSICAL AT WATERFRONT PLAYHOUSE …..MARCH 22-APRIL 16, 2022…. This has been lauded as 'the funniest musical comedy in at least 400 years'!!! (And it happens to be one MY fave all-time musicals!) Excited to find out that GREAT friend, former long-time KW resident and Broadway Actor, BRUCE MOORE is cast as Shakespeare, The Bard, in this musical…Others starring are…. CANTER O'MAY. JEFFREY HARWELL, ARTHUR CROCKER, ALEXANDRA ZETO, KARL STAHL, STEPHANIE SANDER, XAVIER McKNIGHT, ERVIN TUMM, CHRIS HOMBERG, MATHIAS MALOFF, TIM DAHMS, DOMINIC PAOLILLO, ROSS PIPKIN, JOHN McDONALD, JILLIAN TODD, AND LAUREN THOMPSON!!!
______________________________________________________________________________
WEDNESDAY
HAPPY DEC. 22 BIRTHDAY TO …..MELODY MOORE….KELLY CASTELLANOS…. PAT BURGE ….ANDY WEIMER…. SCOTT WILSON….(Please remember Bob Decker.)

HAPPY DEC. 29 BIRTHDAY TO….KITTY CLEMENTS…. DAN COCCO…. PATTI ROSS…. LARRY POTOCZAK …. HAPPY ANNIVERSARY TO…. JANET & CHARLIE BENGEL …. AND …. RED & KEITH DEMPSTER.

HAPPY JAN. 6 BIRTHDAY TO …..CYNDY LIVINGSTON … HELEN HARRISON … MICHAEL ROTH …GINGER BONCEK ….JACK BEHMKE … RAY FOGG SR….EMILY REUTHER…. MINDY DUECKER ….(Please remember….Junior Winters….Paul Hilson… Norm Dobbs.)
________________________________________________________
SCHOONER WHARF….DEC. 22…..Tony Baltimore…… Noon to 5 pm….Raven Cooper….6:30-11 pm. …DEC. 29….Tony Baltimore noon to 5 pm…. Sushi Roll Band, 6:30-11pm.

VIVA SALOON…. EVERY WEDNESDAY EVENING.. DEC. 22,29….. Carmen Rodriguez and James King perform from 6 to 9 pm.

COMEDY KEY WEST…….DEC.22…Headliner is Bob Dibuono. 8:30 pm……..305-985-7370 or go to www.comedykeywest.com….

KARI WOLF AT RICK'S DOWNSTAIRS..DEC. 22,29…..from 7 to 11 pm…..On Duval St.
COMEDY CLUB OFFERS LOCAL DISCOUNT….The Comedy Club Owners are offering Locals a HUGE discount off your tickets…ONLY to Locals. When you get your tix at checkout online enter your code LOCAL at www.comedykeywest.com to get your discount. Big thanks to Joe Madaus and Nathan Knight and all those running this super Club!!!!

DIVA! LIVE FROM HELL!!!…A FRINGE MUSICAL EVENT…STARTS DEC. 29-JAN. 15…This one-man show stars talented actor, Zach Franchini at 7 pm at the Armory at 600 White St. This is a coming-of-age tale of Desmond Channing, the drama club pres., whose high school stardom is challenged when a hot new actor transfers from NYC to Desmond's school. What is a Diva to do? That's when the fun begins!!! Get tix at www.fringetheater.org. Or call 305-731-0581. Tix are $35 and $50 each.

DAVE BOOTLE AT MANGOES….WEDNESDAY THRU SATURDAY EVERY SINGLE WEEK…. Enjoy this marvelous entertainer and dance the night away… You are SURE to have the best time ever! 9 pm…till Midnight….DON'T MISS!!!!!!
THANKFUL ON WEDNESDAY…..I am grateful for many things and mostly for so many people who have touched our lives in special ways of late…Thanks to all those who have sent us wonderful messages of sympathy on the loss of our beloved, Rosemary…and also the heartfelt Christmas cards and sentiments that fill our life with wonder…….EXTRA SPECIAL Thanks to.. Kate Miano…..Rose & Jeff Ware….my brother Ed…..Destiny Montgomery …. Flower Conroy…. Rita Linder…. Rebecca Tomlinson…. Wendy Allen…. Dennis Beaver…. Matthew Helmerich…. George Sanders…Jane Dawkins…. Jed Dodds…. Patrick Hayes & Les Boatwright Jessica Miano-Kruel ….My late Mother, Adele Stevens…..Steve Torrence….Jennifer Stevens and husband Peter…Jackie Vishton …Tom Thayer…. Arthur Crocker…Bunnie Smith…. Susan & Stuart Kaufman …. Jimmy Olson ….Sally Stevens & Rob Zadkovich….. Michal Zajicek….. Carl Winston (aka Trey Forsyth)…. Billy Cartledge & Jim Hall …… Mary Lynne Price … Maria & Simon Kaufman …..Vincent Zito & Cameron Murray …. Erika Biddle ….Terry Gaberdiel……. Ken Weschler…. Kate Regan & Ken Silverman …… Dave Bootle … Bruce Moore..The Waterfront Playhouse……. JT Thompson…Carl McMackin …..Fran Chmura. ….Mary Ellen Beattie ….Fred Greenberg & June Hudson … Marilyn Rintamaki ….. All those who are working so hard for the Ship Referenda, ESPECIALLY Arlo & Evan Haskel, the Benson Bros, David Dunn…and many others. ……and MOST OF ALL…. THANKS FOR MY VERY DEAR HUSBAND BOB…. ALWAYS BOB…. !!!!

TAVERN N TOWN..DEC. 22,29,JAN 5,12,19,26…Rob DiStasi and Mike Emerson rotate performing from 5 TO 9 PM. IN THE LOUNGE!

SMOKIN TUNA SALOON … DEC. 22….Seth Kessel at 1 pm….Charlie Miller at 5 pm …. Caffeine Carl & Buzz at 9 pm. …..DEC.29 …..Sam Carlson at 1 pm….Charlie Miller at 5 pm…. Caffeine Carl at 9 pm..

LATEDA…DEC.22.& 29….The Fab Spectrelles perform at 8:30 pm in the Lounge for your dining pleasure AND…and Randy Roberts Live at 9 pm in the Crystal Room.

AT THE GARDENS HOTEL….EVERY WEDNESDAY.. DEC.22,29.JAN. 5,12,19,26..It is Mary Spears entertaining from 5 to 7 pm.

WINE CLASSES AT THE GARDENS…….Jan. 12 & *20….Feb. 9 & *24 ….. March 9….April 13…March 11. All classes taught by Jackie Gwidt or *Jimmy James Hilferty. Both excellent. Located at 526 Angela St. 5:30-7 pm….$70 per table of two. Everyone takes home a bottle of wine.

JOIN THE FRIENDS OF THE KW LIBRARY…Go to www.friendsofthekeywestlibrary.org. Join or Renew for the Season. If you act now your membership will extend to Jan. 1, 2023.

"ALL IS CALM" AT THE WATERFRONT PLAYHOUSE…. Through DEC. 25….This moving play with music, takes place on the Western Front on Christmas 1914… when out of the silence an extraordinary night of camaraderie, music and peace takes place…. A remarkable True Story, told in the words and songs of the men who lived it. The Cast…. Canter O'May, Clayton Sallee, Joshua Lawson, JT Thompson, Andrew Theede, Tim Dahms, Matthias Maloff, Chris Homberg, and Jim Speake.

*"MATILDA…THE MUSICAL"…..OPENS AT THE WATERFRONT PLAYHOUSE JAN. 12-JAN. 29 …. Starring DAVID BLACK….JESSICA MIANO KRUEL,.. …CAROLYN COOPER…. DONOVAN PAVLICEK…. BARBARA MUNDY… EVIN TUMM..ARTHUR CROCKER… JAMES HARCUP. ….JILLIAN TODD… HEATHER MAE SLOAN… AND many of Key West's ultra talented child actors!!!!

*AT THE STUDIOS…JAN. 19-29…. See "A MIDSUMMER NIGHT'S DREAM" on the Rooftop of Hugh's View at 533 Eaton St…Get tix at www.tskw.org or call 305-296-0458. This show is reconceived and directed by Richard Ericson…75 minutes…features a quick-change cast of 5 actors….and the amazing life-size puppets of Jeff Goltz. Showtime is 5:30 pm. Tix are $80, $60 and $50 and are very limited. Go to www.tskw.org or call 305-296-0458.

*"CLUE" …(LIVE ON STAGE)….AT THE WATERFRONT PLAYHOUSE,.. FEB. 16-MARCH 5 ….Based on the iconic 1985 movie and based on the Game of Clue…. this is a hilarious farce-meets-murder mystery…Everyone is a suspect when the host turns up dead! Cast is Michael Aaglan, Jillian Todd, Susannah Wells, Barbara Mundy, Erin McKenna, Ross Pipkin, John McDonald, Mathias Maloff, Carolyn Cooper and Zachary Franchini!
___________________________________________________________________________
THURSDAY….
HAPPY DEC. 23 BIRTHDAY TO …DAVE BOOTLE….MEDA BAHLKE….SUZANNE PERANTEAU …. (Please remember Linda Russin.)

HAPPY DEC. 30 BIRTHDAY TO….NAUINA BAILLOU….JAN WHITNEY …TOM VETTER … ZOE VALENTINE ZIMRING….(Please remember Peggy Oppanheimer.)…HAPPY ANNIVERSARY TO….. KRIS & BOB PABIAN!!!

HAPPY JAN. 7 BIRTHDAY TODAY….JODELL ROBERTS…. LISA ELENA MONDA…. LARRY KETRON ….. ANNE FISHER-WOOD….LARA FOX….JULES MOODLEY …. (Please remember Frank Gren.)
_________________________________________________________
TRUMAN WATERFRONT FARMER'S MARKET… EVERY THURSDAY…2 to 7 PM….. at the end of Southard St…. Produce, beverages, music, seafood, apparel, cheeses, gifts, art, books, etc…. fun….

TAVERN N TOWN …DEC. 23…Larry Smith performs 5 to 9 pm….. DEC.30….It's Carmen Rodriguez with John King from 5 to 9 pm.
SMOKIN TUNA SALOON..DEC. 23 & 30… Justin Angelo at 1 pm….Scott Kirby at 5 pm….Caffeine Carl at 9 pm….

LATEDA…DEC. 23 & 30….. 3 Sum at 8:30 pm….Christopher Peterson in the Crystal Room at 9.

AT THE GARDENS HOTEL EVERY THURSDAY… DEC.23, 30, JAN. 6,13,20,27….. From 5 to 7 pm, it is Mateo Jampol entertaining in the Atrium!!!!
SCHOONER WHARF.. .DEC. 23… from Noon to 5 pm…..Michael McCloud…. 6:30-11 pm, AJ Stamper & Dockside Darren….DEC. 30…. M. McCloud from noon to 5 pm… Sushi Roll Band from 6:30-11 pm.

KARI DALEY WOLF….DEC23 & 30… KARI IS AT KW ROCK HOUSE LIVE . At 8 to Midnight…On Greene St.

GREEN PARROT…..DEC. 23..Happy Dog Band at 5:30, 9 and 11 pm!!!!! ……  DEC. 30…. Fat Mezz Thursday at 5:30, 9 and 11 pm.  

COMEDY KEY WEST… DEC.23 & 24  Christmas Comedy Special..8:30 pm…..DEC. 30 & 31..Headliner is Patrick Garrity…8:30 pm…JAN. 6 & 7 ….Mia Jackson headlines … JAN. 13 & 14…LANDRY headlines!!!  JAN. 20 & 21…Cliff Cash headlines…..JAN 27 & 28….Kelly MacFarland headlines!!!!!

SARABETH'S RESTAURANT ON SIMONTON ST……. offers Free dinner on your Birthday… half price on all bottles of wine always, etc.

BEREAVEMENT MEETINGS EVERY THURS…….If you are working through the grief process of losing someone dear, there is help for you.  Join this caring Support Group at 7:15 pm at the Klaus-Murphy Center at the Basilica of St. Mary Star of the Sea.  You are not alone….  God bless Velma Christian for her special ministry.

LITERARY SEMINAR RETURNS JAN. 6-9….Theme is 'A SEMINAR NAMED DESIRE'….at Coffee Butler amphitheater…Cost.. $675…..Sold out but there is a Waiting List.  Go to www.KWLS.org for information.  

TENNESSEE WILLIAMS MUSEUM ….This fab Museum will be open from Thursday thru Sundays from 10 am to 4 pm.  Private tours are available.  Mon-Wed

GREAT NEWS!  TERI JOHNSTON WILL BE RUNNING FOR MAYOR AGAIN!!!  We were thrilled to hear this news.  To help contribute to Teri's Re election, please send contributions to: TERI FOR MAYOR….P.O. BOX 5882, Key West, FL 33045.  PLEASE INCLUDE A NOTE WITH YOUR HOME ADDRESS & OCCUPATION WITH YOUR CHECK.  And don't forget to check in with the Monroe County Supervisor of Elections about your Voter Registration Status and Mail in voting at https://www.keyws-elections.org/  OR CALL 305-292-3416.  YOUR support is vital to continue Mayor Johnston's strong, honest, leadership of KW!

**VIVA'S  SALOON.. GREAT SPACE FOR  OUTDOOR DINING….. LARGE PROPERTY & VERY SAFE FOR SOCIAL DISTANCING…..OPEN FOR TAKE OUT TOO!!!!…..DELISH FOOD…… OWNER  ALFREDO GIMENEZ IS A GEM!!!!!  903 Duval St… Entertainment on weekends….. tables spread out in this large garden area.  Leave it to Alfredo and Gaston, the owners, to do everything right and take care of their clientele. 

RICK FUSCO PERFORMS AT VIVA SALOON.. DEC.23,30… EVERY THURSDAY FROM 6 TO 9 PM…. 
____________________________________________________________________________
FRIDAY..
HAPPY CHRISTMAS EVE, DEC. 24 BIRTHDAY TO…..LESLIE BOATWRIGHT…. EVALENA WORTHINGTON …. RONNIE CARRUTHERS…. MICHAEL PHILIP …. BARRY CUDA …. SR. JANE SILK …(Please remember….Nidia Borders….James Auker….David Rein.)…HAPPY ANNIVERSARY TO…..BOBBY NESBITT & MICHAEL MULLIGAN.

HAPPY DEC. 31  BIRTHDAY TO……BOB BADGEROW….GAIL LIMA … JOE TRIPP … KIM ROMANO … MICHAEL CITRO …. LEDA ANDREWS…. CHRIS STONE…. MELISSA TAUSCHE …DANIEL MARGIL …. HAPPY ANNIVERSARY TO…..TERRI & PHIL WILSON…..SCOTT BURAU & ERIC TEVES….

HAPPY JAN. 1 BIRTHDAY TO…PAMELA KOSTMAYER….JOHN WHEDON… BRIAN GLASSBURG…. PHYLLIS GAGNER…. RUSS SCARVELLI….JIM PIGNATORI….GAYLE FOSTER ….BRUCE BURKHARDT…KIP LARSON….KRISTEN WILSON …JIM CLARK… BRUCE HOLLERING….PATRICIA LASINIS….
_________________________________________________________
NEW YEAR'S EVE…DEC. 31….What are your plans for ringing in the New Year?  Will you be at any of THE KW DROPS….Conch shell Drop at sloppy Joe's….Red High Heel Sushi Drop at Bourbon Pub?…the Wench Drop at Schooner Wharf….  Wherever you go… please be vigilant and aware of what your are doing.  People will be invading KW from all over the world…. and will probably not be masked nor will they follow any protocol.  Staying well is KEY!

TAVERN N TOWN..DEC. 24……Rob DiStasi entertains from 5 to 9 pm…..Dec. 31….Mike Emerson will perform from 5 to 9 pm.

GREEN PARROT… DEC. 24… Andy Wescott's Electric Trio at 5:30, 9 and 11 pm…… DEC. 31….Trae Pierce New Year's Eve at 5:30. 9 and 11 pm!!!!

LATEDA….DEC. 24& 25…3 Sum at 8:30 pm…Christopher Peterson Xmas Show at 9 pm…..DEC. 31…. 3 Sum at 8:30 pm…. Randy Roberts at 9 pm!!

SCHOONER WHARF, DEC. 24 & 25…. noon to 5 pm, Michael McCloud… 6:30 to 11:30 pm, Raven Cooper Band….DEC. 31….Noon to 5 pm, Michael McCloud and 5 to 7 pm… Dave Richards Duo…. 8 pm to 1 am, The Sushi Roll Band.

COMEDY KEY WEST……DEC. 24…Christmas Comedy special 8:30 pm….DEC. 31…. Patrick Garrity headliner….JAN. 7,…Mia Jackson, Headliner is Jessimae Peluso….
 
SMOKIN TUNA SALOON…DEC. 24 AND DEC. 31 ….and JAN. 1…..Farewell to Cowboys at 1 pm…Scott Kirby at 5 pm….Caffeine Carl at 9 pm..
THE GARDENS HOTEL EVERY FRIDAY, DEC. 24, 31,JAN 7,14,21,28……In the Atrium…. From 5 to 7 pm, it's Gregory James vocal & piano….. 526 Angela St.

KARI AT HALO AT THE SAINT…. DEC. 24…..326 Duval….7 to 10 pm…

VIVA SALOON…EVERY FRIDAY AND SATURDAY…DEC24,25, 31 Key West's FAVE Drummer Boy, SKIPPER KRIPTIZ will be entertaining with CHRISTINE CORDONE & LARRY SMITH…. Jazz Music every weekend. 903 Duval St…. 6:30 PM…..

JAZZ AT THE GARDENS, DEC. 24,25,26…..5 to 7 pm….526 Angela St….Enjoy Music, festive decor and a full bar and wine gallery!!!

NEW SERIES TO BE FILMED IN THE KEYS…..This series is set to film in 2022 and is based on the 2013 novel, BAD MONKEY, by Carl Hiaasen. I mention this mainly because the exec producer and star will be VINCE VAUGHN, who graduated from Lake Forest High School with our daughter, Melissa. He was a real talent back then…. and I once told him, "Vince… you are going to be a big star someday! Someday we will see your name in lights!" Then in Melissa's yearbook, he wrote… "So great getting to know you, Melissa. I love your Mother!" Cute!!! Anyway….keep an eye out in 2022… who knows, maybe Vince will be ordering a brew from a barstool next to you at your fave saloon!/?

THE WILLIAM WELCH LEGACY….This wonderful man and amazing artist is no longer with us, and he is missed more than words can say. However, his beloved sister, Sherrey Welch , and Bill's partner Dave, are determined to keep Bill's art and legacy alive through the new website, at www.williamwelchcollection.com. Please forward this info to anyone who may be interested in Bill's work retrieved from Nantucket, Key West and France. Bill Welch was a true gentleman…. kind, caring and deeply talented….
____________________________________________________________________________
SATURDAY…MERRY CHRISTMAS ONE AND ALL!!!

HAPPY DEC. 25 BIRTHDAY TO….BILL BELOBRAIDICH….BILL PORTER ….CHRIS LIPPI … EMIL IMBRO … EUGENE FLANAGAN… JIMMY BUFFET….

HAPPY JAN. 2 BIRTHDAY TO…..JUNE HUDSON….STEVE SAGMAN …MARTHA BARNES …. CHRIS REHM … EVA LIMBERT… MIRA NEGRON …… JIMMY SYDENSTRICKER ….DIANE ELIOPOULOS…. NELSON FUENTES…. HAPPY ANNIVERSARY TO…..MARGARET & KEN DOMANSKI …. DAVID & IRENE EYER.

HAPPY JAN. 9 BIRTHDAY TO…..TEVIS WERNICOFF…. STUART WOODS…. (Please remember Neal Hartman.)
_________________________________________________________
TAVERN N TOWN…..DEC. 25….Carmen Rodriguez and James King entertaining from 5-9 pm..in the Lounge. ….JAN. 1…. Larry Smith entertains from 5 to 9 pm.

SMOKIN TUNA SALOON..DEC. 25… Farewell to Cowboys at 1 pm…. Zack Seemiller at 5 pm…Caffeine Carl at 9 pm.

LATEDA…DEC. 25 & JAN.1……3 Sum at 8:30 pm and Christopher Peterson at 9 pm in the Crystal Room. …. DEC. 8… 3 Sum at 8:30 pm…. Randy Roberts at 9 pm.

GREEN PARROT…DEC. 25…. Happy Dog at 5:30, 9 and 11 pm….

KARI WOLF…DEC. 25 at Pier House 3:30-6:30 PM with her hubby Jack Wolf!

FREE SAILING CLASSES EVERY SAT. & SUN….10 am to noon. Saturday are classes for Women and Sunday are classes for Men. Arrive at 9:45 am….For more info call Ben at 314-349-9929.

THE GARDENS HOTEL…EVERY SATURDAY.DEC.25, JAN. 1,8,15,22,29… From 5 to 7 pm, Bobby Green entertains in the Sun Room at The Gardens. Always FREE to attend…Great Wine Gallery!

FRIENDS OF THE KW LIBRARY…. JAN. 8…Monthly book sale will be in the Palm Garden from 10 am to 1 pm. If you have books to donate, please bring any books to the desk inside. If you have tons to donate, and need a home pick up, please email Betsmoore4@gmail.com. All proceeds from sales go to help the Library with programs and the like. 700 Fleming St.

FREE CONCERT AT THE PERRY HOTEL, JAN. 15…7 to 9 pm… at this fab Hotel on the Isle of Stock …….another FREE Concert, 7-9 pm, with Nick Norman, Caffeine Carl and Joey Marchiano and vocalist Kristen McNamara!!!!

ANOTHER VERY SAD BIT OF NEWS….I just found out that MORGAN SYKES, age 27…died in a fatal card accident in CA. this past August. I have been trying to contact him to no avail. He had a shining future with the Perry Hotel and was a charming, intelligent, handsome, thoughtful, caring and wonderful young man. This is a real shock and a great loss.

CHRISTMAS DAY BRUNCH ON DEC. 25….11 am to 1 pm aboard the SV Argo Narvis Charters in KW….Call 305-509-1771…. limited to 24 passengers…Delicious fare from top KW restaurants plus bottomless mimosas, wine and craft beers, eggnog, juices, coffee and award-winning Bloody Mary's from the St. Hotel and King Paul Murphy!

TENNESSEE WILLIAMS THEATRE…. JAN. 8…. Tina Turner Tribute…..Go to www.keystix.com or call the box office at 305-296-1520. 8 PM!!
_________________________________________________________________________
SUNDAY…
HAPPY DEC. 26 BIRTHDAY TO …RICHARD WATHERWAX….ALISSA RUSSIN …. SIMONE BART…. (Please remember Lincoln Borchik.)

HAPPY JAN 3 BIRTHDAY TO….JEAN CARPER….HOWARD LIVINGSTON …. DAVE HERZOG…. GENEVIEVE ISAKSEN …MARK WHITESIDE….CAROL MONAGHAN …. MICHAEL BLUMENTHAL….MARY BETH KOERWER.

HAPPY JAN. 10 BIRTHDAY TO….MICHAEL BOYER …. BARBARA CRESPO …. BRUCE PATERSON…. MARY PISZKER… ROB REY… MARY LOU HOOVER…. (Please remember Mary Jo DaSilva…. andGeorge Maurer.) ….HAPPY ANNIVERSARY TO ….. CHRIS & LIV SHULTZ….
_________________________________________________________
LITERARY WALKING TOURS…..EVERY SUNDAY…..10 am….. Tour explores info on famous KW authors and writers and their homes….. Only 6 per group….. Go online to find out more info.

OLD STONE CHURCH EVERY SUNDAY…. All Welcome to enjoy this Sunday Morning pleasure at 9:15 am to 11 am…. Share music, conversation thoughts and serenity! Every Sunday is a different and marvelous entertainer. Located at Eaton and Simonton Sts.

VIVA SALOON ON SUNDAYS…. It's the wonderful Marjorie Lee Mitchell… 6 to 9 pm.

KARI WOLF ON DEC. 26 & 28….At the Casa Marina from 6 to 9 pm!!!

JAZZ AT THE GARDENS HOTEL…EVERY SUNDAY…5 to 7 PM. .. Dec. 26….the place to be!!!! 526 Angela St.

TAVERN N TOWN . DEC. 26, JAN. 2, 9,16,23,30………. It's Rob DiStasi in the Lounge ,FROM 5 TO 9 PM.

LATEDA DEC.26,JAN. 2,9,16,23,30…TEA DANCE AT 4 PM…….3SUM performs AT 8:30 PM

COMEDY KEY WEST, JAN. 9….Gold Coast Comedy All Stars at 8:30 pm!!!!…. JAN. 16….Gwen Filosa entertains. 8:30 pm. 218 Whitehead St.

MATEO OFFERS GUITAR CLASSES…EVERY SUNDAY….This is at the Coffee Mill Studios at 804 White St…a Guitar Orchestra Class from 4 to 5 pm…..All levels welcome. To register email Mateo at jampolmateo1@gmail.com. Classes are only $20.
SPECIAL DINING FOR LOCALS AT HYATT CENTRIC AT THE SHOR….. Monday thru Friday… ALL EVENING $20. entrees and half price on bottles of wine….. 601 Front St.

GREEN PARROT …DEC. 26…Tony Baltimore & Hiram Garzaro at 1 and 3 pm. At 5:30 pm, it is Happy Dog Soundcheck!

GREAT NEWS!!!! IMPROMPTU CONCERTS WILL RETURN…. Mark your Calendars…. The dates and concerts will be starting in 2022! at St. Paul's Church at 4 pm…. A Key West Tradition!!!! Jan. 19, Junction Trio…. Jan. 23, Yekwon Sunwoo…. Feb. 13….Chooi Brothers…. Feb. 27…. The soul of the Americas…. March 13, Zlatomir Fung…. March 27, Canadian Brass!!!! For details and more info and memberships go to www.keywestimpromtu.org.

THE FRINGE THEATER IS LOOKING FOR A FEW GOOD HANDS…. The Fringe needs stage hands, run crew stage managers, and board members. If you are interested email your info and areas of interest and expertise to info@fringetheater.org. Some work is volunteer and some is paid. The Fringe can be flexible… you can work show by show.

PLEASE SEND ME ANYTHING YOU NEED TO BE PROMOTED….. AND … I will do my best to include in future blogs!
_________________________________________________________
LOVE TO YOU, AND REMEMBER…A pessimist sees the difficulty in every opportunity….and optimist sees the opportunity in every difficulty….
Lynda
______________________________________________________________________________
PS…..AND HERE'S MORE INFORMATION: SOME INFO WILL OR WILL NOT BE RELEVANT!

THE IMPROMPTU CONCERTS… For more info go to www.keywestimpromptu.org.

ONE MANATEE….This is a non-profit started by Quincy Perkins to help the Library find, restore, and digitize old 16 mm and 8 mm films from the FLA Keys. He is trying to raise needed $$$ to keep this work going. If you are interested in this project or in donating to help the archival, restoration of these historic KW films go to PayPal at onemanatee@gmail.com. Or to find out more, contact Quincy at 305-896-1129.
FOSTER HOMES WANTED….Wesley House Family Services is seeking families in the community interested in providing a home to children in the foster care system. Classes begin Wed., June 12 at 99451 Overseas Hwy. in Key Largo.

WOMAN'S CLUB RESTAURANT & THEATER TOUR CARD BEING SOLD….$100…. and effective till Sept. 30…. Call Susan Mitchell at 740-274-9091 or go to the Woman's Club Facebook page.
TROPIC CINEMA SEEKS VOLUNTEERS…..For info call John at 305-295-9493 or go to www.tropiccinema.com. Training is provided. 'Payment' is free movie passes and popcorn for each shift worked. NOTE …. CLOSED INDEFINITELY…..
KEY WEST TROPICAL FOREST & BOTANIC GARDEN SEEKS BOARD MEMBERS… This non profit is looking for interested Board Members….particularly that of Treasurer … term is two years…..If interested send a letter to Key West Botanical Garden 5210 College Rd., Key West, FL 33040. Or email audrinnakkw@gmail.com.
VOLUNTEERS NEEDED FOR REEF RELIEF….For info call 305-294-3100.
STAR OF THE SEA OUTREACH MISSION NEEDS VOLUNTEERS….To help with the food pantry on Stock Island….This mission serves hundreds of the community's needy operating Mon-Fri. Call Donna at 305-407-5967 for info.
SHAL SEEKS VOLUNTEERS…Southernmost Homeless Assistance League has begun serving an evening meal each day at the homeless shelter with food from the Soup Kitchen….Volunteers are needed to help. For info call John Miller at 502-876-5092.
TENNESSEE WILLIAMS EXHIBIT:…. .513 Truman Ave…Open by Appointment Only…. at this time!!! This wonderful Museum is under the auspices of the Key West Art & Historical Society with founder, Dennis Beaver as its curator. The Museum will be opening SOON!!!!! …..Visitors and Locals are invited to tour this preserved and showcased collection of historic, archival objects that promote the importance of Williams's legacy and offers the largest collection of his memorabilia and artifacts available to the public. Will be Open daily from 9:30 am to 4:30 pm…. Admission: Adults $7. … Children under 6 Free…. KWAHS Members: Free… For more info call 305-204-4527. Big Thanks to Dennis Beaver and Bert Whitt for their great efforts to make this Museum world class!
KW TROPICAL FOREST & BOTANIC GARDEN, NEEDS VOLUNTEERS….To volunteer please call 305-296-1504.
LA RUBIA KEY WEST….…OPEN…..Stephanie Hellstrom (THE Blonde!) is the owner of this delightful shop at 510 Fleming St….next to Assortment….You can purchase hand woven Panama hats, handcrafted wearable accessories, and organic chocolates from Ecuador…. along with handbags, scarves, bamboo wraps, jewelry and more. What a pleasure it is to have some unique and interesting new shops in Key West!!! Congrats to Stephanie. Call 296-6059 for more details!!!

AND WHILE YOU ARE THERE… MAKE SURE YOU STOP IN TO SEE THE GREAT MEN'S WEAR AT THE ASSORTMENT!!! Claude and Joe are nothing but Class!!!!
TAKE STOCK IN CHILDREN ORG. SEEKS VOLUNTEERS…..This marvelous, award winning scholarship program mentoring group is looking for giving souls to help mentor 50 some qualified students from lower income families ….They cannot be admitted unless a volunteer steps forward. It takes less than an hour each week. Call Chuck Licis, program coordinator at 305-394-7974 or e-mail him at chuck.licis@keysschools.com.
CUSTOM HOUSE & LIGHTHOUSE MUSEUMS ARE SEEKING VOLUNTEERS…If you have a few hours to offer as a docent, archives asst., exhibit builder, or event volunteer, please offer your services!
*** THE CAPRICORN PERSONALITY…DEC. 22 TO JAN. 20 ***
Capricorns are terrific company and are known for their wonderful sense of humor. They are also the perfect person to turn to in time of any crisis. Anyone who has enjoyed a good laugh with a Capricorn will want to come back for more. One of a Cap's greatest strengths is learning from experience. They know how to turn a bad mistake into a valuable lesson. And that is important, as it is a rare Capricorn who goes through life unscathed. Most have their crosses to bear, but they usually grit their teeth and get on with it. This endurance and sticking power stays with them through life. Capricorns do have a tendency to be a tad pessimistic…seeing the glass half empty rather than half full. They often have a feeling that something awful is just waiting to happen, and if their fear comes true, they can become quite depressed. They are often fearful about the future and they need sympathetic listeners so they can unburden themselves. Reputation is very important to Capricorns. They want to be seen in a good light at all times by everyone. They often dress quite formally, as though they would let themselves down if they wear anything too casual. They tend to wear blacks and grays rather than bright colors. Another Capricorn bonus is that they never seem to age. Other signs will age, but the reverse seems to happen to a Capricorn. In fact, they seem to get younger right before your eyes. They mellow, learn to relax, and by the time of old age, they can make teenagers look positively boring!
In love, Caps always want to give a good impression and seem in control. On the surface they may appear to be calm and collected but they aren't nearly as emotionally unruffled as they seem. Deep down they are extremely shy and vulnerable. Their feelings are easily hurt, and they will distance themselves emotionally from people as a form of protection. Caps are not noted for their demonstrative affections and they are very shy about expressing their feelings. The thought of rejection is appalling to them. Thus they shy away from scenes and close relationships, as they do not want to get hurt. Though Caps can be quite solitary creatures, they benefit from being in a loving relationship. Caps have a very traditional view of long-term relationships, believing that the man is the breadwinner and the woman should stay and take care of the house. Nevertheless, despite all of these issues, they can be hot stuff in the boudoir. The best signs for a Capricorn are Aries, Taurus, Cancer, and Capricorn!!!!
In career the Capricorn shines! They strive to be taken seriously by the world and their job is a way to prove themselves..and they devote lots of time to it. Life is often a struggle for a Cap until at least the 30th birthday….when things become easier and their careers begin to soar. They are quite ambitious and harbor secret plans to go right to the top. They are a valuable member of any work team…they can be relied on as they have a strong sense of duty….they may be chained to the desk long after everyone else has gone home….and they are often Workaholics! Career paths they find appealing are big business, dentistry, medical field, civil service, and government work. Even though it may be lonely at the top, they will manage beautifully.
HAPPY BIRTHDAY TO OUR SPECIAL CAPRICORN FRIENDS AND FAMILY MEMBERS!!!
12/22…Scott Wilson……Pat Burge…Melody Moore…Andy Weimer…..Kelly Castellanos… (Please remember Bob Decker.)
12/23…Dave Bootle…Suzanne Peranteau…Meda Bahlke… (Please remember Linda Russin.)
12/24…Leslie Boatwright…Ronnie Carruthers …..Michael Philip…Barry Cuda…Evalena Worthington …..Sr. Jane Silk… (Please remember Nidia Fuentes Borders and James Auker.)
12/25…Chris Lippa…Bill Belobraidich……Bill Porter…Emil Imbro…Jimmy Buffet…Eugene Flanagan …..
12/26……..Richard Watherwax…Alissa Russin…Simone Bart…(Please remember Lincoln Borchik.)
12/27…Robin Deck…Skipper Kripitz…Ruth Cahoon…Rodger Stuart Davis…..(Remember Terry Muir.)
12/28…Fr. John Baker…Jeff Johnson…Leigh Pujado…..Bernard Sledz…Kelsey Wilson Lakeman…Lou Hernandez…Bob Perlow… Kelly Farrel …Dawn King…
12/29…Kitty Clements…Dan Cocco…Patti Ross…Larry Potoczak…

12/30…Tom Vetter…..Nauni Baillou….Jan Whitney…Zoe Valentine Zimring…. (Please remember Peggy Oppanheimer.)
12/31…Bob Badgerow…Gail Lima…Kim Romano…Joe Tripp…..Chris Stone…..Leda Andrews…..Michael Citro…Melissa Tausche…Daniel Margil….
1/1…..Kip Larson…Russ Scavelli …Pamela Kostmayer …. Elle Taylor …Brian Glassburg ….Kristen Wilson ….Phyllis Gagner….Rinka N. Pandey …… Patricia Lasinis ….Gayle Foster ..Jim Pignatori ……Bruce Burkhardt…. Bruce Hollering …. Jim Clark….Ryan Gregoire….John Whedon …(Please remember Chuck Ballish.)
1/2…. June Hudson…Martha Barnes…Stephen Sagman…..Chris Rehm…Mira Negron…. Eva Limbert ….Diane Eliopoulos…..Jimmy Sydenstricker…Nelson Fuentes…
1/3…..Jean Carper…Howard Livingston…Genevieve Isaksen…David Herzog…..Dr. Mark Whiteside …. Carol Monaghan…Mary Beth Koerwer…Michael Blumenthal…..
1-4…..Cliff Sawyer …..Keith Lapp…Kimball Ingram …. Patricia Neyra …..Chris Higgins…Clarence Gladyszewski….
1/5…..Trish Manley….. Barbara Scerbo … Michael Munoz…Karen Ryan… Kelly Schmotzer….
1/6…Cyndy Livingston…Helen Harrison…Michael Roth…Jack Behmke……Ginger Boncek …Ray Fogg Sr….Mindy Duecker…Emily Domski Reuther ….(Please remember Patrick Junior Winters….Paul Hilson … and Norm Dobbs.)
1/7….Anne Fisher-Wood…Lara Fox…Jodell Roberts…Lisa Elena Monda…..Larry Ketron …..Jules Moodley…(Please remember Frank Gren.)
1/8….John Hammond….Bonnie Bajko…Maureen Ryan….Barbara Ruper ….Marissa Fowls ….(Please remember Milly Ashmore and Elvis Presely.)
1/9… Tevis Wernicoff…..Stuart Woods…..(Please remember Neal Hartman.)
1/10…..Michael Boyer……..Barbara Crespo…..Greg Policastro…Mary Lou Hoover…Mary Piszker…Bruce Paterson …..Rob Rey …..(Please remember Mary Jo DaSilva and George Maurer…)
1/11…..Nancy Campbell ….Agnes Varis… Alex Hall….Jeffrey Schmitt ….(Please remember…..Ed Knight and Kathy Cawley…)
1/12…..Mary Grusin…Lynne Vantriglia…George Beshire …..Luis Febo….
1/13……Carlos Hoy…Jim Wallace…Devon Reimers…..Kristie Reilly…(Please remember Bob Arnold.)
1/14…Linda Beach…Michel Appellis…Jessica Geide… Jason Borchik …
1/15…..Kari Daley Wolf…..Steve Andres…Eric Teves…..Sheila Taylor…Alexander Hunt… Virginia Butler …. David Van Der Wehen …..Sophia Peranteau …Kay Breslin…
1/16…Rebecca Tomlinson…Michael Fatica……Mary Haffenreffer …..Sally Galbraith…Joe Shaw…Diane Strong..(Please remember Richard Crooks and Fran Ford.)
1/17…Blake Hunter…John McDonald….Karen Lockwood…..Scott Hall…..Ron Stadnik…Paige Dillow …..(Please remember Mabel Paul.)…
1/18….Jennifer Cornell……Eric Dean Davis…Carol Blaha Frac… Lenny Bornino …..(Please remember Tim Wegmen.)
1/19…Kathy Haymaker…Nikola Czerny…Michelle Dravis…Roger Harmon …..Huckleberry August Wilde Stranovsky Brown..
1/20….Clayton Beattie…Stacy Ortiz…Gina Karr… Linda Curtis…Stephen Selka……Peary Fowler…..Coreen Adamany.. ….Dave Fronheiser …..Steve Richardson …Nancy Boyce…Nancy Norris….(Take time to remember Gladys Rybicki and Joy Peck. )
HAPPY CAPRICORN ANNIVERSARY TO….
12/24….Bobby Nesbitt & Michael Mulligan… and Anne & David Rein…
12/27…Nancy & Javier Lopez…Marion & Charlie Strauss… Deanna & Bill Frew….
12/28…George & Linda Beach
12/29…..Keith & Redza Dempster……Janet & Charlie Bengel…
12/30… Kris & Bob Pabian…
12/31……..Terri & Phil Wilson… Scott Burau & Eric Teves….
1/2…Margaret & Ken Domanski….David & Irene Eyer
1/3……Lee & Richard Perry
1/5…..Karen & Vince Taporowski….
1/8… Jean & Joe Thornton
1/10… Christopher & Liv Shultz
1/11…..Roberta DePiero & Reef Perkins…Teresa & Jim Wallace…Mark Buczak & Jon Grimm.
1/12….Virginia & Taylor Doebler
1/14….Bob Pracher & Jan Gebhart….Julie & George Wallace….
If you are one of those Capricorns, please let me know if any of the above description pertains to you in any way. If you receive my blog and are not on these lists, please send me your info to kwlynda@bellsouth.net, and I will gladly add you. We send love and best wishes to all celebrating their birthdays and anniversaries during this time period.
Love to you,
Lynda
*** THE 2021 FRECHETTE GAZETTE ***
IT'S BEGINNING TO LOOK A LOT LIKE CHRISTMAS!!!
Believe it or not, Key West goes all out for Christmas! There are actually tour buses and trains that take people around the Island to see the extravagant decorations at homes and businesses. And at our home we have decided to deck every nook and cranny! Big tree in the living room, Antique Feather Tree in the Dining Room…. Little Red Riding Hood Tree in the Family Room….Falalalalalalalala!!!! We are staying in Florida for the holidays…. Doing some entertaining, and being entertained… and enjoying the beauty of this bittersweet season. I say bittersweet, because along with all the joy the season brings, we also are dealing with sadness and great loss.
HOW THE NEW YEAR, 2021 ARRIVED
On January 5, I received a phone call from a good friend (thanks, Katie)…who told me that if I called a certain number I would be able to get the first Moderna Vaccine that had arrived in the Keys. There was a surplus after the hospital staff and care-givers and first responders were vaxxed. We were able to get our shots early on and I about started to cry when it was administered. It was an emotional experience to know that I would be somewhat protected from this awful virus. On January 6, Bob was admitted to the hospital for the first of two hernia surgeries. All went well, and I picked him up at the clinic and took him home. Thankfully, his healing went remarkably well. On Feb. 2 we got our second Vaccine and it was a piece of cake. We were deeply relieved and grateful.
BROTHER ED STEVENS CELEBRATES
In February we traveled back to Cleveland to surprise my beloved Brother Ed Stevens on his birthday…. Months prior to this event, I contacted just about everyone who knew Ed through the years… family members, friends from all phases of his life, neighbors, etc. and asked them to write a letter to him sharing personal reminisces, and well-wishes. It was overwhelming to receive all these heartfelt messages of love and caring for my dear brother. I assembled the letters into a 100- page Book that Ed will have to look back and re read forever. Thanks to all who rose to the occasion and helped make Ed's birthday so Memorable. And just a thought…. Don't wait for a special occasion to send a message of love to someone who has touched your life. We all need to hear positive and caring messages!
AN ORDEAL TO THE NTH DEGREE!
In mid-April Bob opted to go in for his second hernia surgery. The first one went so well, he thought he would have it all behind him before we went back to Ohio for the summer. Before long he realized that something was not right….he was NOT healing as before. He went in to have it checked and on April 26, and was diagnosed with a major infection. He had to have surgery to open his incision and had to stay in the Hospital for a week, receiving an antibiotic drip for 3 hours daily. It was very scary and upsetting. He was released from the hospital, but had to report as an outpatient for another ten days. During this time, our daughter Melissa came to visit from IL, and Bob was thrilled to have her there to lend support. The day she left he got the good news from the Doctor that the infection was gone! Hallelujah!!!!!
RETURNING TO CHIPPEWA LAKE
We returned to Rose Cottage at Chippewa Lake just before Memorial Day…glad to be welcomed back by our dear little English Cottage, the Garden, and Bob's birds that he feeds faithfully all summer. Also welcoming us back were our two feral cats, Freddie and Karen, that appear out of nowhere whenever we return. For a long time they were very shy, but they actually allow me to touch them when I bring their Fancy Feast! It was a wonderful summer… saw lots of friends and family…. And it is great having brother Ed and his family near and also our niece, Jennifer and her family who have cottages steps away from ours. Had a wonderful Birthday Party on July 20 with friends and family, and Bruce Moore came for the occasion. Got to play tennis with special friends….Took up Pickle Ball with the gals in the Village…..went antiquing…. Went to Blossom Music Center for a Broadway Extravaganza with our niece Sally and her husband Rob….Loved boating and hanging with Paul and Pam Vereb… and watching the sunset over the Lake most every evening… to celebrate the end of a perfect day!
CLASS REUNION TIME
I don't know what your High School experience was, but mine was great! We had a wonderful close class, SO close, that we meet every year. This year was extra special, was well-attended and we put together a program with prizes, tributes, awards, certificates, and other recognitions! I was proud to emcee and it was so much fun seeing everyone again and catching up with the goings on in our lives. We all expressed our desire to meet again in 2022!!! I highly recommend attending reunions!

ODDS AND ENDS
Other special high points of our summer were visits to see cousin Tom Rybicki and his wife Dee at Marblehead, Ohio on Lake Erie….visiting our adult children, Rob and Melissa in Illinois…. The big news is that Melissa and her husband, Jeff, are planning to move to the Keys. They are tired of the brutal Illinois winters, and Jeff got a job at Boca Chica. We wish them well! We loved attending a unique Family Wedding at a Party Park and getting to see a lot of the Stevens Family…..cousins we love and cherish and their children and grandchildren. As the years go by, these moments become more precious. It was really terrific to be able to get our Moderna Booster Shots! We stayed till Oct. 25, just in time to see and experience the beauty of the Autumn Colors. As we traveled back to Key West we saw breathtaking vistas in West Virginia.

BACK IN KEY WEST
We got back to KW just in time to attend Closing night of Rocky Horror Show at the Waterfront Playhouse where we still serve on the Board. We have a great season planned, and we are elated that our theater, along with every theater in Key West have exciting shows planned. We have all been starved for Live Theater. Vaccinations and masks help all this to happen. Be Vigilant!

FAMILY THANKSGIVING IN WILLIAMSBURG
We were excited to celebrate Thanksgiving in Williamsburg with niece Jennifer, husband Peter & Family this year. We opted to make a road trip out of it. En route we had a stopover in Savannah, GA and loved it as much as we did when we visited years prior. Our mistake was that we should have stayed at least two days…. One day to tour and one to antique! Our trip to Williamsburg was lovely and they really threw out the welcome red carpet for us. Bob cooked the Thanksgiving Turkey and Stuffing, his specialty, and he loved having his goddaughter, Jennifer, cook alongside of him. It was great meeting so many of their friends, and also sharing the holiday with my brother Ed, his wife Amy and their children Julie and Brady…. Great shopping with Jen.. a special heart-to-heart talk with their daughter, Jackie …Got to see their son, Sebby, a 6ft. 4 in. Sophomore, play on the Varsity Basketball Team! And, we got to savor the fall colors all over again as that part of the country is still experiencing Autumn. Alas!…it was time to get back to KW! (The drive home was dreadful but I'll spare you those details!)

IN MEMORIAM
As I said earlier, this is a Bittersweet Season. Along with all the holiday joys come great sadness and loss. We said Goodbye to some treasured friends and family members this year…among them Danny Weathers…Pat Moore……Charlie Allen..Jan Nanna Cernan..Lee Knight… Chip Allen…Kate Warner… Tyler Saffle…Morgan Sykes.. and Ann Nesbitt. We were sad to lose Bob's dear Aunt Anne Marie Flood, and her son Peter… and we were recently devastated to lose Bob's very special and loved youngest sister, Rosemary Stout, to COVID-19, on Dec. 3. Heartbreaking!….Please also remember these wonderful people whom we have loved and lost….Jon Allen…Alan Bobin…Ken Peskett ..Kitty Blackburn …Joe Pizzo…Holly Cmiel Ilaqua…Chuck Hammond …Bob Arnold …Ron Leonard…..Jacqui Blatchford …Mark Howell…Crystal Cates… Paul Cotton ..Joe Viana….Diane Covan ….Karen Hartley Lynch …. Phyllis Strunk…Blake Barklage….Fred Lima …Dennis Charles Cooper… Joe Luczak Jr….Oria Goodrich…Doug Stripp…Jack Darst …Tess Carolan… Allan Wimer ..Betty Groff… Vlad Rus … Tom Lefkowski… Barbara Nimesheim ….Dick Duane…Chuck Ballish…Pat Young … Dotti Clifford …Fritz Zivic…Ken Wisniewski … ….Basil Markow …Richard Clifton… Daniel Schwartz…Denis Kwiatkowski… Ted Lacey… Mike Varcelli…Donna Moody …..Bob Chaplin Jr…Pat Green… Madeline Bogart …MaryAnn Lipka…Marlene Hummel …Frank Gren …. Bill Suddaby … James Maun … Joann Hoffman … Donna Stanton…Wayne Van Hest … Lynda Hambright ….Ruth Uridel… Julie Seamon … John Ruper…Bishop Anthony Pilla…Milan Busta… James Delmar Marquardt…Woody Cornell … Artie Nejman …Norm Dobbs…Bob Good ..Sandy Comstock …Christine Wierczorek…Terrence Murphy ….Richard Skowronski..and…Jim Brogan…. These are people we have loved deeply and miss more than any words can say! Thank you for remembering each of them and for keeping their loved ones in your thoughts and prayers.
AND SO IT GOES……
I still send out my blog twice monthly. Check it out at https://www.conchtv.com/author/lynda. If we don't have your email address, please send to me at kwlynda@bellsouth.net .. Phone: 305-393-6273. Bob's email is rfrechette@bellsouth.net and cell is 305-304-2584. Key West Address is: 330 Caroline St., KW, FL 33040…Ohio Address is 62 Bungalow Bay Blvd., Chippewa Lake, Ohio 44215. We LOVE hearing from you, so please send us an update, with photos too…stay in touch. Sadly, we're afraid we must all adjust to "Life in a Covid World". So stay safe, well and get vaccinated. Know you are very special to us, and we wish you and yours a blessed, beautiful & healthy Christmas Season and a wonderful New Year!