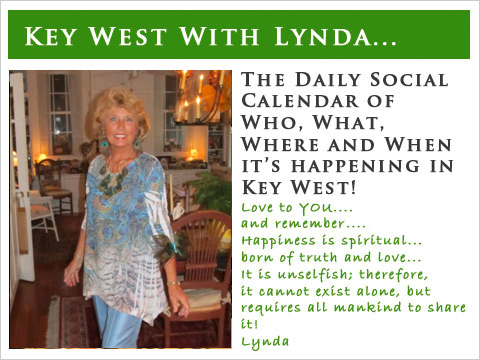 A YEAR LIKE NO OTHER ENDS..A YEAR OF HOPE & HEALING BEGINS!
Friday, January 15, 2021
JANUARY 15 THROUGH FEBRUARY 4, 2021… IN KEY WEST WITH LYNDA….

MY DEAR READERS…. We spent 5 wonderful months at Rose Cottage in Chippewa Lake, Ohio before returning to Key West on November 12….just in time for Bob's birthday on the 13th! (And big thanks to ALL who sent him well-wishes.) Since then we have… dealt with the myriad of things that await you on your arrival (non-functioning AC units, TV on the blink, etc.)…after being gone for 5 months….We ventured out a few times…. decorated our home for the Christmas Holidays…. and recently watched in shock, the current horrifying events going on in our world! We have also been fortunate enough to get our first Moderna vaccination and are thrilled about that. I know you never thought I was old enough to qualify, right? Surprise!!!!! Ha! Anyway… it has been a long time since my last blog… …Many of you have written to me and asked why I took them off the list…many also asked to be added to it! I appreciate all those who missed receiving and want you to know why I have been on hiatus. First of all…. My blog mostly consists of all the fabulous activities happening in Key West every day… events happening at theaters…cabarets… who is performing where… and so on. Because of the Virus, most things that might have been occurring were cancelled…. In my last blog, way back when… I told you about all these things that would happen, and many of them had to cancel due to health restrictions and guidelines. Also…. I do NOT want anyone to get sick by anyone going to a place that I might promote or recommend. Today, I will be promoting many events…. with a warning that if you attend, please be vigilant and attend at your own risk!

THE HOLIDAYS AND HUSBAND BOB!!!!…. They have come and gone….but guess what…. at our house all the decorations are still up and may remain so for a long while. My husband Bob, eagerly carried about 25 boxes of decorations down from our attic. At the time we did not know the date that his hernia surgery would be scheduled. We found out it was for January 6. He underwent this surgery successfully, and is now home recuperating and healing. However, he is not allowed to carry the boxes back up for a while, so we are enjoying an elongated Christmas Season. We just may leave them all up till June! Can't be any stranger than what we have all been enduring since last March!!! Right? I do ask that you keep Bob in your thoughts and prayers and if you care to cheer him up, you can by emailing him at rfrechette@bellsouth.net… or text him at 305-304-2584… or you can send him an actual card at 330 Caroline St., Key West, FL 33040. I KNOW he would love to hear from you. And a BIG thanks to all out there who have already been so very kind to send him well-wishes. This is truly a caring community and a lot of your messages and such have brought tears to our eyes.

FRECHETTE GAZETTE…. Every year at Christmas, we put out a yearly FRECHETTE GAZETTE…. Many of you have personally received it .. many have read it online. It is also there for all to see and read by going to my website with Conch TV… Just go to my blog and you can read it in its entirety…. at https://www.conchtv.com/author/lynda. You will also find the recent Birthday and Anniversary Lists. The Gazette contains all information on our Entire Year of 2020….in all its glory! I hope you check it out and if you do I hope you enjoy!

BIG THANK YOU…. To Mayor Teri Johnston, City Manager Gregory Valiz and the Commissioners and all who stuck to their guns and implemented the Curfew during the New Year's Weekend. It worked! You put the safety of the Locals and visitors of Key West First! These are troubling times and our precious town was about to be a powder keg of Virus spikes! Thank you! But still….there were business owners who defied the rules and thumbed their noses at concern for our residents and tourists. I am not judging them, but I do not agree with their thinking process. Not a good thing…. we in KW are watching and we know what places not to frequent….who only has their self-interests at heart. Someone in the Citizens' Voice suggested the Rapid Rip Off Team should now start organizing outside of these spots in town who are not helping KW deal with COVID-19. We need everyone's cooperation. These are my feelings…. you don't have to agree, but I wish you would.
______________________________________________________________________________
FRIDAY…..
HAPPY JAN. 15 BIRTHDAY TO….ERIC TEVES…. KARI DALEY ….STEVE ANDRES….SHEILA TAYLOR … ALEXANDER HUNT … SOPHIA PERANTEAU ….KAY BRESLIN … DAVID VAN DER WEHAN…..

HAPPY JAN. 22 BIRTHDAY TO…..CAROLYN SULLIVAN …. CLAIRE LOUISE CARROLL…. CORY HELD …. HEIDI SEIDEL …. MARION STRAUSS …. ALLEN MEESE….. MAY ELLEN CERNY … JOHN SCHNEPF….ANJIE MAJORS….. BETTY CARRAWAY…. (Please remember ORCHID ILAQUA.) HAPPY ANNIVERSARY TO….. AUDREY & JOHNNY POLLIZI….

HAPPY JAN. 29 BIRTHDAY TO ….MELODY COOPER … STEWART ANDREWS… ARI MIRANDA …LINDA DUNNE …. CINDY JEFFERSON…. (Please remember HUGH WARE…. and CAROL WICKES.)
_________________________________________________________

WELCOME TO KEY WEST!!!! … Williamsburg residents Amy & Scott Zrakovi and Laura Estes and Jim Pereira are visiting our Island, And… congratulations are in order as Laura and Jim will be getting married on Friday at Smather's Beach!!! Hoping for sunshine for them always!

FLORIDA VACCINES….. The FLA Dept. of Health informs that on Jan. 15, Florida will be launching a website and a call center that allows persons over 65 and healthcare professionals to register for the COVID 19 vaccine! Please note that the Dept. has not yet received additional doses other than the initial 1,300 that were received and administered to healthcare workers and people over 65 with appointments. Please do not come to any health care center without an appointment. Walk ins and line forming are not good thing with the Virus all around us. PLEASE stay patient, vigilant, wear a mask, social distance and keep those hands clean. Even after the vaccine, you should follow these criteria. May I add……Stay tuned…and never discount the power of the Coconut Telegraph….This is how I found out about the extra doses they had on Jan. 5 and was able to magically get in to be vaccinated…. and thankfully others too! And, it was not painful nor did Bob or I have any side-effects whatsoever. We are anxious to get Shot #2. BIG THANKS TO K.M!!!!!
MY PERSONAL THOUGHTS ON THE VACCINE…. I find it hard to believe that there are people who will refuse to get vaccinated…. My understanding is that if at least 80% of the population gets vaccinated, it will provide the immunity we need to get back to some degree of normalcy…. things can get back to 'the way we were'…at least sorta!!!! So, though I am not the boss of anyone, I do encourage everyone to get the vaccination…..And I am praying very hard that the Florida Dept. of Health get a huge number of doses ASAP!!!!

ELLEN STEININGER…. Where to go in Key West where you can feel safe and protected? My friend Ellen has established a FACEBOOK Page for Safety Reviews. If you go out and feel that the shop or restaurant you went to was a positive and safe experience and felt comfortable while there…. please post it on this Page. She requests no 'bashing'… but if there are places you went to that you were concerned about I think it would be important info for locals to know. Constructive opinions please. I also think that as Locals who love Key West, if we do not like what we see in a certain establishment, I think we should have the courage to speak up. Of course, if you have a bad experience somewhere, you are speaking out by not going there again… and make sure you let the establishment know how you feel. Also…. Many are asking ME for safe dining experiences and the like, so if you have things to promote, please let me know!

IMPORTANT ON CRUISE SHIPS…..FOR ALL THOSE INTERESTED…..
HOPE YOU ARE AWARE!!!… A bill was introduced in the FLA legislature that would overturn the 3 Laws recently passed by KW Voters in regard to Cruise Ships. This is a Dark Money Scheme by people who are only concerned with their OWN agenda. They have been sending information riddled with blatant lies and scare tactics. Tallahassee has no sense of what is important to the people of Key West or what the people here want. Fundamentally, this is an issue on home rule and self-governance in Key West. "Our Harbor has been locally controlled since the beginning of Florida History and it is an insult that Tallahassee would now start to control the harbor!".. sayeth our hero, Arlo Haskell!!!
WE NEED YOUR SUPPORT OF THE KW CRUISE SHIP REFERNDA…. There are spoilers in our town who DO NOT want to concede that the Voters in Key West who overwhelmingly voted for Cleaner, Safer, Smaller Ships …WON. They are working hard to overturn these Referenda ….with no regard for the residents of our precious town. We must not stand for this treatment. YOUR HELP IS NEEDED!!!! Contact Senator Ana Maria Rodriguez at 850-487-5039… and Representative Jim Mooney at 850-717-5120 to DEMAND their OPPOSITION to SB426 that would totally invalidate Key West's Citizens' overwhelming support of sensible regulation of cruise ship traffic in our City. ……My heroes are Arlo & Evan Haskell, Jolly & Will Benson, David Dunn, Beth Moyes and all those who have worked so hard and dedicated themselves to instrumenting the Cleaner Safer Ships Referenda on our Ballots. They have fought all those who have their own self-interests… who don't seem to care about the people of Key West and where they stand. WE MUST NOT IGNORE THIS NEW ATTEMPT ON DISREGARDING THE VOICE OF THE PEOPLE OF KEY WEST!!!!!

BE A RADIO STAR…AT THE WATERFRONT PLAYHOUSE!!!……The Radio shows that have been presented by the Playhouse cost about $2,000 each to produce…. this pays the actors, and crew. Can you consider being a Radio Star… by making a contribution to the Radio Shows? For $500 or more your name will be added to their roster of Radio Stars. Please help the Waterfront by going to www.waterfrontplayhouse.org or call 305-294-5015. You can send checks to Waterfront Playhouse at Box 724, Key West, FL 33041. Thank YOU! Depending on funding the Waterfront is hoping to present one radio show a month.

VERY SAD NEWS INDEED…. In 2020, we lost nearly 65 personal friends of ours, or those whom we knew through our friends. We list their names in our FRECHETTE GAZETTE, previously mentioned. They were all shining stars and are deeply missed by us and so many whose lives they touched. Since we sent the Gazette out in mid Dec., I want to mention more persons whom we have sadly lost. They are: KATIE WARNER … DENNIS STEINBACK …. BRENT OSBORN … JON ALLEN….. ALLAN WIMER …..JOSEPH LUCZAK JR….. VLADIMIR RUS…. ROBERT BROWN. May they rest in peace…. and Please keep their loved ones in your thoughts and prayers.

AT THE GARDENS HOTEL, JAN. 15, 22,29….From 5 to 7 pm, classical guitarist, Matteo Jampol will play for your listening pleasure. Outside seating only…enter from lobby and exit thru garden….Masks required and social distancing enforced. Bar staff will take orders at your table. 526 Angela St.

LITERARY WALKING TOURS ARE BACK….JAN. 15, 22, 29….Conducted every Friday at 4:30 pm. 90 minute walking tours illuminates the stories of writers who have called Key West home. Tours limited to 6 at a time for the time being. Masks required. Tours begin at the Library at 700 Fleming St. $30 per person. Go to www.keywestfloridaweekly.com or www.lonelyplanet.com. Very informative. Also on Sunday.

HOME TOURS IN KEY WEST…. JAN. 15 & 16….Old Island Restoration will offer tours on Friday and Saturday….Limited number of visitors allowed at a time…. Masks necessary…Go to www.oldesthousekeywest.com for info and tix. This year one masked tour guide will lead a small group thru the homes…held at 1 and 3 pm. Three private homes & the Oldest House at 322 Duval St…all tour-goers must check in 15 minutes before their purchased tour.

KEY WEST ART & HISTORICAL OPENING….JAN. 15…. New exhibit, 'Sand in His Shoes'… the Life and Art of Cuban Artist, Stephen Avila… 10 am to 4 pm….at Custom House…. 281 Front St….Exhibit on display until March 7. For info call Cori Convertito at 305-295-6616, EX: 112. or email her at cconvertitofarrar@kwahs.org.

KEY WEST THEATER….. JAN. 15… The talented Nick Norman presents a solo acoustic performance….Go to www.thestudioskeywest.com for info and tix. JAN. 22….SHOW… Rat Pack Together Again….. JAN. 29…. Zack Seemiller…Rocktar-Comedian entertains!!!! JAN. 30.. … Comedian Coven.

*DAVID DUNN SHOW IN STUDIO'S ZABAR GALLERY….RUNS THRU JAN. 28…..Open Tues. thru Sat. 12 to 4 pm….This amazing show features the gifted and creative sculpture artist, DAVID DUNN…..The show's theme is "Creatures of the Deep"….David is a metal artist and can magically turn anything that lands at his feet into a stunning work of art! You will be in awe to see what the sea creatures Dunn sculpts using bike chains, tools, bolts, and the like … a reflection of both the dangers and wonders contained below the surface of the sea! David is the talented son of Ambassador Amy Laura Bondurant and David Dunn. Don't Miss!!!!

DAVE BOOTLE AT MANGOES!!!!! JAN.15,16…. It's time for BOOTLE!!!! The fab Dave Bootle entertains from Wed. thru Saturday every week outdoors at Mangoes Restaurant and Bar starting at 9 pm… sometimes at 8:30 … He will play and sing all your fave tunes while your dance the night away. (This month Dave performs on Jan.15,16,20,21,22,23,27,28,29 & 30!!! He performs behind plexiglass and guidelines are enforced.TAVERN N TOWN……JAN. 15, 22,29….MIKE EMERSON PERFORMS from 5 to 9 pm…in the lounge… behind plexiglass!

TAVERN N TOWN….Note that the Chicken Walk, the outdoor restaurant at Beachside Marriott, serves Lunch daily…… 3841 N. Roosevelt Blvd. Also, TAVERN N TOWN has brought back Free Birthday Dinners for Locals along with a LOCAL ID!!!! Drinks are two for one from 5-7…. and Locals get 15% off their tab. This fine establishment is always looking after their Locals!!! Big thanks to Robert Spottswood, David Talpasz, Alan Beubien, Denis Lebedev…Cristina Gospodinov… George and all the super servers!!!!!! The entertainers are all wonderful and perform safely behind plexiglass…wearing masks… We have been there at least four times and felt VERY SAFE and well taken care of…. It is definitely not as crowded as in days prior to Covid…. and that, we feel is good for the clientele. Bartender George is safely behind Plexiglass and distancing and masks at the bar prevail.

COMEDY KEY WEST LIVES ON.. First of all I want to congratulate Comedy Club Founder, Joe Madaus in establishing the Comedy Club at a great new location. It is at 218 Whitehead St. (across from Audubon House Gift Shop)…..Pre Covid-19, we were frequent visitors of the Club when it was at The BottleCap … This is the ONLY Comedy Club in the Keys and it is a great one! Only 50 tix sold per show. Get tix by going online to www.comedykeywest.com…. or call 305-985-7370. Mask and Social Distancing enforced…. Food is also served…. wine, beer and soft drinks.

COMEDY KEY WEST ON JAN. 15 & 16….Nery Saenz, voted Best Stand-Up Comedian by the Miami Times. at 8 pm….see above for tix. JAN. 21 & 22…. The BEST of Boston at 8 pm. … JAN. 28 & 29… Landry at 8 pm…. All Comics are FIRST Class….. Also… there are hilarious LOCAL comedians there entertaining before the headliner.

AQUANETTES PERFORM ON JAN. 15, 22,29,… Aqua Nightclub at 711 Duval St. is the place to see the most fabulous Drag Queens….including FAITH…INGA…ELLE…JESSICA… BEATRIX……& MAYA!!!! All are sublime! Shows are at 7 and 9 pm on Thursday thru Friday…..Reserve at www.aquakeywest.com. Aqua open from noon to 2 am nightly…. drink specials… full menu… lunch specials…. Protocols enforced!!! On Monday, Tuesday, Wednesday and Sunday, there is only one show at 8 pm.

LATEDA………JAN. 15… 3 SUM performs at 8 . Christopher Peterson stars at 9 pm on NOV. 27 in Crystal Room.
JAN. 22…. # Sum at 8 pm and Randy Roberts at 9 pm in the Crystal Room…
JAN. 29….3 SUM AT 8 PM and CHRISTOPHER PETERSON in the Crystal Room at 9 pm.

GINGERBREAD GALLERY…. THRU JAN. 21….This esteemed Gallery presents internationally know KW artist, Michael A. Palmer… 1207 Duval St… open 10:30 am to 7 pm.

SMOKIN TUNA SALOON…JAN. 15,16,22,23,29,30 & FEB. 5 & 6…NICK BROWNELL AT 5 PM…. Caffeine Carl & The Buzz at 9 pm.

THE GREEN PARROT…. JAN. 15… Andy Wescott Band entertains at 5:30 and 9:00 PM.
JAN. 22… Miles Mancuso entertains at 5:30 and 9 pm.
JAN. 29….Jeff Clark entertains at 5:30 and 9:00 pm.

KARRI DALEY ENTERTAINS…. JAN. 29…. Karri performs at Margaritaville on Duval St. from 6 to 9 pm.

801 CLUB….JAN. 15,22,29…Famous Drag Shows are at 801 Duval St… every night at 9 or 11 pm. Book Online….. www.801.bar or call 305-923-9296. The amazing and internationally known Sushi runs the show with amazing Drag Queens!!!! (One of my faves is Calen Tomaszewski who also sang for Aqua Idol for the Waterfront Playhouse…6 ft. 6″ of amazingness!!!!)

2021 UNSUNG HERO VIRTUAL CELEBRATION, FEB. 5….This year our Unsung Heroes will be honored with a virtual event…. Livestreamed on Facebook and at www.cffk.org. Noon to 1 pm. Guest will not be seen or heard. Just log into above and enjoy the show.

THE BIRTHDAY AND ANNIVERSARY LISTS…….. Please let me know if you would like me to forward you these lists….. Simply send me a request and I will send you this month's complete Personality Description plus all those I know who are celebrating birthdays and anniversaries during this special time of year!!! Also, let me know if you want to be added to it. Many of You NOW have plenty of time to send notes, cards, emails and texts …it is a chance to remember all those people too nice to forget!!!! People like YOU!!!! You can also see it by going to https://www.conchtv.com/author/lynda… and then scroll down.

HEAR YE HEAR YE….. SHAMELESS PLUG…..MY DAUGHTER IS A MASK-MAKER….. Yes, daughter, Melissa Lang has another 'cottage industry' going. She makes terrific wearable and washable masks that have personality and pizzazz! If you would like to order masks, contact her at 224-717-2311 or at granimals@hotmail.com. People are ordering like hotcakes! She will take your order, make, and send to you. Also, she will be happy to make a mask using fabric that pertains to a special interest of yours….. like music, gardening, dogs, or pets, etc. Tell her I sent you!!! I want to thank all my readers who have ordered masks from Melissa. You are so kind.

*UPDATE ON THE 2020 WATERFRONT PLAYHOUSE AQUA IDOL… At this point the completion of Aqua Idol 2020 will have to be on hold until we all feel absolutely safe and confident that we can perform our final two shows without the possibility of getting sick. In the meantime ….I do NOT want you to forget the Final Eight Vocalists whom we have all come to know and love………They are…..STEPHANIE WISE…. BOB WOOD…. JON HERNANDEZ…. BRIA ANSARA…. GAYLA MORGAN…. CARL TREY FORSYTH….. SARAH DORRANCE … AND… CHARLII CLARK! These are some of the most wonderful and talented individuals and nicest people I have EVER known… and that also includes those who started the event with us, way back ON JAN. 22…. including…. LUKE FOX.. ZACH FRANCHINI… CALEN D. TOMASZEWSKI… MIKE RIDGEWELL …..RICHARD QUINT ….PERKY SARAH PERKINS…. HERB MILLER..AND VERA GRIGOROVICH!!!! Stay tuned…..

GAYLA MORGAN….. Speaking of Gayla, mentioned above as one of the Final Eight! She will soon be departing Key West a second time… leaving for her NJ home around Jan. 17. Her new address is: 719 E. Brigantine Ave. Unite 1, Brigantine, NJ 08203. We love Gayla and we have so enjoyed her playing and singing at the Masses at the Basilica of St. Mary SOS….She will be deeply missed by everyone whose lives she has touched so very specially.

CONGRATULATIONS TO TREY AND SARAH!!!! I am proud like a Mom, that TREY FORSYTH AND SARAH DORRANCE PAUL are performing as FABULOUS SPECTRELLES the amazing trio founded by Alison Mayor. You can catch them performing at various spots in town including LATEDA AND THE BULL!!!! (They are also two of our fabulous Final 8 in Aqua Idol!!!!!)

SUPPORT SOS………Prior to the pandemic, more than 50% of Monroe County residents were ALREADY living below the poverty line. SOS (Star of the Sea) Kitchens have long been providing food for those in need. PLEASE Support SOS and other orgs such as Sister Season Fund with donations if you can. Go to…. https://cffk.org/non-profits/sister-season-fund-inc/ … The SOS will be returning to their old regular hours.

SKIPPER KRIPITZ AT VIVA SALOON, JAN. 15, 22,29…Our favorite Drummer Boy, SKIPPO takes the stage to entertain with various members of the CRZB's or Nina Newton….every Friday from 6 to 9 pm…. 903 Duval St….. Call 305-998-4389…. Great entertainment, cuisine, in a large outdoor setting with perfect social distancing for all guests! I highly recommend VIVA… Owner Alfredo Gimenez goes out of his way to make all guest safe and comfortable…. food and entertainment first class!

SMOKIN TUNA SALOON ….JAN. 15…….. Noon to 4 pm, Radio tribute to Jim Morris all day…. 5 pm, Scott Kirby…. 9 pm, Caffeine Carl & the Buzz….. NOV. 6…. Nick Brownell at 2 pm…… Caffeine Carl at 5 pm….. The Swayzees at 9 pm….. NOVEMBER 13…. Nick Brownell at 5-8 pm….. 9 pm, Caffeine Carl and the Buzz.

COVID-19 TESTING…..The FLA Dept. of Health is offering FREE testing to all Monroe County residents on a regular basis. Appointments are necessary. Call 786-910-9764 to schedule. Or email TestingMonroe@flhealth.gov. NO WALK INS ALLOWED. MUST be a Monroe County Resident. In Key West testing will be at the Gato Bldg. at 1100 Simonton St. on Wednesdays from 9 to noon and Fridays from 1 to 4 pm.

KELLY NORMAN ANNOUNCES RAM'S HEAD SOUTH SCHEDULE…..Ram's Head Southernmost is open Mon thru Fri noon to 11 pm… food served until 10 pm….. Sat. & Sun., open 9 am to 11 pm… food till 10 pm….Note Kids East FREE on Wednesday…. Burger Special is $5 on Sunday!!!! Entertainment daily during happy hour from 4 to 7 pm!!!

SUBSCRIBE TO KONK LIFE ELECTRONIC PUBLICATION…… Guy de Boer, publisher of this great Publication has ceased printing an actual paper for right now… but he is offering you a chance to continue to receive KONK Life on a Daily basis. It is chock full of great up-to-date information. Times are tough, and until things ease up he is requesting a subscription fee, which I feel is well worth it. For more information go to ….. https://konklife.com/?p=47710. If you prefer, you can email Guy at guydeboer@gmail.com and he will advise you on how to subscribe. You can also text him at 305-766-5832.

DAILY FREE COVID TESTS AVAILABLE…. In Key West at BERNSTEIN PARK on Stock Island…..Walk Up Testing with more than 500 tests available per day. Offers an oral-fluid swab testing rather than the nasal swab tests. Appointments are also available at www.curative.com. At 6751 5th St. No insurance necessary. FREE testing…. Also… done at Founders Park at 8700 Overseas HWY. in Islamorada.

AWESOME FOUNDATION KEY WEST!!! Friend Michael Shields asked that I mention this Foundation that he is heavily involved in. Globally, there are 90 chapters…there are 50 in the USA, with 5 in Florida, including Key West. Over $4.4 million granted since 2009. The mission of the group is to bring more awesomeness to our town, and spreading it by awarding $1,000 grants with no strings attached to the most awesome idea, project, proposal, or plan that is presented to the Group of Trustees, who each plop down from their own pockets the money to fund the Grant. Sounds totally AWESOME to me!!! Check it out online at www.awesomefoundationkeywest.org. These awards have been given since Oct. To date, over 60 applicants have been received. Michael Shields is the coordinator of this group. READ ON….

****"ISOLATED ISLAND"…..SELLING NOW……. ROBERTA DEPIERO AND CAROL TEDESCO received a $1,000 AWESOME FOUNDATION grant to fund a limited edition commemorative photo-book of 352 pages of dramatic and captioned images shot by 25 area photographers during the COVID-19 relief efforts on behalf of workers in tourist related industries including entertainment, hospitality, lodging and retail and guest services. Titled "ISOLATED ISLAND"….'COVID-19 SPRING-WHEN PANDEMIC MET PARADISE'… DePiero's brainchild. She and Carol are hoping to raise app: $10,000 for Sister Season Fund's crucial outreach during this Pandemic. For book orders please contact Roberta DePiero at robertadepiero@gmail.com. Some of the wonderful photographers are Peter Arnow, Larry Blackburn, Susan Bailey, Ropberta DePiero, Ralph DePalma, Tony Gregory, Mark Hedden, Bill & Linda Klipp, Cory Malcom, Rob O'Meal,. Steve Panariello, Carol Tedesco, Sharon Wells, with editing by Kathy Russ…. ORDER TODAY….www.SisterSeason.com. If anyone has any extra dollars to spare, please support SISTER SEASON FUND to help our Key West workforce!

BIRTHDAY/ANNIVERSARY LISTS….If you would like to be included in the Birthday and Anniversary Lists that I send out every month, please let me know your month and day by sending that info to me at kwlynda@bellsouth.net. There are special perks to being on the lists!!!! One of the perks is having your name in KONK Life on the day of your Birth….

PRAYER CHAIN…..Please continue to remember the following in your thoughts and prayers….. Prayers for all of us in the Keys who are facing this pandemic corona-virus… it is a serious thing… …. Give us the strength to practice social distancing… let everyone realize how important it is to wear a facial covering………… Andy Kellar …..the family and friends of Nancy Nelson on the loss of her beloved mother, Angela Presto……..Please pray for….Patricia Moore….Pat Green…. …….David Buffam ….Lorann Wood.. ….. Paul Politte…. …the family & friends of the Warner Family on the passing of Katie Warner….the family and friends of Allen Wimer, Bob Brown, Jon Allen, Dennis Steinback, Vladimir Rus, and Brent Osborn, whom we recently lost……my nephew FRED STEVENS and his wife Judi…..all those in the Keys who have tested positive for the virus…..Mayor Teri Johnston……Javier Lopez … …. .Michael Amin …. …..all those in town who are financially challenged during this time….. our wait staff, shop workers, entertainers, check out clerks, doctors, nurse, etc……Bucky Montgomery ……Pat West ……Michael Thomas ………Our Nation…..Barbara Brant….. Jim Hall ……..Sissy McDonald….. Chuck Selph…. Larry Selph …..Genevieve Isaksen …Ann Marie Adreani. ……..Sandy Abookire …….RE Frechette . …..S. O'Brien……. Donna Barnett….….Sharron Mondo… Maggie Domski ….Len Stevens …..Jack & Anne Marie Flood…..Joe Biden…..Joe McMurray …George Kling …..Mary Larkin …. …Robin Deck …Paul Cotton.. …… Nancy Williams …Christy Nelson……Fred Lima …Maryann Barth…..Kathy Stevens ….Ed Stevens Jr…..Georgia ….Dena Badgerow…..…Bella Rettenwander ……Diane Covan ….Paul C…..Dawn de Boer … …Joe Dallas Sr … Jan Cernan ….Donna Stanton …Lee Garrison … Lou Ann Cymont … Cheryl Walchli … Terri White …John Padget …..Eric Nelson …….Gary Rivenson …Donna Stabile ….Todd Reifschneider … …Pat Waller …..Millie Chawlew ……. Lee Knight …..…Frank Gren …Marta White ….… Peter Deksmith …Bill Lodermeir …Betty & Jack Darst……Richard and Betty Carraway …. Anne McKee …..Teresa Lawson …… Star Husky… …Marec Yooree ……. Pamella C. Bocdow. …Dee Dee Duecker … Karla Muir … Vincent Gregory …Tony Freese… Jennifer O'Lear … Kent Gater….Margaret Taylor … Roland Ryper …Patrick Richards. Remember, there are many reasons that we pray…not just because people are ill…. I do believe that when we all send prayers and good vibes to those in need, those prayers mystically meet and surround those being prayed for. Sometimes we pray for miracles and the impossible….sometimes we pray to just cope with the results of what happens to those we are praying for. Sometimes we pray for strength to go on and to accept…sometimes we pray for thanksgiving. We are in this thing called 'Life' together….and we all have power within us to help our fellow man. Bless you for remembering our loved ones….Prayer changes things! Let me know if you know of anyone who should be added to this list.

BOB FRECHETTE=FABULOUS REALTOR IN TOWN!!!!…..Need a realtor in town? My husband BOB FRECHETTE IS YOUR MAN!!!! He has been with the marvelous Compass Realty ( NOW Keller-Williams Compass) for 20+ years …Give him a call at 305-304-2584! Email him at rfrechette@bellsouth.net. He is the BEST! I promise!!!! Honest, Loyal, Fair, and Adorable too!!! He will have only have YOUR best interests at heart.

TAKE STOCK IN CHILDREN NEEDS VOLUNTEER MENTORS….mentors needed to work with dedicated students….If interested call Karla Quintana at 305-293-1546 or email her at karla.quintana@keysschools.com.

LOWER KEYS MEDICAL CENTER NEEDS VOLUNTEERS….There are opportunities available for volunteers… at reception desk, as a greeter, an escort, etc….Call 305-294-5531 for information extension 4771 or email Tami.Harmon@LKMC.com

A PUN or LEXOPHILE FOR YOU…..Two Eskimos sitting in a kayak were chilly, so they lit a fire in the craft. Unsurprisingly it sank, proving once again… that you can't have your kayak and heat it too.
______________________________________________________________________________
SATURDAY …..
HAPPY JAN.16 BIRTHDAY TO….REBECCA TOMLINSON … MICHAEL FATICA … SALLY GALBRAITH …. MARY HAFFENREFFER … JOSEPH SHAW …. DIANE STRONG …. HAMPTON LOESSIN….. (Please remember RICHARD CROOKS…. &….FRAN FORD.)

HAPPY JAN. 23 BIRTHDAY TO…..TERRY NARLOCK…. ALAN GILLESPIE … TERRY NARLOCK ….AMY CLEVELAND … DIANNE SZUFLADA …. CLAIRE FINLEY …. STEPHEN HOLLINGER….PAUL AMOS…. ANKIE AMOS….HAPPY ANNIVERSARY TO…. JEANNA & JAVIER GARRIDO…. AND …. ANKIE & PAUL AMOS.

HAPPY JAN. 30 BIRTHDAY TO…. QUEEN KATE MIANO …. RITA BOF…. ROSS PIPKIN…. ISA & KAITO ONO…..CAROLINE LOESSIN. ….MELODY GONZALEZ-DIAZ…
______________________________________________________________________________

*'JANE EYRE' PRESENTED BY WATERFRONT PLAYHOUSE…JAN. 16….This is the popular ON-AIR RADIO SERIES…Charlotte Bronte's JANE EYRE! Stars Carolyn Cooper, Ross Pipkin, Barbara Mundy, John McDonald, Kelci Grooms and Ervin Tumm. This Broadcast will be at 8 pm on 104.1 FM or you can listen on US1Radio.com. Due to restrictions tix aren't available for live viewing of the Broadcast at the Waterfront. Follow the show by going to www.us1radio.com/old-fashioned-radio-drama/. For more info call 305-294-5015 . Send donations to The Waterfront Playhouse at PO Box 724, Key West, FL 33041.

HAZARDOUS WASTE COLLECTION, JAN. 16….From 9 am to 1 pm. at Bernstein Park, 6751 5th St., Stock Island. Bring all corrosive, flammable, reactive or toxic products and they will be disposed properly so they cannot contaminate our sensitive ecosystem. FREE.

KEY WEST TROPICAL FOREST & BOTANICAL GARDEN …. PLANT SALE…..JAN 16..Sale is from 9 am to Noon… 165 species on sale. Located at 5210 College Rd. on Stock Island…. Explore this sylvan setting and the 15 acres of trails and lovely sites….native plants are abloom…lots of birds and butterflies surround this outdoor refuge…. just the antidote for the corona virus blues! Safe distancing will be key….10 am to 4 pm 7 days a week. Make sure you see the fabulous Throne fit for Every Key West Queen… created by artist and friend, PERRY ARNOLD!!!!

CAR WASH FUNDRAISER, JAN. 16…. Students in Keys to Be the Change hold this event from 9 am to 2 pm…. at VFW Post 3911 at 2200 N. Roosevelt Blvd.

SKIPPER KRIPITZ AT VIVA SALOON, JAN. 16,23,30…. The super SKIPPO entertains ever Saturday… usually with the lovely Nina Newton OR with Joe Dallas or some musicians from the CRZB's!!! 6 to 9 pm…. Outdoors…Great Social Distancing!!!! Great food too!!!

TAVERN N TOWN….JAN 16, 23, 30……..The always suave and debonair…. BOBBY NESBITT FROM 5 TO 9 PM….Show him your love!

COMEDY SCENE STUDY WITH DENNIS ZACEK…. STARTS JAN. 16…. This is an 8 session Study, from Jan.16-March 6… 10 to Noon at the Studios Hugh's View…533 Eaton St….Taught by award-winning actor, director & teacher, Dennis Zacek…class will explore farce, realistic and high comedy thru scene study. Some acting experience required. To register go to www.tskw.org, or call 305-296-0458.

BRIA ANSARA ENTERTAINS ON JAN. 16,23,30…AND EVERY SATURDAY….. This multi-talented gal performs at HALO at The Saint Upstairs Porch…. enter on Duval St. 7 to 10 pm…

KARRI DALEY FANS….HEAR THIS…JAN. 16, 23….. The talented and beautiful KARRI performs outdoors at the Pier House from 12 to 3 pm!

HALO AT THE SAINT…. JAN. 16…. Busy gal, Karri Daley performs at The Saint's HALO…upstairs on the porch overlooking Duval St. Enter through Duval….7 to 10 pm.LATEDA, …JAN. 16 & 30…3 Sum at 8 pm….. Randy Roberts AT 9 pm in the Crystal Room!!!!!.
JAN 23…. 3 SUM AT 8 PM…. Christopher Peterson at 9 pm.

THE GREEN PARROT… JAN. 16….The fabulous COCONUT TELEGRAPH performs two shows at 5:30 and 9 pm. This dynamic group has taken Key West by storm… Lead singer, Belle Jampol is sensational…. and those in the Band are all First Class musicians! Don't Miss.
JAN. 23….Tony Baltimore & Vince Bergand at 5:30 and 9 pm.
JAN. 30…. JEFF CLARK at 5:30 and 9 pm.

SOUTH FLA SYMPHONY VIRTUAL CONCERT….JAN. 16….8 pm….Go to Symphony Website for tickets.

YEARLY VISITOR TO KW, LUCY KOMISAR RECOMMENDS…. Lucy and her husband go go go while they are in town. This year, she is very particular, as she should be, about safety and vigilance. So far, these are the spots she can recommend…. Salute…Hogfish… Half Shell Raw Bar… Latitudes…. Sun Sun at Casa….Blue Heaven…. Oasis…. Louie's Backyard…. Martin's…. Viva Saloon …. Bagatelle… Louie's Cafe…. Thanks Lucy!!!!

THE GARDENS HOTEL…. EVERY SAT. & SUN…..5 TO 7 PM..JAN. 16,23,30… Bobby Green entertains in the Atrium at 526 Angela St. Get 20% off a bottle of wine in the d 'vine Wine Gallery. Masks and social distancing required.

SMOKIN TUNA SALOON, JAN. 16,23,30,FEB. 6……5 TO PM, Nick Brownell…. Caffeine Carl and Buzz at 9 pm.

KARRI DALEY PERFORMS, JAN. 23…. Karri is at the Pier House from Noon to 3 pm… She performs on a Sebago Water Cruise from 4 to 7pm.

THE KEY WEST PARROT HEAD CLUB….This fun loving, and very philanthropic group who love Jimmy Buffet, partying with a purpose and supporting our community, is seeking new members. Single membership is $20… and you receive a KW Parrot Head license plate frame and other special privileges. To join call 262-705-8204 or go to http://keywestparrotheadclub.wildapricot.org.

THE KEY WEST GARDEN CLUB AT HIGGS BEACH OPEN…. FREE…. 9:30-5 pm on Sat…..daily. Free admission….1100 Atlantic Blvd. Masks and distancing required.

SPECIAL LOCALS DEALS…. 1) Cafe Sole on Southard St…. 20% off entire bill from 5 to 6:30 pm every night. 2) Sarabeth's on Simonton: 50% off Bottle of Wine…. Free Dinner on your Birthday!STRING MUSICIANS SOUGHT…. The KW Community String Orchestra is seeking those who play violin, cello, viola, etc. at all levels of experience. For info contact Lynn-Marie at lynnmariekw@gmail.com.

THE STUDIOS IS OFFERING….The Studios offers an open air happy hour experience in the newly opened Hugh's View….Reservations are a must for this sunset event, which will offer a cash bar. For info go to https://www.tskw.org and click on the Glow Hours Link.
______________________________________________________________________________
SUNDAY
HAPPY JAN. 17 BIRTHDAY TO….BLAKE HUNTER….. JOHN MCDONALD …. KAREN LOCKWOOD …. SCOTT HALL …. PAIGE DILLOW …. RONALD STADNIK….. (Please remember MABEL SHOOK…. AND … LINDA PATCHETT.)

HAPPY JAN. 24 BIRTHDAY TO …..BUNNIE SMITH …. TERRI WHITE …. TOMMY LUNA ….SCOTT MASON …. SIMON KAUFMAN …. LARRY GUZY ….SANDRA ABOOKIRE …. IZABELLA INGRAM….

HAPPY JAN. 31BIRTHDAY TO…..JEANMARIE WOODS …. ERIC GRAHL … GEORGE KLING …JUDI STEVENS …. SHAWNA LACY WYND …. STODD 'SASSY' TUTTEL ….HENRY KASPAROVSKY …. TENAYA GUTFREUND….HUNTER OROPEZA …. MELISSA BITTNER…(Please remember GREG SERGO.)
_________________________________________________________

OLD STONE COFFEE HOUSE… JAN. 17…Rolando Rojas will be back at the Old Stone Methodist Church at 600 Eaton St. to perform soulful music. Come and listen, learn, and get a great start to the week ahead. ……. JAN. 24… ADRIENNE Z…. PERFORMS….. JAN. 31…. ERIKSON HOLT ENTERTAINS.

LITERARY WALKING TOURS ON SUNDAY….JAN.17, 24,31….10 AM…..Tour explores info on authors and writers who have lived in Key West. Only 6 per group….safety enforced… masks and distancing…. walking tour.

JAZZ BRUNCH AT THE REACH….JAN. 17,24 31…AND EVERY SUNDAY… Fab vocalist, BRIA ANSARA entertains at Four Marlins at The Reach Hotel…11 am to 2 pm….masks and all rules enforced.

GARDENS HOTEL…. JAN. 17,24,31…. Bobby Green entertains at the piano from 5 to 7 pm….526 Angela St. Outdoor seating…. Masks and social-distancing enforced. Order at tables.

BASILICA OF ST. MARY STAR OF THE SEA….. Please note that St. Mary's has added outdoor Masses to their Sunday Schedule. We are loving the 9 am and 10:30 am Masses in the Garden …. When the interior of the Basilica is filled, people are directed to the Garden, and we find it to be a safe and positive experience…. masks and socially distanced. We usually go directly to the Garden Mass.

THANKFUL ON SUNDAY……I am so grateful for so many things and mostly to so many people who continue to overwhelm us with much love and caring…..BIG thanks, in no particular order… to.. …..Kathy & Steve Russ…..Kate Miano…Sally Stevens & Robert Zadkovich….Judy & Stanley Zabar ….Johnny & Maribell Maschal … Michael Pelkey ….Maggie Domski …Mayor Teri Johnston….Patti Cakes Hayes & Leslie Boatwright….. Bobby Nesbitt & Mike Mulligan…. June Hudson & Fred Greenberg….Alison Teal & Sam Brown…..Tom Thayer & John McDonald. ….Jennifer Stevens & Peter Vishton ….Jerry Galeana ….Mary Borrell & Gene Knudson… Jimmy Olson…. Billy Cartledge & Jim Hall….Bunnie Smith…Kristin LoGerfo & Peter Glicklich …Pat & John Bollinger …Trey Forsyth……. the Health Dept. now vaccinating slowly but surely ….Kate Regan & Ken Silverman …..Melissa Lang….Paul & Pam Vereb……Bruce Moore…Keith Dempster ….Jim Argoudelis & Dan Ward…..Mary Lynne Price …. Christopher Stryon …. JT Thompson. ……Carl McMackin …. Skip Floyd….Dave Talpasz…. Cristina Gospodinov. …..Fr. John Baker …. Marilyn Rintamaki…Gayla Morgan …. Lucy Barker & Tom Swain…. Kathy & Jim Haymaker…..Suzanne Washburne…. Marjorie Paul Shook…. Fran & Ron Chrmura …. Laurie McChesney…Robbie Frechette …. Mike McCabe…. Dena & Bob Badgerow…. Christine Cordone & Larry Smith …. Margo Gordon…. AJ Woods….Scott Burau & Eric Teves…. Maria & Si Kaufman…. Marion & Charlie Strauss…. Susan Server & Sheldon Davidson….Deenise & Tom Rybicki…..The Studios…..Arlo & Evan Haskell …Beth Moyes….Amy Bondurant & David Dunn… All those who worked so hard for the Ship Referenda….The Cleveland Browns…. In addition…. I want to give thanks to all those who are being vigilant and adhering to the rules (even after being vaccinated) and trying to make right this virus era that we are going through…. thanks to all business owners who are enforcing the rules …..and MOST OF ALL…. THANKS FOR MY VERY DEAR HUSBAND BOB…. ALWAYS BOB…. !!!!

TAVERN N TOWN….JAN.17, 24, 31….. ROB DI STASI PERFORMS FROM 5 TO 9 PM. IN THE LOUNGE!

SMOKIN TUNA SALOON on JAN. 17….. 8 PM, Caffeine Carl & Scott Kirby…. JAN. 24. and 31 and FEB 7…Myles Mancuso & Friends at 7 pm…..

GREEN PARROT, JAN. 17…JAN. 24, 31….. JAZZ at the Parrot led by Mike Emerson and his usual superb musicians! 1-4:30 pm….At 5:30 pm, it's Jason Lamson and The Preacher four soundcheck at 5:30 pm.

AT THE STUDIOS, JAN. 17…. Beginner's Class, 'Intro to Soap-Making'…with Angela Berube. 9 am to 1 pm….Members, $65 and non-members, $80. (includes $15 materials fee) Held at The Carriage Trade Artists Residence next to the Studios. www.tskw.org or call 305-296-0458.

LATEDA… JAN.17, 24 and 31… 3 SUM performs at 8 pm in the Lounge for dinner pleasure…

CLASS AT THE STUDIOS, JAN. 24….10 am to 3 pm held at Carriage Trade next door to Studios…Hand-Stamped and Stenciled Papers , instructor is Pamela Kostmayer. Learn the basics of papercraft and composition by creating one-of-a-kind sheets that can be singular works of art, or as a base for collage. Go to www.tskw.org or call 305-296-0458.

STORYTELLING AT COMEDY CLUB…JAN. 24…. Key West Locals present Local KW Stories… go to www.comedykeywest.com. 218 Whitehead St. 7 pm!!!!

CONGRATULATIONS TO MANNY CASTILLO SR….A special reader, Manny Castillo Sr. is retiring as Director of Key West Housing Authority after 30 years. He is one great guy and we thank him for his service and wish him a wonderful retirement

MORE CONGRATS TO….. Lynn Kaufelt who was recently recognized as the recipient of the 2021 Golden Mango Award from The Studios…. and to 2021 Studio Heroes, Gary 'Sushi' Marion, Brad Lutz and Emma J. Starr. And Congratulations to The Studios for their very well presented Virtual Patron Lunch on January 10.
______________________________________________________________________________
MONDAY….
HAPPY JAN. 18 BIRTHDAY TO ….. JENNIFER CORNELL … ERIC DEAN DAVIS …. CAROL BLAHA FRAC … LENNY BORNINO….. (Please remember TIM WEGMEN.)HAPPY JAN. 25…. BIRTHDAY TO …..PAUL DIETZ … MURPHY DAVIS ….VIDAL …. TIM KOENIG …. RICK ELIAS …. JENNIE WOLF…. CATHERINE VOGEL …. SHARON MCCALLUM …. JUDY SKOCZEN … CAROL MAC CARTEE…. VIRGINIA ROBBINS…. JIM CORRIGAN …. (Please remember Mary Lynn Furth….. Henry G. Brownell …. Jerry Cash.)

HAPPY FEB. 1 BIRTHDAY TO…. TRINE NIELSEN …. BRIAN GLASSBURG ….DONALD FURTH …. MADONNA MINION… JOY SUAREZ … BRUCE ADRIANI…. HAPPY ANNIVERSARY TO….. ELMIRA & DAROLD LETO.
_________________________________________________________

TAVERN N TOWN, …..JAN. 18… ROB DI STASI ENTERTAINS FROM 5 TO 9 PM IN THE LOUNGE. JAN. 25… MIKE EMERSON ENTERTAINS…. FEB. 1…. ROB DI STASI.SMOKIN TUNA SALOON on JAN. 18, 25, FEB, 1, 8….at 9 pm…..Gerd Rube at 5 pm….. Myles Mancuso & Friends at 9 pm.

LATEDA, .. JAN. 18 and FEB. 1….3 SUM performs at 8 pm. Randy Roberts performs in the Crystal Room at 9 pm….
JAN. 25…. 3 Sum at 8 pm…. Christopher Peterson at 9 pm in the Crystal Room.

BRIA ANSARA ENTERTAINS, JAN.18,19,25, 26…AND EVERY MONDAY & TUESDAY….At Bourbon Street Pub on Duval St. from 8 to 11 pm.

PAINT 'N CHUG AT COMEDY CLUB….JAN. 18 & MARCH 29….Hosted by local artist Lance Berry….This wet painting comedy hour or two, remixes the common paint & sip with Comedy, Games, and More. 218 Whitehead St. Go to www.comedykeywest.com.

BINGO AT GREEN PARROT, JAN. 18….The Key West Art & Historical Society will host this fundraiser at 7 pm at the Parrot at 601 Whitehead St.

FRIENDS OF THE KW LIBRARY VIRTUAL LECTURE….6 pm….'A Night of Mystery' moderated by Lucy Burdette and features authors Hank Phillippi, Rhys Bowen and Julia Spencer-Fleming. FREE…. To register go to www.Friendsofthekeywestlibrary.org or call 305-292-3595.

AT THE STUDIOS, JAN. 25-FEB. 8….A Studios class held online via Zoom… with Stephen Kitskos… Subject is: Exploring Geneder & Sexual Identity thru Musical Theatre. 4-5:30 pm…. 3 Mondays…. $90… Members, $75. Will examine three seminal works of Theatre, explored thru the sexual lives of their principal characters using the conventions of musical theatre to edify, educate and entertain. Call 305-296-4058 or go to www.tskw.org for registering.

**VIVA'S S SALOON.. GREAT SPACE FOR OUTDOOR DINING….. LARGE PROPERTY & VERY SAFE FOR SOCIAL DISTANCING…..OPEN FOR TAKE OUT TOO!!!!…..DELISH FOOD…… OWNER ALFREDO GIMENEZ IS A GEM!!!!! 903 Duval St… Entertainment on weekends….. tables spread out in this large garden area. Leave it to Alfredo and Gaston, the owners, to do everything right and take care of their clientele.
______________________________________________________________________________
TUESDAY
HAPPY JAN. 19 BIRTHDAY TO….KATHY HAYMNAKER …. ROGER HARMON ….. MICHELLE DRAVIS….. NIKOLA CZERNY… CONNIE PETERSEN.

HAPPY JAN. 26 BIRTHDAY TO…..ANNE LOWE …. ADAM KENDRICK…. CODY BESHIRE ….. REBECCA ROBINSON…..(Please remember Claire Ryan.)…..HAPPY ANNIVERSARY TO….. MARTHA & JOE DOOLEY … AND …. JIM & REBECCA ROBINSON….

HAPPY FEB. 2 BIRTHDAY TO….SALLY STEVENS ….. GARY SYMONS….. TINA DELPH EWING …. MARK BUCZAK ….(Please remember Fr. John Wiegand ….and … Ed McBride.) HAPPY ANNIVERSARY TO….MORGAN & MARKY PIERSON….. AND…. BASIA & GREG CHAPLIN.
_________________________________________________________

TAVERN N TOWN, … JAN. 19, 26…..CARMEN RODRIGUEZ & JAMES KING ENTERTAIN IN THE LOUNGE FROM 5 TO 9 PM….

THE SANDBAR ON GREENE ST…. JAN. 19… Karri Daley performs from 7 to 10 pm.

LATEDA, ….JAN. 19. AND FEB. 2.. SPECTRELLES AT 8 PM…..CHRISTOPHER PETERSON AT 9 PM IN THE CRYSTAL ROOM….
JAN. 26…. THE FAB PECTRELLES AT 8 PM & RANDY ROBERTS AT 9 PM….

SMOKIN TUNA SALOON…JAN. 19, 26, FEB. 2 & 9….Scott Kirby at 5 pm….. Nick Brownell and Friends at 9 pm..

ONLINE DRAWING CLASSES…EVERY TUESDAY….JAN. 19,26….The KW Art Center will host Lothar Speer as its figure drawing instructor…Zoom on Tuesdays from 10 am to 12:30 pm…. January thru March….Call 305-294-1241 or visit the following website:
http://www.keywestcenter.com for registration, cost and info.

LOUIS PETRONE PODCAST EVERY TUESDAY……JAN. 19, 26….Resident Sage and Bon vivant, Louis Petrone, presents his live podcast every Tues. at 9 pm…. Hear him rant, rave and expound on everything under the sun and then some….Always interesting and never dull!!! Go to www.blogtalkradio.com/key-west-lou. Louis has a devoted following and rightly so!

ROOFTOP SUNRISE YOGA AT HUGH'S VIEW…JAN. 26-MARCH 18….Tuesdays & Thursdays, 6:30-7:30 am…at Hugh's View. Pay Weekly… $20 per class. Led by Cricket Desmarais.

THE WILLIAM WELCH LEGACY….This wonderful man and amazing artist is no longer with us, and he is missed more than words can say. However, his beloved sister, Sherrey Welch , and Bill's partner Dave, are determined to keep Bill's art and legacy alive through the new website, at www.williamwelchcollection.com. Please forward this info to anyone who may be interested in Bill's work retrieved from Nantucket, Key West and France. Bill Welch was a true gentleman…. kind, caring and deeply talented….
______________________________________________________________________________
WEDNESDAY…INAUGURATION DAY!!!!

HAPPY JAN. 20 BIRTHDAY TO …CLAYTON BEATTIE ….GINA KARR …. LINDA CURTIS …. STEPHEN SELKA …. STACY 'FIERCE' ORTIZ…. DAVID FRONHEISER ….NANCY NORRIS …..NANCY BOYCE …..COREEN ADAMANY ….TORI GREGG….. STEPHEN RICHARDSON….. (Please remember Gladys Rybicki and Joy Peck.)

HAPPY JAN. 27 BIRTHDAY TO…. JIMMY OLSON …..STACY STAHL …. RANDALL LAIL …. KARL JUNEVICIUS …. DAN SIMPSON …. DENISE RYBICKI …..(Please remember Rose Lopez.)…. HAPPY ANNIVERSARY TO…. BARRY PHILIPSON & WILL NETHAWAY.

HAPPY FEB. 3…. BIRTHDAY TO…..JIM SPEAKE…..VIKTOR SLAVOV…..MICHAEL QUIRK ….. JESSICA GUTFREUND ….JAYLIN THACKER ….HAPPY ANNIVERSARY TO….. BLAKE HUNTER AND MURPHY DAVIS …. AND…. GAIL ROSE & RODNEY KERRIDGE.
_________________________________________________________

INAUGURATION VIEWING ON JAN. 20….. At The Truman Little White House at 111 Front St….There is a luncheon AND a viewing of the swearing in of Pres. Joseph Biden and VP, Kamala Harris…. 11 am to 2 pm….Tix will be sold as tables of 2, 4 or 6 and can only be bought in advance by calling 305-294-9911 EX: 5. Making its debut and on display at this Luncheon will be one of Truman's presidential Limousines… a 1949/50 Lincoln Cosmopolitan… one of three of nine limos left in the world. Members $100, non members $125. Cash Bar,,, free preview of the New White Glove Tour & Foundation Room.

TAVERN N TOWN….JAN.20… MIKE EMERSON ENTERAINS FROM 5 TO 9 PM… JAN. 27… ROB DI STASI ENTERTAINS…

LATEDA…. JAN. 20 AND FEB. 3….. THE FABULOUS SPECTRELLES AT 8 PM…. RANDY ROBERTS AT 9 PM IN THE CRYSTAL ROOM.
JANUARY 27….. THE FAB SPECTRELLES AT 8 PM AND CHRISTOPHER PETERSON'S EYYECONS SHOW AT 9 PM!!!!

OPEN MIC AT COMEDY CLUB IN KEY WEST….JAN. 20,27, FEB. 3 AND EVERY WEDNESDAY….Aspiring comedians out there!!! A time to hone your Comedy Skills… 7 pm… doors open at 6 pm at 218 Whitehead St. YOUR chance to step up on the stage and have them laughing in the aisles!!!! ALSO… note that this is Pint Night too… $1.00 beer and 50% select wines. 5 to 7 pm…..

TRIVIA & BOTTOMLESS MIMOSAS AT COMEDY CLUB….JAN. 20, 27 AND EVERY WEDNESDAY MORNING from 11 am to 2 pm…. Hosted by Kristen & Tom. 218 Whitehead St.

SMOKIN TUNA SALOON.. JAN. 20, 27 FEB. 3… Scott Kirby at 5 pm…. Caffeine Carl & THE Buzz at 9 pm…

IN CONVERSATION WITH STEPHEN KITSAKOS, JAN. 27….Actress/Singer, ANNIE GOLDEN will be in conversation with Stephen Kitsakos…sponsored by The Studios….The Between Two Palms Series….Golden has been in the musical Hair…the Assassins… Cheers, Miami Vice, Orange is the New Black, and currently in the TV show, Filthy Rich. Go to www.tskw.org for info and tix.

WOMAN'S CLUB SELLING RESTAURANT & THEATER TOUR CARDS….Offers BOGO on entrees at 34 restaurants & discounted tix at 5 theaters. $100. and effective until 9/30/21. Call Susan Mitchell at 740-274-9091 or to the Woman's Club Facebook page.
_________________________________________________________________________________________________________________

THURSDAY…
HAPPY JAN. 21 BIRTHDAY TO …LYDIA WATERLOO….. MAESTRA SEBRINA ALFONSO…. CHARLIE STRAUSS……(Please remember ARVID WEGENEK.)

HAPPY JAN. 28 BIRTHDAY TO…..JOHN PADGET …. MARY FALCONER ….ELAINE SHELBY …. HELEN O'CONNOR … CAROLINE FORBIS …. RONALD CLEM …. JANICE HILLARD….. JAMIE HASKINS ….JOSEPH A. HARDING …. LECI ARCHER……HAPPY ANNIVERSARY TO …. GEORGE FERNANDEZ AND TOM GREENWOOD.

HAPPY FEB. 4 BIRTHDAY TO…..ELLEN BATTY …. LIZ YOUNG ….ROBERT PRICE ….EVERETT WATKINS ….PATTI MCMACKIN …..LORETTA CHAPA …. RODNEY COLES ….GERRI SZUTER ….JANET BADAR….MICHAEL DOMSKI….(Please remember Bill Hoesler… and Lyn Bernat.) HAPPY ANNIVERSARY TO……MAYOR TERI JOHNSTON AND DAR CASTILLO.
_________________________________________________________

TRUMAN WATERFRONT FARMER'S MARKET…EVERY THURSDAY…..JAN 21, 28… 2 to 7 pm….. at end of Southard St. Produce, beverages, seafood, apparel, gifts, art, books, entertainment…. fun…. wear masks and social distance….

TAVERN N TOWN, JAN. 21, 28, FEB. 4,11,18,25….. BOBBY NESBITT & CARMEN RODRIGUEZ PERFORM IN THE LOUNGE FROM 5 TO 9 PM.

KARI DALEY PERFORMS…JAN. 21… Karri performs at Boondocks on Ramrod Key from 6 to 9 pm.

LATEDA, JAN. 21. and FEB.. 4…. 3 SUM AT 8 PM AND CHRISTOPHER PETERSON AT 9 PM……
JANUARY 28…….. 3 SUM AT 8 PM… AND RANDY ROBERTS AT 9 PM….

SMOKIN TUNA SALOON, ….JAN. 21, 28, FEB. 4.. Scott Kirby at 5 pm…. Caffeine Carl and The Buzz at 9 pm.

BEREAVEMENT MEETINGS EVERY THURSDAY, JAN. 21, 28, FEB.4,11,18,25….If you are working thru the grief process there is help and support… 7:15 pm at the Klaus-Murphy Center at St. Mary Star of the Sea. You are not alone…. if you are having difficulty processing the passing of someone near and dear….help is on the way.

ONLINE ART CLASSES JAN. 21 & 22….The KW Art Center hosts this class with Priscilla Coote from 9:30 am to 12:30 pm. Priscilla takes you to Bahia Honda State Park via video where she paints from the water using her Amphibious Easel. 10 students max…. to ensure personalized feedback and Zoom knowledge is required. To register call 305-294-1241. Or go to www.keywestartcenter.com. $135 for members and $175 for non-members.

THE TROPIC CINEMA REOPENS ON JAN. 28…. The Tropic, closed temporarily will reopen on Jan. 28… 416 Eaton St….

KEY WEST THEATER…. JAN. 28 ….. The FAB FIVE, Key West's Beatles Band performs…… Features Tony Baltimore, Jeff Clark, Chris Thomas, Hiram Garzaro & Oren Polak. 512 Eaton St.

AT THE SANDBAR ON GREENE ST…. JAN. 28…. Karri Daley entertains from 7:30-10:30 pm.

COMEDY KEY WEST, JAN 28-JAN. 30…. Landry performs from the Boston Comedy Fest & the World Series of Comedy…. 218 Whitehead St…. get tix and info at www.comedykeywest.com.

SPECIAL DINING FOR LOCALS AT HYATT CENTRIC AT THE SHOR….. Monday thru Friday… if seated by 6:30 pm , $20. entrees and half price on bottles of wine…. Free entree on Birthday with local ID…. 601 Front St.

PLEASE SEND ME ANYTHING YOU NEED TO BE PROMOTED….. AND … I will do my best to include in future blogs!
_________________________________________________________

HAPPY FEB. 5TH BIRTHDAY TO…… BRUCE MOORE…. MO FREEMAN …. MARIA WEVERS…. LESLIE LINSLEY ….AND GEORGE CHASE JR….. HAPPY ANNIVERSARY TO…. JIM ARGOUDELIS AND DAN WARD!!!!

________________________________________________________
LOVE TO YOU, AND REMEMBER…When 'this' ends… AND IT WILL….every game will sell out….everyrestaurant will have a 2 hour wait…. every kid will be GLAD to be back in school…everyone will LOVE their job….the stock market will skyrocket… every other house will get TP'd… and we will all embrace and shake hands!!!! That's gonna be a pretty good day!!!! To help make that happen, let's all Vaccinate… so then we can Celebrate!!!!
Lynda
______________________________________________________________________________

PS…..AND HERE'S MORE INFORMATION: SOME INFO WILL OR WILL NOT BE RELEVANT!

THE IMPROMPTU CONCERTS… will be cancelling their 2020-21 musical season. For more info go to www.keywestimpromptu.org.

FOSTER HOMES WANTED….Wesley House Family Services is seeking families in the community interested in providing a home to children in the foster care system. Classes begin Wed., June 12 at 99451 Overseas Hwy. in Key Largo.

WOMAN'S CLUB OFFERS FREE TOURS….Called 'The Hellings House'…the home of the KW Woman's Club… has free tours 10 am to 3 pm Tues. thru Sat. each week. NO TOURS FOR AWHILE….

TROPIC CINEMA SEEKS VOLUNTEERS…..For info call John at 305-295-9493 or go to www.tropiccinema.com. Training is provided. 'Payment' is free movie passes and popcorn for each shift worked. NOTE …. CLOSED INDEFINITELY…..

KEY WEST TROPICAL FOREST & BOTANIC GARDEN SEEKS BOARD MEMBERS… This non profit is looking for interested Board Members….particularly that of Treasurer … term is two years…..If interested send a letter to Key West Botanical Garden 5210 College Rd., Key West, FL 33040. Or email audrinnakkw@gmail.com.

VOLUNTEERS NEEDED FOR REEF RELIEF….For info call 305-294-3100.

STAR OF THE SEA OUTREACH MISSION NEEDS VOLUNTEERS….To help with the food pantry on Stock Island….This mission serves hundreds of the community's needy operating Mon-Fri. Call Donna at 305-407-5967 for info.

SHAL SEEKS VOLUNTEERS…Southernmost Homeless Assistance League has begun serving an evening meal each day at the homeless shelter with food from the Soup Kitchen….Volunteers are needed to help. For info call John Miller at 502-876-5092.

TENNESSEE WILLIAMS EXHIBIT:…. .513 Truman Ave…This wonderful Museum is under the auspices of the Key West Art & Historical Society with founder, Dennis Beaver as its curator. The Museum will be opening SOON!!!!! …..Visitors and Locals are invited to tour this preserved and showcased collection of historic, archival objects that promote the importance of Williams's legacy and offers the largest collection of his memorabilia and artifacts available to the public. Will be Open daily from 9:30 am to 4:30 pm…. Admission: Adults $7. … Children under 6 Free…. KWAHS Members: Free… For more info call 305-204-4527. Big Thanks to Dennis Beaver and Bert Whitt for their great efforts to make this Museum world class!

KW TROPICAL FOREST & BOTANIC GARDEN, NEEDS VOLUNTEERS….To volunteer please call 305-296-1504.

GRACE ON FRANCES STREET……….This is a glorious shop at 6oo Frances….a lush addition to Key West's upscale shopping scene…one of a kind items … spectacular jewelry….Japanese ceramics….cashmere from the Himalayas… the softest and finest you ever touched….Gorgeous items from India, Africa, the Orient, and Europe….a worldwide search to find the BEST of Everything' for your pleasure. It offers luxury to the nth degree….you will feel with all your senses. Please stop by…take your time and savor everything within……open daily, at the corner of Southard! Owned by Wendy Asplundh, she of the exquisite taste… and her great and dedicated staff includes Samantha Rivier, Dorthe Thure, and Jolie Witherow.

LA RUBIA KEY WEST….…OPEN…..Stephanie Hellstrom (THE Blonde!) is the owner of this delightful shop at 510 Fleming St….next to Assortment….You can purchase hand woven Panama hats, handcrafted wearable accessories, and organic chocolates from Ecuador…. along with handbags, scarves, bamboo wraps, jewelry and more. What a pleasure it is to have some unique and interesting new shops in Key West!!! Congrats to Stephanie. Call 296-6059 for more details!!!

AND WHILE YOU ARE THERE… MAKE SURE YOU STOP IN TO SEE THE GREAT MEN'S WEAR AT THE ASSORTMENT!!! Claude and Joe are nothing but Class!!!!

TAKE STOCK IN CHILDREN ORG. SEEKS VOLUNTEERS…..This marvelous, award winning scholarship program mentoring group is looking for giving souls to help mentor 50 some qualified students from lower income families ….They cannot be admitted unless a volunteer steps forward. It takes less than an hour each week. Call Chuck Licis, program coordinator at 305-394-7974 or e-mail him at chuck.licis@keysschools.com.

CUSTOM HOUSE & LIGHTHOUSE MUSEUMS ARE SEEKING VOLUNTEERS…If you have a few hours to offer as a docent, archives asst., exhibit builder, or event volunteer, please offer your services!