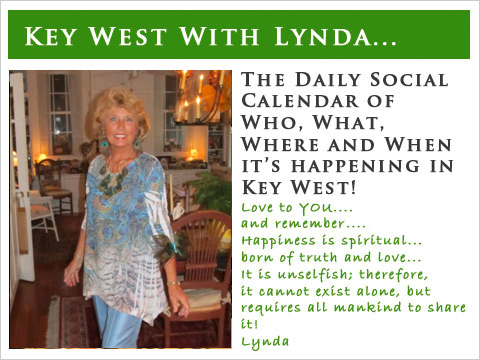 IF YOU HAVEN'T VOTED YET…. PLEASE MAKE SURE YOU DO ON NOVEMBER 3!!
Friday, October 30, 2020
OCTOBER 30 THROUGH NOVEMBER 20, 2020 …. IN KEY WEST WITH LYNDA….

MY DEAR READERS…. We are still at Rose Cottage at Chippewa Lake, Ohio. Our summer has been a wonderful one…. Life here is much lower key than in Key West where it is go-go-go all the time. When we got here on June 6, October seemed far away…. I thought the summer would drag… go really slow…. but strangely, it flew by, and before we knew it, July 4 turned into Labor Day… and now Halloween is upon us! Sure wish there were 48 hours in a day!!!! Stop the World I want to get off!!!!

VOTE PLEASE….I apologize profusely for this long lull in sending this blog…. I also thank those who must have missed receiving it, who contacted me to find out why I stopped sending it out. (It is nice to be missed.) In reality, until now, I have lacked motivation to restart …. but with the election happening on November 3, I got reenergized and I felt compelled to reach out and implore you to VOTE!!!! NEVER has an election meant more. There is so much at stake and WE have the privilege to be heard by casting our vote … When Nov. 4 arrives, and if we do not like what the result will be, we will be a big part of the blame…..it will be our fault. We have heard all the speeches… the good the bad and the ugly!!!!!..We have watched the debates….we know what is going on in our country…. We know over 220,000 people have died from the Covid-19 virus….more than any other place on earth…… we know our leaders are telling us that it is nearly over…In fact. just the other day, we heard that the president ranked "Ending the Covid-19 Pandemic as one of his main accomplishments."…. and We ALL KNOW THIS IS NOT TRUE…. The Virus is FAR from over….. the cases are continuing to accelerate every single day…… .There are so many things more to say, but you know the truth of it all…There are glaring differences between our candidates…. it is up to YOU who ultimately have the chance to choose…. Truth over Lies…. Reason and Calm over Chaos……Hope over Fear…. Kindness over Cruelty.. …. Love over Hate….Compassion over Narcissism….. Actual Plans versus No Plans Whatsoever.. .the differences are profound!.. ….Ask, What do you want our Country to embrace in the future? You can make the decision with your vote. If you have an absentee ballot and haven't yet sent it in…. I believe that it is too late to mail it in… please take your ballot personally, and deliver it to a Drop Box at 530 Whitehead St. …. Or go in person to vote…. YOUR VOTE…. AND EVERYONE ELSE'S VOTE COUNTS!!!! I request that you PLEASE contact everyone and remind them to vote….!!! Note: I have my personal views and you do too…. I hope you will try to respect my views as I try to respect yours. The MAIN thing is…. No matter what candidate or candidates you support, the important thing is to VOTE!!!!!!

THE VIRUS NEVER STOPS….. When we left KW last June for Ohio, there were only about 80 cases in all of Monroe County and only 3 deaths and hardly any hospitalizations. We felt safe and protected, and we hoped that would last. But NO…. There are now over 2.214 cases, and 25 deaths in the County. And today, the Nation hit a high of 90,000 new cases in one day! We were warned over and over by the Scientists who KNOW…. that there will be a surge in cases as summer ends and more people are indoors, and that is exactly what is happening…..We have no alternative but to accept the fact that the virus will be around for a long while, but in the meantime we must try to adhere to the three simple rules that, until we get a vaccine, seem to be the only things that are proven to work….. WEAR A MASK……SOCIAL DISTANCE…..WASH YOUR HANDS! We have that etched in our minds and yet there are naysayers out there who refuse to listen. NO ONE is safe….right now, in fact, even the White House is a hot bed of Covid 19. …. this thing is BAD…. I know people who have had it and they are still suffering from chronic after-effects that are miserable. There is information that even after one thinks it is long gone, they have challenging lung, liver, kidney, aching pains, and mental conditions that do not go away. Some of these patients, of all ages, are referred to as long-haulers and they face many problems. You are all very important to me and I hope and pray that you will be safe…. that you will follow the guidelines and set an example to all around you who refuse to obey and don't want to help us out. WE ARE ALL IN THIS TOGETHER. LET'S PLEASE HELP EACH OTHER OUT.

PLEASE WEAR A MASK…….Freedom comes with responsibility. We do NOT have the right to put others in grave danger. For example, driving drunk is not acceptable. It is a Fact that countries whose citizens respectfully wear masks have had lower infection rates, while our lack of cooperation is driving up our cases. One careless person can infect a dozens others before it becomes known. We will lose this battle while rebellious groups misguidedly insist on their freedom. I am going to repeat some of what I said in my last blog as these words seem more relevant than ever….. Not wearing a Mask is like being on a sinking ship when you are told to get in a lifeboat. Would the person say, "I refuse to get in the Lifeboat.. NO ONE is the boss of me, and you can't make me get off this ship!" Both Masks & Life Boats can save lives…. We have heard all the arguments from the anti-mask people…. Yes, I know, Masks are hot, glasses fog up, and you are tired of them….and you may not find them attractive…. (though, as I reiterate…. they do hide wrinkles and I find that some people actually look MUCH better wearing a mask)…. Wearing that mask will help get us through the new normal sooner and back to the good ole Normal when masks are only used for Halloween! I say to everyone… Get Used to It! The Mask I wear helps you (and me) and the one YOU wear helps me (and you!). If national mandates were made and there had been some real consistency to it right from the start…. and if Examples would have been set by our leaders….I KNOW we would all be in much better shape, and America wouldn't have the #1 worst record in the world in dealing with this virus.
_____________________________________________________________________________________________________
FRIDAY, OCT. 30, 2020
HAPPY OCT. 30 BIRTHDAY TO….TOM CALLAHAN…. KELLY KOENIG … RON SAUNDERS… DAN LOTTEN …. JIM MARQUARDT …DEAN WALTERS ….RHONDA FLORENCE ….GEORGE LIVENGOOD…..HAPPY ANNIVERSARY TO ….. LUCINDA & JEREMY EMMETT.

HAPPY NOVEMBER 6 BIRTHDAY TO…..NANCY CORBETT …. JIMMY NATH …LYNN DAUM … JEFFREY THACKER…. (Please remember Carol Chase.)…… HAPPY ANNIVERSARY TO…. CHRISTINE CORDONE & LARRY SMITH ….

HAPPY NOVEMBER 13 BIRTHDAY TO….. MY HUSBAND, BOB FRECHETTE….. PERRY ARNOLD….SHERRY READ … DIAMOND DAVE GONZALEZ…. JARRED BISHOP … CAROL ORZECH …AARON WRIGHT….JOYCE FOLIANO …. (Please remember Rick Pierce.)
_____________________________________________________________________________________________________

ELLEN STEININGER…. My friend Ellen, is most concerned about the chaos going on in Key West since things opened up. Locals continue to feel unsafe and she has established a FACEBOOK Page for Safety Reviews. If you go out and feel that the shop or restaurant you went to was a positive and safe experience and felt comfortable while there…. please post it on this Page. She requests no 'bashing'… but if there are places you went to that you were concerned about I think it would be important info for locals to know. Constructive opinions please. I also think that as Locals who love Key West, if we do not like what we see in a certain establishment, I think we should have the courage to speak up. Of course, if you have a bad experience somewhere, you are speaking out by not going there again… and make sure you let the establishment know how you feel.

THANK YOU AND CONGRATULATIONS TO THE WATERFRONT PLAYHOUSE !!!! The Waterfront Playhouse deserves accolades for presenting wonderful radio shows onstage at the Playhouse. We loved them all!! Performed live onstage at the Playhouse, they were Broadcast at 8 pm on US1Radio (https://us1radio.com), and 104.1 FM. Any donations to help fund other of these events, please visit https://waterfrontplayhouse.org/donate-online. Or you can call the box office at 305-294-5015 from 9 am to 12 pm, Monday thru Friday. Stay tuned for the next presentation. PLEASE MAKE SURE YOU READ ABOUT ALL THE GREAT PLANS THE WATERFRONT PLAYHOUSE HAS FOR YOU!!!!

VOTE FOR THE THREE CRUISE SHIP REFERENDA….
CRUISE SHIP UPDATE…..My heroes are Arlo & Evan Haskell, the Jolly Brothers, David Dunn, Beth Moyes and all those who have worked so hard and dedicated themselves to instrumenting the Cleaner Safer Ships Referenda on our Ballots. They have fought all those who have monetary self-interests who don't seem to care about the people of Key West at all and have endured ridiculous lawsuits from people like
the Key West Bar Pilots Assoc. , a group of 4 men who make over $2 million a year bringing large cruise ships to Key West… (and for them, the bigger the cruise ship, the bigger their paycheck)….These 4 men filed lawsuits in a desperate attempt to take away Key West Citizen's right to vote on the Nov. 3 referenda. Like many others…. Until these mega ships stopped coming to Key West, I never realized how awful they were to the environment, our reefs, the water, our air (which should not be polluted) and it wouldn't surprise me in the least if that oily, sooty residue permeating our air, and covering our homes and porches with its ugliness, has not been responsible for giving so many of us 'the Key West Crud' through the years. Thousands of citizens braved a Pandemic to sign petitions that put the Referenda there. You MUST agree that EVERYONE deserves the right to be heard on this issue. The Bar Pilots, AND OTHERS….want to stop you from voting, plain and simple. Because we want to protect Key West's Health, environment and economy for future generations, I IMPLORE EVERYONE WHO CARES ABOUT THE FUTURE OF KEY WEST…..TO VOTE YES FOR CLEANER, SAFER, SMALLER SHIPS IN KEY WEST!!!! ( You can contact Arlo at arlo@safercleanerships.com. )

LET'S HEAR WHAT'S HAPPENING AT THE WATERFRONT PLAYHOUSE!!!
*****WATERFRONT PLAYHOUSE ANNOUNCES 2021 SHOWS …. Plans are in the making for keeping Theater Alive in Key West. In November and December, two shows are already announced and tix are being sold. The shows are TYPHOON JUDY starring the always fabulous CHRISTOPHER PETERSON in Nov. and EVERY BRILLIANT THING starring the marvelous ARTHUR CROCKER. In addition, in 2021, THE ROCKY HORROR SHOW is going to happen, along with MATILDA, THE MUSICAL…. AND CLUE. …. A LIFE IN THE THEATRE….PLUS…. a series of MARVELOUS Radio Shows onstage! More info on the 2021 shows will be forthcoming.

RADIO SHOWS…..The Radio shows that have been presented by the Playhouse costs approximately $2,000 each to produce…. this pays the actors, and crew. Can you consider being a Radio Star… by making a contribution to the Radio Shows? For $500 or more your name will be added to their roster of Radio Stars and you and a guest can attend one of the Live Broadcasts, as these shows are open to the public with limited seating. By sponsoring the entire show, you can invite your circle of friends, up to ten and socially distanced…. and make a party of it! Please help the Waterfront by going to www.waterfrontplayhouse.org or call 305-294-5015. You can send checks to Waterfront Playhouse at Box 724, Key West, FL 33041. Thank YOU! Depending on funding the Waterfront is hoping to present one radio show a month.

COVID SAFE UPDATE FROM THE WATERFRONT… Your safety is prime at the Playhouse….. All regulations will be followed. Upon buying your ticket, our new VBO ticketing system will automatically distance your seats. Mandatory masks, temps, and social distance will be in full effect. Cleaning and disinfecting the auditorium, seating, the restrooms…. as well as changing air filters following each performance will ensure your safe and healthy return to the Waterfront Playhouse.

VERY SAD NEWS INDEED…. Since my last blog in August, I am very sad to say that we have lost some very special and wonderful people whom I have been blessed to know. Please keep the following and their loved ones, in your thoughts and prayers…..We remember …. DINK BRUCE…. ELISSA KNOWLES …. BARBARA VERNOVAGE …CAROLINE CASH …. JERRY HOEGNER…. DAVE TAGLIAFERRI …. PAUL WORTHINGTON… SONNY MCCOY…JAMEE FIELD … RON JOHNS …. ISOBEL SABO….RORY O'NEIL….RICHARD SIMONE…CATHERINE DUNCAN…..Each day is truly a gift, and during these challenging times…we realize that more than ever. Stay well, my friends.TAVERN N TOWN……OCT. 30 And NOV. 6, 13,20,27..MIKE EMERSON PERFORMS from 5 to 9 pm…
TASVERN N TOWN….Note that the Chicken Walk, the outdoor restaurant at Beachside Marriott, serves food daily along with Tavern N Town…. Reserve at 305-296-8100. 3841 N. Roosevelt Blvd. Also, TAVERN N TOWN has brought back Free Birthday Dinners for Locals along with a LOCAL ID!!!! This fine establishment is always looking after their Locals!!! Big thanks to Robert Spottswood, David Talpasz, Alan Beubien, Denis Lebedev…and all the super servers!!!!!!

GHOST STORIES AT THE STUDIOS, OCT. 30…..7 pm at 533 Eaton St….. Only 25 people allowed to attend….This will be a presentation by Aaron Sagers….a spooky talk in the courtyard at Carriage Trade, 529 Eaton St…..next door to The Studios…. under the glow of candlelight…..
$30, members, $35 non.

COCONUT VICTROLLA ON OCT. 30, NOV. 6,13,20,27…. This fabulous group with lead singer, the fantastic, Belle Jampol, performs at the Casa Marina at the Sun Sun Bar area. from 8 to 10 pm…. This is one superbly entertaining group!!!!

SCHOONER WHARF …. OCT. 30…..12:30 TO 5 PM, Tony Baltimore……. 7 to 11:30, Jannikm Prince & Friend…….

LATEDA………OCT. 30, NOV. 6, 13,20….. 3 SUM performs at 8 . Randy Roberts stars at 9 pm on NOV. 27 in Crystal Room.

UPDATE ON DOUG LAFFERTY…. I am elated to announce that Doug has had his brain surgery and he came through with flying colors. Thank you for all you prayers…. he feels very blessed to know of your caring for his well-being. You can send him messages at djlarch@aol.com or call him at 528-944-6369 or you can send him a card at …..407 County Route 68, Saratoga Springs, NY 12866. I know he would love to hear from you.

THE BIRTHDAY AND ANNIVERSARY LISTS…….. Please let me know if you would like me to forward you these lists….. Simply send me a request and I will send you this month's complete Personality Description plus all those I know who are celebrating birthdays and anniversaries during this special time of year!!! Also, let me know if you want to be added to it. Many of You NOW have plenty of time to send notes, cards, emails and texts …it is a chance to remember all those people too nice to forget!!!! People like YOU!!!!

WE ARE STILL AT CHIPPEWA LAKE….We are still at Rose Cottage at Chippewa Lake. We have been doing well… following all rules… staying vigilant and safe. When we go out to three restaurants, we wear masks, take Wipes to clean tables and I have a Wand that you guide over surfaces that kills 99.9% of germs with ultraviolet light (thanks Noreen!!!)….This is later than we normally are here… but nothing is normal anymore, is it?….Usually we are back in Key West, opening the house, getting a zillion costumes ready for parties and Fantasy Fest….Not this year…. so we opted to stay and enjoy the magnificent Autumn colors, keep cozy by our fireplace, etc. Along with this… comes cccccold weather and so far we are tolerating it, but that will get old before long…. Tomorrow is Halloween, and we may even see some Trick or Treaters at our door…. lots of safety precautions involved of course. We are hoping to be back at 330 Caroline St. in Key West before Bob's birthday on November 13th… maybe earlier. (In the meantime, I have been getting requests from readers to print my address here at the Lake…..It is: 62 Bungalow Bay Blvd., Chippewa Lake, Ohio 44215….. Sure love getting mail and would enjoy hearing from YOU though we plan to have the mail stopped being forwarded to us here on Nov. 4.)

HEAR YE HEAR YE….. SHAMELESS PLUG…..MY DAUGHTER IS A MASK-MAKER….. Yes, daughter, Melissa Lang has another 'cottage industry' going. She makes terrific wearable and washable masks that have personality and pizzazz! If you would like to order masks, contact her at 224-717-2311 or at granimals@hotmail.com. People are ordering like hotcakes! She will take your order, make, and send to you. Also, she will be happy to make a mask using fabric that pertains to a special interest of yours….. like music, gardening, dogs, or pets, etc. Tell her I sent you!!! I want to thank all my readers who have ordered masks from Melissa. You are so kind.

*UPDATE ON THE 2020 WATERFRONT PLAYHOUSE AQUA IDOL… At this point the completion of Aqua Idol 2020 will have to be on hold until we all feel absolutely safe and confident that we can perform our final two shows without the possibility of getting sick. I hoped that we could complete our amazing run this November… but that does not seem feasible. In the meantime…I do NOT want you to forget the Final Eight Vocalists whom we have all come to know and love………They are…..STEPHANIE WISE…. BOB WOOD…. JON HERNANDEZ…. BRIA ANSARA…. GAYLA MORGAN…. TREY FORSYTH….. SARAH DORRANCE … AND… CHARLII CLARK! These are some of the most wonderful and talented individuals and nicest people I have EVER known… and that also includes those who started the event with us, way back ON JAN. 22…. including…. LUKE FOX.. ZACH FRANCHINI… CALEN D. TOMASZEWSKI… MIKE RIDGEWELL …..RICHARD QUINT ….PERKY SARAH PERKINS…. HERB MILLER..AND VERA GRIGOROVICH!!!! Stay tuned…..

MY CONCHTV WEBSITE..You are receiving this personally, but note that you can also read this blog in its entirety 24/7..anytime on my website with Conch TV… Just go to www.conchtv.com/author/lynda … and Voila! There I am!! Even a picture!!!! Also, you can see the Birthday and Anniversary Lists and Personality Traits… Fun!

SUPPORT SOS………Prior to the pandemic, more than 50% of Monroe County residents were ALREADY living below the poverty line. SOS (Star of the Sea) Kitchens have long been providing food for those in need. PLEASE Support SOS and other orgs such as Sister Season Fund with donations if you can. Go to…. https://cffk.org/non-profits/sister-season-fund-inc/ … The SOS will be returning to their old regular hours.

SKIPPER KRIPITZ AT VIVA SALOON, OCT. 30, NOV. 4,11,18,25….Our favorite Drummer Boy, SKIPPO takes the stage to entertain with various members of the CRZB's every Friday from 6 to 9 pm…. 903 Duval St….. Call 305-998-4389…. Great entertainment, cuisine, in a large outdoor setting with perfect social distancing for all guests!

THE STUDIOS KEY WEST….. The Studios has launched a new suite of workshops, exhibits and events that can be enjoyed anywhere….. The Event will take place on the Studios Facebook Page….. Check it out. Also… just thrilled that HUGH'S VIEW is now open at The Studios!

THE GARDENS HOTEL….. EVERY FRIDAY…. OCT. 30, NOV. 6,13,20,27… Classical Guitarist, Matteo Jampol performs from 5 to 7 pm… 526 Angela St.

SMOKIN TUNA SALOON ….OCT. 30….. Noon to 4 pm, Radio tribute to Jim Morris all day…. 5 pm, Scott Kirby…. 9 pm, Caffeine Carl & the Buzz….. NOV. 6…. Nick Brownell at 2 pm…… Caffeine Carl at 5 pm….. The Swayzees at 9 pm….. NOVEMBER 13…. Nick Brownell at 5-8 pm….. 9 pm, Caffeine Carl and the Buzz.

KEY WEST FILM FEST….. Scroll down to see some info on the upcoming KW Film Fest…..For info and details for all those interested go to info@kwfilmfest.com. Or go to www.kwfilmfest.com. I hear it will be held at the Amphitheater, and at all outdoor venues….for safety and health reasons. Great move!

COVID-19 TESTING…..The FLA Dept. of Health is offering FREE testing to all Monroe County residents on a regular basis. Appointments are necessary. Call 786-910-9764 to schedule. Or email TestingMonroe@flhealth.gov. NO WALK INS ALLOWED. MUST be a Monroe County Resident. In Key West testing will be at the Gato Bldg. at 1100 Simonton St. on Wednesdays from 9 t9 noon and Fridays from 1 to 4 pm.

KELLY NORMAN ANNOUNCES RAM'S HEAD SOUTH SCHEDULE…..Ram's Head Southernmost is open Mon thru Fri noon to 11 pm… food served until 10 pm….. Sat. & Sun., open 9 am to 11 pm… food till 10 pm….Note Kids East FREE on Wednesday…. Burger Special is $5 on Sunday!!!! Entertainment daily during happy hour from 4 to 7 pm!!!

SUBSCRIBE TO KONK LIFE ELECTRONIC PUBLICATION…… Guy de Boer, publisher of this great Publication has ceased printing an actual paper for right now… but he is offering you a chance to continue to receive KONK Life on a Daily basis. It is chock full of great up-to-date information. Times are tough, and until things ease up he is requesting a subscription fee, which I feel is well worth it. For more information go to ….. https://konklife.com/?p=47710. If you prefer, you can email Guy at guydeboer@gmail.com and he will advise you on how to subscribe. You can also text him at 305-766-5832.

BARBERSHOP CHORUS….Joe Tripp, Key West's fave police officer and Aqua Idol Star, has started a Barbershop Singing Group… If you have ideas, suggestions or can help financially…or know someone that can help Joe, please contact him at 813-477-3045 or email him at Joelepro1@gmail.com. You can send checks to Joe Tripp at PO Box 2374, Key West, FL 33040. If you are interested in participating in the Chorus, contact Joe also.

AWESOME FOUNDATION KEY WEST!!! Friend Michael Shields asked that I mention this Foundation that he is heavily involved in. Globally, there are 90 chapters…there are 50 in the USA, with 5 in Florida, including Key West. Over $4.4 million granted since 2009. The mission of the group is to bring more awesomeness to our town, and spreading it by awarding $1,000 grants with no strings attached to the most awesome idea, project, proposal, or plan that is presented to the Group of Trustees, who each plop down from their own pockets the money to fund the Grant. Sounds totally AWESOME to me!!! Check it out online at www.awesomefoundationkeywest.org. These awards have been given since Oct. To date, over 60 applicants have been received. Michael Shields is the coordinator of this group. READ ON….

LAST 2 DAYS FOR DISCOUNTED PRICE….
****SPECIAL EDITION PRICE of ISOLATED ISLAND…..ENDS OCT. 31…. The special pre-printing price is $49…. Beginning on Nov. 1, the cost will be $74.99. ROBERTA DEPIERO AND CAROL TEDESCO received a $1,000 AWESOME FOUNDATION grant to fund a limited edition commemorative photo-book of 352 pages of dramatic and captioned images shot by 25 area photographers during the COVID-19 relief efforts on behalf of workers in tourist related industries including entertainment, hospitality, lodging and retail and guest services. Titled "ISOLATED ISLAND"….'COVID-19 SPRING-WHEN PANDEMIC MET PARADISE'… DePiero's brainchild. She and Carol are hoping to raise app: $10,000 for Sister Season Fund's crucial outreach during this Pandemic. For book orders please contact Roberta DePiero at robertadepiero@gmail.com. Some of the wonderful photographers are Peter Arnow, Larry Blackburn, Susan Bailey, Ropberta DePiero, Ralph DePalma, Tony Gregory, Mark Hedden, Bill & Linda Klipp, Cory Malcom, Rob O'Meal,. Steve Panariello, Carol Tedesco, Sharon Wells, with editing by Kathy Russ…. ORDER TODAY TO GET YOUR BIG DISCOUNT…..www.SisterSeason.com.

13th FKSPCA SPRING SOCIAL ONLINE…..NOV. 6…. This will be a virtual experience…. Event starts at 6 pm….with local radio host Rude Girl. Key West talent will be performing including comedians Gwen Filosa, and Stephanie Kaple, Q Mitch, Queen Bernadette Restivo,.. along with adoptable animals…there will be a 500 + item silent auction available thru an online bidding platform with items donated by the KW community. Details can be found at https://fkspca.ejoinme.org/SpringSocial…. You can pre-register for the silent auction at https://fkspca2020.ggo.bid. Call 305-294-4857 for details and info.

TENNESSEE WILLIAMS THEATRE ANNOUNCES SEASON…..Frank Wood has recently announced an abbreviated yet fascinating performance schedule to the Producers… and ultimately all… for the 2021 Season. At this point shows that are tentatively scheduled are:
The Choir of Man, Jan. 30, 2011…..Neil Berg's 50 Years of Rock n Roll, Feb. 5, 2021…. A Gershwin Show starring Bobby Nesbitt, with Carmen Rodriguez and Danny Weathers , Jan. 24 & 25….A new Bobby Nesbitt Show on Feb. 28…..Randy Roberts Show with Marilyn Maye , Feb. 2021…..Stayin' Alive Bee Gees Tribute, March 6…. Paradise Big Band, January and March 2021…. ALL shows will be on the MAIN stage and audience will be at only 200 persons for social distancing. The Theatre needs your support more than ever….. To make your Producer Contribution for 2020-21 you can do it securely online…. Go to1) https://keystix.ticketforce.com/DonationAddToBasket.asp?camp=9 … or Call Carolyn Cooper at the box office at 305-296-1520 x 1…. For more questions you can call Frank Wood at 305-296-1520 x 2 or email him at frankw@packw.org.

LATEDA…RESTAURANT SPECIALS…. Customers are being welcomed and Lateda is doing everything possible to make it a very safe and pleasant dining experience. Reserve at … 305-296-6706. . Not sure if Lateda still has these weekday specials but in case they do…..LATEDA's $15.99 Daily Dinner specials are: Mon., Meatloaf…Tues., Tuna….Wed. Prime Rib … Thurs. Bolognese…. Fri., Fish & Chips and Sunday, Salsa & Pasta. NO TAKE OUT…

LUANN GROSSCUP ANNOUNCES NEW BOOK!!!.. 'FLIGHT: An American Pilot's Story of Adventure, Descent, and Redemption', by local author and friend, Luann Grosscup and Capt. Neil Hansen has been released!!! It is one man's aviation story (Neil Hansen), within the context of CIA covert operations in Southeast Asia during the Vietnam War. Presently, the book is available at www.amazon.com, in either soft cover or kindle.
Go to: https://www.amazon.com/Flight-Neil-GrahamHansen/dp/1940773814/ref=sr_1_1?keywords=FLIGHT+Hansen+paperback&gid=1552398027&s=gateway&sr=8-1.

BIRTHDAY/ANNIVERSARY LISTS….If you would like to be included in the Birthday and Anniversary Lists that I send out every month, please let me know your month and day by sending that info to me at kwlynda@bellsouth.net. There are special perks to being on the lists!!!! One of the perks is having your name in KONK Life on the day of your Birth….

PRAYER CHAIN…..Please continue to remember the following in your thoughts and prayers….. Prayers for all of us in the Keys who are facing this pandemic corona-virus… it is a serious thing… …. Give us the strength to practice social distancing… let everyone realize how important it is to wear a facial covering………… let us all stay healthy and sensible and supportive of one another…..Please pray for….Patricia Moore….Pat Green……Douglas Lafferty …….David Buffam ….Lurann Wood.. ….. Paul Politte…. …the family & friends of Arlene Doty……..my nephew FRED STEVENS and his wife Judi…………all those in the Keys who have tested positive for the virus…..Mayor Teri Johnston……Javier Lopez … …. .Michael Amin …….Fiona Molloy… …..all those in town who are financially challenged during this time….. our wait staff, shop owners, entertainers, etc……Bucky Montgomery ……Pat West…..John Baird. ….Michael Thomas ………Barbara Brant….. Jim Hall ……..Sissy McDonald….. Chuck Selph…. Larry Selph …..Genevieve Isaksen …Ann Marie Adreani. ……..Sandy Abookire …….RE Frechette . …..the friends and family of Ron Maranian, who recently passed away….he was a funny man!!! ….. Donna Barnett….….Sharron Mondo… Maggie Domski ….Len Stevens ….. Chris Elwell…..Jack & Anne Marie Flood…..Joe Biden…..Joe McMurray …George Kling …..Mary Larkin …. …Robin Deck …Paul Cotton.. …… Nancy Williams …Christy Nelson… Virgil Williams .. .…Fred Lima …Maryann Barth…..Kathy Stevens ….Ed Stevens Jr…..Georgia ….Dena Badgerow…..…Bella Rettenwander ……Diane Covan ….Paul C…….Guy de Boer….….Dawn de Boer … …Joe Dallas Sr … Jan Cernan ….Donna Stanton …Lee Garrison … Lou Ann Cymont … Cheryl Walchli … Terri White …John Padget …..Eric Nelson …….Gary Rivenson …Donna Stabile ….Todd Reifschneider … …Pat Waller …..Millie Chawlew ……. Lee Knight …..…Frank Gren …Marta White ….… Peter Deksmith …Bill Lodermeir …Betty & Jack Darst……Richard and Betty Carraway ……Lottie Domski …. Anne McKee …..Teresa Lawson ……. Tony Martinez … Star Husky… …Marec Yooree ……. Pamella C. Bocdow. …Dee Dee Duecker … Karla Muir … Vincent Gregory …Tony Freese… Jennifer O'Lear … Kent Gater….Margaret Taylor … Roland Ryper …Patrick Richards. Remember, there are many reasons that we pray…not just because people are ill…. I do believe that when we all send prayers and good vibes to those in need, those prayers mystically meet and surround those being prayed for. Sometimes we pray for miracles and the impossible….sometimes we pray to just cope with the results of what happens to those we are praying for. Sometimes we pray for strength to go on and to accept…sometimes we pray for thanksgiving. We are in this thing called 'Life' together….and we all have power within us to help our fellow man. Bless you for remembering our loved ones….Prayer changes things! Let me know if you know of anyone who should be added to this list.

BOB FRECHETTE=FABULOUS REALTOR IN TOWN!!!!…..Need a realtor in town? My husband BOB FRECHETTE IS YOUR MAN!!!! He has been with the marvelous Compass Realty ( NOW Keller-Williams Compass) for 20+ years …Give him a call at 305-304-2584! Email him at rfrechette@bellsouth.net. He is the BEST! I promise!!!! Honest, Loyal, Fair, and Adorable too!!! He will have ONLY your best interests at heart.

TAKE STOCK IN CHILDREN NEEDS VOLUNTEER MENTORS….mentors needed to work with dedicated students….If interested call Karla Quintana at 305-293-1546 or email her at karla.quintana@keysschools.com.

LOWER KEYS MEDICAL CENTER NEEDS VOLUNTEERS….There are opportunities available for volunteers… at reception desk, as a greeter, an escort, etc….Call 305-294-5531 for information extension 4771 or email Tami.Harmon@LKMC.com

A PUN or LEXOPHILE FOR YOU…..The portliest knight at King Arthur's Round Table was Sir Cumference. He acquired his size from too much 'pi.'
________________________________________________________________________________________________

SATURDAY ….. HALLOWEEN!!!!!!!!
HAPPY OCTOBER 31 BIRTHDAY TO….MICHAEL MULLIGAN ….. KENNY WESCHLER ….SAUNDRA PARKER…ED WALTERS … BRAD BUCK …. JOAN LONG….ALL MY READERS AND VERY FAVORITE TRICK OR TREATERS!!!!!!

HAPPY NOV. 7 BIRTHDAY TO….. ROGER EMMONS…. JENNIFER BADRY … ELMIRA LETO …. DAVID KAPELA…..(Please remember Richard Kemble.) HAPPY ANNIVERSARY TO…. MARIBELL & JOHNNY MASCHAL…. AND…. VICKI & JIM GRANT!!!

HAPPY NOVEMBER 14 BIRTHDAY TO…. JERRY GALEANA…. DOUGLAS LAFFERTY ….CHUCK HAMMOND …. LARRY WOOD … PHILLIP COLE WHITE…. JOHN PATTILLO….BEVERLY GOLDNER….LOTTIE DOMSKI (99!!)….HAPPY ANNIVERSARY TO….. AMANDA & AUSTIN HARRISON.
_______________________________________________________________________________________________________
HAPPY HALLOWEEN TO ALL MY WONDERFUL READERS!

**"WAR OF THE WORLDS" AT THE WATERFRONT PLAYHOUSE…. OCT. 31….This historic broadcast will be on the Air with H.G. Welles' famous War of the Worlds, in association with US1 Radio 104.1 FM. Tix are $20 per person, to view the Show at the Playhouse…. 8 pm…. One performance only…starring DAVID BLACK, ROSS PIPKIN AND JOHN MCDONALD!!!! Masks required, social distancing, temps taken at door…. Limit of 50 persons in theater. Call 305-294-5015 for details and info. Only 50 seats available at the door….no online or phone sales. Thank goodness for the continued presentation of shows at the Waterfront Playhouse.

KEY WEST TROPICAL FOREST & BOTANICAL GARDEN …. open at 10 am…..visit this sylvan setting and the 15 acres of trails and lovely sites….native plants are abloom…lots of birds and butterflies surround this outdoor refuge…. just the antidote for the corona virus blues! Safe distancing will be key….10 am to 4 pm 7 days a week.

SKIPPER KRIPITZ AT VIVA SALOON, OCT. 31, NOV. 7, 14, 21, 28….. The super SKIPPO entertains ever Saturday… usually with the lovely Nina Newton!!! 6 to 9 pm…. Outdoors…Great Social Distancing!!!! Great food too!!!

THE SWAYZEES PERFORM AT SUN-SUN CONCERT PIER…. OCT. 31….Doors open at 6 pm…show 7 to 10 pm….$50per person includes food and seating….drink specials….Advance reservations necessary….Call 305-296-3535, ex: 7865. Also a special costume contest….awards given for Best Individual costume, Best Group Costume, Best Kids Costume and Most Unique Costume…. Please be safe and social distance.

GALLERY ON GREENE… OCT. 31, 5 TO 8 PM…..Two day private showing by appointment only….. Theme is Bales, Bolita & Boatyards…. Andy Thurber and Wayne Garcia….. Call 305-304-2323 for apt. 606 Greene St.

TAVERN N TOWN……OCT. 31….. MICHAEL THOMAS FROM 5 TO 9 PM. …. NOV. 7., 14,21,28 BOBBY NESBITT FROM 5 TO 9 PM….LATEDA, …OCTOBER 31…. CHRISTOPHER PETERSON AT 9 pm in the Crystal Room!!!!!. At 8 pm, 3 SUM…..NOV. 7… 3SUM at 8 pm… Randy Roberts at 9 pm…..NOV. 14….3 SUM AT 8 PM…. & CHRISTOPHER PETERSON AT 9 PM…..NOV. 21…. 3 SUM AT 8 PM…. & 9 PM, RANDY ROBERTS …… NOV. 28…. 3 SUM AT 8 PM AND CHRISTOPHER PETERSON AT 9 PM.

THE GARDENS HOTEL…. EVERY SAT. & SUN…..5 TO 7 PM….OCT. 31, NOV. 1, 7,8,14,15,21,22, 28, 29…. Bobby Green entertains in the Atrium at 526 Angela St. Get 20% off a bottle of wine in the d 'vine Wine Gallery.

SCHOONER WHARF…OCT. 31….Raven Cooper 12:30 to 5 pm….. Phin Addicts Halloween Party, 7 to 11:30 pm…. .

SMOKIN TUNA SALOON, OCT. 31…Scott Kirby at 5 pm…… Caffeine Carl & Friends at 9 pm….NOV. 7, The Juliano Bros at 2 pm….. Caffeine Carl Duo at 5 pm…. 9 pm, The Swayzees. … NOV.. 14….. 5 TO 8 PM, Nick Brownell…. Caffeine Carl and Buzz at 9 pm.

KEY WEST EVENTS AT AMPHITHEATER…. SUNSET SERIES….. Nov. 7, … all shows at 9 pm….Myles Mancuso, Robert Albury Band…..Nov. 14….. Shastina Chiles, Nick Norman & Caffeine Carl…..

'SMITHTOWN' A VIRTUAL PLAY…. NOV. 14, 8 pm….Play by Drew Larimore… directed by Stephen Kitsakos…hosted by the Studios. Call to find out the details.

THE KEY WEST PARROT HEAD CLUB….This fun loving, and very philanthropic group who love Jimmy Buffet, partying with a purpose and supporting our community is seeking new members. Single memberships is $20… and you receive a KW Parrot Head license plate frame and other special privileges. To join call 262-705-8204 or go to http://keywestparrotheadclub.wildapricot.org.

THE KEY WEST GARDEN CLUB AT HIGGS BEACH OPEN…. FREE…. 9:30-12:30 pm on Sat. and Sun…. Open at 11 am the rest of the week.STRING MUSICIANS SOUGHT…. The KW Community String Orchestra is seeking those who play violin, cello, viola, etc. at all levels of experience. For info contact Lynn-Marie at lynnmariekw@gmail.com.

KNOW YOUR RISK DURING COVID-19…..On a Scale of 1 to 10….. these are how various activities are ranked from Low to High… LOW RISK: 1) Opening your Mail….2) Getting takeout food…Pumping gas… Playing Tennis… Camping….3) Grocery shopping…Going for a walk, run bike ride with others … Playing Golf….. 4) Staying at a hotel for 2 days…. Sitting in a doctor's office…. Going to a library or museum …..Eating OUTSIDE in a restaurant …Walking in a busy downtown …Spending an hour at a playground….5) Dining at Someone's home ….Going to a backyard Bar BQ… Going to the Beach … Shopping at a Mall….. 6) Sending kids to camp, daycare or school …Working a week in an office bldg. … Swimming in a public pool ….Visiting an elderly friend in their house…… 7) Going to Spas, Salons or Barbershops … Indoor eating at a Restaurant … Attending a wedding or funeral …Traveling by Plane … Playing basketball or football ….Hugging or shaking a friend's hand……8) Eating at a Buffet ….Working out in a gym ….Going to an Amusement Park… Going to a Movie Theater….. 9) Going to a large music Concert … Going to a sports stadium… Attending a Religious Service with 500 + worshipers …Going to a Bar. And of course…. PLEASE maintain all the rules. And when in doubt… STAY HOME!!!!

_______________________________________________________________________________

SUNDAY
HAPPY NOVEMBER 1 BIRTHDAY TO….ERIC HALEY …JUSTIN KAWALER …. CAMPBELL CAWOOD….. RAQUEL CRUMMIT … ERIKA BUTTERS …. ALEXIS LARSEN….. DONNA PEZZI…. BARBARA NIMESHEIM ….(Please remember…Leonard Domski… Judy Mack…Sherry Carten … Jim Tober….)

HAPPY NOVEMBER 8 BIRTHDAY TO …..NICK DOLL … FRANCIE McKENZIE … LANCE MORRIS…. KIMMEE NAPIER….

HAPPY NOV.15 BIRTHDAY TO…..FRANTZ CAHOON…. HOLLY ILAQUA DIAMOND….FRED TROXEL … JOE KEILY….
_____________________________________________________________________________________________________

OLD STONE COFFEE HOUSE… NOV. 1….Michelle Dravis will be back at the Old Stone Church at 600 Eaton St. to perform soulful music. Come and listen, learn, and get a great start to the week ahead.

NEW PODCAST WITH MARK AND AMY!!!!…… and EVERY Thursday!!! Beloved Key Westers, AMY CULVER & MARK WATSON, have combined their many talents to produce 'KEY WEST..WHERE THE WEIRD GO PRE-SUNSET with AMY & MARK'….This is a weekly half hour Interview show streamed on YouTube and broadcast LIVE from Higg's Beach at 6 pm! These programs will feature interesting Key West characters and their contributions to the Community! Amy and Mark conduct this Podcast in the Gazebo near Salute restaurant! If you choose, you can bring a lawn chair and a mask and social distance and watch the Podcast LIVE on the Beach!

THANKFUL ON SUNDAY……BIG thanks, in no particular order… to.. …..Patti Cakes Hayes & Leslie….. Bobby Nesbitt & Mike Mulligan…. Alison Teal…… Tom Thayer & John McDonald….Ed & Amy Stevens ….Sally Stevens & Rob Zadkovich…. ….Mary Borrell …. Jimmy Olson…. Trey Forsyth…..Jennifer Stevens & Peter Vishton . ..Bert Whitt & Dennis Beaver …. Kate Regan…. …. Melissa Lang….Paul & Pam Vereb… ….Bruce Moore……Arlo & Evan Haskell …Beth Moyes….David Dunn… All those who worked so hard for the Ship Referenda….Leslie Burns ….Holly Merrill …. Billy Kearins…Jim Argoudelis… Tom Cawley…..Kathy Russ…..In addition…. I want to give thanks to all those who are being vigilant and adhering to the rules and trying to right this virus era that we are going through…. thanks to all business owners who are enforcing the rules …..and MOST OF ALL…. THANKS FOR MY DEAR HUSBAND BOB…. ALWAYS BOB…. !!!!

TAVERN N TOWN….NOV. 1, 8, 15,22……. ROB DI STASI PERFORMS FROM 5 TO 9 PM. IN THE LOUNGE!

SMOKIN TUNA SALOON on NOV. 1….. 8 PM, Myles Mancuso and Friends…. NOV. 8, Nick Norman Band & Caffeine Carl at 5 pm and Myles Mancuso at 8 pm.

LATEDA… NOV. 1,8,15,22,29…. 3 SUM performs at 8 pm in the Lounge for dinner pleasure…

**ONLINE ART SALE FUNDRAISER… INSTRUMENTS TOGETHER….NOV. 8…. KW artist Marlene Koenig takes her talent to a new surface in the upcoming Bahama Village Music Program 'He-Art Strings" online art sale fundraiser… on the non-profit org's Facebook and Instagram platforms. Profits will be split 50/50 to help support the artists and the Island's only free music education school. Art works transformed a 'retired' string instrument into a creative masterpiece to be sold at a fixed price selected by them. Artists are Fran Decker, Cricket Desmarais, Tony Gregory, Ben Harrison, Jack McDonald, Bucky Montgomery, Jim Salem, Rick Worth and many many more….For more info email BVMP board member Cricket Desmarais at Cricket@bvmpkw.org, or Katchen Duncan at Katchen@bvmpkw.org.

HAVE YOU READ ANY WONDERFUL BOOKS DURING THIS 'TIME'???…. I will share some of my very fave books that I read this summer…. THE LAST CONVERTABLE by Anton Myrer (Thanks for the loaner, Keith!)….EVERYTHING I NEVER TOLD YOU & LITTLE FIRES EVERYWHERE, both by Celeste Ng…..NORMAL PEOPLE, by Sally Rooney…..THE DAUGHTERS OF ERIETOWN, by Connie Schultz…. BIG SUMMER, by Jennifer Weiner….all most enjoyable reads! I am now reading TOO MUCH & NEVER ENOUGH, by Mary Trump…. and I have the following on my nightstand….. RAGE, by Bob Woodward….. THE SEARCHER , by Tara French….BECOMING, by Michelle Obama…. and IS THIS ANYTHING?, by Jerry Seinfeld. Let me know if there is anything you HIGHLY recommend.

CALL TO ARTISTS…. ANNE MCKEE FUND AUCTION…..Submission of artwork closes at midnight on Nov. 15…. This event will be held online Feb. 4-17 this year. Applications are available and submitted online, with accompanying photos. at www.mckeefund.org. From Feb. 4-17, the Studios will host a gallery show of all the accepted works for up close & personal viewing.
_____________________________________________________________________________________________________

MONDAY….
HAPPY NOVEMBER 2 BIRTHDAY TO ….. MARIA CONDELLA….. RICHARD GRUSIN …. BERT BUTLER …. HILARY DOLBEARE….SUE INTERDONATO … CHRITOPHER FRECHETTE…. HAPPY ANNIVERSASRY TO….. TERRI WHITE & DONNA BARNETT!!!HAPPY NOV.9 BIRTHDAY TO …..SUSIE SAVITCH …. KOM WILKERSON … MEGAN CLAY …. DREW WENZEL …DIANE SHELBY ….GARY YOUNG …. CARLO DENNY ….KEN MACHOR …. VANNA ROBBINS …. (Please remember Delores 'Wink' Gasser.)HAPPY NOV. 16 BIRTHDAY TO …..MICHAEL PELKEY…DARLA SNYDER… ELLEN CARON….. RICK RAMSEY …. DANNY CRESPO … ROBYN WHITEHEAD ….MATTHEW DOMSKI….. ASHLEY HOOVER….HAPPY ANNIVERSARY TO…. MEGAN & MICHAEL BEHMKE!!!
—————————————————————————————————————————————————————————-

TAVERN N TOWN, …..NOV. 2….. MICHAEL EMERSON ENTERTAINS FROM 5 TO 9 PM IN THE LOUNGE.SMOKIN TUNA SALOON on NOV.2…. Scott Kirby at 5 pm…. Myles Mancuso at 9 pm……NOV. 9….. Myles Mancuso at 7 pm.

LATEDA, .. NOV. 2, 9, 16,23……3 SUM performs at 8 pm.

**VIVA'S S SALOON.. GREAT SPACE FOR OUTDOOR DINING….. LARGE PROPERTY & VERY SAFE FOR SOCIAL DISTANCING…..OPEN FOR TAKE OUT TOO!!!!…..DELISH FOOD…… OWNER ALFREDO GIMENEZ IS A GEM!!!!! 903 Duval St… Entertainment on weekends….. tables spread out in this large garden area. Leave it to Alfredo and Gaston, the owners, to do everything right and take care of their clientele. _______________________________________________________________________________________

IT'S TUESDAY, NOVEMBER 3RD……. I URGE YOU TO GET OUT AND VOTE!!!! IT IS YOUR CIVIC DUTY!!!!!
_________________________________________________________________________________________
HAPPY NOVEMBER 3 BIRTHDAY TO….WYNETKA 'ANN' REYNOLDS …..NORMA WIEBE….JOHN BOUTTE…. MARGARET GLENN … (Please remember the amazing TERRENCE McNALLY!!) …. HAPPY ANNIVERSARY TO…. CATHY & PAUL KAHN.

HAPPY NOVEMBER 10 BIRTHDAY TO…..THE FABULOUS…BOBBY NESBITT…RICHIE SPADA….ERIN STOVER-SICKMAN ….JIM GRANT … CYNTHIA DRESOW …. MICK KILGOS….. TRENT RIEDEL ….. (Please remember Nancy Nolan….and …. Judy Wood.)

HAPPY NOVEMBER 17 BIRTHDAY TO….JOHN WELLS….. MICHAEL SODDY … RUTH WOLOWSKY GREENFIELD….DARLA WALTER…. . HAPPY ANNIVERSARY TO….. ALISON TEAL & SAM BROWN….. AND… DENNIS & SUE BLAKE….
—————————————————————————————————————————————————————————

TAVERN N TOWN, … NOV. 3….. CARMEN RODRIGUEZ & MICHAEL THOMAS ENTERTAIN IN THE LOUNGE FROM 5 TO 9 PM…. NOV. 10, 171,24… BOBBY NESBITT & CARMEN RODRIGUEZ PERFORM…. NOTE THAT NOV. 10 IS BOBBY'S BIRTHDAY… STOP BY TO WISH HIM A HAPPY DAY!!!!!

LATEDA, ….NOV. 3…. SPECTRELLES AT 8 PM….. NOV. 10….SPECTRELLES AT 8 PM & RANDY ROBERTS AT 9 PM….NOV. 17….SPECTRELLES AT 8 PM…AND CHRISTOPHER PETERSON AT 9 PM…..NOV. 24….SPECTRELLES AT 8 PM, & RANDY ROBERTS AT 9 PM.

SMOKIN TUNA SALOON…NOV. 3 ….Scott Kirby at 5 pm….. Nick Brownell and Friends at 9 pm…. NOVEMBER 10….Nick Brownell from 7 to 11 pm.

CLAYTON LOPEZ… Although we do not live in the district that Clayton lives in, I encourage everyone to please consider voting for him. I have know him for years and he loves his constituents and he really cares….. he has lots of great plans ahead too. Go to Clayton's Facebook page to see his recent campaign video describing his future endeavors on behalf of all. If you can, do volunteer to hold signs or help if you can. Contact Kevin at kevin-assam@hotmail.com. Clayton Lopez has a great big heart!!!! Please support him!

LOUIS PETRONE PODCAST EVERY TUESDAY……NOV. 3,10,17 24….Resident Sage and Bon vivant, Louis Petrone, presents his live podcast every Tues. at 9 pm…. Hear him rant, rave and expound on everything under the sun and then some….Always interesting and never dull!!! Go to www.blogtalkradio.com/key-west-lou. Louis has a devoted following and rightly so!

THE WILLIAM WELCH LEGACY….This wonderful man and amazing artist is no longer with us, and he is missed more than words can say. However, his beloved sister, Sherrey Welch , and Bill's partner Dave, are determined to keep Bill's art and legacy alive through the new website, at www.williamwelchcollection.com. Please forward this info to anyone who may be interested in Bill's work retrieved from Nantucket, Key West and France. Bill Welch was a true gentleman…. kind, caring and deeply talented….
_________________________________________________________________________________________….
WEDNESDAY…
HAPPY NOVEMBER 4 BIRTHDAY TO …VIRGINIA PANICO … JEREMY WILKERSON ….BARBARA NESBITT…. GIANCARLO ESPINOSA ….DAVID FISHER ….TERESA HOOVER …. MARTY MANESA ….BOB RAFANELLI …. (Please remember Adare Fritz.)

HAPPY NOVEMBER 11 BIRTHDAY TO…. WENDY FRENCH …. JIM SCHOLL….DOMINIQUE BARRERA …. COLLEEN NEEDHAM …. MARK SCIARELLO….NANCY LAMKIN …JUANITA GREEN ….HAPPY ANNIVERSASRY TO….. JILL CALDWELL & RICHARD FROST.

HAPPY NOV. 18 BIRTHDAY TO…..CHRISTOPHER PETERSON….. RUSTY HODGDON … LEE GARRISON …MATTHEW RAWLS …. ALLSION MAYER …. SCOTT ARMSTRONG ….LEILA GARCIA …. DR. SHARON VAN NOSTRAN…. HAPPY ANNIVERSARY TO…. JANICE & ROSS ELWELL …DREW AND JUAN WENZEL…..
—————————————————————————————————————————————————————————-

TAVERN N TOWN….NOV. 4…. ROB DISTASI ENTERAINS FROM 5 TO 9 PM…

LATEDA…. NOV. 4,11,18,25….. THE FABULOUS SPECTRELLES AT 8 PM.

SMOKIN TUNA SALOON.. NOV. 4… Scott Kirby at 5 pm…. Caffeine Carl at 9 pm… NOV. 11….Caffeine Carl at 9 pm…..

IN CONVERSATION AT THE STUDIOS. NOV. 4….Award-winning costume designer, Gregg Barnes, will be interviewed by the dazzling Stephen Kitsakos at 6 pm. Contact The Studios at www.tskw.org for further details and how to purchase a ticket for this sure-to-be exciting conversation.

IN CONVERSATION WITH JEFF JOHNSON, NOV. 11….Actress-Singer, Keala Settle, star of The Greatest Showman, will be interviewed and in-conversation with Jeff Johnson at 6 pm.. Contact The Studios at www.tskw.org for ticket purchase.

9th ANNUAL KEY WEST FILM FEST COMING UP, NOV. 18-22….. VIP and ALL ACCESS Passes to the Key West Film Fest are now on sale. Please go to www.keywestfilmfest.com to get all details, costs of passes, etc. ALL films will be shown at outdoor venues only, including the Hemingway House, The Oldest House on Duval, the Lawn at the Perry Hotel, the Amphitheater, etc., with socially distance seats set under the stars.
______________________________________________________________________________________________________

THURSDAY…
HAPPY NOVEMBER 5 BIRTHDAY TO ….STEVEN MURRAY SMITH …. DENNIS ZACEK …. RICK HOLTZ…. JEFF ARMOR …. GARY KAICH …. (Please remember Roger Westerlund…. and Anna Sabol.) HAPPY ANNIVERSARY TO…. STEVE RICHARDSON & BERT BUTLER … AND … RITA & JIM BOF.

HAPPY NOVEMBER 12 BIRTHDAY TO…..EVAN CORNS …CASSIE McGHEE … AMANDA KRUEL…. DOLORES BOFF … DOUG GERENGER … MARION FETCHIK….TOM RYBICKI ….LINDSAY COLLINS ….NEIL YOUNG ….(Please remember Bernice Schuckert.) ……. HAPPY ANNIVERSARY TO …..BOB AND MELODY MOORE BOWERSOX….

HAPPY NOVEMBER 19 BIRTHDAY TO…..SHERRY SWEET TEWELL …. JOE DOOLEY … DONALD HINCKLEY …..GENE KENNEDY…. CHRISTOPHER ELLIST…. HAPPY ANNIVERSARY TO …… SUZANNE & WISH WASHBURN…. AND…. LYNN & DAVE RUTHENBERG.
______________________________________________________________________________________________________

TRUMAN WATERFRONT FARMER'S MARKET…EVERY THURSDAY…..NOV. 5, 12, 19,26…. 3 PM to Sunset….. at end of Southard St. Produce, beverages, seafood, apparel, gifts, art, books, entertainment…. fun…. wear masks and social distance….

****'TYPHOON JUDY' AT THE WATERFRONT PLAYHOUSE…. NOV. 19, 20 & 21 AT 8 PM …… The spectacular CHRISTOPHER PETERSON reprises his role as Judy Garland in this original play written by Darrin Hagen & Christopher Peterson…. Three nights only…. at 8 pm….Accompanied by Tom Thayer. Tix are $50….ALL health guidelines will be enforced. Call 305-294-5015 for tix or go online to www.waterfrontplayhouse.org. Only 50-75 tix will be sold for each performance.

TAVERN N TOWN, NOV. 5,12,19,26….. BOBBY NESBITT & CARMEN RODRIGUEZ PERFORM IN THE LOUNGE FROM 5 TO 9 PM.

LATEDA, NOV. 5 AND 12….. 3 SUM AT 8 PM AND CHRISTOPHER PETERSON AT 9 PM……NOV. 19 AND NOV. 26….. 3 SUM AT 8 PM… AND RANDY ROBERTS AT 9 PM….

**LOUIS PETRONE TALK SHOW PODCAST EVERY TUESDAY..AUG. 17,24,31… Resident sage, Louis Petrone who sends a wonderful blog every day, has a Blog Podcast every Tuesday at 9 pm. To catch it and hear him rant and rave and expound with verve and logic, you can go to www.blogtalkradio.com/key-west-lou. Lou has a HUGE following and rightly so!

SMOKIN TUNA SALOON, ….NOV. 5…. Juliano Brothers at 2 pm…. Scott Kirby at 5 pm…. Caffeine Carl at 9 pm.

THE SPECTRELLES AT CASA MARINA….. NOV. 5,12,19,26…. AND EVERY THURSDAY, 8 TO 9:30 PM…. At the Sun-Sun Concert Pier.

PODCAST WITH MARK WATSON & AMY CULVER…. NOV. 5,122,19,26… and every Thursday….This is a weekly half hour interview show with beloved Key Westers, Mark & Amy….streamed on YOUTube and broadcast live from Higg's Beach at 6 pm in the Gazebo…..Bring a lawn chair and mask… follow the rules. Watch the Podcast Live on the Beach!

SPECIAL DINING FOR LOCALS AT HYATT CENTRIC AT THE SHOR….. Monday thru Friday… if seated by 6:30 pm , $20. entrees and half price on bottles of wine…. Free entree on Birthday with local ID…. 601 Front St.

CAFE SOLE…..50% off all food and bottles of wine… all eve, from 5 to 9 pm, Wed. to Mon. 1029 Southard St. Please support Chef Correa who does so many good things for Key West.

PAINT & SIP FUNDRAISER…. NOV. 12….BENEFIT for May Sands Montessori School…. 6 to 8 pm….with artist Nick Soto…. at Stone Soup Gallery, 802 White St. $50 per person.

***"EVERY BRILLIANT THING"..AT THE WATERFRONT PLAYHOUSE…..DEC. 3,4,5,.10,11,12….. This wonderful one-man show stars the talented, ARTHUR CROCKER….. 8 pm….Tix now being sold… call 305-294-5015…. or go to www.waterfrontplayhouse.org. ALL health precautions will be enforced. Play by Duncan MacMillan… directed by Tom Thayer. $50.

PLEASE SEND ME ANYTHING YOU NEED TO BE PROMOTED….. AND … I will do my best to include in future blogs!

___________________________________________________________________________________________________
LOVE TO YOU, AND REMEMBER….YOU have the power to decide what issues YOU care about…what kind of life YOU want… VOTE…Not voting is giving up your voice…Your power is in Your vote!!!…VOTE…. Voting is Your chance to choose how Your tax dollars are spent….VOTE!!!! …Voting is an opportunity for change… If You want to make a positive impact…VOTE!!!!!… MAKE YOUR VOTE COUNT!!! It is ALL up to US… YOU AND ME!!!! We all have the opportunity to bring back the soul to America!
Lynda
________________________________________________________________________________________________________

PS…..AND HERE'S MORE INFORMATION: SOME INFO WILL OR WILL NOT BE RELEVANT!

THE IMPROMPTU CONCERTS… will be cancelling their 2020-21 musical season. For more info go to www.keywestimpromptu.org.

FOSTER HOMES WANTED….Wesley House Family Services is seeking families in the community interested in providing a home to children in the foster care system. Classes begin Wed., June 12 at 99451 Overseas Hwy. in Key Largo.

WOMAN'S CLUB OFFERS FREE TOURS….Called 'The Hellings House'…the home of the KW Woman's Club… has free tours 10 am to 3 pm Tues. thru Sat. each week. NO TOURS FOR AWHILE….

TROPIC CINEMA SEEKS VOLUNTEERS…..For info call John at 305-295-9493 or go to www.tropiccinema.com. Training is provided. 'Payment' is free movie passes and popcorn for each shift worked. NOTE …. CLOSED INDEFINITELY…..

KEY WEST TROPICAL FOREST & BOTANIC GARDEN SEEKS BOARD MEMBERS… This non profit is looking for interested Board Members….particularly that of Treasurer … term is two years…..If interested send a letter to Key West Botanical Garden 5210 College Rd., Key West, FL 33040. Or email audrinnakkw@gmail.com.

VOLUNTEERS NEEDED FOR REEF RELIEF….For info call 305-294-3100.

STAR OF THE SEA OUTREACH MISSION NEEDS VOLUNTEERS….To help with the food pantry on Stock Island….This mission serves hundreds of the community's needy operating Mon-Fri. Call Donna at 305-407-5967 for info.

SHAL SEEKS VOLUNTEERS…Southernmost Homeless Assistance League has begun serving an evening meal each day at the homeless shelter with food from the Soup Kitchen….Volunteers are needed to help. For info call John Miller at 502-876-5092.

TENNESSEE WILLIAMS EXHIBIT:…. .513 Truman Ave…This wonderful Museum is under the auspices of the Key West Art & Historical Society with founder, Dennis Beaver as its curator. The Museum will be opening SOON!!!!! …..Visitors and Locals are invited to tour this preserved and showcased collection of historic, archival objects that promote the importance of Williams's legacy and offers the largest collection of his memorabilia and artifacts available to the public. Will be Open daily from 9:30 am to 4:30 pm…. Admission: Adults $7. … Children under 6 Free…. KWAHS Members: Free… For more info call 305-204-4527. Big Thanks to Dennis Beaver and Bert Whitt for their great efforts to make this Museum world class!

KW TROPICAL FOREST & BOTANIC GARDEN, NEEDS VOLUNTEERS….To volunteer please call 305-296-1504.

GRACE ON FRANCES STREET……….This is a glorious shop at 6oo Frances….a lush addition to Key West's upscale shopping scene…one of a kind items … spectacular jewelry….Japanese ceramics….cashmere from the Himalayas… the softest and finest you ever touched….Gorgeous items from India, Africa, the Orient, and Europe….a worldwide search to find the BEST of Everything' for your pleasure. It offers luxury to the nth degree….you will feel with all your senses. Please stop by…take your time and savor everything within……open daily, at the corner of Southard! Owned by Wendy Asplundh, she of the exquisite taste… and her great and dedicated staff includes Samantha Rivier, Dorthe Thure, and Jolie Witherow.

LA RUBIA KEY WEST….…OPEN…..Stephanie Hellstrom (THE Blonde!) is the owner of this delightful shop at 510 Fleming St….next to Assortment….You can purchase hand woven Panama hats, handcrafted wearable accessories, and organic chocolates from Ecuador…. along with handbags, scarves, bamboo wraps, jewelry and more. What a pleasure it is to have some unique and interesting new shops in Key West!!! Congrats to Stephanie. Call 296-6059 for more details!!!

AND WHILE YOU ARE THERE… MAKE SURE YOU STOP IN TO SEE THE GREAT MEN'S WEAR AT THE ASSORTMENT!!! Claude and Joe are nothing but Class!!!!

TAKE STOCK IN CHILDREN ORG. SEEKS VOLUNTEERS…..This marvelous, award winning scholarship program mentoring group is looking for giving souls to help mentor 50 some qualified students from lower income families ….They cannot be admitted unless a volunteer steps forward. It takes less than an hour each week. Call Chuck Licis, program coordinator at 305-394-7974 or e-mail him at chuck.licis@keysschools.com.

CUSTOM HOUSE & LIGHTHOUSE MUSEUMS ARE SEEKING VOLUNTEERS…If you have a few hours to offer as a docent, archives asst., exhibit builder, or event volunteer, please offer your services!

** THE SCORPIO PERSONALITY…OCTOBER 23 THROUGH NOVEMBER 22 ***
I am starting this by saying that some of my best friends are Scorpios….as well as my very best friend, my dear husband Bob! They are an amazing group….terrific company and possess a fantastic sense of humor. That being said, Scorpios view life in a very emotional and intense way….and they find it very difficult to express profound feelings that they have. Scorpios keep their deep feelings buried under the surface. They have an innate need for privacy and secrecy making them reluctant to let people know how they feel. This sign is often viewed as being obsessive and it is true that a Scorpio takes things quite seriously. They are happiest when they are able to concentrate their energies in particular directions, because they need to feel emotionally involved in everything they do. Otherwise life loses its meaning and purpose. Once a Scorpio has made up their mind about something, it is very hard to persuade them to change it. They often have fixed ideas about all sorts of things and can take a very hard line over such topics as capital punishment and imprisonment. Despite a Scorpio's natural loyalty, if you push them too far or double cross them in some way, they will never forget it and they will never forgive you. They will probably give you the cold shoulder to exact their revenge. It is wise not to get on the wrong side of a Scorpio! A Scorpio's magnetic charm and powerful personality attract many fans. People love the fact that 'still waters run deep'….and when a Scorpio is silent, everyone wonders what they are thinking and go to great lengths to find out. They know there is lots more going on under the surface than the Scorpio will reveal.
Love is an area that can cause problems for Scorpios as they take it so seriously. There is nothing superficial about members of this sign, and as a result they need relationships that are deep and satisfying. One night stand and brief flirtations quickly lose their charm…the Scorpio is looking for something more significant than that, and when they find it they will channel all their energies into it. They do demand a great deal from their partner, with love and loyalty at the top of the list. One big Scorpio problem is jealousy and another is possessiveness. If a Scorpio has been hurt in the past, it can be very hard for him to resolve these issues. Sex and Scorpio go together like bread and butter. They place such great importance on sex because it is such a good way for them to express their feelings. The best signs for a Scorpio are Taurus, Cancer, Virgo another Scorpio and Leo.
What a Scorpio does for a living must have meaning and purpose, needing to feel emotionally involved in their career. Otherwise they will feel unhappy and dissatisfied. They must believe their work is meaningful…nothing demeaning or boring for them! They will pour all their energies into their work wanting to do something that provides endless interest and stimulation.
Scorpios also love to know what's going on…so they are the eyes and ears enjoying sharing the latest gossip and intrigue. It is important for them to get on well with their colleagues and that they work in a comfortable atmosphere. They need positions of power, even though it may be minor…..the thought that everyone else has control but them is devastating! Scorpios are attracted to law, science, detective work, medicine, research and the like. They also get great satisfaction from working in the wine trade…especially if they can attend lots of wine tastings. Scorpios need more money than most…as financial security is very important to them….they also enjoy the power that comes with money. Living comfortably is of utmost important to the
Scorpio…..In their hearts they know they should have been born with a silver spoon in their mouth…. And if they were not to the manor born, they will do everything in their power to achieve that status symbol. Investing and accumulating are important to the Scorpio…they are canny investors and love playing the stock market.
WE LOVE OUR MARVELOUS SCORPIO FRIENDS AND FAMILY MEMBERS!!!!!
HAPPY SCORPIO BIRTHDAY TO…..
10/23….Larry Eynon….Jack McDonald…Tom Lavender….….Barbara Corns….Neil Chamberlain…Jordan Cisneros…Donald Dotzauer …..Lili Morgan…(Please remember Kyle Caskey.)
10/24….Michael Stewart….Sandy Swan…..Dustan Carpenter…..Steve Sonstein….Chris Case….Priscilla Cox…Daniel Horwath…..….(Please remember Eddie Harris and Tom Ruppell.)…
10/25…..Cori Convertito….…Michael Guadagno….Jackie Lorber….Jane Wurst…..Jill Caldwell …Fred Stevens Jr. ….. Marion LaBella… Mark Frechette… Bruce Wilson …..Vicki Nelson Dunbar…..(Please remember Randy Baird.)
10/26…..Julian Keith Strickland…Gary McDonald…Gerry Bernat…..Kim Rettenwander…Christina Boros…..Jan Kruger… Nina Newton …. Arlene Medora…
10/27…..Michael Meyer…
10/28…..Rosi Ware…. Jeremy Zoma…..Jimmy Harcup…..Dorian Patton….Wendy Allen… Dennis Sloat …
10/29…..Sally De Haven …..Jason Gainey…Shelly Bell…Donna Heid…Lyle Miller…..Noranne Flanagan …..
10/30…Tom Callahan…..Dan Lotten ……Kelly Koenig …..Jim Marquardt …..Rhonda Florence…Ron Saunders…Dean Walter …..George Livengood
10/31…..Michael Mulligan….Kenny Weschler…..Saundra Parker….. Bill Ogle …..Ed Walters ….Brad Buck…..Joan Long …
11/1…..Eric Haley…Justin Kawaller…Erika Monet Butters….Campbell Cawood…..Raquel Crummit ….Donna Pezzi ….Alexis Larsen…..Barbara Nimesheim ……Damian Stout…. (Please remember Leonard Domski…. Judy Mack….. Sherry Carten …. And…..Jim Tober.)
11/2…..Hilary Dolbeare…Richard Grusin….Maria Condella….. Sue Interdonato…. Bert Butler….. Christopher Frechette
11/3……..Wynetka Ann Reynolds …..Norma Wiebe…John Boutte…. Margaret Glenn…(Please remember Terrence McNally.)
11/4….Virginia Panico ….Bob Rafanelli…Teresa Hoover…Jeremy Wilkerson…..Giancarlo Espinosa…..Marty Manesa …..Barbara Nesbitt …..David Fisher ….. (Please remember Adare Fritz…..)
11/5…..Steven Murray Smith…Dennis Zacek…Garry Kaich…Jeff Armor….Rick Holtz…(Please remember Roger Westerlund….and …..Anna Sabol….)
11/6…..Nancy Corbett… Jimmy Nath …. Lynn Daum….. Jeffrey Thacker …(Please remember Carol Chase.)
11/7…..Jennifer Badry…Elmira Leto …. Roger Emmons…. Dave Kapela…. (Please remember Richard Kemble.)
11/8….. Nick Doll…Francie McKenzie…..Jean-Michel Atigaud….. Lance Morris….Kimmee Napier ….
11/9…..Drew Wenzel…Diane Shelby…Susie Savitch… Gary Young…. Kim Wilkerson….. Megan Clay … Kenneth Machor…..Vanna Robbins….. Carlo Denny… (Please remember Wink Gasser.)
11/10…..Bobby Nesbitt…Richie Spada…Jim Grant…Cynthia Dresow….Erin Stover-Sickman… Mick Kilgos….Trent Riedel ….. (Please remember Nancy Nolan and Judy Wood.)
11/11….Jim Scholl…..Dominique Berrera…..Juanita Green….. Wendy French….Colleen Needham….Mark Sciarello … Nancy Lamkin …..
11/12…..Evan Corns…Brian Savitch …Cassie McGee….. Amanda Kruel … Lindsay Collins …Marion Fetchik….Dolores Boff…Neil Young…..Tom Rybicki…Jim Domagalski…Douglas Gerenger …..(Please remember Bernice Schuckert.)
11/13….BOB FRECHETTE……Perry Arnold….Sherry Read….Diamond Dave Gonzalez…..Aaron Wright …..Jarred Bishop….. …..Carol Orzech… Joyce Foliano….(Please remember Rick Pierce.)
11/14….Jerry Galeana….Doug Lafferty…Chuck Hammond… John Pattillo ….Beverly Goldner …. Larry Wood….Phillip Cole White…Lottie Domski….
11/15…..Frantz Cahoon…Fred Troxel … Holly Ilaqua Diamond…..Joe Kiely …..
11/16…..Michael Pelkey…Danny Crespo …..Ashley Hoover…Darla Snyder … Rick Ramsay… Ellen Caron….. Robyn Whitehead…..Matthew Domski.
11/17…..John Wells….Roberta Fine….Michael Soddy…Ruth Wolkowsky Greenfield….Darla Walter….
11/18…..Christopher Peterson …..Rusty Hodgdon…Lee Garrison……Allison Mayer…..Scott Armstrong…Matt Rawls… Leila Garcia … Sharon Van Nostran…..
11/19…..Sherry Sweet-Tewell….. Donald Hinckley …Joe Dooley….. Christopher Ellist …. Gene Kennedy….
11/20…..Larry Abramovitz….…Kevin Hoyes…David Bray…Sam Willmott…Suzanne Moore…Ginny Doebler …. Stacy Beaver …Don Stout…,
11/21…..Terry Schmida…Barbara Ross…..Paul Foster…Amy Stevens… Kevin Dickard…(Please remember Leonard Szalkiewicz.)
11/22…..Lauren Thompson…..Dennis Hudson…Lucinda Emmett…Jenifer Kruskamp…Dennis Picopink….Mimi Burke …B.J. Hooks…..
HAPPY SCORPIO ANNIVERSARY TO….
10/24…..Shirrel & Diane Brady Rhoades….Claudia & Craig Pennington
10/25…..Dana & Stan Day…..
10/27….. Elizabeth & Joe Dallas Sr….. Donna Stabile & Gary Rivenson…..
10/28….Cindy & Ty Cobb
10/30…Lucina & Jeremy Emmett
11/2…..Donna Barnett & Terri White
11/3…..Cathy & Paul Kahn…
11/4… Matthew & Marge Sabol
11/5…. Steve Richardson & Bert Butler… Rita & Jim Bof…
11/6…. Christine Cordone & Larry Smith
11/7….Maribell & Johnny Maschal…..Vicki & Jim Grant
11/10….Daniel Schiavone & Brett Gordon
11/11… Jill Caldwell & Richard Frost….
11/12….Melody Moore & Bob Bowersox….
11/14…Amanda & Austen Harrison
11/15….Jim Morris & Bob Wood
11/16….Megan & Michael Behmke
11/17….Sue and Dennis Blake…Alison Teal & Sam Brown…
11/18…..Janice & Ross Elwell… Drew & Jose Wenzel….
11/19…Suzanne & Wish Washburn…Lynn & David Ruthenberg
11/20…Pat & John Bollinger
11/21….Fran & Ron Chmura…. (Please remember Charlotte & Bill Ryan.)
WISHING ALL SCORPIOS A WONDERFUL BIRTHDAY….and HAPPY ANNIVERSARY TO ALL CELEBRATING DURING THIS SPECIAL TIME!!!!! If you are not on my lists and would like to be included, please send me the month and day of your occasion, birthday & anniversary if applies, and I will add you…send to me at kwlynda@bellsouth.net. If you are one of those Scorpios, please let me know if any of the above description pertains to you in any way! Thanks a lot….
Love and best wishes to ALL…..Lynda


***THE SAGITTARIUS PERSONALITY….NOVEMBER 23 TO DECEMBER 21***
One of the great things about a Sag is their irrepressible optimism. They are convinced that everything will always work out for the best. This attitude has helped them through many a storm. They keep a positive attitude and sense of humor…and when things get tough, they are able to find the silver light at the end of the tunnel. This is also one of the luckiest signs of the Zodiac. Sags are enthusiastic and always keen to take the initiative and make things happen. They don't like to sit around and watch the grass grow…they like to have new and exciting projects that keep them on the go. Otherwise they get fed up and depressed. They need something to aim for. Goals are very important to Sags, preferring challenges to walkovers. Once they achieve their goal, they are on their way to the next target!
Life is always lively with a Sag around…they enjoy discussing ideas with friends and loved ones. They are intellectual and enjoy stretching their minds….their homes are full of books, and have a tremendous respect for knowledge. They pride themselves on their honesty, hate hypocrites and yes men. Sags are also known to exaggerate a bit…and sometimes they are more blunt and direct than you would want.
One of the most popular signs, people can't help but flock around the Sagittarian. They radiate a friendly force-field, are terrific company and laughter never seems to be far away. They have a lot of friends! People appreciate their open and straightforward manner. Sags cannot stand to be tied down or hemmed in by a partner. They need to be able to lead their own life and not feel that someone is always peering over their shoulder trying to police their every move. The Sag will let their partner know if this is annoying them. If you love a Sag, they need their space. Sags enjoy sex, but the most important need in a partner is one who will be a friend as well as a lover. That friendship is something sorely needed long after the passion fades. Anything else is not good enough. The best signs for a Sagittarian are Gemini, Leo, and also Libra, Aquarius and Aries.
In careers, Sags are very sociable and like to be surrounded by lively colleagues, and are popular in their workplace. They like jobs that keep them on the move…not stuck behind a desk. Sags are ideally suited to career in education, publishing, writing, broadcasting, philosophy, and travel. They love money and enjoy spending it. The most exciting thing to them about money, is what it can buy. They prefer casual clothes to dressing up and are not impressed by designer labels. They have a weak spot for cars…especially those that are sleek and distinctive and that cost a fortune.
WE LOVE OUR SAGITTARIAN FRIENDS AND FAMILY MEMBERS!!!!
HAPPY SAGITTARIAN BIRTHDAY TO…..
11/23…Robbie Frechette……Fred Greenberg…Coffee Butler …Alex Okinczyc…..Debra Yates… Joan McDermott…..Donna Cesen…Tina Ekel … Chris Kennedy….Robin Cozine…
11/24…..Brandon Beach…Rock Solomon…Linda Alberty…Perinne Medora… Paula Sondej … Lowell 'Bud' Hardesty….Craig Smith…. (Please remember Patrick Tierney.)
11/25…Christopher Elwell…Amber McDonald-Good…Margaret Villoch….Daniel Garcia …Dan DiFilippo …. Jim Shepherd…..
11/26…Harvey Server…Jon Allen… Mark Schilecci …Nana Tatebayashi …..Nikki Duncan…(Please remember Dave Taylor.)
11/27…Kevin Gallagher…Carolyn Cooper…Jerry Hughes…. Julie Anderson ….Alan Bobin…
11/28 ……Christine Cordone…Dan Bready …Bernie Sledz…Jane Day Stuart…Mallerie Estes….Susan Tutino .
11/29…Audrey Samz…Mary Spear…Tom Coan …..Queen Kathleen Greer…Terry Gaberdiel…Samantha Reynolds… Glen Dorow …. Ava Beshire….
11/30….Helen Walker…Jean Dostal….. Marge Berish ….. Mandy Patinkin …..(Please remember Sally Lewis.)
12/1……..Donavan Pavilicek….. Patti Rodriguez ….Robin Tomita…..Mary Beth Schleter ….(Please remember Richard Stephens and Richard Dennison.)
12/2…Fizz Rettew……Frank Piku…Cameron Zbikowski……Angela McChesney…Chuck Armbruster …Sammie May… Carolee Rafn…. Jodie Vishton ….(Please remember Gregg McGrady and Joseph Stettner.)
12/3…Vera Vasek…Linda Sparks…Edward Pitts…..Dominick Carelli ….. Mark Reinhioldt …. Ned Reifschneider…..Ken Kovats….Kathy Stewart… Anthony Alexander …
12/4…Erika Biddle…Louise Sledz…Kurt Shwaery…Bob Maykut….. Cookie Thatcher ….Patti Williams
12/5…Mary Ellen Beattie….Scott McCarthy….Elizabeth Catana…. Natalie Delarm ….(Please remember Victoria Sabol and Charlotte Ryan.)
12/6….Chris Thomas…Rikki Fessler ….Adrian Armstrong….Joe Dallas Sr…. Erik de Boer…..Leroy Hahn ..
12/7…Jonathan Ingham …Charlii Clark ….Iris Bernreuter…..Louis Scaramuzzi…Rebecca Green ….. Gerry Sajitowski …..Rosemarie Zawacki… Jan Cernan…Al Filippone … Michael Marello ….(Please remember Merle Hohman and John Pett.)
12/8…Sam Trophia…Andrew Forrow…Evelyn Maldonado…Alan Henig…Ron DeAnna…Brad Manley
12/9…Tonia 'Tonto' Zotola…..Lloyd Bryant…Dick Moody…Linda Aselin …..Angela Meanix… David Long …(Please remember Charly Helm and Buddy Dyess.)
12/10…Reef Perkins…Matt Babich…Robin Tomita…Redza Ibrahim Dempster……Diane Flenard …Robin Knauth …Randy Misener …Nancy Ulrich….Weston Stephen Reuther….. (Please remember Tony Schilero.)
12/11…Kristyn La Moia…..Randy Becker …..Betty Darst…Mary Schilling…Marsha Stevens…
12/12….Nicholas Stevens…..Alfred Morris……Lauren Mascetti …(Please take time to remember my beloved brother, Fred…and, Francy Zakczewski, Steve Calderwood, Frank Sinatra, and Connie Francis.)
12/13…Carol Wightman …..Rick Bloom…..John Eicher…Rex Welton…Joyce Heels…Joey Schroeder …..Jamey Bowen…Norma Gaspari… Louis Syroney….. Debbie Bican …
12/14…Joe Dallas…Monica Slowiak…Kelly Jane Dufford ….. Ellen Caron ….Susie Applin …
12/15…Scott Beauprie…..Rachelle Romano…. Derek McCann ….Cherylann Logdon…Din Allen… (Please remember LiLianne Brouillard)
12/16…Rita Linder… Dave Mueller….. Ellen Caron…… Lisa Krosse…. (Please remember Terry Wetmore.)
12/17…George Fernandez…..Michael Procaccini….Kristina Welburn …..Mary Peranteau… Katie Warner …. Eleanor Pojman …Laura Armbruster Farmer….(Please remember Jim Hendrick.)
12/18…Dominic Fornaro ….…Joy Hawkins…Randy Roberts… Jud Colley …George Tillman….Morgan Fraga Pierson ….. Scott Sickel ….. Dan Carten ….Mark Andrews….(Please remember Alice Horwath.)
12/19…Barbara Herzog…Jordan Fife Hunt…..Billy Hollowell
12/20…Ralph DePalma…Kristen Livengood…Kevin Dickenson ….Sebastian Vishton….Ronnie Carruthers … Susan Davis … Bob Moats…..(Please remember Katherine Raney.)
12/21…John Correa…Roy Bishop…..Nicole Nurenberg…..Ed Heid…Judy Farrell…Sarah Kahn……(Please remember Leslie Leonelli and Pauline Palub.)
HAPPY SAGITTARIAN ANNIVERSARY TO…
11/23…Carol Tedesco & Michael Shields…
11/25….Ray Pfiel & James Luther…Ken & JoAnne Lasky…..
11/27….Donna Stabile & Gary Rivenson…..Joan O'Dowd & John Wist….Jack & Rita Eaton
11/28… Carol Tedesco & Michael Shields….
11/29…George Tillman & Lloyd Bryant…
11/30….Karen & Bill Ryan…Billy Cartledge & Jim Hall
12/4…Sharon & Chris Santry…Eric Cole & Joe McMurray
12/6…Harry & Tina Deal….Robin & Peter Knauth
12/7…Cory Held & Paul Gildea
12/10….Deborah & Sid Goldman
12/13….Bob Archer & Mark Pence….
12/14….Claire Carroll & Steve Gurmin…….Barbara Weikel & Ralph DePalma
12/17…. Rev. Larry & Kathy Hooper……. Kenva & Lonnie Reese…
12/19… Evan & Barbara Corns…Caroline & Richard Forbis….
12/20…Lola & Jim Corrigan
If you are one of those Sagittarians and are not on the list and want to be, please send me your month & day to kwlynda@bellsouth.net and I will add you on. If you are on the list, please let me know if any of the description pertains to you in any way. During this month of Christmas and the Holidays…please enjoy every minute.
Sending love an best wishes to you, Lynda