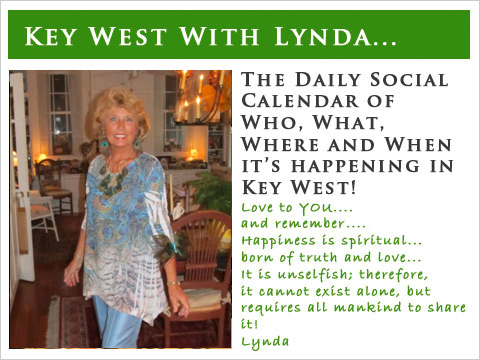 2023 WATERFRONT PLAYHOUSE AQUA IDOL TODAY, MARCH 20TH!!!!
Monday, March 20, 2023
MARCH 20 THRU MARCH 27, 2023…IN KEY WEST WITH LYNDA

MONDAY, MARCH 20…

HAPPY MARCH 20 BIRTHDAY TO….TERRI WILSON…. CAROL MOORE…. BETH RAMER …. (Please remember Jim Nolan and Joe Viana.) HAPPY ANNIVERSARY TO…. BEVERLY & BILL GOLDNER.

*****AQUA IDOL TONIGHT…MARCH 20… 6-8 PM!!!!!…Get ready to rock the night away with some swinging Rock n Roll Songs at the Waterfront Playhouse's 2023 Aqua Idol…. Celebrity Judges tonight are her honor, MAYOR TERI JOHNSTON and ENTERTAINER EXTRAORDINAIRE, CHRISTOPHER PETERSON!!!! Singing their hearts out for the Waterfront Playhouse are vocalists…. DOMINIC PAOLLILO… SAMUEL COSTILOW…..JUSTIN CAMADDO….TENNESSEE RICHARD CARRAWAY …TIM DAHMS….JESSICA MIANO-KRUEL …BELISA LEA ….JORDAN UPCHURCH …..PUDDIN TAINE….. KELSEY ELLIOTT… JESS WACHS,…….. RAY WEST . ..IAIN WILCOX…. Remember, to keep your fave contestant in, you must put dollars in their tip buckets!!!! Aqua Nightclub is at 711 Duval St…..Get there early for good seats, and see the BEST- FREE- to -Attend- Show in Town! Mark your calendars ….Besides tonight, remaining performances will be on Mondays, March 27 and April 3 and 10!!! Another real treat tonight will be a special guest appearance by Former Aqua Idol Winner, JERRY DOWNS…..also a member of The Island Boys! Come and support your favorite Vocalists and the Waterfront Playhouse!!!! Laurie Thibaud is our Emcee, and Jimmy Harcup is in the sound booth! Hope to see you there!!! Our counters are Bunnie Smith, Andrew Theede, Melissa Lang, and Mike Benner….Great fun for a great cause!

DONATING ONLINE…. It is very easy to donate to your favorite Aqua Idol singer online, especially if you aren't able to attend in person. Just follow these steps. 1) Go to www.waterfrontplayhouse.org… 2) Hit SUPPORT…. 3) Hit Donate Online…. 4) Click the name of the contestant and amount…. 5) Scroll way down till you see ADD TO CART in black box on bottom right… 6) Your name with donation amount will pop up. 7) Then, hit CONTINUE AS GUEST….. 8) Answer three simple questions on bottom…. 9) Hit Continue as Guest and Checkout…. 10) Follow Credit Card information. Also, you can call the box office at 305-294-5015 and donate to your fave singer on the phone. If you would like to make a cash donation to Aqua Idol you can also do this online by following the above steps but just indicate FOR AQUA IDOL PRIZE PACKAGE. Or you can send checks made out to Waterfront Playhouse and write AQUA IDOL in the memo section… and send to me at Lynda Frechette 47 Seaside South Ct. Key West, FL 33040. All will go toward the Prize Package for the Top 4 Vocalists! Thanks with ALL my heart!

TIP-CONTAINER PASSERS WANTED…… If anyone out there would like to help with passing the Tip containers while the Vocalists are singing during Aqua Idol, please let me know by texting or emailing me. Or if you might want to help in other ways, let me know. THANK YOU.

ALSO….To contact me, direct all messages to kwlynda@bellsouth.net, I am interested in all you may have to say. Also, if you have any information that I could use in this blog, please send it to me and I will try to include it next time.

LONNIE HENSLEY NEEDS YOUR PRAYERS AND SUPPORT….Lonnie, who is very well known in town….operates a great Classic Car Automotive Shop on Stock Island….. suffered a severely fractured skull and multiple contusions on Feb. 12… injuries so severe he was airlifted to Jackson Memorial where he had a section of his skull removed and has been in a coma and a dreamlike state since then. He is in a financial crisis and needs your help and support. Google Lonnie Hensley gofundme to help. Or if you would like to help directly, you can make checks payable to LAST KEY REALTY Att: Sharon Santry and mail or drop off at 825 Duval St. Key West, FL 33040. Lonnie is now at Kindred Hospital…Room 302 A…5190 Southwest Eighth St., Coral Gables, FL 33134. I understand that he is not fully awake but is slowly showing signs of regaining consciousness. Let us all rally around Lonnie….. Send cards and messages to him….and….Prayers are requested….& Count your blessings, please.

**BIG BENEFIT EVENT AT THE TROPIC CINEMA… MARCH 24…. A Major Fundraiser for the Tropic Cinema will be held to premier the movie ARE YOU THERE GOD? IT'S ME, MARGARET… written by Key West's own Judy Blume, author of countless beloved books for teens and adults. This event is at 7 pm at 416 Eaton St. On hand for this Event will by stars, Rachel McAdams and Abby Ryder Fortson along with producer James L Brooks, writer-director, Kelly Fremon Craig, producers Julie Ansell and Amy Brooks… and best of all ….author JUDY BLUME!!!! As soon as this Event was announced, the $500 and $300 tickets where you can see this movie on the big screen in the Carper Theater and get to see the cast and special guests LIVE onstage are all sold out! However, there are still some $150 seats available where you can view the film in one of the two smaller theaters at the Tropic and see the featured talent and cast by live simulcast. All tickets can be bought online at Tropiccinema.comor call 305-434-0974. We congratulate Judy Blume and we ALL look forward to seeing this long-awaited for movie. (The movie will be released on April 28.)

***"CONCH REPUBLIC– THE MUSICAL" RETURNS TO KEY WEST….APRIL 18-30 ….. EXCITING ANNOUNCEMNT!!!! After a 5 year absence this beloved original Musical written by Monnie King and Gayla Morgan is back in ALL its glory! The show runs Tues.-Sun. from April 18-30…at 5:30 PM at the Little Room Jazz Club at 821 Duval St. Directed by the amazing Gayla Morgan and Lauren Thompson…with Gayla also as Musical Director…and the all-star Cast includes… Michael Aaglan…Don Bearden…Billy Cartledge… Trey Forsyth…Tony Konrath… Annie Miners…. Camille Toler….and Wayne Larue Smith. Half the Cast are the same actors who originated their roles in 2013. Giving you a head's up so that you can plan ahead and get your tix now! Go to www.SeaglassTheatrical.com website. Doors open at 4:30 pm…Food & Drink will be served till showtime pm. Trust me…you will LOVE this wonderful Key West Show! Tix are NOW on sale!

CHARITY BINGO AT GREEN PARROT…Mondays at 7 pm… to benefit the Key West Art & Historical Society.

THANK YOU BLAKE HUNTER… A wonderful tribute evening to honor and thank Blake Hunter was held last eve at the Studios…..There were very special performances by the cast of Prime Time, the show that Blake wrote….by Christopher Peterson & Randy Roberts, by Vicki Raush & Laurie Breakwell, Joy Hawkins, etc. ….plus a great song and heartfelt thank you by the talented Tony Danza who starred in Blake's TV show, Who's the Boss…. It was a love in for a great man who has given from his big heart to all the Arts and Organizations in Key West. "We love you, Blake…. Thanks is never enough for all you have done!"

***LATEDA.. …. Performing in the Crystal Room at Lateda at 9 pm are … Christopher Peterson's EYECONS show and Randy Roberts LIVE! ….1125 Duval St. To check on the schedule go to the Lateda website. Every Sunday at 4 pm is the Lateda Tea Dance with Rude Girl spinning the tunes to dance the night away!… Downstairs in the Lounge are the superb 3 SUM who perform on Thursday thru Monday in the Lounge at 8:30 pm. And the Fabulous Spectrelles are on Tues. and Wed. at 8:30 pm……And Dinner at Lateda is always first class!!!!!!

LITTLE ROOM JAZZ ROOM, MONDAYS….5:30-7:30 …5:30-7:30 it's Matt Butler at the piano… 8 pm, it is Peter Diamond & Co….. Wonderful entertainment every single night and also during the late afternoon and early evening. Delish food and drinks and owned and operated by the dashing couple, Wayne Larue Smith and Denis Hyland!

THE GARDENS HOTEL EVERY MONDAY. ….from 5 to 7 pm it's Mary Spear entertaining ….526 Angela St. (subject to change weekly)

AT VIVA SALOON ON MONDAYS…..Robert Douglas entertains…. 6 to 9 pm….

AQUANETTES PERFORM …SHOWS EVERY SINGLE NIGHT. Aqua Nightclub at 711 Duval St. is the place to see the most fabulous Drag Queens….including FAITH…INGA …. ELLE … JESSICA… BEATRIX…… MAYA…and EPIPHANY…!!! Shows are Monday and Tuesday at 9 pm….and from Wednesday thru Sunday, there are two shows…at 7 pm and 9 pm. ..Reserve at www.aquakeywest.com. Aqua is open from noon to 2 am nightly…. drink specials… full menu… lunch specials…… call 305-294-0555… Also at Aqua…. there is the Back Bar, the Side Bar , the Outdoor Poke Bar and Grill, and each has its own personality!!!!! AND OF COURSE ON MONDAYS TILL APRIL 10 it's THE FABULOUS 2023 AQUA IDOL FUNDRAISER FOR THE WATERFRONT PLAYHOUSE …6-8 PM!!!! MAIN STAGE!!!!

THE STUDIOS GATHERINGS AT HUGH'S VIEW….The Studios is sponsoring these GLOW eves. Cash bar available. For more info go to www.tskw.org. The GLOW Hours are 6-8 pm. FREE with advance registration. 533 Eaton St.

TAVERN N TOWN….MARCH 20, 27……ROB DI STASI performs from 5 to 9 pm.

TENNESSEE WILLIAMS MOVIES AT THE TROPIC, MONDAY, 20,27 …. 6:30 pm….Movies are, This Property is Condemned, and Glass Menagerie….

GET THE LED OUT MARCH 20 & 21… Led Zeppelin Tribute Band… ….8 pm at KW Theater…..get tix at www.thekeywesttheater.com.

B'NAI ZION MOVE, MARCH 20….Film is The Keeper, at 7 pm… 750 United St. Free and open to the public.

SINGER, MAJ JOHNSON TEACHES WATERCOLOR CLASSES…. once monthly at The Old Stone Church Coffeehouse. She charges $20. per class and the profits go to charity. For more info call or text her at 305-587-8455 or email her at maryanne.johnson@westcare.com.

MY BLOG ALSO AT CONCHTV…. You can also go to https://www.conchtv.com/author/lynda and get my blog anytime…. also the current birthday and anniversary lists…. and my picture too!!!

801 CLUB…….Famous Drag Shows are at 801 Duval St… every night at 9 or 11 pm. Book Online….. www.801.bar or call 305-923-9296. The amazing and internationally known Sushi runs the show with amazing Drag Queens with names like Puddin', Deja, Mulysa, Marilyn, Racquel, Kylie, Ma Evans, etc.

THE TROPIC CINEMA AT 416 EATON ST…. For info on movie schedules go to http://www.tropiccinema.com. Phone is 305-434-0974. Go online to reserve your times.

THE BIRTHDAY AND ANNIVERSARY LISTS…….. Please let me know if you would like me to forward you these lists….. Simply send me a request at kwlynda@bellsouth.net and I will send you this month's complete Personality Description plus all those I know who are celebrating birthdays and anniversaries during this special time of year!!! Also, let me know if you want to be added to it .. You can also see it by going to https://www.conchtv.com/author/lynda… and then scroll down.

SUPPORT SOS………Many Monroe County residents are living below the poverty line. SOS (Star of the Sea) Kitchens have long been providing food for those in need. Go to website at www.stmarykeywest.com or call 305-294-2772.

BIRTHDAY/ANNIVERSARY LISTS….If you would like to be included in the Birthday and Anniversary Lists that I send out every month, please let me know your month and day by sending that info to me at kwlynda@bellsouth.net. There are special perks to being on the lists!!!! One of the perks is having your name in KONK Life on the day of your Birthday!!!

PRAYER CHAIN…..Please continue to remember the following in your thoughts and prayers….. Please include prayers for…..Rosi Ware… Noreen Collins….Lonnie Hensley…. Dick Moody…. Tanya Leto …… Molly Blue ….Daniel Bitnar……..the Family & Friends of Kristin Larkin LoGerfo on the loss of her dear mother, Marilyn Larkin…..also the family & friends of Garrett Hughes, Marilyn Seamon, Steve Ness, Tom Vetter, and Oakley Andrews……..Pray also for ….Ann Whipple… Julia Davis…. Johnny and Audrey Pollizi….. James Hollabaugh …..Pony Charvat …..Louise Weithas…… Glenda Rowley….Pat Schraeder ….. Tim Dunn….Bill Schmock …Michael Benner ……Carey Moore…. Jo Gerenger ….Genevieve Isaksen ……..Laura Hettinger ….David Buffam … Suzanne Rentschler ….Patty A ….Lorann Wood ….. Paul Politte……..Pat West ….The People of the Ukraine …… Chuck Selph…..Anne Marie Adreani ….Len & Helen Stevens ……Maryann Barth …Bella Rettenwander ….Dawn de Boer … Cheryl Walchli … Bert Peranteau …..Terri White …John Padget….Todd Reifschneider ……Pat Waller …Marta White …. Anne McKee …Dee Dee Duecker … Me …..Jennifer O'Lear……All those dealing with Illness and loss and despair… Remember, there are many reasons that we pray…not just because people are ill…. I do believe that when we all send prayers and good vibes to those in need, those prayers mystically meet and surround those being prayed for. Sometimes we pray for miracles and the impossible….sometimes we pray to just cope with the results of what happens to those we are praying for. Sometimes we pray for strength to go on and to accept…sometimes we pray for thanksgiving. We are in this thing called 'Life' together….and we all have power within us to help our fellow man. Bless you for remembering our loved ones….Prayer changes things! Let me know if you know of anyone who should be added to this list.

BOB FRECHETTE=FABULOUS REALTOR IN TOWN!!!!…..Contact Bob at 305-304-2584! Email him at rfrechette@bellsouth.net. Honest, Loyal, Fair, and Adorable too!!! He will have only have YOUR best interests at heart.

A PUN or LEXOPHILE FOR YOU.. My tailor is happy to make a pair of pants for me…or sew it seams.
______________________________________________________________________________
TUESDAY. MARCH 21…

HAPPY MARCH 21 BIRTHDAY TO …..JERRY DOWNS…..LUIS VERA…. MERLE DIMBATH …. MARGE SANGER…. HEIDI GOLIGHTLY….SCOTT MUIR …. HUGH GALLAGHER….(Please remember…. Clifford Nowak…and Ted Lacey.) HAPPY ANNIVERSARY TO…. PAT & DAVE LIVESAY.
______________________________________________________________________________
TAVERN N TOWN.. MARCH 21, 28 …WONDERFUL MUSIC…with Carmen Rodriguez and James King….5 to 7 pm!!!!

***"WOMAN OF THE YEAR" …We had the great pleasure of seeing this wonderful FRINGE Theater presentation on opening night….KITTY CLEMENTS starred in a one-woman-show, playing the part of Mabel Loomis Todd…..and she was nothing short of fabulous! Kitty is one of those rare actors who never gives a bad performance. We have seen her in many productions and she can make even the most dismal show shine. Congratulations on KITTY and the Fringe on a most delightful and entertaining evening. Kitty captured our hearts once again!

LITTLE ROOM JAZZ CLUB… MARCH 21…Live entertainment from 5:30-7:30 it is Paul Warthen ..and at 8 pm….Blues day Tuesday with Larry Baeder…821 Duval St.

****"THE CODE" AT RED BARN Runs thru MARCH 25….We SO enjoyed this play, one of the finest productions we have ever seen at the Red Barn. This play, written about Hollywood in the 1950's concerns things 'not mentioned publicly'…. Directed by Christopher Renshaw and starring at their very best…..Mary Falconer as Tallulah Bankhead, Tom Wahl, as Billy Haines, David Black as Henry Wilson and Carlos Ortega Amorin as Manford. ALL are fabulous and deliver knockout and memorable performances. It is smart, funny, shocking at times, and insightful. It presents the gritty side of what we see as glamor and glow in old Hollywood! I highly recommend this play! Get tix at www.redbarntheatre.com or call the box office at 305-296-9911. Runs Tues.-Sat., through March 25.

VIRGILIOS AT 8 PM,…..Skipper and Chris Thomas and Geoff..and Friends….

KARI WOLF AT MANGOES.. MARCH 21…..AT 8 PM!!!!!

COMEDY KEY WEST.. 218 Whitehead St…..Go to www.comedykeywest.com to get tix and see the monthly lineup…. Or call 305-985-7370.

AT VIVA SALOON…. EVERY TUESDAY EVE, …..Coconut Koalas Duo …performs from 6 to 9 pm.

THE GARDENS HOTEL EVERY TUESDAY…… Kenneth Albert Duo …..entertaining from 5 to 7 pm in the Atrium.

KEYS CHORAL ARTS SPRING CONCERT MARCH 28….Theme is "For the Love of Song"… 7 pm at St. Paul's Episcopal Church at 401 Duval St. Cost is $30 per person which includes generous wine and bites reception after the concert. Concert will include compositions by Felix Mendelssohn, Clara Schumann, Dan Forrest, Morten Lauridsen, John Rutter and others. Also a medley from the American Classic Musical Theater Tradition, The sound of Music. Tix can be purchased at the door or in advance at www.keyschoralarts.org.

STRING MUSICIANS SOUGHT…. The KW Community String Orchestra is seeking those who play violin, cello, viola, etc. at all levels of experience. For info contact Lynn-Marie at lynnmariekw@gmail.com.
______________________________________________________________________________
WEDNESDAY, MARCH 22..

HAPPY MARCH 22 BIRTHDAY TO ….RHETT KALMAN….DAROLD LETO…. RAFAEL GONZALEZ…. SHIRLEY SULLIVAN ….CHRISTOPHER GONZALEZ…JUDY KOVATS… HAPPY ANNIVERSARY TO….. NANCY & ROGER NELSON….. EDIE HAMBRIGHT & JULIA DAVIS….
_____________________________________________________________________________
**"KINKY BOOTS" AT WATERFRONT PLAYHOUSE….Everyone who saw KINKY BOOTS had the time of their lives! The sell-out crowds took this Musical to their hearts, and like us, many went back to see it more than once. In reality, it broke all records at the Waterfront Playhouse and deservedly so. Not only was it the perfect Key West Musical, the direction by Tom Thayer…the set design by Michael Boyer…Musical Direction by Michael Fauss… and Choreography by Carolyn Cooper were all perfectly SUPERLATIVE! And the CAST….my goodness…what a marvelous cast!!!!! They knocked it out of the park every single night and received WELL DESERVED standing O's at the final curtain. We loved each special cast member….. RICHARD QUINT (the perfect LOLA!!!!) … COURTNEY DEASE.. … TALITHA JONES… JESSICA MIANO-KRUEL… JAMES HARCUP… JIM SPEAKE …RILEY VOGEL…JORDAN CRAWFORD … ERVIN TUMM … ZACH FRANCHINI ….JILLIAN TODD…CAROLYN COOPER … BRIAN ROBINSON …..JESSICA WACHS … RAY WEST … BARBARA MUNDY …JACK D'EMILLIO… JOHN SWANN ….AND…. ANDREW THEEDE. It was sublime to have Trish Manley return to KW to act as Stage Manager….and thanks to our ushers headed by Wendy Allen…and our Box Office Queens, Jessica Miano-Kruel and Fritzi.. Thanks to all who worked so hard to make this musical so outstanding and thanks to all who came to the Waterfront Playhouse to see KINKY BOOTS!!!! Your support means so much!

KW COMMUNITY CONCERT… ON MARCH 22…time is 5-6 pm and it is at the Key West Botanical Garden at 5210 College Rd. on Stock Island….Tickets only AT THE DOOR!!!!! EXACT CASH ONLY …. $25 EACH.

***'THREE TALL WOMEN" OPENS IN PREVIEW, APRIL 5… 8 pm at Waterfront Playhouse… This Edward Albee Pulitzer Prize-Winning play, is a perfect illustration why theater is an indispensable art! Stars Maggie McCollester…. Jessica Miano-Kruel….and Leslie Greene. Director is John McDonald… Set Design by Michael Boyer. Get tix now at www.waterfrontplayhouse.org or call the box office at 305-294-5015.

BENEFIT FOR KEY WEST WILDLIFE CENTER'S BLDG. CAMPAIGN…MARCH 22… Held at Archeo Gallery at 1208 Duval St…. Drinks, and apps with a brief presentation on the Campaign. Raffle tix for sale.. You can buy online or at event. You need not be present to win…..To buy a raffle ticket online go to…. …. https://keywestwildlifecenter.org/friends-of-a-feather-raffle/.

WOMEN'S FILM FEST… MARCH 22….416 Eaton St….See 1962 film 'Cleo From 5 to 7' at 6 pm. Get tix at the door or at www.tropiccinema.com.

LITTLE ROOM JAZZ CLUB….WEDNESDAY AT 5:30-7:30… Karen Heins at the Piano… . AT 8 PM… Joe Dallas & Paradise Swing Band with Skippo…..great Jazz from our fab local artists…

TAVERN N TOWN ….WED. MARCH 22,29……5 TO 9 PM…. it's Mike Emerson….

OTHER FRINGE PRODUCTIONS….."THE OTHER PLACE"….April 12-22…. 7 pm at The Armory, 600 White St….'THE LAST FIVE YEARS" …March 10-20….at the Armory….

****DAVE BOOTLE AT MANGOES….WEDNESDAY THRU SATURDAY EVERY SINGLE WEEK…DAVE BACK IN TOWN!!!!….. Enjoy this marvelous entertainer… one of Key West's true GEMS….. and dance the night away… You are SURE to have the best time ever! 9 pm…till Midnight. ….DON'T MISS!!!!!!…..always a party with Dave!!!!!

AT KW LIBRARY…EVERY WEDNESDAY, MARCH 22, 29….Crafting for Adults 10 am to noon….Materials are supplied. 700 Fleming St.

THANKFUL ON WEDNESDAY…..I am grateful for many things and mostly for so many people who have touched my life in special ways of late…Harrell Odom and Barry Cook……Kate Miano and Jessica Miano-Kruel……Mary Borrell & Gene Knudson…. Donna Gallagher….Diane Shelby and Coco Vivien ….Charlie Waite…. Kristin LoGerfo …. Richard Quint and the cast and crew of KINKY BOOTS…..The vocalists singing for Aqua Idol…..Kelly Norman…Ed Swift …Erin McKenna …Jerry Galeana…. Murphy Davis and Blake Hunter…. Fred Greenberg & June Hudson …. Tim Maloney …. Red Dempster…..Chris Darnell….Ray Pfeil…. Marilyn Rintamaki ….Trevor De Vooght… Johnny & Maribell Maschal ….Andrew Theede ….Bunnie Smith….Ana & Luis Cobo…..Mary Borrell….Kristin LoGerfo ….. Michael Pelkey …. Chris Elwell …Carol Burnham…Denise & Tom Rybicki…..Mark Huyett ….Paul Murphy …. Ralph DePalma… Joe Alan Carr and Claude Reams ….Susan Guadagno …. Amanda McBroom …. Dan Bready ….Helen Walker …. Jim Salini ….Goldman's Deli … Leda Andrews …. Judy & Stanley Zabar ….Libby York….Michele Brourman …. JT Thompson .. Maj Johnson….Love in Bloom Florist….Mary Falconer …. Mayor Teri Johnston….Trey Forsyth …..Iain Wilcox ….Matt Rawls ….Fr. John Baker …..Sheri Lohr….Kitty Clements……. Melissa Lang ….Jani Krejcirova ….Drew Wenzel…. Maria Wevers…. .Peter Arnow…..Dustan Carpenter and John Nutting ..Marilyn Kellner…Mimi McDonald ….Penny Leto…Christopher Peterson …….Mike Benner….. Marilyn Kellner …..Neil Chamberlain …. Lucy Carleton …..Pamela Spence Murphy Davis….Blake Hunter…….Al Romano, Jerry Downs and Bill Melchior … Jeffrey Ware ….Rosi Ware ….Jennifer Day …Dan Lotten…. Jimmy Harcup ….. Gayla Morgan ….Chris Elwell… Jon Hernandez ….Damian Deangelis…. Stuart and Susie Kaufman …. Lucy Barker ….Penny Leto ….Liz Young ….. Nand Pandey … .Kristen & Jim Ryan ….Tom Thayer ……Bobby Nesbitt…..The Choir at St. Mary SOS …. Chris & Sharon Santry ….Robert Spottswood ……..Laurie Thibaud ….George Fernandez….. Kate Regan & Ken Silverman…..Amy Bondurant…… Gary & Tom Groetz …. Jani Krejcirova …Danny at Azur……Louis Petrone…….and MOST of all my dearest husband BOB!!!!

AT THE GARDENS HOTEL.. WEDNESDAYS…….. Belle Jampol entertains from 5 to 7 pm at The Gardens…. Belle is the ultra talented…daughter of Penny Leto and Mateo Jampol.

"THE DINNER PARTY" AT THE STUDIOS….MARCH 22-25 AND MARCH 29-APRIL 1…. 8 PM at The Studios.. a play with songs and snacks written and directed by Chantal Pavageaux & menu of small tastes by Abigail Houff. Go to www.tskw.org for tix. Starring…. Lauren Thompson, Donna Stabile, Mariah Woessner, Jessica Newman, Moriah Joy, Janae Thompson. Tix are selling like hotcakes!!!!

THE OTHER PLACE OPENS ON APRIL 12-22… The Fringe will present this play at The Armory… Directed by Rebecca Tomlinson….stars, Michael Mulligan, Martha Hooten, Richard Quint, and Wende Shoer. Tix on sale by calling 305-731-0581 or on the website at www.fringetheater.org.

AT TRUMAN LITTLE WHITEHOUSE, APRIL 12….The Heart Starters entertain…. 5 to 7:45 pm. To get tix go to www.trumanlittlewhitehouse.org.

FRIENDS OF THE KW LIBRARY…Go to www.friendsofthekeywestlibrary.org. Join or Renew for the Season. If you act now your membership will extend to Jan. 1, 2023.
______________________________________________________________________________
THURSDAY, MARCH 23……..

HAPPY MARCH 23 BIRTHDAY TO….PAMELA SPENCE….KIM GORDON…. AMY SCALISE … NEWT RUCH… JANET PATTILO … JOHN SANGSTON ….KEVIN BARRY…. (Please remember…Jacques Vivien.) HAPPY ANNIVERSARY TO … AMY LAURA BONDURANT & DAVID DUNN.
______________________________________________________________________________
AL ROMANO PERFORMS EVERY THURSDAY….AT The Celtic Conch Public House, 528 Front St…. formerly The Rum Barrell….. Al packs em in and sings his heart out….He truly is our Key West Frank Sinatra!!!!! 5 to 8 pm….New spot…. good food….Happy Hour from 5-7 pm.

FARMER'S MARKET… THURSDAY……2 to 7 pm every Thursday….. … Produce, beverages, music, seafood, apparel, cheeses, gifts, art, books, etc…. fun….

TAVERN N TOWN ..MARCH 23,30…..Thursday 5 to 9 pm…..in the Lounge! …… Carmen performs with James King from 5-9 pm….Better get there EARLY IF YOU WANT A SEAT IN THE LOUNGE!!!!

LITTLE ROOM JAZZ CLUB……..THURSDAYS..5:30-7:30, The Ken & George Duo …. Entertainment at 8 pm with Skipper Kripitz ….and Company!!!! Music at its best.. 821 Duval St.

*****WATERFRONT PLAYHOUSE 2023 SEASON SHINES!!! ……… THREE TALL WOMEN. starring LESLIE GREENE, MAGGIE McCALLISTER, and JESSICA MIANO-KRUEL……..ON MAY 11-27 WILL BE…. The beloved comedy, "ARSENIC AND OLD LACE" starring KW Legendary Actress/comedienne, GERRI LOUISE GATES & PEGGY MONTGOMERY! ….. During Pride Week, on June 7-10, will be HEDWIG & THE ANGRY INCH, starring the talented, PHILLIP COLE WHITE. Wrapping the season will be 'CHARLOTTE'S WEB' based on the lovely children's book by EB White….only June 16 & 17. Go to www.waterfrontplayhouse.org or call 305-294-5015 for tickets and info on becoming a member of the Playhouse…so many perks at every level of membership.

AT THE GARDENS HOTEL EVERY THURSDAY….From 5 to 7 pm,…Sean Griffin entertains.

FRINGE & KWAHS PRESENT READINGS OF TENNESSEE WILLIAMS SHORT STORIES,MARCH 23……5-7 pm At The Little Room Jazz Club at 821 Duval St. Tix at Key West Art & Historical Society at www.kwahs.org/upcoming-events. The readers are all wonderful, including, Peggy Guidoti, Mark Watson, Keith Dempster, Diane May, etc. The readers will read "The Smoke & Sizzle of Tennessee Williams's of his poems and stories.

WOMEN OF INTEGRITY & MEN OF VALOR DINNER, MARCH 30… Tix are now being sold to this 2023 Honorees Dinner sponsored by Samuel's House….5:30 pm at Marriott Beachside Hotel. $125 per person …includes Cocktail hour, silent auction, 3 course dinner, program and Music by Jerico. Call 305-296-0240 or go to www.samuelshouse.org for tix. Honorees are… Patti McLaughlin, Rachel Oropeza, Lissette C. Carey, Cathy Crane, Tammy Fox, Sam Steele, Chris Shultz, Randy Smith, Misha Mcrae, and Bert Bender.

**BRIA ANSARA AT THE STUDIOS…APRIL 6 OPENING….BRIA is so multi-talented. No only is she one of the Island's BEST and most gifted vocalists, but she is also an accomplished and creative artist. Opening night of Bria's PSYCHEDLIC GARDENS II SHOW will be a Artist Reception at The Studios, 533 Eaton St. from 6 to 8 pm…Grab a cocktail at Hugh's View and then see this remarkable Art Show. Bria can be reached at byansara@yahoo.com for bookings, info on her work, and more details about Schools at the Studios. (Bria was also a finalist in the 2020 WP Aqua Idol.)

BEREAVEMENT MEETINGS EVERY THURS…….If you are working through the grief process of losing someone dear, there is help for you. Join this caring Support Group at 7:15 pm at the Klaus-Murphy Center at the Basilica of St. Mary Star of the Sea. You are not alone…. God bless Velma Christian for her special ministry, ______________________________________________________________________________
FRIDAY, MARCH 24, 2023…..MARY BORRELL….NORA MONICO…. PHYLLIS MAY …. CHLOE HODGDON…. ROBIN HANSEL … JOSH KHALIL …JESSY POJMAN …. LINDSY HILEGAS …. (Please remember…. Peter Flood and Dennis Wade.) HAPPY ANNIVERSARY TO …..WAYNE & AMY CLEVELAND.

______________________________________________________________________________
EARLY BIRD CLEANUP… MARCH 24…. Pick up litter from 8 to 9 am…Meet at Simonton & Greene Sts. at the parking lot at O Simonton. Call 305-809-3782. (Side note… I think it is great that our good-hearted citizens want to keep our town cleared of litter… but it sure would be a big help if our local businesses would have their sidewalks and environs cleared and cleaned several times a day.)

TROPIC CINEMA EVENT MARCH 24………Key West's own Judy Blume is excited about the release of the new movie based on her classic and beloved book, ARE YOU THERE GOD? IT'S ME, MARGARET! The Tropic Cinema hosts a Special Red Carpet Advance Screening of this major movie on March 24, for a grand fund-raising benefit for the Tropic. It is a champagne reception, and a chance to meet the stars, Rachel McAdams & Abby Ryder Fortson…the Director, Kelly Fremon Craig, producer James L. Brooks, and of course, Judy Blume! Luck YOU if you have tickets!

JERRY DOWNS AND FRIENDS STAR AT AQUA FRIDAY….MARCH 25…. On Aqua Main Stage from 4 to 6 pm….Jerry and his Group are all wonderful, crowd-pleasers with great voices and all past Aqua Idol winners!!!! 711 Duval St.

FROM A WOMANS HAND…..WOMEN ARTISTS EXHIBITION OPENED ON FEB. 24 …..281 Front St. Key West Museum of Art & History.

THE GARDENS HOTEL EVERY FRIDAY… … .John Hobbins entertains .In the Atrium…. From 5 to 7 pm, … 526 Angela St. (could change weekly)

***TERRI WHITE PERFORMS EVERY FRIDAY AT PAPA PILAR'S RUM FACTORY…3 to 6 pm. FRI., .. Located at the corner of Greene and Simonton Sts.

TAVERN N TOWN….MARCH 24, 31 …Mike Emerson entertains from 5 to 7 pm!!!!

LITTLE ROOM JAZZ CLUB….ENTERTAINMENT EVERY FRIDAY.. 821 Duval St. At 5:30-7:30, Mike Dennis at the piano …… and at 8 pm it JEFF DAULTON & CLAIRE CAPLAN!!!!!

*VIVA SALOON…EVERY FRIDAY… CHRISTINE CORDONE & LARRY SMITH and SKIPPO!!!!…. Jazz Music every weekend. 903 Duval St…. 6:30 PM..

THE WILLIAM WELCH LEGACY….Though Bill is no longer with us, his beloved sister, Sherrey Welch, is determined to keep Bill's art and legacy alive through the new website, at www.williamwelchcollection.com. Please forward this info to anyone who may be interested in Bill's Art work retrieved from Nantucket, Key West and France.
______________________________________________________________________________
SATURDAY, MARCH 25…

HAPPY MARCH 18 BIRTHDAY TO….PHIL AMSTERDAM…..FLOWER CONROY … JOHN BELL MASCHAL …HOWARD WOLFF… SANDY SUJAK … NATE JANIS … ANNE WITHINGTON REIN … MARY THIXTON …SUTTON FOSTER…. HAPPY ANNIVERSARY TO…. DIANE HOHMAN AND KEN GIPE.
______________________________________________________________________________
BILL MELCHIOR AT AMERICAN LEGION..MARCH 25 AND APRIL 7 &21… Bill will be singing some of your favorite songs at the American Legion on Stock Island by the Golf course….From 7 to 9:00 PM…. What a wonderful voice!

TAVERN N TOWN…SAT. MARCH 25.,. Larry Smith at the piano….from 5-9 pm..

VIVA SALOON, MARCH 25…. Skippo with Cordless……. 6 pm

THE GARDENS HOTEL…EVERY SATURDAY ……..From 5 to 7 pm, Bobby Green entertains in the Sun Room at The Gardens. Always FREE to attend.

LITTLE ROOM ON SATURDAYS….. 5:30-7:30 pm…Pianist, Malathi featuring the great Denis Hyland……..8 PM Great Jazz with that very cool Ericson Holt. Always some great music and song at this HOT SPOT!!!!! 821 Duval St.

EPIPHANY SINGS LIVE AT AQUAPLEX….4 TO 6 PM….504 Angela St.

AT LILY PULITZER ON MARCH 25…..10 am to 6 pm…600 front St. This shop will donate 10%of their sales on this day to A POSITIVE STEP OF MONROE COUNTY ..to help fund the org's 2023 Idle Hands Summer Youth Employment Program.

****SEEKING LOCAL DESIGNERS…. The Conch Republic Wearable Art Fashion Show Benefit is seeking local designers to enter either the Couture or Costume Category. The Show will be held on April 22 at the Key West Theater to benefit the Conch Republic Foster Children's fund. For info contact DIANE MAY at diane@conchrepublic.com or go to the website at http://www.conchrepublic.com.

EASTER BONNET MAKING ON APRIL 1….3 PM…At the Gardens Hotel, 526 Angela St. All the ribbons, flowers, feathers, scissors, etc., to create a chapeau for a man or a woman… will be on hand… Led by Florist, Dan Ward…$25 fee….Go to conchrepubic.com to reserve a spot.

FRIENDS OF KW LIBRARY BOOK SALES….APRIL 1….. Held in the Palm Garden at 700 Fleming from 10am-1 pm. The Library is asking for you to donate your books to them and their Book Sales.

MIGRATION MANIA AND GREAT EGG HUNT ON APRIL 1…. At Tropical Forest & Botanical Garden…10 am to 2 pm. 5210 College Rd. Featured are two age-level Hunts…. with 6,000 eggs… lots of child related booths, games, face painting, etc. For more info go to www.keywest.garden.

WESLEY HOUSE BLACK TIE EVENT….APRIL 1…AT 7 PM, in the Grand Ballroom of Marriott Beachside Hotel…. Cocktails at 6 pm…Dinner & Dancing at 7 pm….
auction, entertainment, and fun all for a good cause. Price includes welcome bubbly plus wine…Deadline to purchase tix is March 23….

FRIENDS OF THE LIBRARY 2023 SPEAKER SERIES These are wonderful FREE events held at 6 pm in the Palm Garden unless otherwise noted.

KEY WEST SYMPHONY ON MARCH 25…7:30 pm at Tennessee Williams theatre….get tix at www.keystix.com. Features the wonderful cellist, Zuill Bailey.
______________________________________________________________________________
SUNDAY, MARCH 26..

HAPPY MARCH 26 BIRTHDAY TO….EMILY MALTZ…JANA KREJCIROVA …KEVIN MELLONCAMP….CAMERON MURRAY …. ELLIE DURIK ….JUDY PINGSTON …..GLENDA ROWLEY ….. KENNY CHESNEY….. (Please remember Tennessee Williams.)…HAPPY ANNIVERSARY TO….BONNIE PICEU & PAUL DIETZ ….
______________________________________________________________________________
IMPROMTU CONCERT….MARCH 26…Calefax Winds performs…. Get tix at www.keystix.com. 4 pm at St. Paul's church on Duval St. $20.

SOUTH FLA SYMPHONY EVENT…. MARCH 26….Maestra Sebrina Alfonso invites you to celebrate the Orchestra's 25th anniversary season with a spirited dinner & private concert experience featuring fabulous cellist, Zuill Bailey…to benefit SFSO'S music education program in the Keys. 5:30 pm at Hemingway's Library at Hemingway Rum Co. & Papa's Pilar Distillery at 201 Simonton St. 5:30 cocktail reception…. 6 pm, Four-Course Rum paired dinner, by Chef Martha Liz… Cocktail attire…call 954-522-8445 to see if there are in seats available.

DID YOU KNOW…. that Advanced Urgent Care will be the First Urgent Care to offer MRI in the Marathon 13365 location…charge is $575 without contrast and $675 with contrast…no additional Radiology fees….(compare to $3,000 charge at Monroe county hospitals. For more info go to www.urgentcarefloridakeys.com.

***"STILL WILD ABOUT HARRY" SHOW STARRING the FABULOUS BOBBY NESBITT & CARMEN RODRIGUEZ…AT LITTLE WHITE HOUSE. MARCH 19 & 20 ONLY…..GET TIX NOW…Go to the Little White House website for more info. Doors open at 6:30 pm….show starts at 7:30 pm.

LITERARY WALKING TOURS…..EVERY SUNDAY…..10 am….. Tour explores info on famous KW authors and writers and their homes….. Only 6 per group….. Go online to find out more info.

KEY WEST CEMETERY STROLL, ….Times of departure are 9:30, 9:50. and 10:10 am…. tour takes 90 minutes. Wear comfy shoes and plan to walk nearly a mile on uneven ground. Bottled water provided. Reservations a must….Call or text 305-304-1453 or email hfkf@bellsouth.net.

SUNDAYS AT MANGOES…. 8:30 PM…. It's the fabulous WOLF LOVE BAND with adorbs married duo, Kari (Daily) and Jack Wolf…they make beautiful music together

VIVA SALOON ON SUNDAYS…. ….It's Marjorie Lee Mitchell… 6 to 9 pm.

ARTISAN MARKET ON SUNDAYS…. MARCH 26, APRIL 2, 9, 16, 23…….. Held at Indigenous Park from 10 am to 2 pm… at Higgs Beach ….Skippo and Co. often perform at this venue.

LITTLE ROOM JAZZ CLUB….. EVERY SUNDAY…….5:30-7:30 PM, It is Paul Warthen at the piano……..8 pm……Larry Smith and a Company of fab musicians and singers Jam for your great pleasure!!!!! 821 Duval St…..Great way to begin or to cap off an evening. WE LOVE THE LITTLE ROOM!!!!!

TAVERN N TOWN ..MARCH 26….It's Rob DiStasi in the Lounge ,from 5 to 9 pm…..

**PARADISE BIG BAND CONCERT, MARCH 26….8 pm….. Get tix NOW at www.keystix.com. This is a do not miss… The wonderful Joe Dallas runs this group of local dedicated musicians and singers of all ages…. He works his magic every year in January and March ( 26)… We never miss! Always some fabulous guest singers… I hear Maj Johnson is one of them!!! Tix are only $25-$35.

**LIBBY YORK AT GARDENS HOTEL, MARCH 26.. 5 to 7:30 pm…. This luscious chanteuse will be releasing her new CD, ENTITLED "DREAMLAND"…

CELEBRATE TENNESSEE WILLIAMS BIRTHDAY, MARCH 26….He would have been 112! 5 to 7 pm at the Tennessee Williams Museum 513 Truman Ave….FREE to attend…contest award presentations for poems, short story and paintings! Snacks, bubbly, and CAKE!

MANGOES DRUNKEN DRAG BRUNCH….SUNDAY MARCH 19…. Jimmy Harcup is the super duper HOST!!!! Go to Mangoes Facebook Page or google to find out details, like dates, ticket cost, and times. Sounds like a fun way to spend a Sunday afternoon in Key West!!! (This is not every week, so call Mangoes or go online to find out when, etc.) On March 18 a portion of the proceeds will be donated to habitat for Humanity!

EASTER SUNDAY STROLL…APRIL 9TH…. 2 pm at The Gardens Hotel.. 526 Angela St. Don your Easter garb and bonnets and enjoy an egg hunt, games, Prosecco, etc. Then stroll down Duval St. to the 801 Pub for a Free Well Cocktail ..then to LaTeDa for the 4 pm Tea Dance…. to continue celebrating!

CHECK OUT THE WEBSITES OF THE VARIOUS CLUBS IN TOWN TO FIND OUT THEIR MUSIC SCHEDULES….. JUST GOOGLE OR CHECK OUT THE SCHEDULES PROVIDED BY THE KEY WEST CITIZEN AND OTHER PUBLICATIONS.

PLEASE SEND ME ANYTHING YOU NEED TO BE PROMOTED….. AND … I will do my best to include in future blogs!

REMEMBER….AQUA IDOL IS ON MARCH 20…Guest Judges are MAYOR TERI JOHNSTON AND ENTERTAINER EXTRAORDINAIRE, CHRISTOPHER PETERSON!
______________________________________________________________________________
LOVE TO YOU, AND REMEMBER……It is better to grow old with a sense of humor….than to grow old with no sense at all!
Lynda

PS I recommend double checking some of the venues to make sure the person you want to see is actually there the night you intend to go. Schedules often do change.
______________________________________________________________________________
…..AND HERE'S MORE INFORMATION:

THE IMPROMPTU CONCERTS… For more info go to www.keywestimpromptu.org.
VOLUNTEERS NEEDED FOR COMMUNITY FOUNDATION OF THE FLORIDA KEYS…. Contact Kel Bedard at 305-809-4994 (office) or her cell at 985-79f1-4447…or email her at kel@cffk.org or the website at www.VolunteersKeys.com. The FLA Keys Volunteer Center is at 300 Southard St., Suite 201, KW.

TROPIC CINEMA SEEKS VOLUNTEERS….. www.tropiccinema.com. Training is provided. 'Payment' is free movie passes and popcorn for each shift worked.

VOLUNTEERS NEEDED FOR REEF RELIEF….For info call 305-294-3100.

STAR OF THE SEA OUTREACH MISSION NEEDS VOLUNTEERS….To help with the food pantry on Stock Island….This mission serves hundreds of the community's needy operating Mon-Fri. Call Donna at 305-407-5967 for info.

SHAL SEEKS VOLUNTEERS…Southernmost Homeless Assistance League has begun serving an evening meal each day at the homeless shelter with food from the Soup Kitchen….Volunteers are needed to help. For info call John Miller at 502-876-5092.

TENNESSEE WILLIAMS EXHIBIT:…. .513 Truman Ave. This wonderful Museum is under the auspices of the Key West Art & Historical Society with founder, Dennis Beaver as its curator….Visitors and Locals are invited to tour this preserved and showcased collection of historic, archival objects that promote the importance of Williams's legacy and offers the largest collection of his memorabilia and artifacts available to the public. Open daily from 9:30 am to 4:30 pm…. Admission: Adults $7. … Children under 6 Free…. KWAHS Members: Free… For more info call 305-204-4527. Big Thanks to Dennis Beaver and Bert Whitt for their great efforts to make this Museum world class!

KW TROPICAL FOREST & BOTANIC GARDEN, NEEDS VOLUNTEERS….To volunteer please call 305-296-1504.

NEW ADDRESS FOR LA RUBIA KEY WEST….…OPEN…..Stephanie Hellstrom (THE Blonde!) is the owner of this delightful shop…NOW AT 1121 DUVAL ST., right near LATEDA. You can purchase hand woven Panama hats, handcrafted wearable accessories, and organic chocolates from Ecuador…. along with handbags, scarves, bamboo wraps, jewelry and more.

TAKE STOCK IN CHILDREN ORG. SEEKS VOLUNTEERS…..This marvelous, award winning scholarship program mentoring group is looking for giving souls to help mentor 50 some qualified students from lower income families ….They cannot be admitted unless a volunteer steps forward. It takes less than an hour each week. Call Chuck Licis, program coordinator at 305-394-7974 or e-mail him at chuck.licis@keysschools.com.

CUSTOM HOUSE & LIGHTHOUSE MUSEUMS ARE SEEKING VOLUNTEERS…If you have a few hours to offer as a docent, archives asst., exhibit builder, or event volunteer, please offer your services!