What a nice introduction and great history! 🙂

Johanna Hardardottir

Beautiful video Danny!

Michael Mccabe

Thanks Danny! Now everyone knows how great the Waterfront Playhouse is!

Lucy Carleton

This is a great overview, historical and present, of the wonderful Waterfront Playhouse. It is truly the premier venue for the best professional theater in Key West. Sold out houses attest to this fact. Thanks to Danny, Michael, and the local talented actors that provide us with this gift.

Bert

Once again, the Waterfront Playhouse is the place to experience amazing entertainment! The production of The Full Monty is one of the best ever in Key West! From the set, to the direction to the amazing cast…it's all superb. Danny Wearhers did such an amazing job casting this show & Michael Boyer created another winning set!
The bar has been raised once again! Key West is so lucky to have the Waterfront Playhouse in our town.

Christopher Elwell

At the end of every season, I say to myself: "It can't possibly get any better than this!" But every year, it does. This extraordinary season raises the bar even higher. I can't wait to see how next season will top this one — but I know it will.

Charlie

The best of the best in professional theatre! Every show is a WOW! Danny Weathers and Michael Boyer, your theatrical genius is unparalleled. Thank You!

Terri Riley Wilson
Waterfront Playhouse
Waterfront Playhouse
PO Box 724 ~Key West, FL 33041
WaterfrontPlayhouse.org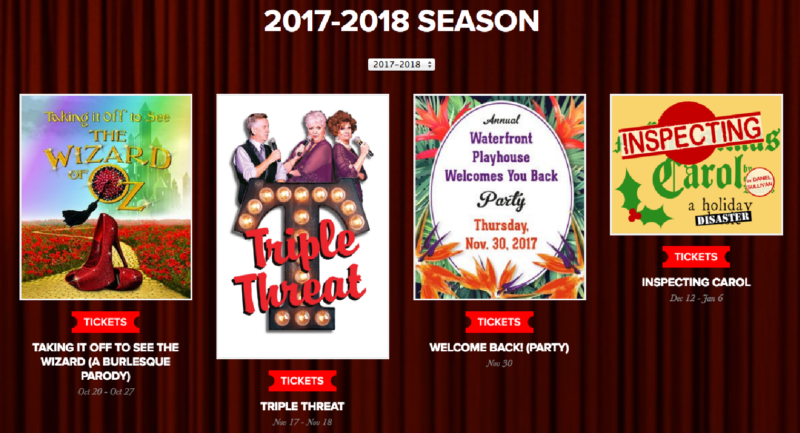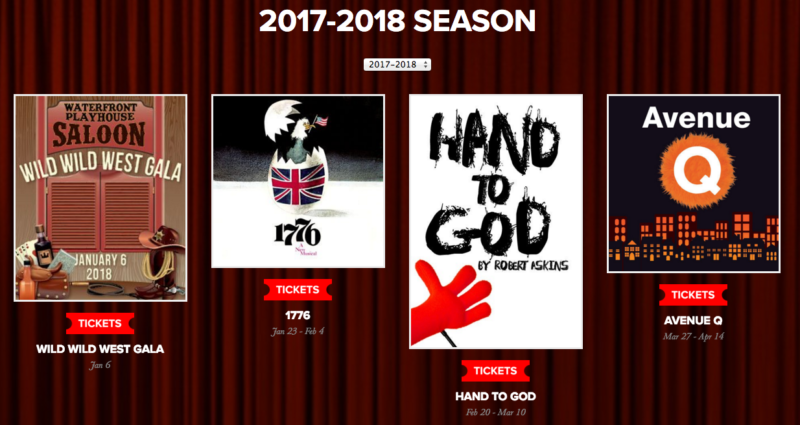 2017-2018 SEASON
Please visit our website at www.WaterfrontPlayhouse.org for ticket prices, discounts, event schedule and more.
TRIPLE THREAT ~ An Evening with Laurie Breakwell, Vicki Roush & Danny Weathers in concert.
November 17 & 18.
Triple Threat will be a triple treat of an evening when three of Key West's most outstanding musical theater performers take the stage.
INSPECTING CAROL
by Daniel Sullivan and the Seattle Repertory Company
Dec. 14 to Jan. 6.
A Christmas Carol meets Noises Off when a struggling theater tries to spice up their annual holiday show and disaster ensues. God help us everyone!
"A Dickens of a giggle." - Seattle Times.
1776, THE MUSICAL
Music & Lyrics by Sherman Edwards Book by Peter Stone
Jan. 24 to Feb. 4.
Before Hamilton, there was 1776, the electrifying musical about the founding of America, with a cast of 25 and Vincent Zito conducing an orchestra of 8. TonyAward for Best Musical
"A brilliant and remarkably moving work of theatrical art." - NY Post
HAND TO GOD
by Robert Askins
March 29 to April 14.
A thrill ride of a comedy about a Christian puppetry program that goes horribly (&hilariously) wrong when one twisted puppet takes on a terrifying life of its own.Five-time Tony Award nominee, including Best Play.
"darkly delightful…flat-out hilarious…" - the New York Times
AVENUE Q
Music And Lyrics By Jeff Marx & Robert Lopez Book By Jeff Witty
March 2 to March 25.
The hit of last year's Key West theater season returns because once is never enough. Tony Awards for Best Musical, Best Score and Best Book
"Waterfront Playhouse has yet again brought Broadway to Key West" - Key West Weekly
"Outrageously entertaining…not to be missed." - KONK Life
THE LEGEND OF GEORGIA McBRIDE
by Matthew Lopez
May 3 to May 26.
Sometimes life is a real drag. And sometimes putting on a dress and singing some Dolly Parton will set you free. This music-filled comedy will have you dancing the aisles! Christopher Peterson stars!
"A stitch-in-your-side funny, first-rate play full of sass & good spirits." - The New York Times
Waterfront Playhouse
310 Wall Street
Key West, FL 33040
305-294-5015